Feature
The REV Test: Dog-friendly cars
Our three experienced motoring journos, Rachael, Erin and Vicki Butler-Henderson (REV), are back. This week they're testing three dog-friendly cars. But which one will be perfect for your pooch?
We love our dogs in here in Britain, and it's estimated that around nine million of them are kept as pets in the UK. That means there are a lot of families in need of a dog-friendly car. This week Rachael, Erin and Vicki look at three of the best.
Both the
Volvo V90
and
Land Rover Discovery
come with bags of space and a plethora of dog-friendly optional extras, such as protective cages, harnesses and carriers. The
Honda Civic
, meanwhile, was named as the
Best Car for Dog Owners
in Auto Trader's 2018
New Car Awards
, as voted for by almost 40,000 car owners who rated their car in 16 key areas. Watch the video to see how they got on.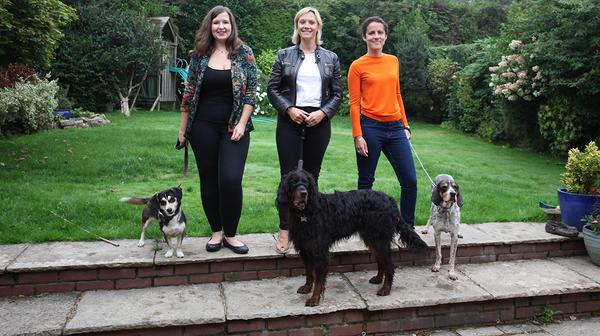 Find out why we're doing all this, and what The REV Test is all about.
Watch our first REV test on small sports cars
featuring the
Mazda MX-5
,
Fiat 124 Spider
, and
Audi TT
.
Watch our second REV test on hybrids
, featuring the
Toyota Prius
,
Hyundai Ioniq
, and Audi's first plug-in hybrid, the
A3 Sportback e-tron
.
Watch our third REV test on small hatchbacks,
featuring the UK's biggest selling car ever, the
Ford Fiesta
; a serious contender for the Fiesta crown,
the Seat Ibiza
; and the
Vauxhall Corsa
, which will be getting an upgrade next year.
Watch our fourth REV test on small SUVs,
featuring the stylish and practical
Hyundai Tucson
, immensely popular
Nissan Qashqai
and
Renault Kadjar
, which is the sister car to the Qashqai.
Watch our fifth REV test on sports cars
featuring the muscly
Ford Mustang
, the potent
Porsche Boxster
and amazing
BMW M4
.
Watch our sixth REV test featuring super practical seven-seaters
: the great to drive
Ford S-Max MPV
, stylish
Peugeot 5008 SUV
, and huge and practical
Citroen Grand C4 Picasso/SpaceTourer.
Watch our seventh REV test on mid-size luxury SUVs
. It's the turn of the high quality and tech-filled
Audi Q5
, the well-rounded
Mercedes-Benz GLE
, and the sleek and sexy
Range Rover Velar
.
Watch our eighth REV test on budget SUVs
, featuring the
Jeep Renegade
, with its proper off-road ability, the value for money
Dacia Duster
, and the stylish
Suzuki Vitara S
.
Watch our ninth REV test on electric cars
, featuring the sporty BMW i3, the quirky Kia Soul EV and the sensible Renault Zoe.
Our tenth REV test features hot hatches (and a hot estate!)
. It's the turn of the granddaddy of the hot hatches, the Golf GTI, the lairy Honda Civic Type R, and sensible-looking (but definitely not sensible) Seat Leon Cupra ST. REV takes a look at three big luxury SUVs, the high-quality
Audi Q7
, the super safe
Volvo XC90
, and the proper off-roader, the
Land Rover Discovery
.
People might be all over SUVs right now, but there's definitely still a place for the humble estate.
Carry on camping, with three small estate cars. Which is the best out of the
Peugeot 308 SW
,
Skoda Octavia Estate
, and
Volkswagen Golf Estate
?
Series two
Believe it or not we're already on to series two. Our three experienced motoring journos are back: racing driver Vicki Butler-Henderson, Millennial Rachael Hogg, and mum Erin Baker (REV!) are testing three of the UK's most popular first cars – the
Skoda Citigo
,
Hyundai i10
and
Toyota Aygo
.
In
episode two
of series two, the team look at three pick-up trucks. Vehicles like the
Toyota Hilux
,
Mitsubishi L200
and
Ford Ranger
have gone from being exclusively used by farmers and small business owners, to being lifestyle vehicles used by families who want a tough off-roader for some weekend adventures. But which is best?