Ford Mustang
New from £36,405 / £887 p/m
Is the Ford Mustang Coupe a good car?
Read our expert review

Words by: Ivan Aistrop
"The Mustang is an extremely likeable car thanks to the pace, the noise, the looks and the sheer brashness, and a very different proposition to more austere rivals such as the Jaguar F-Type, BMW 4 Series or Audi A5. If you want a Mustang, then any of the rivals mentioned will be way too civilised and boring for you. And if a Mustang is what your heart is set on, you'll absolutely love it."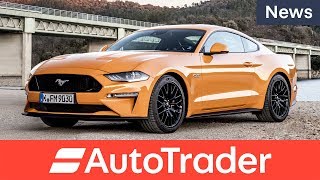 Read the review by category
Running costs for a Ford Mustang
The Mustang's performance in this area very much depends on how you look at it. On the one hand, a European coupe of this size, with this much power, will cost you many, many more thousands to buy, making the Mustang look like something of a bargain. And, while depreciation on the Ford is heavier in percentage terms, the overall amount you'll lose is lessened hugely by the lower purchase price, so on that score, you won't be any more out of pocket after your average three-year ownership period. However, even the smaller-engined version isn't spectacular when it comes to fuel economy, while the V8 is thirsty by any standard. Tax bills will also be hefty due to the correspondingly sky-high CO2 emissions, and bills for insurance, maintenance and tyres will also be very steep. That said, a Mustang is never going to be a rational purchase anyway.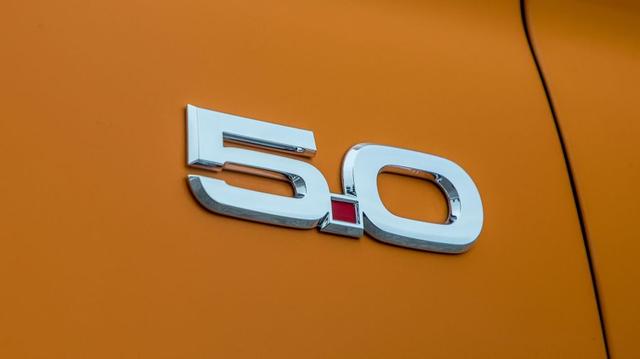 Reliability of a Ford Mustang
Although the Mustang has existed in one form or another for decades, this is the first generation of the car to be offered for general sale in Britain, so UK-specific reliability data on the car is very difficult to come by. It doesn't share much of its mechanical make-up with any other common European Ford models, either, so you won't get many clues there. On the plus side, Ford ranks fairly highly in Warranty Direct's rankings for manufacturer reliability, and scored well ahead of the industry average in JD Power's 2019 Vehicle Dependability Study. And because it's a Ford, repairs and maintenance on your Mustang are likely to be cheaper than on an equivalent Audi or BMW. The three-year/60,000-mile warranty you get as standard is pretty much par for the course.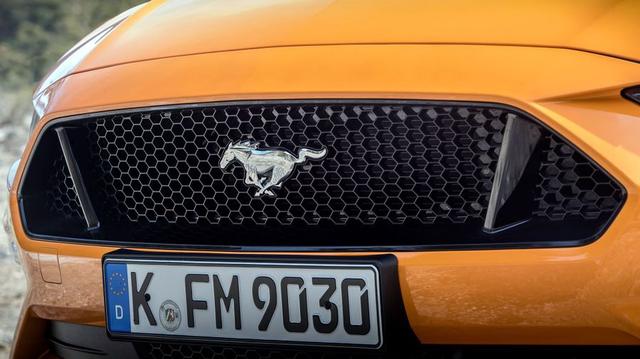 Safety for a Ford Mustang
Automatic emergency braking is standard-fit, as is lane departure warning and a lane keeping aid. Those in the front have plenty of airbag coverage, too, including 'bags to protect the knees. Those in the back aren't so lucky, though, as none of the airbags extend that far back.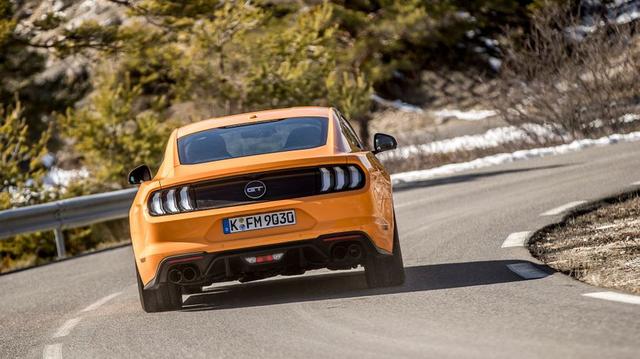 How comfortable is the Ford Mustang
The Mustang's cabin has a very American feel in that everything looks big, chunky and substantial. It also means that the quality of the materials isn't as posh as those you'd find in BMWs and Audis that cost similar money, but for hardened muscle-car fans, that won't matter a jot. Things aren't perfect in other ways, either. The driving position feels oddly high-set, and the touchscreen infotainment system looks a bit dated and the the driving mode selector switch is truly infuriating (despite it being a rocker switch, you can only scroll through the modes in one direction, meaning you often have to scroll through the five you don't want before getting to the one you do, and if you hesitate for a couple of seconds, it selects a mode you don't want). Still, at least the all-round visibility isn't bad for a car of this type, and the digital dials display lots of useful information in an easily digestible way. Practicality isn't exactly the primary reason for choosing a large coupe, but even so, you want enough space and versatility to carry a buddy or two and their associated luggage. The front seats are surrounded by enough space to accommodate a pair of tall adults, but the rear seats are too short on headroom for anyone taller than a mid-range teenager. The boot is a very decent size at 408 litres, which is enough for a quartet of carry-on suitcases, but both the loadspace and the opening are rather shallow. So far, we haven't had a chance to drive this generation of Mustang on its standard suspension, only on the optional adaptive suspension that costs you quite a lot extra. It changes its behaviour according to which of the six driving modes you select. You can tell the difference between the softer modes and the harder modes, but to be honest, it doesn't make a whole lot of difference to the way the car behaves overall. Whatever mode you find yourself in, the ride still feels rather choppy and jittery at low urban speeds, although things do improve when you're going faster. The suspension does do a good job of suppressing body lean in the bends, and there's also plenty of grip to count on, which helps towards its agility levels. However, the sheer size and weight of the car mean it'll never feel as nimble as smaller, lighter rivals, and the comparatively slow steering won't be to all tastes, either. However, it's important to remember that this is a muscle car rather than a sports car, and that all these foibles do give the Mustang an endearingly unruly, old-school character.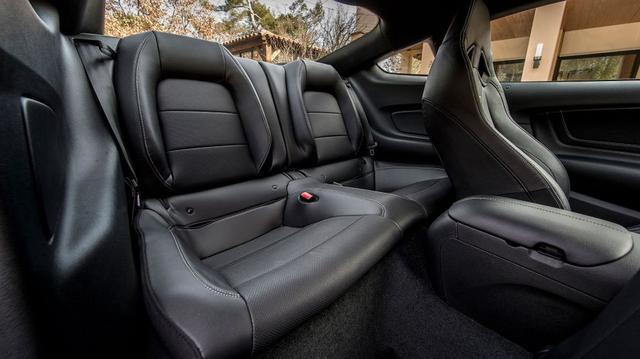 Features of the Ford Mustang
All versions of the Mustang come with a decent splash of luxury kit, which includes climate control, adaptive cruise control, keyless entry and go, automatic lights and wipers, powered front seats, rear parking sensors, a heated steering wheel and a nine-speaker stereo with integrated Bluetooth, DAB radio, reversing camera, voice control and Apple Carplay/Android Auto compatibility. However, if you want integrated sat-nav, you have to upgrade your stereo by delving into the options list (although it's standard on the Bullitt). In fact, that is one of the very few optional extras available. The others include the adaptive suspension and seats that are both heated and cooled. The V8 gets a few visual upgrades compared with the 2.3, along with a few performance-enhancing gimmicks. That includes upgraded brakes, launch control, an active exhaust and a line-lock function that allows you to heat up the rear tyres by locking up the front wheels and spinning the rears. As well as the nav and the visual upgrades, the Bullitt adds heated and cooled seats.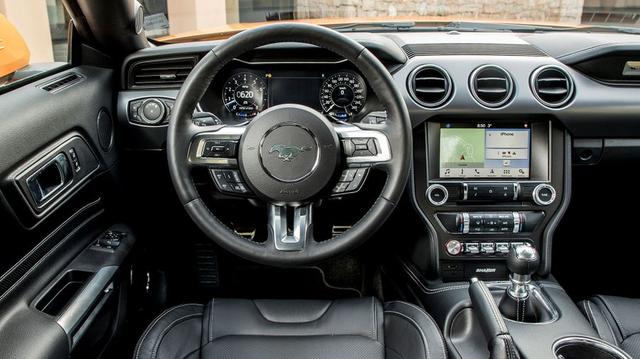 Power for a Ford Mustang
You can have a turbocharged 2.3-litre four-cylinder engine with 291 horsepower in your Mustang, or a thumping 5.0-litre V8 with 449 horsepower. Both come with a six-speed manual gearbox as standard, but are also available with a 10-speed automatic. The best – and most popular – combination is the V8 manual. The engine sounds fab, with a bassy gurgle kicked out from anywhere on the rev range, and with loads of pulling power constantly on offer, rapid acceleration is only ever an ankle-flex away. Rev it to its limits, and you're treated to truly bombastic levels of performance and noise. The gearshift is a bit truck-like – heavy and notchy – but it does give you ultimate control of what the engine is doing. The automatic 'box doesn't, unfortunately. Even if you take gear-shifting responsibility yourself by tugging on the paddles, the shifts are so slow that when you shift down just before the entry to a corner, you're at least three-quarters of the way through the bend before your desired ratio is engaged. And that's if you get your selection right in the first place. With so many gears to choose from, you often find that shifting down one or two isn't enough, and that three or four drops are needed to maximise traction. And when you leave the gearbox to its own devices, you'll find that the software is no better than your brain at deciding which gear is best for the prevailing driving situation. Judged in isolation, the 2.3 is absolutely fine for performance, with decent flexibility in most situations and decent acceleration available when you need it. It works better with the automatic gearbox as well, because the slowness of the shifts doesn't have quite such an effect on your overall pace. However, with the Mustang being a muscle car – where it could be argued that the rest of the car is little more than a vessel in which to carry the engine – we'd say that you really want the extra drama that the V8 gives you. The ultimate Mustang comes in the form of the Bullitt, which has an extra 10 horsepower over the regular V8, but we're yet to try it.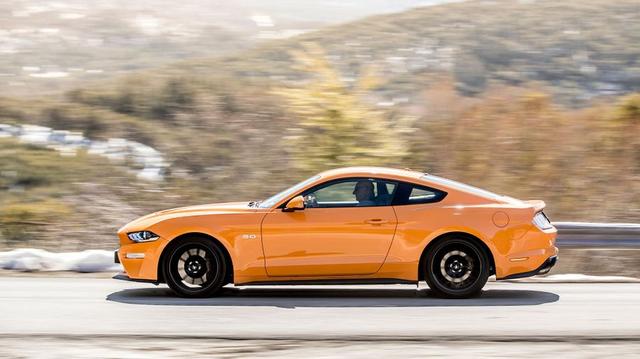 Lease deals
These deals are based on terms of 8,000 miles, for a 36 month lease with a 6 months initial payment.
Standard equipment
Expect the following equipment on your Ford Mustang Coupe. This may vary between trim levels.
Other vehicles in the Mustang family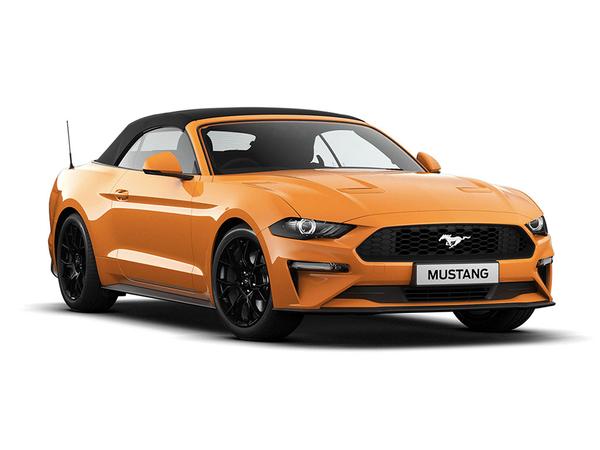 Mustang Convertible
Fabulous pace and noise from V8 engine

Arresting looks and brutish character

Pretty generous on equipment
Related articles and reviews