Honda Civic
New from £34,795 / £806 p/m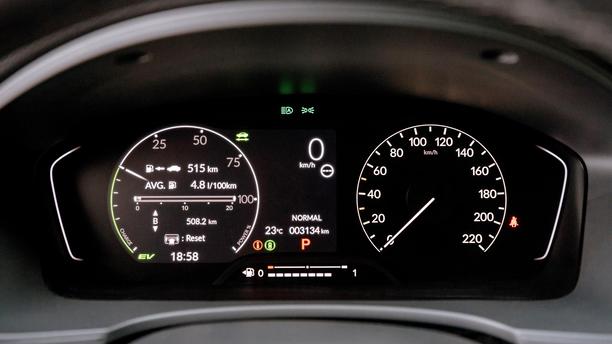 About the Honda Civic
Frugal and refined hybrid engine

Excellent quality

Lots of space
Just one engine, a fuel-efficient petrol job, is on offer this time around in Honda's popular large hatchback. In fact, everything is more simple with the latest Civic, from the pared-back design, to the easy drive. It looks expensive but Hondas keep their value well and have excellent reliability records. Feels a bit weedy underfoot, but it's also incredibly smooth on the move. A laid-back cruiser, we'd say.
Is the Honda Civic Hatchback a good car?
Read our expert review

Words by: Auto Trader
"Honda has dramatically changed the Civic hatch by making it, well, less dramatic. In appearance, at any rate. The new Civic gets simple, sober styling but the biggest changes are under the skin, where there's just one hybrid engine available and the cabin has been given a high-quality makeover."
Read the review by category
Running costs for a Honda Civic
Honda has chucked out the three engines that it used in the previous Civic (one diesel and two turbocharged petrols) and replaced them all with a single 2.0-litre hybrid, which combines the power of the larger petrol unit with the torque of the diesel. All with the economy of the smaller petrol engine. Actually, slightly better economy. Honda quotes 60.1mpg by official stats for the basic Elegance model, our Advance test car claimed a still-impressive official 56mpg, but we did better than either on our test route, managing 62.7mpg. Drive with anything approaching restraint, and this Civic should be seriously easy on fuel if perhaps not quite as cheap as a full electric car. Added to that is Honda's impressive record for reliability, which should keep long-term repair and servicing costs low. Honda UK offers a three-year warranty and has previously covered the components of its hybrid systems for up to five years and 90,000 miles. Emissions are rated at 108g/km for the basic model.
Reliability of a Honda Civic
Honda is one of the most respected brands in the world when it comes to the reliability of its vehicles. Indeed, the old VTEC petrol engine had the incredible record of never once having had to be replaced under warranty in any Honda, worldwide. The new Civic includes some new tech, but the components of the hybrid system and the car's basic structure and mechanical package are all well-proven already. Frankly, we'll be amazed if anyone has a major problem with one.
Safety for a Honda Civic
The new Civic doesn't introduce any dramatic new safety technology, but it gets the impressive Honda Sensing safety pack as standard, and does include updates and improvements to those systems. The enhancements include the addition of a traffic jam assistant for the radar-guided cruise control (which will trickle the Civic forward in stop-start traffic, stopping behind the car in front and staying in its lane), lane-keeping steering that is now better at dealing with corners and curves, adaptive beam LED headlights that adjust their beam to avoid dazzling other traffic, a stiffer, safer body structure for crash protection, improved forward-facing camera for the autonomous emergency braking system and a pop-up bonnet to protect pedestrians in an impact.
How comfortable is the Honda Civic
The new Civic retains the cabin roominess of its predecessor, and it's a step ahead of most of its hatchback opposition. Certainly, it's far more spacious than the Toyota Corolla or Vauxhall Astra, and is more like the bigger Skoda Octavia in terms of cabin space. Up front the seats are squashy and welcoming, but still firm enough to support you on longer journeys. In the back, there's plenty of legroom, and the lower roofline doesn't seem to have impinged on rear headroom either. The rear bench is just about broad enough to get three people sitting abreast, but the person in the middle will be rather squashed. The boot has decent volume but there is an annoying hump in the floor to make space for the hybrid battery and motor control unit. There is a neat luggage blind, though, which retracts to one side, so that if you need to fold the rear seats down, you don't have to wrestle with a big, unwieldy parcel shelf. The suspension is soft, and incredibly good at soaking up lumpy roads, although
Features of the Honda Civic
The dashboard of the new Civic is far cleaner in its design than that of the previous version, and comes with an impressive new pair of digital screens. For the driver, there's a 10.2-inch instrument display (it measures seven inches in the basic model) that looks smart and has clear, simple instruments. Likewise, the central nine-inch touchscreen is far easier to use than the previously frustrating system, and the addition of Apple CarPlay and Android Auto connections makes things easier still. Honda thankfully still believes in things like physical buttons and switches, so the air conditioning is easy to set and change, and there's a proper knob for controlling the volume. The air vents are also very cool — they've been designed to look like a single, full-width panel and have lovely little tactile controls for altering where the airflow goes. Because all Civics will now have hybrid engines, the gear selector is a simple push-button arrangement, which frees up more space for storage down on the centre console.
Power for a Honda Civic
The Civic's new hybrid engine is hugely impressive in two specific ways. First off is the exceptional economy, mentioned above. Second is the refinement — even though it will still allow its engine to occasionally drone in that classic hybrid manner, the car's isolation of noise is excellent, and it's a hugely relaxing thing to drive. Power, though, is not so impressive — while the Civic has 183 horsepower, it delivers it fairly gently. You can get it to accelerate hard (a 7.8-second 0-62mph time is pretty decent), but it feels happier picking up pace in a gentler fashion. It's more cruiser than bruiser, although the well-weighted steering does make it more enthusiastic through corners than you might initially expect.
Lease deals
These deals are based on terms of 8,000 miles, for a 36 month lease with a 6 months initial payment.
Standard equipment
Expect the following equipment on your Honda Civic Hatchback. This may vary between trim levels.
Related articles and reviews