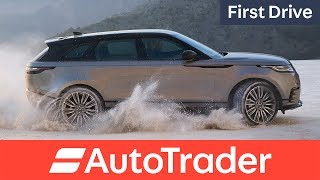 Discover the
Land Rover Range Rover Velar
New from £45,980 / £1,090 p/m
5 doors

5 seats

Automatic

Petrol, diesel or petrol plug-in hybrid
Is the Land Rover Range Rover Velar SUV a good car?
Read our expert review

Words by: Phill Tromans
"What if you want all the prestige of a Range Rover, but without the tall, upright stance? What if, in other words, you want your Range Rover to be slinky and stylish? Well, this Velar, with its lower roofline and laid-back stance, might be just the thing, and it has the BMW X6, Porsche Macan and Jaguar F-Pace in its sights."
Read the review by category
Running costs for a Land Rover Range Rover Velar
At the lower end of its range, the Range Rover Velar goes head-to-head with cars like the BMW X4 and Mercedes-Benz GLC Coupe. It's a larger car than these models, so it's no surprise that it's quite a bit thirstier, but the Velar fights back with much stronger resale values and lower maintenance costs. In other words, unless you're a high-mileage driver, it should prove cheaper to run. Higher up the range, the Velar goes up against the larger BMW X6, Maserati Levante and Porsche Macan; even in this rarefied company, the Velar manages to look like a more cost-effective ownership proposition, its high resale values and now comparatively reasonable fuel costs earning it lower pence-per-mile figures. The one fly in the Velar's ointment is the Jaguar F-Pace, which shares much of the same engine technology but looks even better value as an ownership proposition no matter which model you choose. Happily, many Land Rover dealers share their premises with Jaguar ones, so you can compare both cars in the same place and decide for yourself whether the Velar is worth the extra expense.
Lease deals
These deals are based on terms of 8,000 miles, for a 36 month lease with a 6 months initial payment.
Standard equipment
Expect the following equipment on your Land Rover Range Rover Velar SUV. This may vary between trim levels.
Other vehicles in the Range Rover Velar family