Nissan Qashqai
New from £26,875 / £282 p/m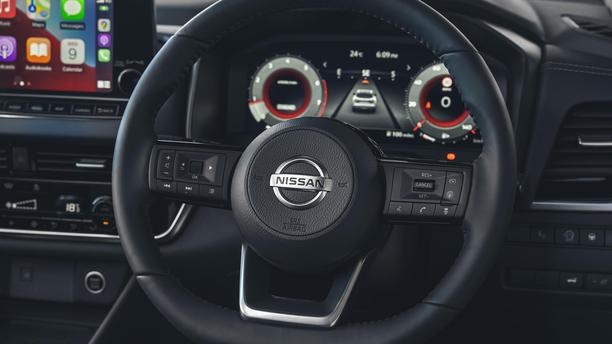 About the Nissan Qashqai
Sharp styling

Comfortable, spacious and practical

Good value for money
Immensely popular, medium-sized SUV from the reliability stalwart that is Nissan. Available as a hybrid or petrol car, it now wears a sharp suit that looks futuristic. Buy it with two or four-wheel drive, and go for one of the top two trim levels for all the toys. It's designed and built in the UK, so let's have a shout-out for the British car industry while we're here.
Is the Nissan Qashqai SUV a good car?
Read our expert review
"Nissan claims to have invented the whole mid-size crossover genre with the original Qashqai and, even in its last year on sale, the previous version was by far the best-selling vehicle in a massively competitive class. This all-new one doesn't mess with the formula but combines customer feedback with sharper design, improved tech and new mild-hybrid engines to improve the package still further. Designed, developed and built here in Britain, the Qashqai is a deserved family favourite, this new one set to continue Nissan's top ranking in the crossover field. Click here for our review of the e-Power 'range extender' hybrid version."
Read the review by category
Running costs for a Nissan Qashqai
At launch the new Qashqai comes with a single engine choice – a 1.3-litre petrol in two power outputs and with the option of front- or all-wheel drive and a manual or automatic gearbox, depending on the version. All get mild hybrid assistance, which basically expands the range of the start-stop system and offers a small electric boost to the engine, though it can't power the car on battery power alone. Good news? Whichever version you choose the emissions and fuel consumption are pretty much the same, so you can choose the model you want without having to go down an engine grade just to hit an emissions number. This is an important consideration for the company drivers, who make up over half of Qashqai buyers. For those who want more electrification the e-Power version revives so-called range extender hybrid technology where the car operates more or less as an EV and the onboard petrol engine is only there to charge the battery, not power the wheels. Expect running costs to be more in line with a plug-in hybrid, and therefore friendlier still on Benefit In Kind and other costs. The Qashqai's enduring popularity means strong resale values, which helps keep monthly payments low if you're running it on finance. Pricing also looks pretty reasonable for the equipment you get, with the vast majority of buyers opting for the top two trim levels with all the kit.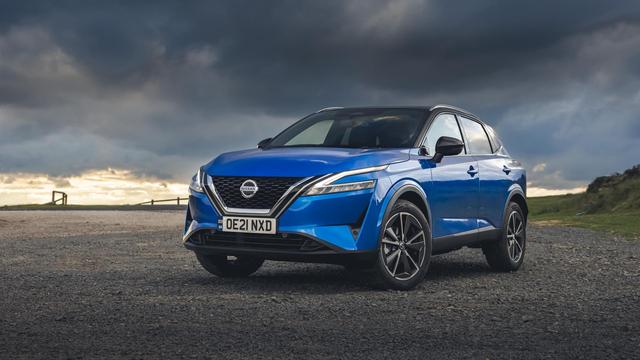 Reliability of a Nissan Qashqai
Nissan generally scores well on reliability surveys and, although the new Qashqai is built on a fresh platform and engines, there's little reason to fear that will change. The warranty is the industry standard three years and 60,000 miles, though rivals from the likes of Renault, Toyota, Hyundai and Kia all offer more cover. If that's a concern you can pay extra to extend the warranty as the initial three-year term comes to an end.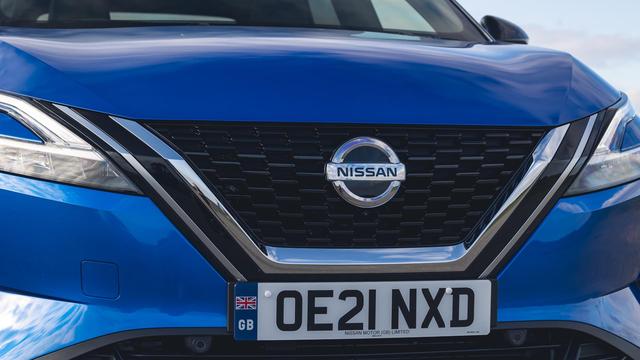 Safety for a Nissan Qashqai
Driver assistance technology is coming on leaps and bounds and the new Qashqai benefits here from being on an all-new platform, rather than just an updated version of an existing one. That means all the latest driver assistance tech is hard-wired in and even the entry-level model is generously equipped with automatic emergency braking for pedestrians, cyclists and junctions, steering tweaks to keep you in your lane and prevent you steering into vehicles in your blindspot, 'intelligent' cruise control, rear parking sensors and – even if you choose to ignore them – automatic braking when reversing and rear cross traffic alert. That's already as much as most people need (and more than most rivals offer as standard) but higher trim levels get more still, versions with the xTronic automatic gearbox even able to stop and start themselves on the cruise control in traffic.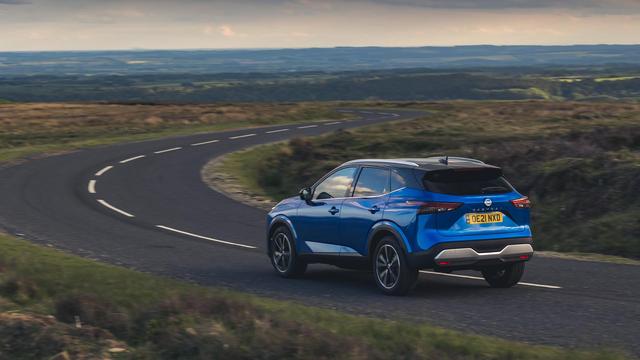 How comfortable is the Nissan Qashqai
Crossovers look trendy but the big wheels and tall stance typically compromise ride quality compared with regular hatchbacks. Credit to Nissan for managing to overcome that and make the Qashqai ride way better than pretty much any rival in the sector, thanks in no small part to the fact it was developed here in the UK on our particularly demanding and bumpy roads. Admittedly, the versions we drove were higher-spec all-wheel drive and/or automatics, which get a more sophisticated rear suspension set-up than more basic models. But even on 20-inch wheels the Qashqai rides with impressive comfort. It feels pretty big and substantial from the inside too. Some drivers may find that intimidating in busy urban driving, though the flipside is of course the sense of security buyers appreciate in SUVs and crossovers. Like many of its type there are some pretty big blindspots, which can make manoeuvring and edging out at junctions tricky. But it's no worse than any other in this respect. The driver and front-seat passenger have plenty of room, higher trim levels gaining improved lumbar support and even massage functions. The rear is also pretty good for legroom thanks to an increase in wheelbase length and access has been improved with wider opening doors to make it easier to load child seats and strap little ones into them, assuming you can bag a parent and child space wide enough to benefit from them. The central seat on the bench is a little lumpy and headroom isn't massive for full-size passengers, however. The boot is a good size, if a little shallow. There is a false floor with a bit more space underneath and the clever, multi-configurable dividers have been updated with a full-width wipe clean surface on the reverse in response to customer feedback.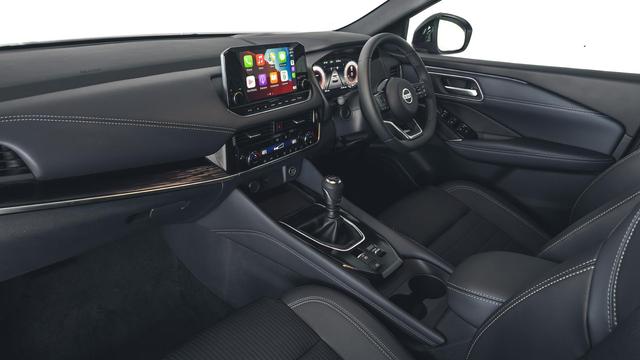 Features of the Nissan Qashqai
The basic trim level on the Qashqai hits an affordable price point and includes all the safety tech but is otherwise pretty sparsely equipped, coming on steel wheels and without a touchscreen or other frills. You need to go up a grade for that, a rear-view camera and plug-in CarPlay and Android Auto so we would probably consider that a minimum. The most popular trim levels by far are the N-Connecta, Tekna and luxurious Tekna+, and this is where you start getting the kit you actually want. This includes improved trim, a fully digital and configurable instrument cluster, a bigger central screen with connected infotainment and navigation and wireless CarPlay or Android Auto. The top trim line feels properly lavish, thanks to soft leather upholstery and a thumping Bose stereo, and is a nice indulgence but you don't necessarily need to go that far to score a well-equipped Qashqai.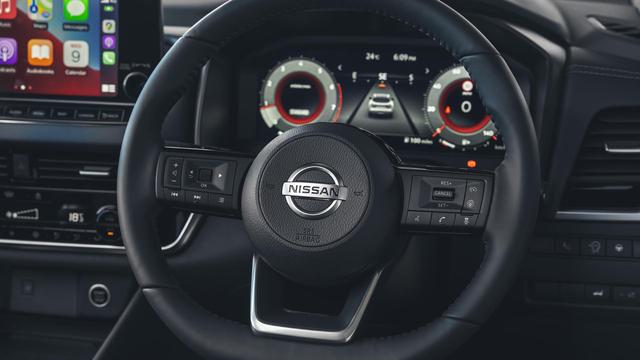 Power for a Nissan Qashqai
The mild hybrid 1.3-litre petrol engine is available in 138 horsepower and 158 horsepower versions, the former exclusively with the standard manual gearbox and front-wheel drive configuration. You get more options with the more powerful engine, the most obvious being the choice of an xTronic branded automatic in front- or all-wheel drive forms. As before the automatic gearbox is a 'CVT', which can traditionally feel a bit vague compared with more conventional automatic or dual-clutch types. Nissan has worked on this and this new one is smooth and avoids the annoying 'slipping clutch' sensation you get with some of this type. Opting for this gearbox also expands the scope of the mild hybrid's start-stop, with the ability to coast to a halt with the engine off from speeds of 11mph down. Nissan predicts manuals will still be the most popular choice among Qashqai buyers but the xTronic version is worth considering for its ease of driving and integration with assistance systems. It does add quite a bit to the price, though.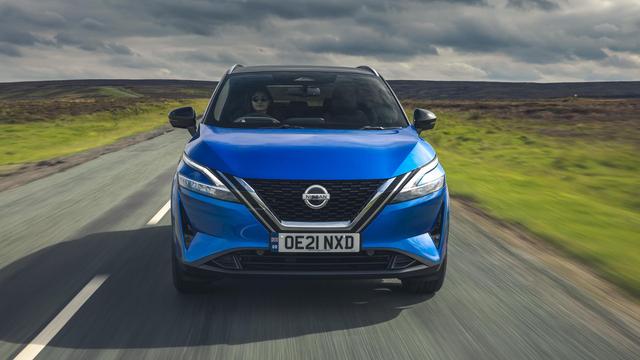 Lease deals
These deals are based on terms of 8,000 miles, for a 36 month lease with a 6 months initial payment.
Standard equipment
Expect the following equipment on your Nissan Qashqai SUV. This may vary between trim levels.
Related articles and reviews