Expert Review
Mazda3 Saloon (2019 - ) review
The Mazda3 Saloon offers a different flavour of Mazda3 to its hatchback sibling. It rivals cars like the Toyota Corolla Saloon, Honda Civic Saloon and more premium machines like the Audi A3 Saloon.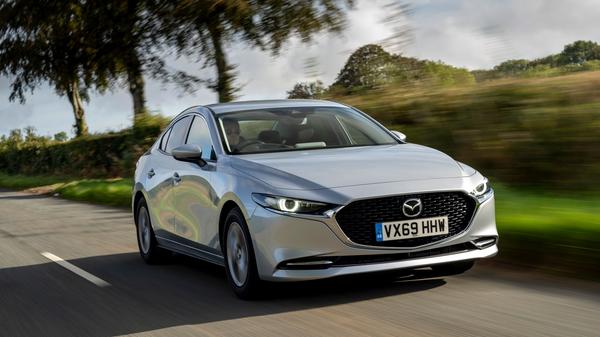 Words by: Phill Tromans
Published on 25 October 2019 | 0 min read
The Auto Trader expert verdict:
Available new from £29,245
If you fancy moving away from the common-or-garden hatchback and into something a bit different, then the Mazda3 Saloon may be for you. It offers eye-catching looks and impressive interior quality, as well as some clever engine technology that could keep running costs down. It's not bad to drive, either. Read more about what the Mazda3 is like to live with in our long-term test with the hatchback version.
Reasons to buy:
Stylish looks
Excellent quality interior
Solid driving experience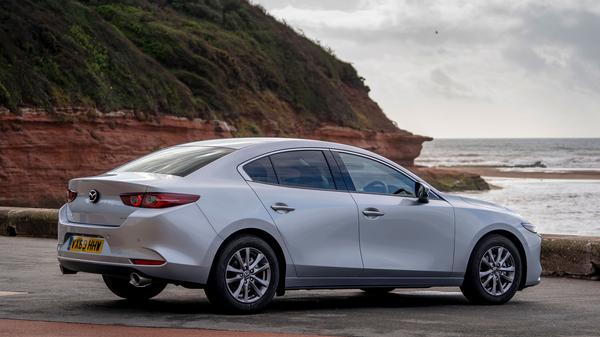 Running costs for a Mazda Mazda3
The small saloon market is a relatively niche one these days, but we've crunched some numbers for the Mazda3 Saloon against the Toyota Corolla Saloon and the more premium but less well-equipped Audi A3 Saloon. The purchase price for the Corolla and a mid-spec Mazda are very similar, but the Toyota is only available in one trim, and with a hybrid system which tends to be more expensive but is also less powerful. Resale values for both look like being very similar too, but the Toyota's better fuel economy and lower CO2 figures mean it'll likely cost less to run over several years. The Audi, as you'd expect, is more expensive, especially if you want one with power similar to the Mazda. It also won't get as good fuel economy and will cost more in depreciation. That means that the Mazda seems to tread a good line between premium feel, power, equipment levels and running costs.
Expert rating: 4/5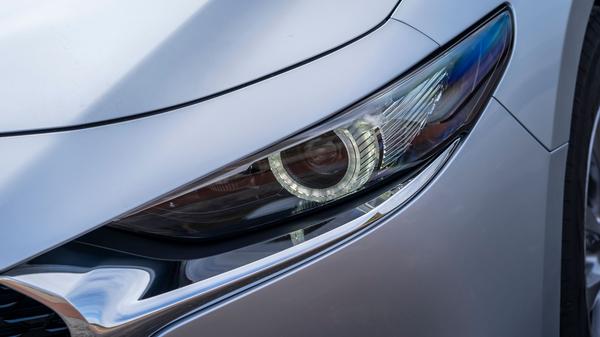 Reliability of a Mazda Mazda3
As a new car, built on a new platform and with one unproven engine and another that's been revised, knowing how reliable the 3 will be is a question that will need to be revisited in years to come. The company was just ahead of the industry average, according to the 2018 JD Power Vehicle Dependability study, but dropped to just below it in the 2019 study. The Reliability Index, which compiles data from claims made by customers of Warranty Direct, suggests the previous Mazda 3 has proved reasonably dependable. Should anything go wrong with your Mazda3 Saloon, Mazda offers a three-year, 60,000-mile warranty, which is pretty standard for the wider market but behind the warranties offered by some rivals.
Expert rating: 3/5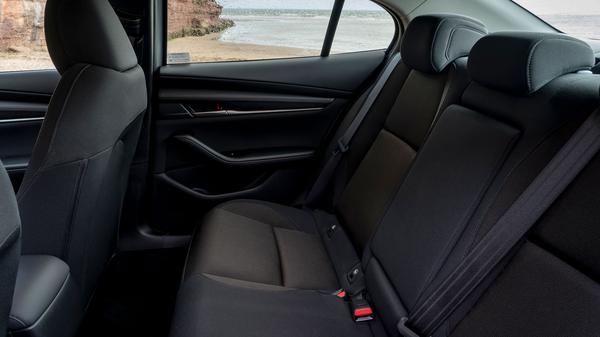 Safety for a Mazda Mazda3
In addition to the usual tally of airbags, there's an additional airbag to prevent the driver's legs striking the steering column. Active safety equipment includes a lane-keeping system, blindspot monitoring, autonomous emergency braking and an adaptive cruise control system that can take the strain out of driving, by managing the car's speed, braking and steering in traffic. Traffic sign recognition and rear crossing traffic alert (which warns you of approaching cars when reversing out of a space) are standard, too. There's also a standard driver monitor, which uses an infra-red camera mounted in the corner of the infotainment screen to read how often you're blinking your eyes and work out how tired you are. It can also tell if you're looking down at your phone or something else in the car, and will trigger emergency warning signals earlier if it thinks you're distracted. There are two Isofix child seat mounting points on the outer rear seats.
Expert rating: 5/5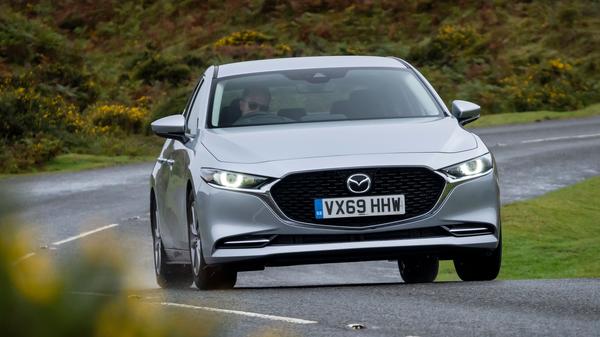 How comfortable is the Mazda Mazda3
The Mazda3 Saloon has an impressively plush, well-made and premium-feeling interior with plenty of soft-touch surfaces and a big 8.8-inch infotainment screen. It's not a touchscreen, which is unusual among its peers. Rather than system is controlled by a dial between the front seats, and it works well. There's lots of adjustment in steering column and front seats, and the rear seats offer a bit more legroom than the hatchback. There's more boot space too, but a smaller boot aperture to put stuff through, so while there's more room, it's not quite as accessible as the hatchback. Ride quality is very good, with a really nice balance between sharpness and comfort. The suspension will massage away the worst of Britain's roads but keep a responsive feel that fits in with Mazda's sporty image. It always feels alert and confident through the bends, but you shouldn't feel that the ride is firm. It's nice and quiet on the move too.
Expert rating: 4/5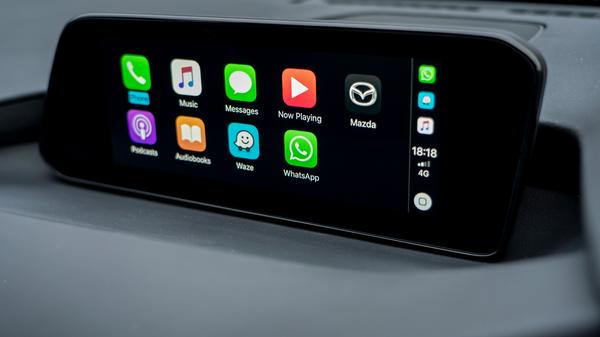 Features of the Mazda Mazda3
There are four trim levels available in the Mazda3 Saloon, starting with the Sport, which features an impressive array of standard equipment. It rides on 16-inch alloy wheels and has rear parking sensors and keyless entry, as well as LED headlights and a head-up display inside. Upgrade to the Sport Lux and you'll get 18-inch alloys, heated front seats and a reversing camera, as well as front parking sensors and dual-zone air-conditioning. The GT Sport model brings leather upholstery and a heated steering wheel, as well as an upgraded 12-speaker Bose sound system, while the top-of-the-range GT Sport Tech has a 360-degree camera system to help manoeuvring, and a range of extra driving assistance systems.
Expert rating: 5/5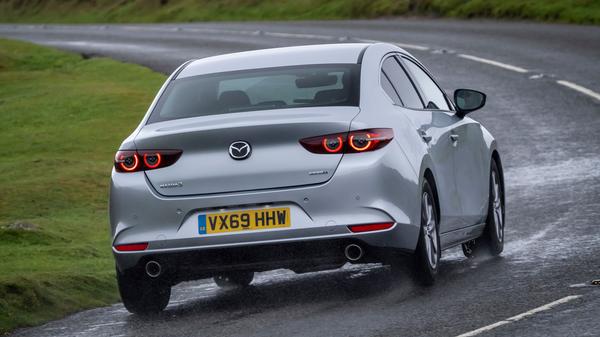 Power for a Mazda Mazda3
There's only one choice of engine in the Mazda3 Saloon – unlike the three in the hatch – and it's a 2.0-litre petrol unit called Skyactiv-X, which has 180 horsepower. Without getting too technical, it's rather different under the skin than most other rival engines. Mazda said it's designed to mimic the low-down grunt and fuel economy of diesel, and with petrol being cheaper, it's very pretty attractive in theory. While it does have a bit more low-down grunt than a regular, non-turbocharged petrol engine, it still needs higher revs to get the most out of it, and isn't quite as punchy as some small-capacity turbocharged engines from rivals can feel. It does have impressively low CO2 emissions though, which will have a positive impact on tax bills, although they're not as low as Toyota's hybrid-powered Corolla Saloon. Mazda owners can choose between an excellent six-speed manual gearbox or a six-speed automatic.
Expert rating: 3/5