Mazda 3 hatchback (2019 - ) review
The 2019 Mazda 3 family hatchback makes a better case for itself against the Volkswagen Golf and Ford Focus than previous iterations.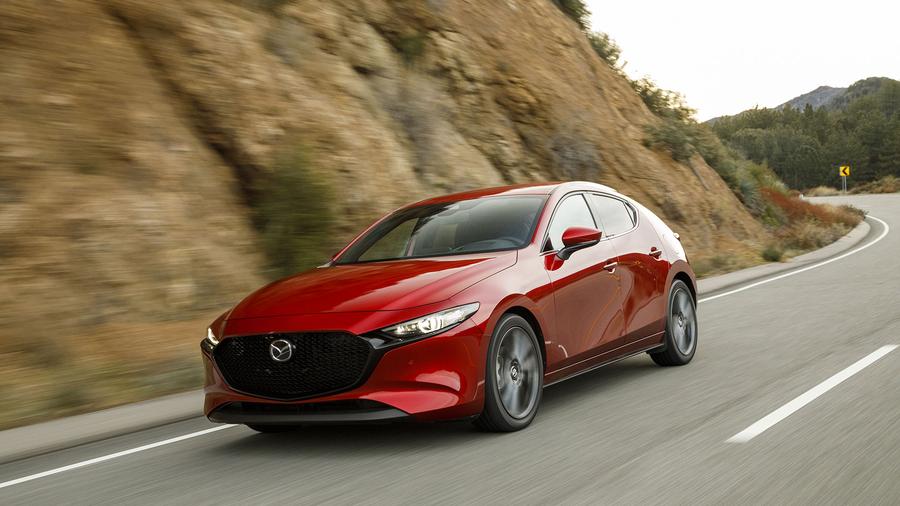 View gallery
The Auto Trader expert verdict:
★★★★★

★★★★★
3.5
By steering a subtle course upmarket, the latest Mazda 3 feels like a polished, premium product. Enjoyable to drive and with a more upmarket cabin, its only weak link is the amount of space in the rear seats and boot. All that remains to see is how competitively priced it will be.
Pros
Handsome

Stylish interior

Great to drive
Cons
Touchscreen fans won't like it

Some rivals more economical

Back seat space
Interested in buying a Mazda Mazda3?
How good does it look?
Draw your own conclusions, but we feel there's much to admire about the way the hatchback looks (a four-door saloon will also be available). For starters, the low nose and absence of noticeable bumpers give it a sleek look, while the back has a pronounced slope to the bootlid that subtly mimics a coupe. Meanwhile, between the front and rear are body panels with smoothly contoured surfaces, which is markedly different to the busy bodywork seen on so many other cars in this class. The effect is to create a distinct look that has an air of sophistication about it.
What's the interior like?
Jump from a VW Golf into this car's cabin and you won't feel hard done by. The look and feel of the latest 3's cabin stands comparison with the current generation of Audi, Skoda and Volkswagen hatchbacks. The elegantly slender dashboard is swathed with soft-touch surfaces, all the switchgear has a satisfying look and feel, there's a new, larger 8.8-inch screen for the infotainment system and a partially digital instrument display.
Unusually, however, there isn't a touchscreen device to be found. Explaining its decision to buck the trend, Mazda expresses reservations about the safety of such systems. At a time when the car is becoming an extension of the smartphone, it's brave for a car manufacturer to express such views in public.
So the screen for the navigation, audio and other convenience functions is positioned at the top of the dashboard, as close to the windscreen as possible. Mazda has paired it with a simple rotary controller and voice control. This tried-and-tested approach worked well in the time we spent with the car.
How practical is it?
This is where the Mazda 3 hatchback falls down against competitors. While the amount of space for relaxing in the front seats can't be faulted, the back seats are a different matter. In trying to make the car look good and give the body a sleek profile, the company has had to compromise on the amount of space in the back seats and boot.
If you don't regularly ferry family or friends about, this may not be enough of a drawback to put you off buying a 3. But those with children in high-backed child seats will need to check that they fit comfortably, and also size up how easy it is to help children in and out of the back doors. Equally, anyone approaching six-foot will be rubbing their head on the ceiling.
The boot holds 358 litres of luggage, which is about a handbag's worth less than in the previous 3 and less than in most rivals, although the back seats fold almost flat to give more room.
What's it like to drive?
The 3 manages to provide an impressive balance between sharpness and comfort. Mazda's engineers tuned the suspension to give a softer, more pliant ride than the previous car – ideal for Britain's broken roads – yet at the same time they have performed the clever trick of ensuring it also feels responsive at any speed. It means the Mazda 3 is up there with the very best hatchbacks in its price range for all-round dynamic ability.
Another impressive trait is how quiet and smooth the car is. Whether nipping about town, tackling a winding road or cruising a motorway, levels of road- and wind noise are low. Later on, all-wheel drive will be made available with the more powerful, Skyactiv-X engine (see below).
How powerful is it?
Initially, the Mazda 3 will go on sale with a choice of two engines, a 2.0-litre four-cylinder petrol unit with a mild hybrid system and a conventional 1.8 diesel. So far, we've only tried the petrol. Because it doesn't have a turbocharger, it's not as willing as the motors in some rivals. It is smooth until around 4,500rpm, but then it grows a bit gruff. It manages a decent 44mpg according to official figures, but how close drivers will get to such fuel economy will depend on how hard they have to work it to make good progress.
Later in the year, Mazda's interesting Skyactiv-X engine, which uses compression ignition – effectively merging the way a diesel and petrol engine work – will be added to the range, with a promise of diesel-like fuel economy and the fun drive of a petrol. Whether it's successful remains to be seen.
How much will it cost me?
This area is a little difficult to call. Mazda is yet to release details of the pricing, trim levels and standard and optional equipment for the 3. So, predicting the residual values and associated running costs is not possible at this early stage. We can tell you that the 2.0-litre petrol model we tested returns a combined fuel economy of 44.8mpg and emits 119g/km, meaning tax bills – for both private buyers and company car drivers – will be comparable with a similarly powerful, petrol Golf.
How reliable is it?
As a new car, built on a new platform and with one unproven engine and another that's been revised, knowing how reliable the 3 will be is a question that will need to be revisited in years to come. However, the bigger picture surrounding Mazda's cars is encouraging: the company was just ahead of the industry average, according to the 2018 JD Power Vehicle Dependability study. That said, the Japanese car maker was placed behind Kia, Honda, Hyundai, Nissan, Toyota and others.
The Reliability Index, which compiles data from claims made by customers of Warranty Direct, suggests the previous Mazda 3 has proved reasonably dependable, scoring better results than the VW Golf but falling some way behind the Honda Civic.
How safe is it?
The car is still to be smashed to smithereens by the safety experts at Euro NCAP, so no independent measurement is available of how well it will protect occupants in the event of an impact. However, Mazda has confirmed that in addition to the usual tally of airbags, there will be an additional airbag to prevent the driver's legs striking the steering column. Active safety equipment includes a lane-keeping system, blindspot monitoring, autonomous emergency braking and an adaptive cruise control system that can take the strain out of driving, by managing the car's speed, braking and steering in traffic. But equipment levels and options for UK cars are still to be finalised.
How much equipment do I get?
As we said, until Mazda announces specifications for the car – which includes the trim structure, what equipment comes as standard on each trim, and what additional kit is optional – this area remains a total mystery. However, the company has commented that it anticipates more customer demand for cars with the most equipment, so that's likely to be reflected in the 3's range structure.
Why buy?
Those that want to stand out of the crowd and enjoy every drive in their next car should add the Mazda 3 to their shortlist. This is a very likeable car that feels as though it's fully deserving of customers' attention. The pricing and equipment levels will need to be competitive, but on early evidence, the 3 is off to an encouraging start.
Interested in buying a Mazda Mazda3?