Review
Porsche 911 Cabriolet convertible (2019 - ) review
The Porsche 911 Cabriolet continues a fine lineage of open-top sports cars that dates back to 1982, and competes against sporty convertibles from the Jaguar F-Type Convertible to the Audi R8 Spyder.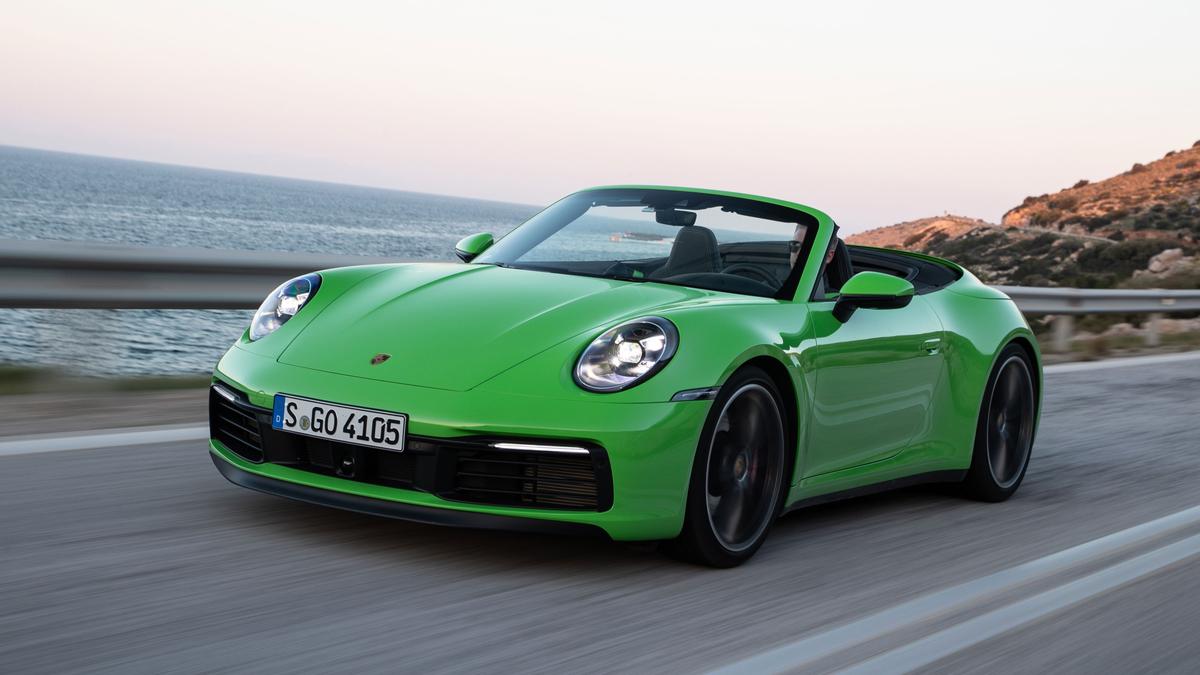 View gallery
The Auto Trader expert verdict: ★★★★★

★★★★★
5.0
It may once have been the case that the open-top Porsche 911 was the disappointment of the family, but the 911 Cabriolet is now as good as its fixed-roof sibling. With a powerful engine, excellent cabin quality and typically Porsche-brilliant handling, the Cabriolet is a delight to drive, while its folding roof means owners can take advantage of sunnier weather to enjoy one of the best, most rewarding motoring experiences possible.
Pros
Superb handling

Epic performance

High-quality cabin
Cons
Expensive

Tiny boot area

Rear seats are very small
Interested in buying a Porsche 911?
How good does it look?
Porsche's designers have worked hard to accommodate the 911 Cabriolet's folding roof and 3.0-litre engine at the back of the car while keeping that classic shape, and they've done a very decent job. The full-width LED light strip that is Porsche's design signature is incorporated into the 911 Cabriolet, while up front are full LED headlights with the four-point daytime running lamps that are the German brand's hallmark. The Cabriolet's fabric roof can be raised and lowered fully electrically in just 12 seconds, even while the Porsche is moving at speeds of up to 31mph.
What's the interior like?
The cabin of the 911 Cabriolet is defined by the 10.9-inch touchscreen infotainment system and the part-digital instrument cluster, which features two angled TFT screens either side of the central analogue rev counter. All of this works a treat, because it's beautifully laid out, completely intuitive to use and it makes the occupants of the car feel special, even before the 911 has turned a wheel. The driving position of the 911 Cabriolet is absolutely spot-on, while a perfectly round steering wheel is another great touch. Visibility out is, in the main, excellent in all directions, although with the hood up there's a bit of a blind spot over the driver's shoulder, in the rear three-quarters of the car.
How practical is it?
Although the 911 Cabriolet is one of the few four-seaters in its class, and accepting that its character is borderline grand tourer, it remains a car that will better serve just two occupants. The rear seats are small and have very limited legroom, with little space underneath the front seats for feet. Add to that the Cabriolet's almost-vertical rear seatbacks and it won't be a comfortable place for anyone who is taller than 5ft 6in to sit for any stretch of time. Better to think of the rear seats as an occasional-use cargo area, because the one official boot on the 911 Cabriolet is mounted in the front of the car and measures just 132 litres in capacity. That 'frunk' is also an odd shape, as it's almost a deep cube that sits between the headlights, so longer items will not fit.
What's it like to drive?
Arguably the 911's strongest suit, the Cabriolet upholds the template laid down by the 911 Coupe to deliver a stirring driving experience. The Porsche Adaptive Suspension Management (PASM) system is fitted as standard, meaning all Cabriolets have two-stage adjustable suspension to allow the 911 to cover all bases. Options include rear-wheel steering, a 10mm lower chassis and carbon-ceramic brakes to sharpen the driving experience, but there are few cars of any guise – never mind just convertibles – that could match the 911 Cabriolet for driver involvement. And yet, as much fun as it is in the corners (and it is tremendous fun), it's just as civil as a cruiser, with a firm yet controlled ride and easy-going controls making it a doddle to drive the 911 Cabriolet slowly and smoothly.
How powerful is it?
Porsche offers the Cabriolet with the S specification 3.0-litre, biturbo, flat-six petrol engine, which delivers up to 450 horsepower. Drive either goes to the rear wheels alone on the Carrera S Cabriolet or to both axles on the Carrera 4S Cabriolet. Both use the fast-shifting, super-slick, eight-speed dual-clutch automatic transmission, with paddle shifts behind the steering wheel. And this engine is a corker; it's very strong from low revs, thanks to an abundance of midrange torque, while it will happily rev out to 7,400rpm with no notable vibration or coarseness. Do so, and you'll be going quite extraordinarily fast, as every 911 Cabriolet can do 0-62mph in less than four seconds and run on to a top speed in the order of 190mph. Noise suppression from the car in general is impressive too, particularly from that fabric roof, which does a fantastic job of cutting out the worst wind buffeting when the Porsche is travelling at motorway speeds.
How much will it cost me?
While a 3.0-litre Porsche is obviously not the cheapest thing in the world to run, its quoted economy and emissions figures are pretty decent for something so fast and powerful. Previous experience of Porsche turbocharged flat-six petrol engines suggests they can return highly commendable figures when cruising gently, so we've no reason to believe that the 911 Cabriolet will be any different. Add in the 911's strong resale values, brought about by its desirability, and it should be relatively inexpensive to run for a high-end sports car like this.
How reliable is it?
Porsche doesn't have a particularly great record for reliability, although the company's relatively small size in the automotive market means it's often absent from the larger reliability surveys, which makes it difficult to get meaningful insight into the 911, specifically. Warranty Direct's Reliability Index ranks Porsche close to the bottom of all the manufacturers, although that's for previous generation cars to this one. Should anything go wrong, Porsche offers a three-year, unlimited mileage warranty.
How safe is it?
As standard, the 911 Cabriolet is fitted with some useful items of safety equipment, including autonomous emergency braking, front and rear parking sensors with a reversing camera, cruise control with a speed limiter function and the company's 'wetness detection system', which uses acoustic sensors in the front wheel wells to determine when water is on the road surface, the car then advising its driver to switch into Wet mode to make driving safer.

As with all convertibles, the 911 Cabriolet has an automatically deploying rollover protection system in the event of the car flipping in a crash, but beyond this, many of the items that can be standard-fit on more affordable cars are cost options on the Porsche – things like a surround-view 360-degree camera, lane keeping assistant with traffic sign recognition, adaptive cruise control, blind-spot warning and one of the Porsche's headline features, called Night Vision Assist, which can detect pedestrians and large mammals at night; it's a shame some of these items aren't part of the original equipment list, though. There's also just one Isofix child seat fitting point in the 911 Cabriolet, which is on the front passenger seat.

How much equipment do I get?
As they're both S-grade cars, the Carrera S and Carrera 4S Cabriolets have exactly the same equipment as standard. There's a generous amount of stuff fitted from the off, including the touchscreen system with satellite navigation, Porsche Connect Plus services including a wifi hotspot, an eight-speaker stereo with a 150-Watt output, DAB radio, automatic lights and wipers, dual-zone climate control, heated sports front seats, leather upholstery and a multifunction steering wheel. Like any Porsche, though, there's a lengthy and potentially very expensive options list, including items to upgrade the exterior lighting, interior ambience and performance, which can push the 911 Cabriolet's high starting price even higher still.
Why buy?
Convertibles aim to offer all the fun of their hard-topped relations, only with all the added benefits that open-air motoring can bring. Normally, they're not as good as the cars they are based on but that doesn't seem to be the case with the Porsche 911 Cabriolet. It's a magnificent machine that's fit for all occasions; a deeply talented sports car one minute, a relaxing soft-top grand tourer the next. Its lovely interior, striking looks and searing performance mean this is a vehicle wholly worthy of the exalted 911 badge. It's probably the best high-end performance convertible on sale right now.
Interested in buying a Porsche 911?