Expert Review
Toyota Supra Coupe (2019 - ) review
Read all about the latest incarnation of Toyota's well-loved sports car, the Supra. Can its driving experience live up to its extravagant looks?

Words by: Phill Tromans
Last updated on 18 November 2019 | 0 min read
The Auto Trader expert verdict:
Available new from £50,545
The Supra is an excellent sports car that manages to combine extravagant looks and exciting performance with a demure side that'll make it a very usable everyday car. It was co-developed alongside the BMW Z4, meaning the two cars share plenty, and whether that's a positive thing or a negative thing will depend on your point of view. However, there's no doubt that if the idea of a Porsche Cayman or Alpine A110 appeals, make sure you've had a very good look at the Supra before spending any money.
Reasons to buy:
Great engine
Standout looks
Plenty of standard kit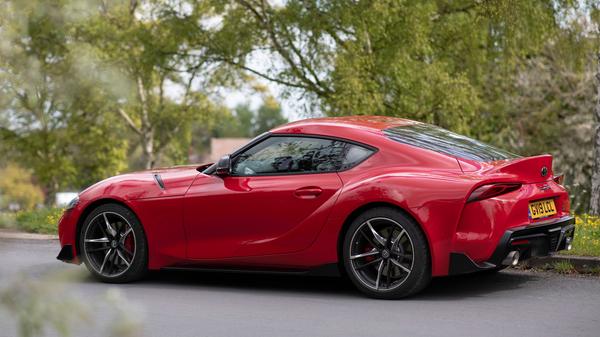 Running costs for a Toyota Supra
Pricewise, the Toyota Supra sits squarely in the middle of rivals like the Porsche Cayman S, Jaguar F-Type V6 and Alpine A110, although the price of those will likely rise when you tick various options boxes. The Porsche suffers from very high service, maintenance and repair costs, which the Toyota, Alpine and Jaguar. When it comes to fuel economy the Alpine is again supreme, although it doesn't have the power of the other cars. The Toyota is likely to be slightly easier on fuel than the Porsche or Jag, but not by much. The Porsche's ace in the hole is its resale value, which far exceeds the opposition. For that reason alone we'd expect it to be cheaper overall to run over several years than the Toyota and Jag, which will likely be very similar to each other. The Alpine will be cheaper than all of them, due to its lower purchase price and much better fuel economy. But you will lose out on any power boasting.
Expert rating: 3/5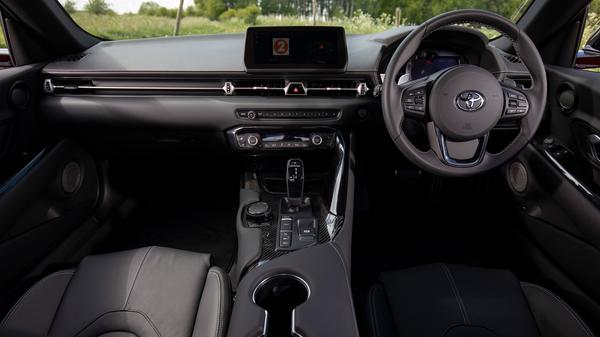 Reliability of a Toyota Supra
This is a slightly tricky one to judge, because while Toyota has had an historically superb record for reliability, BMW's is terrible. And the Supra was a joint project between the two manufacturers. In JD Power's 2018 and 2019 Vehicle Dependability Studies, BMW have been rated rock bottom of all the major manufacturers. Toyota fares better, although it's alarming that the company has slumped down the rankings in recent years. In 2019 it was seventh from bottom with a score lower than the industry average. That represents a big drop from ninth overall in 2018. Here's hoping it's just a blip. Should anything go wrong with your Supra, Toyota does at least offer an impressive warranty of five years or 100,000 miles.
Expert rating: 3/5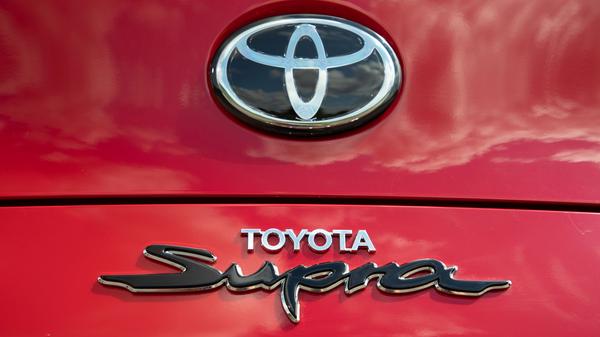 Safety for a Toyota Supra
The Toyota Supra is produced in relatively small numbers, which means it's unlikely to be crash tested by safety organisation Euro NCAP. However, Toyota and BMW both have excellent records in safety, so we'd be confident that it would perform well. The Supra comes with lots of safety kit as standard, including automatic emergency braking with pedestrian detection, blind spot warning system and lane departure warning. There's an Isofix child seat mounting point in the passenger seat and eCall, which automatically alerts the emergency services if you have an accident.
Expert rating: 4/5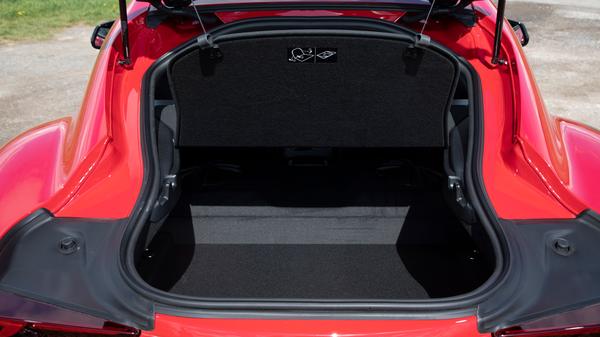 How comfortable is the Toyota Supra
Anyone who's been in a BMW in the past few years will recognise a lot of the switches and technology in the Toyota Supra, from the buttons on the steering wheel and the gearstick to the infotainment system and the dial that operates it. That's not necessarily a bad thing, but it does make it slightly less Toyota-like than perhaps the brand would want you to believe. The infotainment touchscreen is small by modern standards, and we found it hard to see the details at times, especially in bright sunshine. It has Apple CarPlay, but not Android Auto, which is a shame for those without iPhones. There's an enclosed, cockpit-like feel from the driver's seat, with padded panels either side of your legs to keep you in place during spirited cornering. The roof is low and while the seats are low, too, taller drivers might find themselves at eye-level with the top of the side window, hampering visibility. Rear visibility is pretty terrible, too, but luckily there are plenty of sensors and a rear-view camera to help see what's going on. Build quality is okay when compared with rivals, if not quite up to the quality of Porsche, with a few too many cheap-feeling plastics spoiling the overall classy vibe. One doesn't expect practicality to be a major focus in a two-seat sports car, but the Supra does a reasonable job of factoring everyday life into the fun. There are two good-sized cupholders between the occupants and a small tray behind for odds and ends. There are small door pockets, too, but we've found that any kind of spirited driving sends the contents spilling onto the floor. There's no physical partition between the front seats and the boot, meaning you can reach through and access the luggage area without getting out and opening the bootlid. But on the other hand, it means you can hear stuff rattling around if it's not secured. Size-wise, it'll hold a couple of cabin-sized bags without too much trouble, and there's a removable panel under the hatchback bootlid so that you can load slightly larger things if need be. With a wide track, low centre of gravity and short wheelbase, Toyota (and BMW) has worked hard to make the Supra an engaging, agile machine for the driving enthusiast. And it's succeeded. We tried the Supra in town, on motorways and on twisting country roads, and it excelled on all of them. The steering is quick, with only small inputs needed between bends, and there's plenty of weight to make up for a slight lack of feel. Throw the car into bends, and there's a touch more body roll than you might first expect, but that adds a bit of drama to proceedings and it never feels like it's lacking confidence or capability. A short blast on a racetrack suggested that it's even more composed and confident at high speeds and on the limit of grip, although we don't advise that you test that on the road. Toyota is vocal about the Supra being a car that prioritises feelings over stats and numbers, and it's made an engaging and fun car to drive. In addition, the standard adaptive suspension makes for impressively comfortable progress. It might be a sports car, but it won't shake your fillings out, even on slightly ropey asphalt. This type of car has two very strong benchmarks to compete against, being the Porsche 718 Cayman (in S spec, at Supra price), and the Alpine A110. Based on our first taste of the Supra, we don't reckon it's quite as pin sharp as these rivals, but it's still very impressive and enjoyable.
Expert rating: 4/5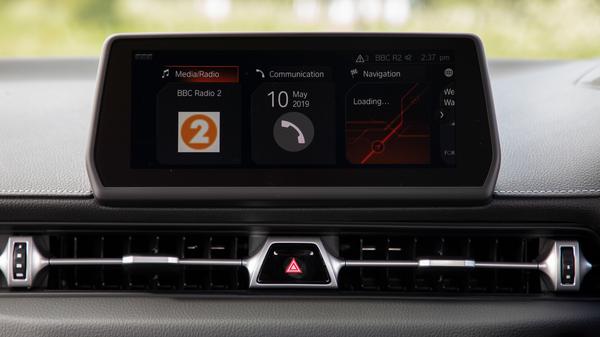 Features of the Toyota Supra
All models come with 19-inch alloy wheels over big steel brakes, and LED headlights. There are two trim levels – Supra, and Supra Pro – but both have the same features on the outside. The Supra is well-equipped for this type of car, with a minimal options list (unlike the Porsche Cayman). Standard cars get Alcantara (faux-suede) upholstery, the full infotainment system with sat-nav and a ten-speaker sound system, keyless entry and start and adaptive cruise control. The seats are heated and ventilated, and Apple CarPlay is included. Upgrade to the Supra Pro model and the sound system becomes a 12-speaker JBL set-up, you'll get a head-up display in front of the driver and leather seats, as well as a wireless charging tray for your phone. The only options are for different paint colours.
Expert rating: 5/5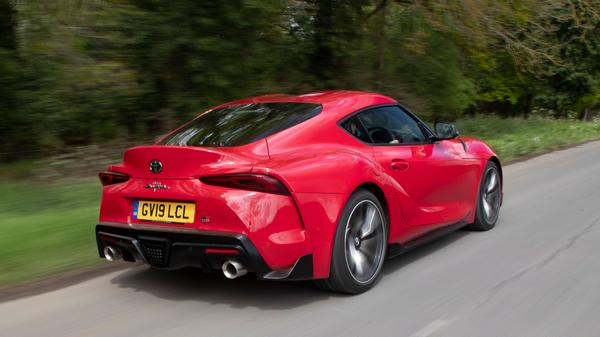 Power for a Toyota Supra
With the old Supra boasting a straight six-cylinder engine, Toyota was adamant that it wanted the same for the latest car. That's essentially how the tie-up with BMW came about, as only BMW was making such engines, and for Toyota to develop its own would have been prohibitively expensive. So it swiped the BMW one and it's all the better for it. The turbocharged 3.0-litre engine develops 340 horsepower and delivers it in a beautiful manner, with loads of low-down grunt. With its chief rival, the Porsche Cayman S, having ditched its six-cylinder engines in favour of more efficient four-cylinder ones, the Supra's extra beef is a definite plus and lends extra character to the experience. Engage the standard launch control, and you can rocket to 62mph in just 4.3 seconds. Sadly, for a car marketed for its feel and driver involvement, there's no manual gearbox. Still, the eight-speed automatic gearbox is slick enough, and you can ratchet through the gears using paddles behind the wheel if you choose. Engage Sport mode via a big button between driver and passenger, and things sharpen up further (engine, suspension, gearbox and steering all turn themselves up), and there's a bit more noise, too. Perhaps it could be more sonorous still for a more exhilarating experience, but it certainly doesn't sound bad.
Expert rating: 5/5