Review
Renault Zoe hatchback (2019 - ) review
The Renault Zoe was one of the first all-electric cars to hit the mainstream market, and it's still one of the best. It also happens to be one of the most affordable.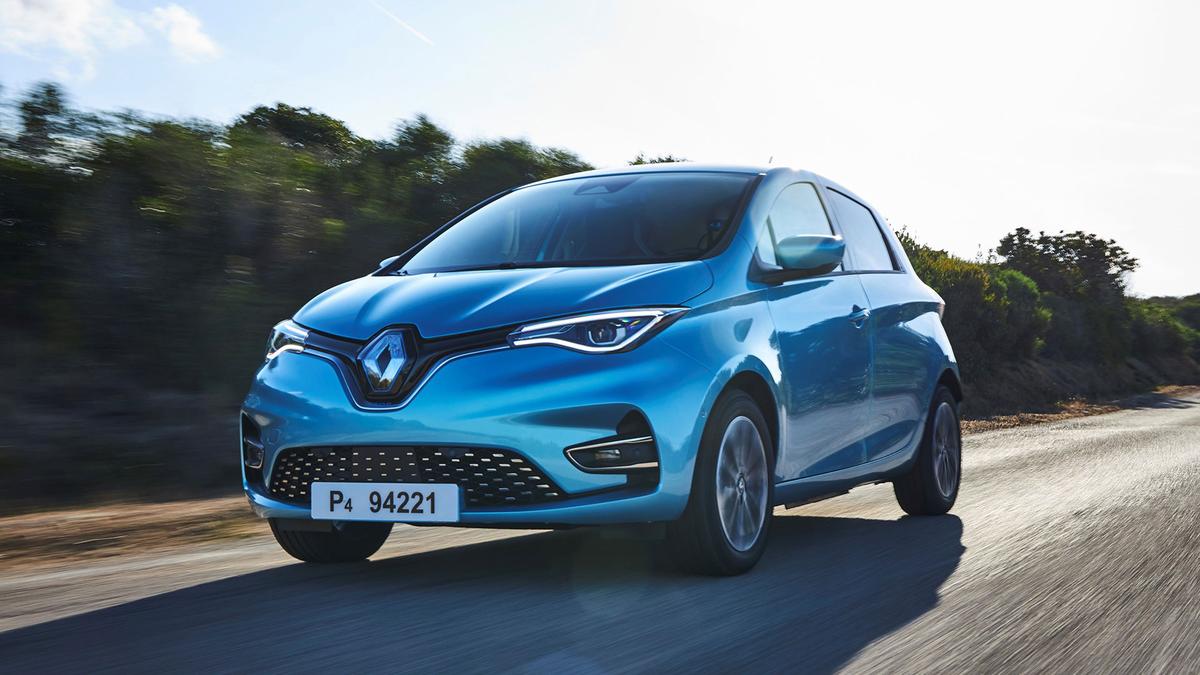 View gallery
The Auto Trader expert verdict: ★★★★★

★★★★★
4.0
We reckon the Renault Zoe is one of the best electric cars you can buy, and not just because it's one of the cheapest (which it is, as it happens). It's also impressively practical for its size and really nice inside, while on the road, it combines comfort, quietness and fun in a really well-rounded dynamic package. All that, and zero tailpipe emissions. Who needs a Tesla?
Pros
Practical for its size

Really good to drive

Classy-feeling interior
Cons
Slightly awkward driving position

Some important safety kit missing

Fast-charging system costs you extra
Interested in buying a Renault Zoe?
How good does it look?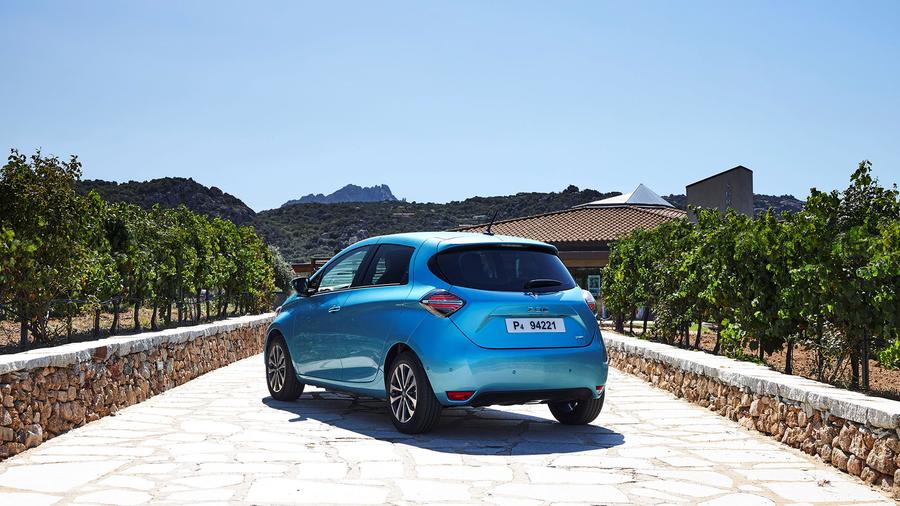 The overall proportions of the Zoe haven't changed a whole heap from the first-generation car, but a number of the details have. The most noticeable of them are the lights, which are all now LED affairs. The fronts have a cool C-shaped signature, while the rears have indicator repeater lights that swoosh, rather than just flash. The base-level Play trim also comes with front foglamps, but you have to make do with steel wheels. Iconic trim upgrades these to alloys, while range-topping GT Line trim adds some extra bits of sparkly exterior trim.
What's the interior like?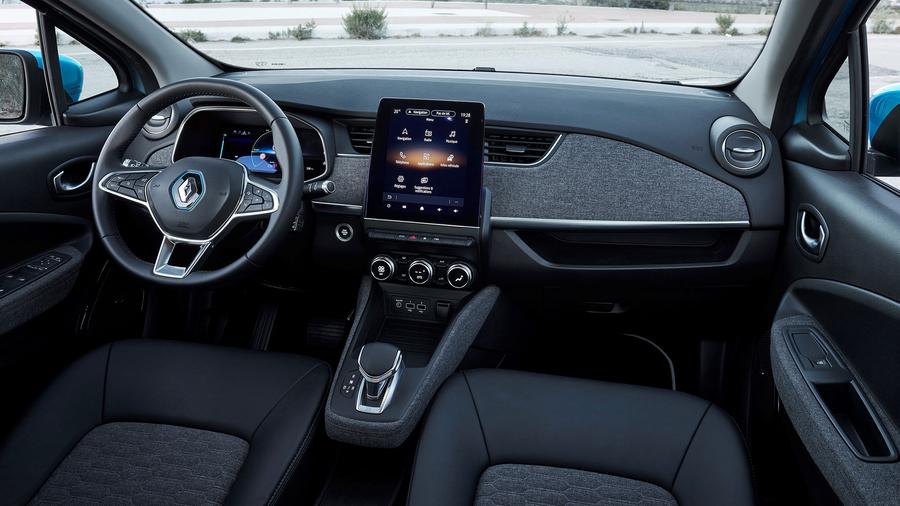 This is an area in which the latest Zoe has made a drastic improvement over the previous one. Where the interior was once a bit plasticky and grey, it's now finished with high-grade materials, tasteful trim pieces and a carefully considered colour scheme. And to help perpetuate the theme of sustainability, some models are even trimmed with a recycled fabric that's made out of old seatbelts and plastic bottles. It's really effective, and as a result, the cabin feels effortlessly classy. It feels high-tech, too, because you get large, colourful digital instruments as standard, and high-end GT Line models also get Renault's latest infotainment system with a swanky-looking portrait-orientated 9.3-inch touchscreen (lower-end models get a 7.0-inch display). Things aren't quite perfect; there's no height adjuster on the driver's seat with which to fix the rather lofty driving position, and the small back window means your rear visibility is a little hampered. Other than that, though, it's a seriously impressively effort from Renault.
How practical is it?
The Zoe is not a large car, but even so, it does impressively well in this area. Both the front seats and rear seats have a very handy amount of headroom and legroom – easily enough for a quarter of six-foot adults to travel comfortably – and thanks to a wide middle seat in the rear, carrying a fifth person should be comfier than in many superminis, too. And at 338 litres, the boot is significantly bigger than you get in a Ford Fiesta or VW Polo, and the space is a good square shape, although folding down the rear seats leaves you with both a step and a slope in the floor, and the entry-level car only comes with a solid rear bench rather than split-folding rear chairs.
What's it like to drive?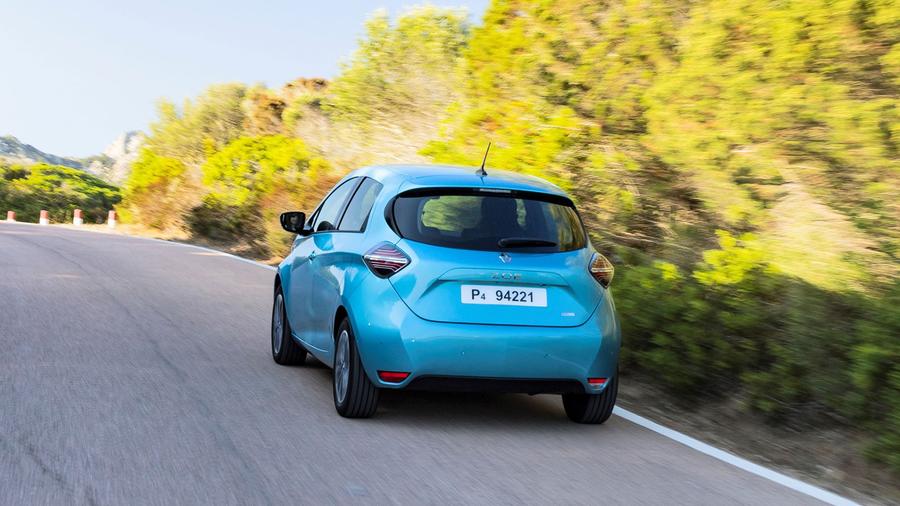 The Zoe is really impressive in this area, because it's not just good to drive for an EV, it's good to drive full-stop. Most importantly, it's an easy-going, relaxed experience. There's little more than a faint whirr to be heard from the motor, meaning that – along with decent suppression of wind-and road noise – it's impressively quiet as you plod along. The compliant, comfortable ride also helps keep things serene, because the car is impressively good at shielding you from the effects of a battered road surface. And yet, despite this comfort, the Zoe also manages to change direction fairly crisply in the bends, with strong grip, tight control over body lean and steering that's satisfyingly weighty and consistent. It disguises its hefty weight well, too. It feels hardly any bulkier than a regular combustion-engined supermini (despite the fact that it is) and when compared with most other EVs, it feels positively twinkle-toed.
How powerful is it?
All versions of the Zoe come with the same 52kWh battery, but there are two different electric motors to choose from, the 108-horsepower R110 and the 136-horsepower R135. So far, we've only driven the latter. Its 0-62mph sprint time of 9.5 seconds is no great shakes, but that's far from the full story. Off the line, the Zoe's power is unfurled smoothly and gradually so as not to overpower the achievable traction of the front wheels. However, if you put your foot down from a rolling start, it's an entirely different story. The Zoe allows its motor to respond much more quickly and with much more ferocity, and the acceleration you feel in this instance is properly scintillating. The single-gear transmission also means a seamless, uninterrupted, shift-free power delivery, which helps the car feel even more responsive, and it's especially good for overtaking, and for getting the power down quickly when coming out of corners. The brakes are really good, never feeling overpowered by the performance or by delivering on its regenerative responsibilities, while also delivering a decent amount of feel.
How much will it cost me?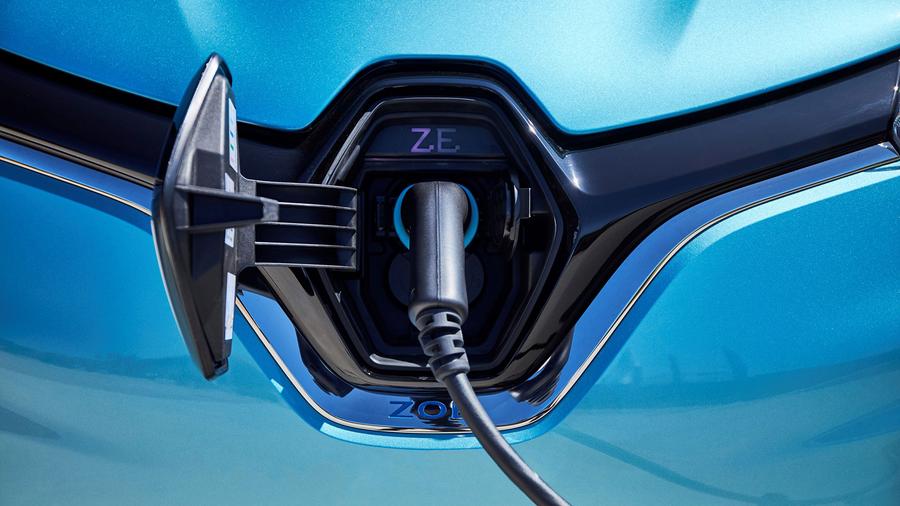 One of the Zoe's biggest selling points is that it's one of the most affordable electric cars you can buy. You have two choices on that score. You can choose to buy the whole car outright, or you can choose to buy most of the car, except the bit that most expensive and perishable – the battery – and lease that from Renault instead. This reduces the purchase cost considerably, and safeguards you from excessive battery wear in the future, but you will have to pay a small monthly leasing fee. However, even if you buy the whole shooting match outright, it'll still save you thousands compared with most other mainstream EVs. The other good news is that the Zoe's resale values have improved dramatically over time, and it's now one of the best performing cars of its type on that score. And, because it has fewer moving parts than a combustion-engined car, servicing and maintenance should also cost a lot less.

Of course, filling a car with electricity is much cheaper than filling it with petrol or diesel. A full juice-up takes 9 hours and 25 minutes on the fully-installed 7kW wallbox charger that comes free with the car, and will cost you between £3 and £7 per charge, depending on the tariff and the time of day. The official WLTP figures suggest that should be capable of taking you up to 245 miles, but in the real world, your maximum range will depend on a variety of factors including how fast you drive and what the ambient temperature is. Be aware, too, that if you want to upgrade your standard 22kWh charger to a 50kW charger that allows you to add up to 90 miles worth of range in just half an hour (provided you can find an appropriate charging station, that is), it'll cost you several hundred pounds more. It can't be retro-fitted, either.
How reliable is it?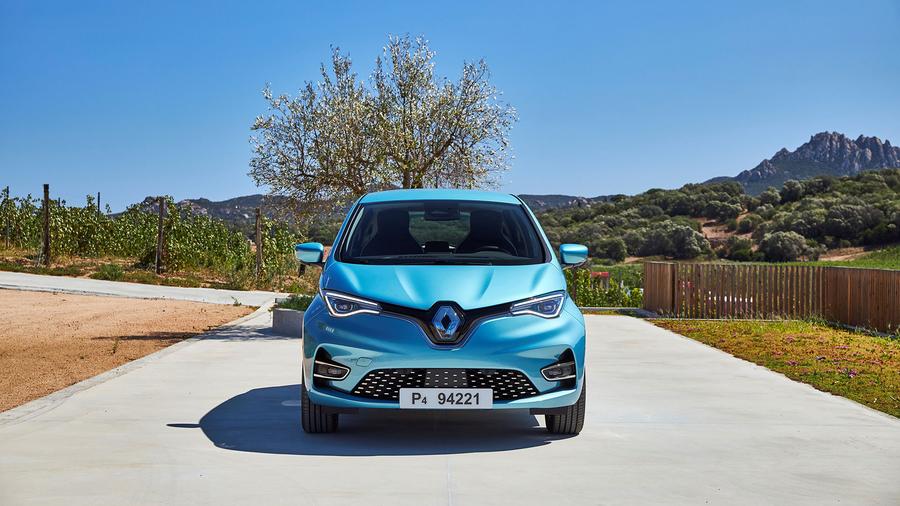 Being an electric car, the Zoe has fewer moving parts than a combustion-engined car, so it should – in theory at least – be more reliable because there's less to go wrong. It also makes the car cheaper to maintain. Our owner reviews suggest that Zoe owners are a pretty happy bunch by and large, and that's supported by the Warranty Direct Reliability Index, which places Renault comfortably in the top half of the manufacturer standings. In case trouble does occur, the Zoe comes with a three-year 100,000-mile warranty.
How safe is it?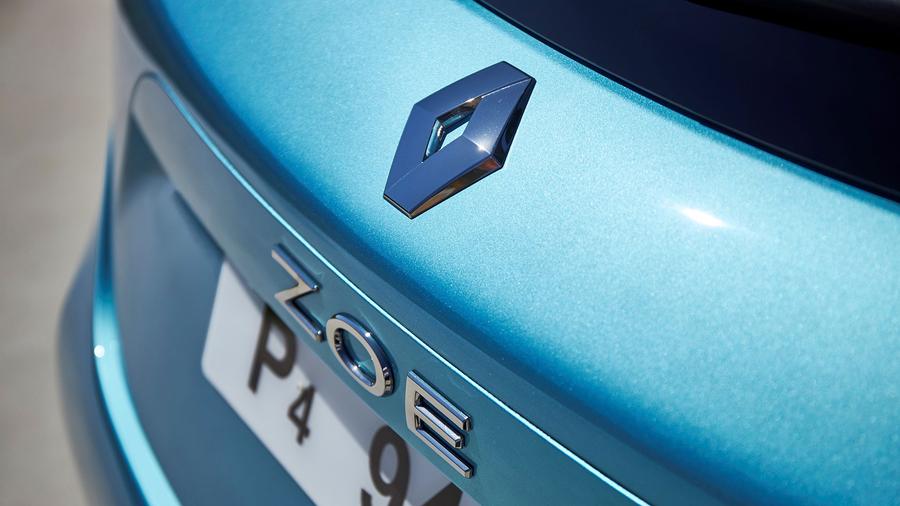 Renault has a really impressive reputation for safety, so it's perhaps a little surprising that the Zoe doesn't come with automatic emergency braking as standard throughout the range. The range-topper has it, but you have to add it as part of an option pack on mid-level Iconic trim, and it's not even possible to add it to the base-level Play trim at all. The base car does come with legal requirements such as airbags and a stability control system, while the Iconic model adds traffic sign recognition, automatic high-beam headlights and lane departure warning. The car hasn't yet been crash-tested by Euro NCAP.
How much equipment do I get?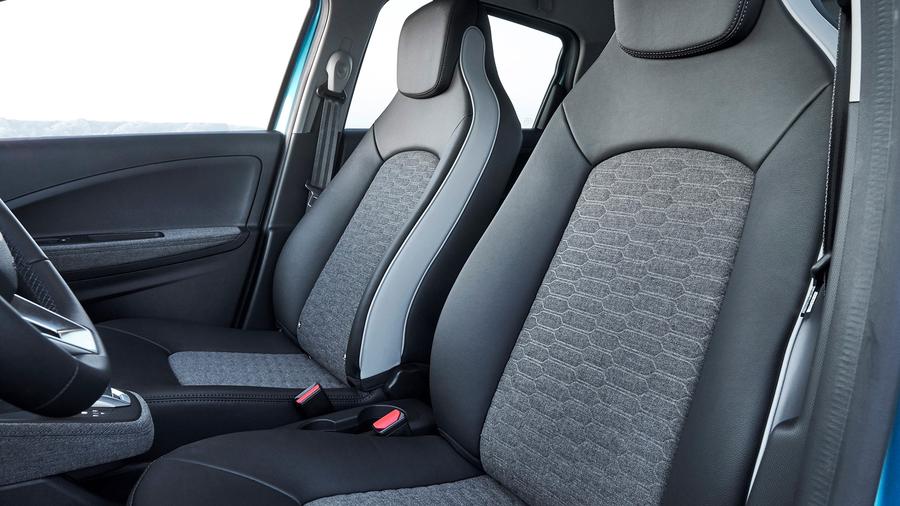 The entry-level Zoe trim is called Play, and it comes with a decent level of standard equipment including air-conditioning, cruise control, automatic lights and wipers, electric front windows and a touchscreen infotainment system with DAB radio, Apple CarPlay and Android Auto. Many buyers will want to step up to Iconic trim, though, which adds climate control, rear parking sensors, powered rear windows, a wireless phone charger and sat-nav. The range-topping GT Line trim adds the bigger touchscreen, front parking sensors, a rear parking camera and part-leather upholstery.
Why buy?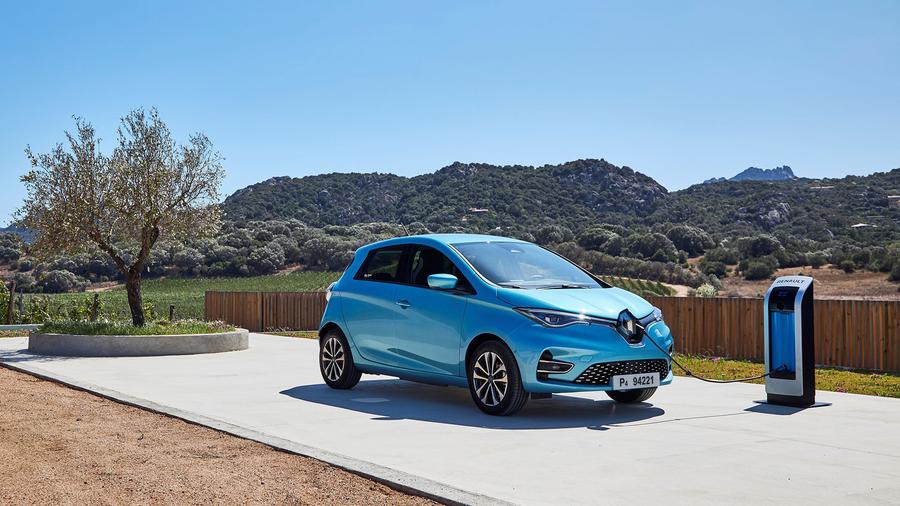 In our book, the Zoe is not only one of the most affordable electric cars you can buy – which immediately gives it a vast amount of appeal – but it's also one of the best. Great to drive, nice inside and practical enough for a small family, it shows that affordable electric motoring is a reality, and requires fewer compromises than ever before.
Interested in buying a Renault Zoe?