Long Term Review
Living with a… Mazda3 e-Skyactiv X (Final report)
Mazda thinks its Skyactiv X tech can make a conventional petrol engine as frugal as a diesel and as efficient as a hybrid – we're putting its claims to the test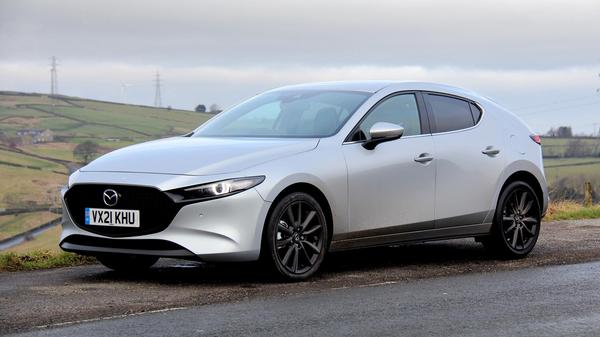 How many drivers care whether the engine powering their car is
petrol, diesel, hybrid or electric
? Beyond how much it costs each month in fuel, tax or congestion charging probably not as many as petrolheads like myself realise, given modern cars pretty much drive the same way whichever pump you fuel from. Or where you plug in.
Mazda begs to differ. While electrification looks like the future it reckons the traditional petrol fuelled, internal combustion engine still has a place. It calls the technology supporting this idea Skyactiv X and it claims to combine the best of petrol-powered zing with the economy and low CO2 of diesel, without resorting to complex turbocharging or electrical assistance. It's nuanced message to communicate to buyers schooled in simplified arguments petrol engines are refined but inefficient, diesels are good for mpg but bad for local pollution and hybrids are tax friendly but no fun to drive. I've been fascinated by the claims for this technology, but I reckoned it would need a long-term test to really explore whether it works as advertised. That moment has come in the shape a gorgeous looking Mazda 3 hatchback, powered by the 186 horsepower 2.0-litre petrol e-Skyactiv X motor and promising 50mpg-plus without plug-in assistance or going near a diesel pump. Skip to:
Month 1 – More than just a pretty face
Month 2 – Plenty of range, no anxiety
Month 3 – Making our mark on the Mazda
Month 4 – It's the economy, stupid
Month 5 – Wheely embarrassing
Month 6 – Proof of concept
What is it?
Model: Mazda3
Version: e-Skyactiv X Petrol M Hybrid hatchback
Spec level: GT Sport
Options fitted: Metallic paint (£570)
Cost as tested: £28,575
We like
Beautiful styling inside and out
Lovely to drive
Fascinating fuel-saving tech
We don't like
Cramped in the back
Interior plastics scratch easily
Power delivery won't be to all tastes
Month 1 – More than just a pretty face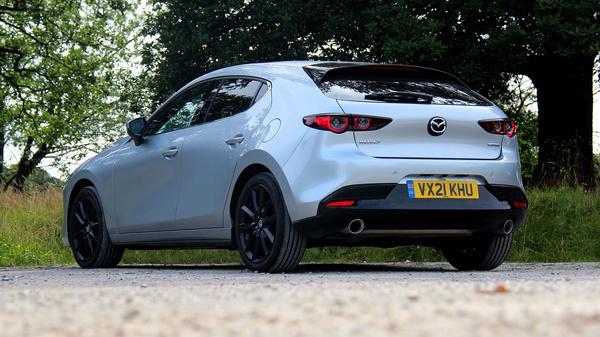 Mileage: 2,037 (total)
Fuel consumption: 48.3mpg (trip computer reading) Fundamentally the Mazda3 is a fairly generic mid-sized hatchback and up against benchmarks like the
VW Golf
and
Ford Focus
. Design is always about personal taste but, to my eyes, it's by far the best-looking car in its class. And, let's face it, that's as good a reason to choose it as any. 'Mine' is in GT Sport trim, which gets me upgrades like leather and a fancy Bose stereo system on top of an already generous spec for all 3 models that includes a head-up display, built-in navigation and a broad suite of driver aids and safety systems. The only option is the Sonic Silver metallic paint, which adds £570 to the £28,005 base price. With the usual disclaimer that list price doesn't reflect the way most people buy their cars these days (but provides a useful comparison) the Mazda looks strong compared against similarly pitched rivals like the
Audi A3
35TFSi S line, Golf 2.0 TDI R-Line or
Toyota Corolla
2.0 GR Sport. I pick these three because they have comparable performance, fuel consumption and emissions (and therefore running costs for both private and
company drivers
) but, respectively, feature downsized turbocharged petrol, mid-size diesel and full hybrid powertrains. Mazda reckons its e-Skyactiv X engine can beat all of these more familiar engine technologies on price, performance and efficiency and, by the numbers, only the diesel Golf achieves better mpg while all other stats narrowly favour the 3. The spec also looks better, and it's the most affordable by nearly £1,000 against the nearest on price. And did I mention the looks? I think I may have… The engine tech is key to this car but requires some explaining, which I'll save for a future update. This video from Mazda
helps introduce what it does
and, if you're a bit of an engine nerd like me, there's much to enjoy. And make me really dull company, meaning it's probably best dinner parties aren't currently a thing. Short version? Although fuelled on petrol it uses a form of compression ignition like a diesel, which in theory means the best of both fuels in terms of refinement and efficiency. Recently updated, the engine is now known as e-Skyactiv X to promote the
mild hybrid
system and has been tweaked to further improve power, driveability and efficiency, the key numbers being 186 horsepower, 121g/km and 53.3mpg. Thus far I've done one big journey in the 3 and my enthusiasm for the exterior looks is matched by my love of the interior and the way it drives. An indicated 48mpg for a mixed motorway and A-road drive is pretty impressive for a big (by modern standards) and non-turbocharged petrol engine and a suggestion Mazda may be onto something with its e-Skyactiv X technology. The next six months will be my chance to find out if that's true.
Back to top
Month 2 - Plenty of range, no anxiety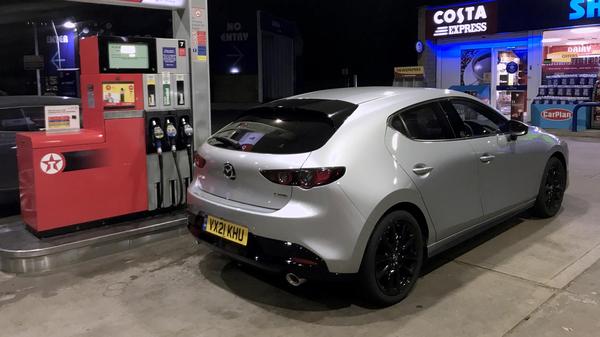 Mileage: 3,089
Fuel consumption: 45.3mpg (measured) To my shame the 3 spent the first couple of its weeks with me parked up while I was out driving other test cars, though the temptation to jump in it was strong. With nearly 1,500 miles covered in the weeks since then I feel I've made up for that now, and have my first real sense of how that clever engine works on a run. Short version? I'm impressed. I regularly drive from my home in Yorkshire to the south and back for various work-related trips, these journeys typically coming in at around 450 miles all-in. None of my three previous long-termers – hybrids all of them – could cover this on a single tank of fuel, which would inevitably require a tiresome late night splash'n'dash just when home was pretty much in sight, no matter how hard I pushed my luck. That I can now confidently cover the best part of 500 motorway miles in a car with a 2.0-litre petrol engine and fairly modestly sized tank is a huge tick in the Mazda's favour already, and while it seems the trip computer's 50mpg-plus readout is a little over-optimistic at times to get even high 40s from an engine like this is astonishing. It's also very quiet and refined on these long drives, and I appreciate the comfort of the seats, the Bose stereo and fact I can easily dim the dials and screen – maybe I'm getting on a bit but I find the big TFT displays in cars like the new Golf strain my eyes after dark and the Mazda's more old-school vibe is more appealing. As a bit of a Luddite I also appreciate the ability to turn off all the annoying steering interventions with a single button push, this already a reflex action after switching the engine on. In terms of overall comfort if I'm being really fussy I'd say the ride does feel a little stiff after a couple of hours, but that's forgiven as soon as I reach a more interesting road and can appreciate the sharp steering and general sense of sportiness. Speaking of which, is 186 horsepower enough to deliver the thrills the slinky looks seemingly promise? Something to ponder on my next long-haul drive, and report back on next month!
Back to top
Month 3 - Making our mark on the Mazda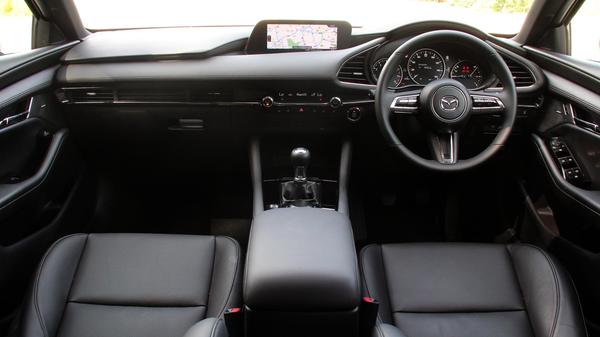 Mileage: 4,490
Fuel consumption: 45.7mpg (measured) I realise I've fixated on the Mazda's fuel economy but having finally escaped huge delays at Heathrow's passport control and emerged blinking into the freshly burgeoning panic buying fuel crisis the other week I was very, very glad I knew half a tank I had left would get me the 200-odd miles to home without the need to draft trucks at 55mph all the way up the M1. Fair to say, that has been my life the last few weeks, with another 1,500 miles (or the best part of) racked up in its thankfully very comfortable seats. I've certainly been appreciating those, and the thumping sound quality of the upgraded Bose speaker system I've got on my GT Sport model. I'd be happier still if mine had the red leather of a previous 3 I drove but this is still one classy looking interior. Or, at least, was. Yes, I've finally found something I don't like! So-called 'piano black' trim is fashionable these days but, inevitably, the reality on most cars this side of Rolls-Royces and Bentleys is glossy plastic and not actual lacquered wood. It looks good in brochures and in the showroom but, just as in the Toyota Corolla I ran previously, it's incredibly vulnerable to surface scratches, to the point where the apparently soft brushes on a hoover nozzle can leave swirl marks on the surface. Given I spend so much time at the wheel I'm pretty house proud and like a clean cabin, so these scratches really annoy me. With the benefit of hindsight, and if I'd been buying the car new, I might have investigated protective clear film to cut to shape and install on the most vulnerable area around the gear shifter. Unless anyone can recommend a suitably gentle polishing agent to restore the lustre I fear it's now a bit late for that but I'll gladly take tips if anyone has them! Those steady motorway miles are doing wonders for my average mpg of course but I am looking forward to half term and a chance to put in some more enjoyable miles around Hadrian's Wall, which we'll be visiting in support of a school project on Roman engineering. Many roads in the area are somewhat lacking in corners as a legacy of this history but hopefully I'll find some twistier ones too, on the basis the Mazda should finally be able to demonstrate the credentials hinted at in its GT Sport name. If my average has dropped next month you'll know it's gone well…
Back to top
Month 4 - It's the economy, stupid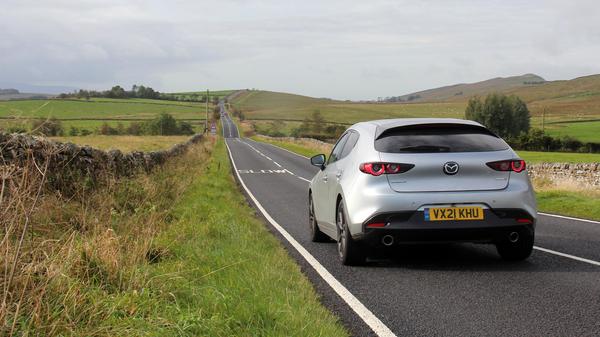 Mileage: 5,639
Fuel consumption: 44.7mpg (measured average) In a break between testing the all-electric
Ford Mustang Mach-E
and
Audi Q4 E-Tron
it was something of a relief to hop back in the Mazda for a trip to Heathrow and back, which is a pretty regular journey for me. I know I keep banging on about the economy and range but, after the faff of trying to
charge
the Mustang on the public network with its insistence on apps, enforced stops in dark car parks in Milton Keynes and all the rest, it was a blessed relief to get in a car with a full tank of petrol knowing it would easily do the 460-mile round trip with no need to stop. Crunching the numbers for expensive
public charging
round my way I also figured out that 4kWh of charge at the 42p per kWh I've been paying would equate to £1.68, or the kind of money you pay for a litre of petrol at rip-off motorway service station rates. That same £1.68 would buy me about 11 miles in the Mach-E, or about 10 in the Mazda, meaning near equity in the cost per mile. Obviously, an EV owner with a driveway has the option of installing their own charging point and then the numbers swing very much in favour of electric. After all, it's not like I could put my own private petrol pump in the back yard, is it. But it goes to prove that, even with fuel prices as they are at the moment, an efficient, petrol powered car like the Mazda can still compete with an EV charged on the public network on a straightforward running costs comparison. And that's before you factor in convenience of not having to sit around charging, or the fact the Mazda costs half as much as either the Mustang or the Q4 E-Tron. I'm no Luddite, I enjoy electric cars and realise at some point in the foreseeable it's likely I too will make the switch. But it's also good to know for the many drivers who don't have off-street parking where they could install a
home charging point
, or who regularly travel long distances, there's life in the old internal-combustion engine yet!
Back to top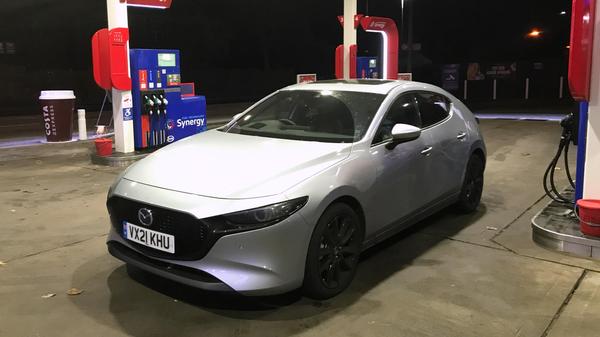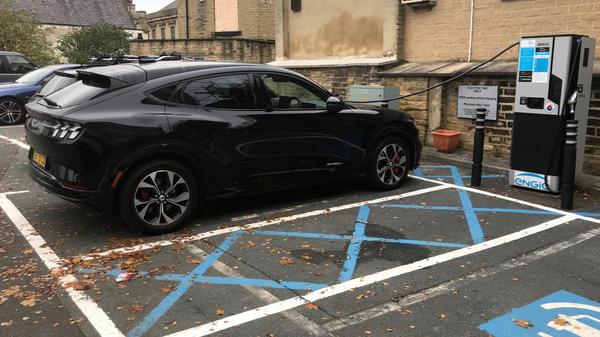 Month 5 – Wheely embarrassing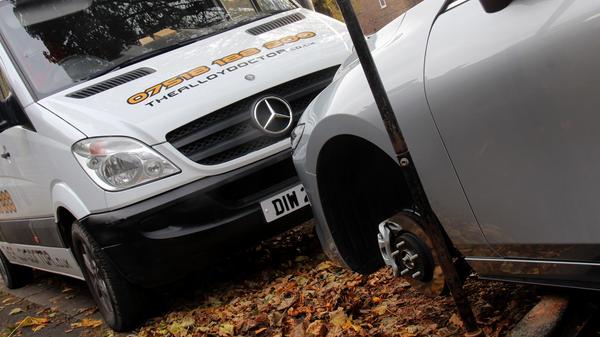 Mileage: 5,905
Fuel consumption: 39.3mpg Kerbing wheels is a fact of motoring life most of us will face at some point. Doesn't make it any less annoying or embarrassing when it does happen, though, and especially when it's someone else's car. In my case a long-term test vehicle though, of course, effectively the same if you're leasing or on a
PCP
and damage of this nature is going to hit you in the pocket when you hand it back at the end of your
finance
term. And so it was I made my mark on both nearside alloys of the Mazda, squeezing against the kerb to make room for an oncoming van on a dark, rainy backstreet. I could have cried. With the gloss black finish of the GT Sport spec wheels there was absolutely no hiding it and, though the car goes back soon, I couldn't face the shame of driving around with such obvious evidence of my misfortune. So to Google to find someone who could make like it never happened. Given the penalties minor damage like kerbed wheels, stone chips and small parking scrapes can incur when handing a car back at the end of a finance term mobile smart repair outfits who can patch things up at your home offer a valuable service. There are various national chains who do it but I took a punt on an independent, on the basis I like to 'shop local' where possible. And so a friendly chap called Dave from The Alloy Wheel Doctor arrived to sort out my mess. I winced when his prominently liveried van pulled up outside on the basis it would broadcast my embarrassment to everyone in the neighbourhood but, I guess, he has to promote his business and we shared a laugh about it. I'm not the first customer to mention it, apparently. Credit due, it didn't take him long and with the two wheels removed he was able to quickly tidy up the damage with the little paint booth in the back of his van. £110 later it's like it never happened. Apart from the fact I've now had to 'fess up here. I'm living in hope I'm not the only one, though, and a problem shared is a problem halved, or however the saying goes. Onward and upward.
Back to top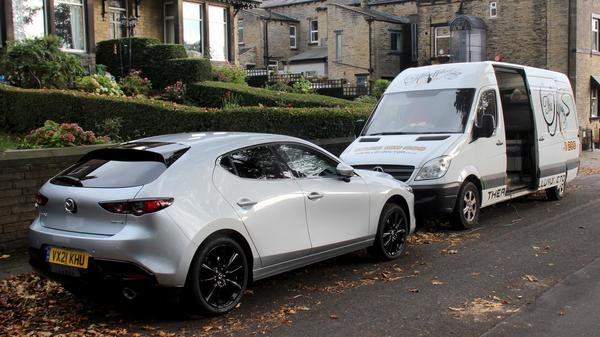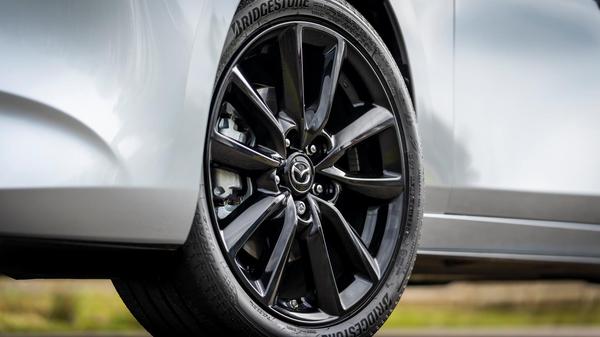 Month 6 – Proof of concept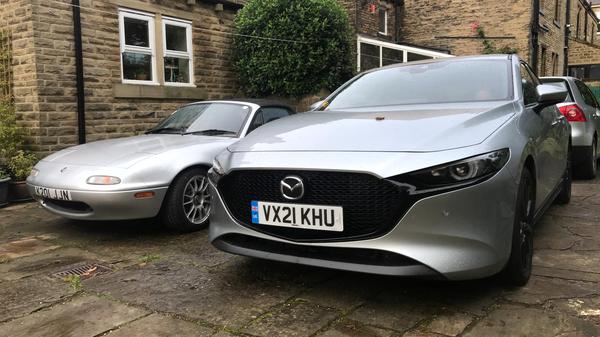 Mileage: 6,190 Fuel consumption: 39.3mpg Having now waved goodbye to the Mazda my curiosity in the clever engine tech feels vindicated. Before it went I met up with another owner I've been chatting with on Twitter, and it was nice to hear a similar level of enthusiasm from someone who'd actually put money behind his decision. Like me, he was impressed with the economy of the Skyactiv X engine, the lovely styling, the comfort and the sense the car had been set up by people who like to drive. I'm a long-time Mazda fan and owner of an original Eunos Roadster (basically a Japanese market Mk1 MX-5) while he has a
Toyota GT86
as his 'fun car', both models sharing a similar ethos of driver-focused thrills. We both agreed the 3 has a similar spirit. I realise not everyone is so fixated on the feeling you get through steering, gearshift and pedals. But if these things do matter to you it's nice Mazda has seemingly channelled some of that
MX-5
pizzazz into a mainstream hatchback like this. It's a damned sight more interesting than VW's 'digitised'
Golf
, put it that way. Before this descends into a total love-in let me pick up on things I didn't like so much. It's a short list, admittedly, but I have to concede the gorgeous styling does cost you in legroom, boot space and visibility a tad. So, if you need a practical hatchback this probably isn't the one for you. On the inside I happened to like the relatively small screen and fact it's operated by a turn-and-push wheel, but I realise I'm in a minority of modern drivers here and the trend is very much toward bigger, touch-controlled screens. So it's probably not for tech fans. The frequent false alarms from the forward collision system and nannying lane-keeping were also annoying but this is a standard complaint on all modern cars and at least they're easy to switch off. Finally, and as reported previously, the glossy plastic interior trim was easily marked and was already looking a bit scruffy. My fellow owner took the precaution of having protective film applied (at some cost) and reports this prevented the same happening to his. The positives far outweigh the negatives, though. I'll confess there were times I did crave a little more shove but in all other respects it drives as well as it looks. It's a bit of a culture shock after years of driving torquey diesels, hybrids or turbocharged petrols but the fact it thrives on revs is a refreshing change. Overall, the fact Mazda's innovative engine tech delivers on promised diesel economy with petrol refinement is the winner for me. Even if you're not as invested in the mechanical eccentricities of how it's done it Mazda's determination to go its own way and find ways to keep internal combustion engines relevant in the electrified age is admirable. I'll miss it.
Back to top