Feature
Best Green Car: Volkswagen Passat GTE Estate
Find out why the Volkswagen Passat GTE Estate is the 2018 winner of our Green Car of the Year award.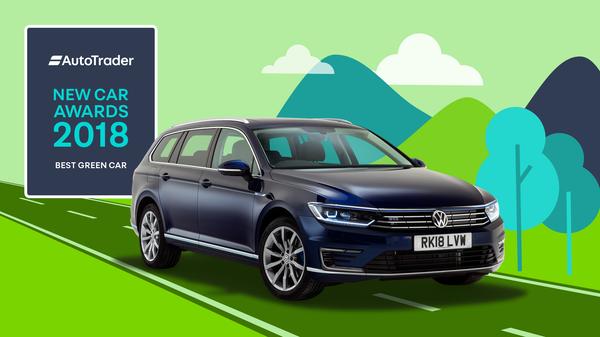 This category is unique among our New Car Awards in that it's influenced by
our team of experts
rather than by car buyers. Having driven and assessed pretty much every new model over the last few years, nobody is better placed for the job than our crack team.
Having set our definition of a green car as being anything with CO2 emissions of 50g/km or less, it turned out that 31 models were eligible for consideration. That meant
electric cars
like the
Nissan Leaf
and
Renault Zoe
were in with a big shout, along with several
plug-in hybrids
like the
Audi A3
e-Tron
and
Mitsubishi Outlander
PHEV. Meanwhile, models like the
Hyundai Ioniq
and
BMW i3
had both those bases covered, and were also in with a big chance. The winner would be the car with the highest overall star rating in our expert reviews, meaning all those contenders finished behind our two runners up, the
Volkswagen Golf
GTE and
Tesla Model S
. Both of those finished behind our eventual winner, the
Volkswagen
Passat
GTE
Estate
.
Commenting on the
Passat
's win in this category, Auto Trader's Road Test Editor, Ivan Aistrop, said: "The Passat GTE is a really compelling solution to
eco-friendly
motoring. Its plug-in hybrid technology gives the car sensational
efficiency figures
, and when you need more than its 30-mile electric-only range, it still has you covered, with no range anxiety. Its estate car practicality also makes it a really good car for families, and the car's quality and driving manners are also exceptional. It's a terrific all-rounder."
In fact, the GTE has proved so popular with buyers that Volkswagen can't currently make them fast enough to satisfy demand, so ordering has had to be temporarily suspended in order to catch up. Typical isn't it? The car is so good it's been a victim of its own success. We are promised, however, that factory ordering for the car will be resumed in the coming months, and until then, there are plenty of nearly-new and used examples for sale on Auto Trader. Why not
start browsing now
?