Expert Review
Nissan Leaf hatchback (2017 - ) Electric review
Find out whether the latest Nissan Leaf has what it takes to hold off a significant challenge from a slew of newer electric car rivals with our expert review

Words by: Phill Tromans

Additional words by: Ivan Aistrop
Last updated on 3 July 2019 | 0 min read
The Auto Trader expert verdict:
Available new from £28,495
It's long been the go-to choice for electric car buyers, and has topped the electric car best-sellers lists in the UK for almost as long as they've existed. But this latest version of the Leaf will have to head off strong competition from the Hyundai Ioniq Electric and Kia E-Niro if it's to retain its place at the top of the sales charts. Read our long-term review to find out what the Nissan Leaf is actually like to live with!
Reasons to buy:
Entry-level models are affordable
Zippy performance
Lots of standard safety kit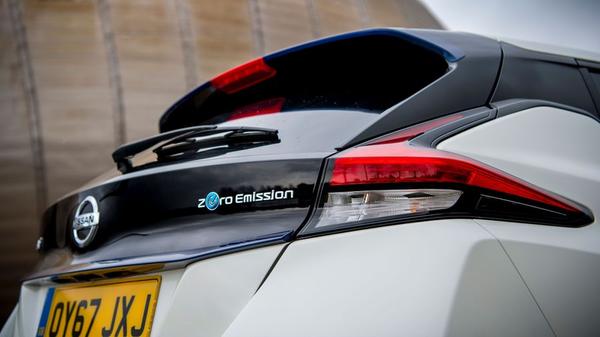 Running costs for a Nissan Leaf
The Leaf is more expensive than many of its petrol or diesel rivals. However, being an electric car, the costs of charging it will be far less than filling up at the fuel station. Drive it in as economical a manner as you can – helped by some of the in-car graphics that show how much energy you're using – and you should be able to get 160-170 miles out of it, or up to 239 miles in the E+. Using a public fast charger, you should be able to get to 80% of a full charge in around 40 minutes, and an overnight charge at home – using the 7kW wall box supplied free with the car – will take around eight hours. E+ models can accept 100kW rapid charges, while the standard car only works up to 50kW. You'll also benefit from exemption from Vehicle Excise Duty, free parking in many places, and exemption from the London Congestion Charge. The top-of-the-range E+ models look quite pricey, and Tesla's new, very impressive Model 3 isn't a huge amount more, which means we'd recommend you stick to the more affordable Leaf models. These Leafs tend to be slightly cheaper than rivals like the Hyundai Kona Electric and Ioniq Electric, and as a result, we reckon they're the Leafs to go for.
Expert rating: 3/5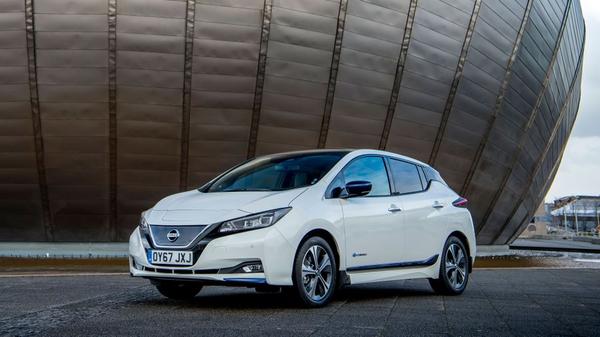 Reliability of a Nissan Leaf
Nissan as a brand has a decent and improving reputation for reliability, sitting in fourth place in JD Power's 2019 Vehicle Dependability Study, which ranks manufacturers based on performance. While we don't have any data for the Leaf specifically, our owner reviews of earlier cars have been almost universally positive, so we're hopeful the latest Leaf will perform just as well. Nissan offers an eight-year warranty on the battery and a three-year/60,000-mile warranty on the car.
Expert rating: 4/5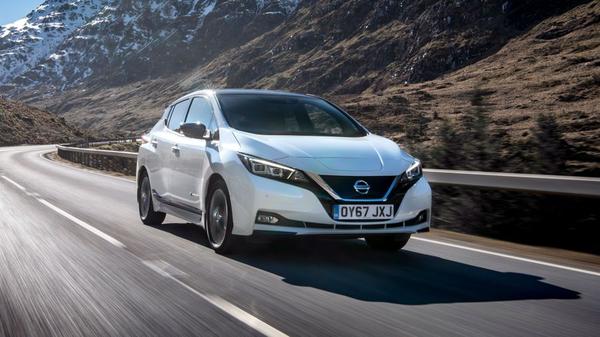 Safety for a Nissan Leaf
Several cutting-edge safety technologies are included on all cars, including automatic emergency braking, which will intervene if you don't react to an impending accident. All cars also have lane departure warning systems, blind spot warning systems, six airbags and two Isofix child seat mounting points. Tekna models come with a full ProPilot system, which includes automatic steering and adaptive cruise control, and this can be specified on the N-Connecta versions too. It's essentially a form of autonomous driving, controlling the speed on motorways automatically, and helping you stay in the centre of the lane.
Expert rating: 4/5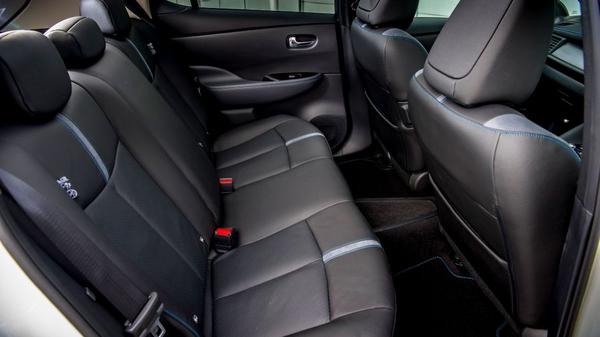 How comfortable is the Nissan Leaf
The interior of the Leaf isn't its strongest point. The seating position doesn't adjust as much as we'd like, leaving taller drivers sitting too high, and the steering column doesn't adjust for reach at all, which is very unusual these days. So before you get too hung up on the idea of a Leaf, check first that you're the right shape. The dashboard area is very cluttered, with more than 50 buttons dotted around, and the plastics are very hard to the touch in an age of soft-touch materials, but to Nissan's credit, they are all very solidly assembled. Some of those buttons help control the infotainment system. The 8.0-inch screen still feels on the small side compared to rivals, and we haven't had enough chance to play with it yet to give a definitive verdict, but it does seem like an improvement on the smaller screen that was standard until 2019. There's plenty of room for four tall adults in the Leaf, and a fifth at a squeeze in the middle of the back row, and while there's no fold-down central armrest in the back, you do get several cubby holes and pockets elsewhere around the cabin to store odds and ends. If you fold the rear seats down there's a huge lip between them and the boot floor, which restricts the space a bit, and if you have the optional Bose sound system, which is standard on the Tekna version, it places a big lump of audio hardware on the boot floor, which gets in the way somewhat. That said, the boot itself is a decent size – not quite as big as the Honda Civic's, but bigger than either the Ford Focus's or Volkswagen Golf's. The Leaf is set up for comfort rather than thrills, and benefits from a nicely supple ride that massages out most lumps and bumps in the road. The steering could use a bit more feel, but it doesn't really get in the way of everyday driving, and the Leaf stays fairly level when cornering. It's a perfectly capable machine for driving around town or cruising on the motorway. The more powerful E+ model is considerably heavier, thanks to its larger battery, and the suspension has been stiffened to cope. This has a slight impact on ride quality, and means it's not quite as comfortable or agile as the regular models, but it's still acceptable for everyday use.
Expert rating: 2/5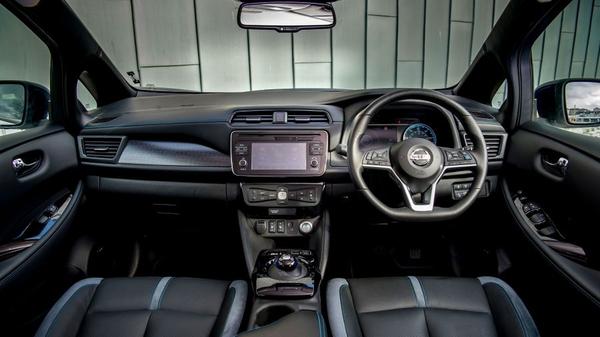 Features of the Nissan Leaf
The entry-level Acenta car comes with a rear-view camera, keyless entry, Apple Car Play and Android Auto for integration with your smartphone, as well as a leather-wrapped steering wheel and air conditioning. The N-Connecta has synthetic leather upholstery, heated seats, and a clever around view monitor that shows an overhead view of the car when parking or manoeuvring, as well as parking sensors. The Tekna has part-leather seats, an electronic parking brake and an uprated Bose stereo system, while the E+ Tekna has part-leather and synthetic suede upholstery.
Expert rating: 4/5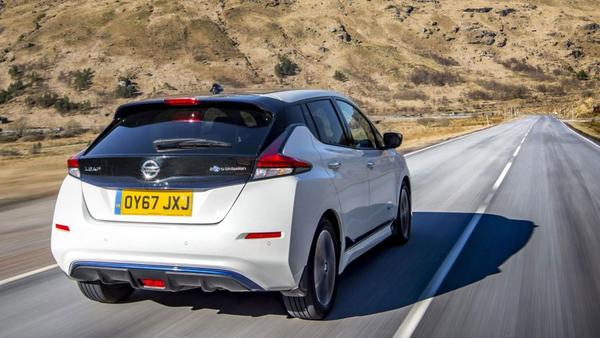 Power for a Nissan Leaf
The basic Leaf comes with a 40kWh battery, which is paired to a 150 horsepower motor that gives zippy acceleration. As electric cars don't need a gearbox, that acceleration is brisk and uninterrupted by gear changes, and is great for quickly nipping past a slow-moving tractor or getting up to speed on the motorway. The E+ has a 60kWh battery that improves range to 239 miles (WLTP) and is paired with a more potent motor – with 217 horsepower, to be precise. That sounds like a lot, but because the new battery is some 130kg heavier, it doesn't feel a huge amount quicker. That said, it's still nice and fast to react to the accelerator. The Leaf regenerates electricity and puts it back into the battery when you lift off the accelerator, and you can also control the level of regeneration. At the highest level, this acts like a brake – Nissan calls it the e-Pedal – and means that 90% of the time you can drive the Leaf using one pedal.
Expert rating: 4/5