Expert Review
Mitsubishi Outlander SUV (2015 - ) review
The Outlander's success is mainly down to the favourable running costs of its plug-in hybrid version, the base car otherwise showing its age and lack of style compared with increasingly competent rivals
The Auto Trader expert verdict:
Available new from £29,450
In hybrid form the Mitsubishi Outlander has been hugely popular and sold in vast numbers thanks to its affordability and tax-friendly emissions and fuel consumption numbers. It's hardly the sharpest car to drive and there are now a lot more options in the market but, for cost-conscious drivers, it's still an appealing package. The non-hybrid version is cheap to buy and has seven seats as standard but its lack of performance leaves it – literally – outpaced.
Reasons to buy:
Very low running costs on hybrid model
Spacious cabin and high-class interior
Seven-seat versatility on most diesel models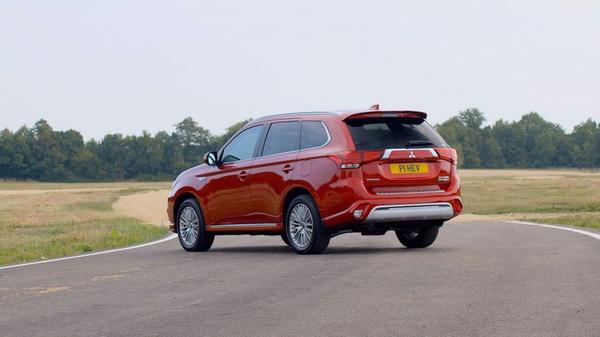 Running costs for a Mitsubishi Outlander
Mitsubishi has slimmed the Outlander range down a little and no longer offers a diesel option – it's now
a straight choice
between the 2.0-litre petrol and the hugely successful PHEV (plug-in hybrid) version, of which Mitsubishi has sold over 50,000 examples in the UK alone. At the time of writing the price difference between comparable trim levels of the two is about £6,000, the petrol version starting at just under £30,000. If
seven seats
, all-wheel drive and practicality matter to you more than running costs this is – literally – a lot of car for the money. High CO2 emissions and poor fuel consumption will score against it in everything from petrol costs to
tax
, though. Being early to the market with a
Benefit In Kind
busting plug-in hybrid SUV has been Mitsubishi's saving grace, and the Outlander PHEV has arguably kept the company afloat. The huge tax savings for company drivers are a big part of this, private buyers who can be bothered to charge it and use it mainly for shorter journeys within its 28-mile electric range also able to save on running costs. Like all plug-ins these advantages disappear on longer journeys, though. The rest of the market has caught up, meanwhile, and there are now many, many more plug-in SUV options, most of them fresher looking and more desirable to own.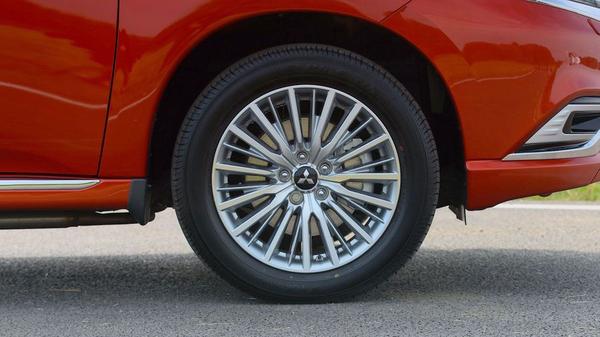 Reliability of a Mitsubishi Outlander
Mitsubishi has always had a good reputation for reliability, with its cars regularly rated as among the most reliable on the market and the company sitting just above mid-table in Warranty Direct's Reliability Index. After our experience with several versions of the car - and judging by the generally positive reports from
owners on our website
- we see no reason for the Outlander to change that.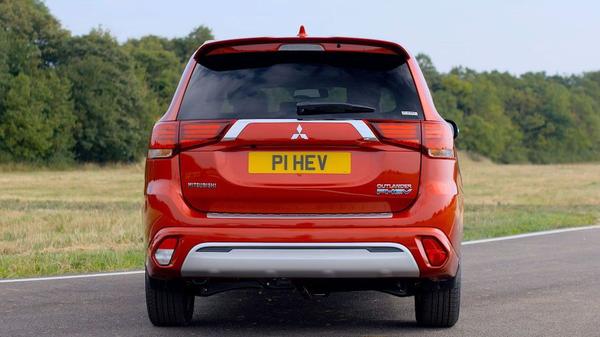 Safety for a Mitsubishi Outlander
Mitsubishi considers the regular and PHEV versions of the Outlander as distinct models, each with its own package of options and trim levels at which optional safety systems are offered. Certain features are common across the board though, including the 'RISE' reinforced body construction, a function to deploy full braking power in emergencies no matter how hard you press the pedal, two Isofix childseat mounts on the second row of rear seats (the PHEV also has one on the front passenger seat) and all the usual airbags. Flashing alerts in the mirrors for vehicles in your blindspot are optional on higher trim levels, likewise a 'rear cross traffic alert' to warn of unseen cars in your path as you reverse out of spaces. Optional on the PHEV but not available on the petrol version are a lane departure warning system and automatic emergency braking system, kit many newer rivals now have as standard.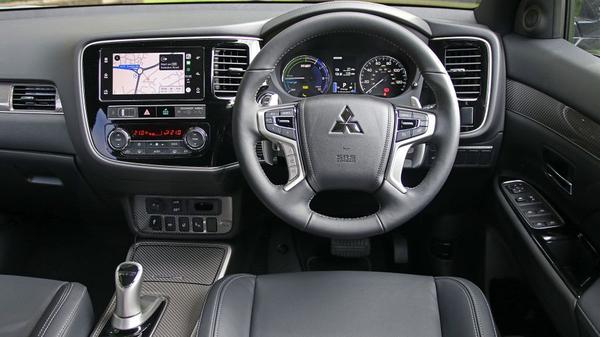 How comfortable is the Mitsubishi Outlander
Mitsubishi isn't renowned for the poshness of its cabins, and although the Outlander is among the firm's better efforts it still leaves you feeling like you're inhabiting a budget environment. Too many of the plastics are hard, scratchy and unappealing although, in fairness, everything feels very solidly put together. On the other hand, there are no complaints about the driving position, which has plenty of adjustment and gives the lofty view that SUV buyers love. Practically speaking the Outlander will make a fine family car. With a couple of six-footers in the front seats, there's plenty of room for a couple more in the second row, middle-seat space compromised slightly by the big transmission tunnel. On hybrid models, that's as far as it goes, but the petrol Outlander is a full seven-seater. Admittedly, the third row of seats is only suitable for children, but by sliding the second row forward a little, you can (just about) get seven on board. To cap it all, the boot is well-sized (even in the hybrid model) and you can fold down all five rear seats (where fitted) to leave a completely flat floor. It's not quite such a happy tale on the road and, to put it kindly, dynamics come some way down the list of the Outlander's abilities. The standard version has soft, poorly controlled suspension and wallows through the corners. The PHEV is heavier and gets different settings, which actually help it feel a little more settled. But there are much, much sharper driving hybrid SUVs around and the Outlander only really feels comfortable when driven at a very relaxed pace.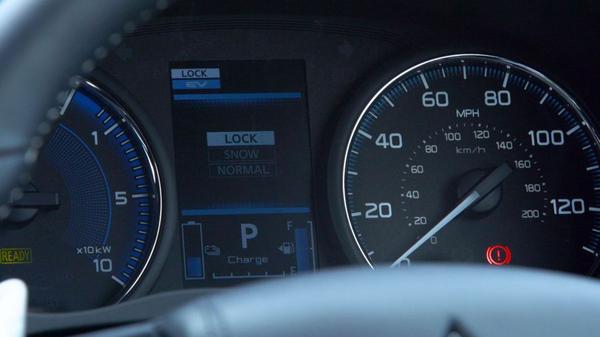 Features of the Mitsubishi Outlander
If you need seven seats the petrol is your only option, given the PHEV's batteries eat into interior space and mean it's a five-seater only. Beyond that the Outlander offers plenty of kit for the money, the petrol version getting an 8.0-inch touch-screen through which you can pair your phone via
Apple CarPlay or Android Auto
to use your navigation apps, listen to music and make calls. Bluetooth means you can also do this through the car if you prefer. Heated seats, privacy glass and a reversing camera are also standard. The entry-level PHEV is a little more basic, with no touch-screen, CarPlay/Android Auto or reversing camera. You do at least get rear parking sensors instead. Beyond that the trim levels more or less align, fancier models getting built-in TomTom navigation, leather seats and various other upgrades.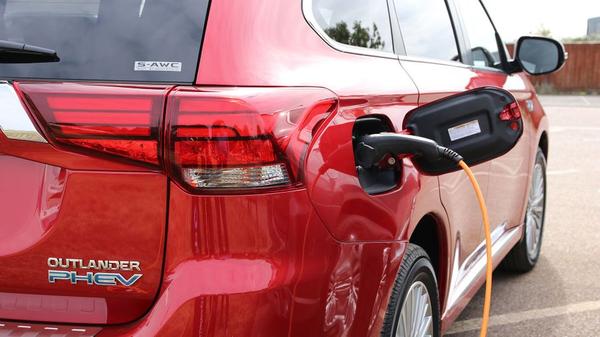 Power for a Mitsubishi Outlander
Our previous experience of the non-hybrid Outlander is confined to the now-discontinued diesel but, going by the numbers, the weight of the car and the fact it uses a 'CVT' style automatic gearbox as standard the 155 horsepower 2.0-litre engine has its work cut out. Indeed, the 13.3 seconds it takes to go from zero to 62mph is best described as leisurely, the more so if you load all seven seats up with people. The combined power output of the PHEV's 2.4-litre petrol engine and two electric motors isn't spectacular but, for comparison, it will go from 0-62mph in 10.5 seconds so at least has a little more verve off the line. It's very quiet and plenty quick enough in electric-only operation in town, with the electric motor's pull available immediately. Generally, it's pretty good beyond the city limits, too, with the various power sources being juggled reasonably smoothly and seamlessly. However, when you want that full acceleration the petrol engine has to work pretty hard, whereupon things can get a shade noisy.