News
Coming soon: 2019 Audi A4
There's a new Audi A4, A4 Avant estate, rugged A4 Allroad, and sporty S4 on the way, which take on the likes of the BMW 3 Series, Mercedes C-Class, and Jaguar XE.
New Audi A4, sporty S4, Avant estate, and rugged Allroad models
On sale in May
First UK deliveries towards the end of 2019
The battle for the crown of the mid-size executive car market has always been strong. You've got the
BMW 3 Series
,
Mercedes-Benz C-Class
,
Jaguar XE
, and of course, the
Audi A4
. Now the A4 has been given an overhaul, to spice things up even more.
Audi
had tweaked its A4 last summer, but this new model has had more of a comprehensive facelift to bring it more in line with its bigger siblings, the
A6
and
A8
. Every panel of the car has been redesigned, including the roof and bonnet, and there are new LED lights – front and rear – wheels, and grille, which is now wider and flatter. Customers can pick from 12 paint colours, including a new Terra Grey option. Model wise, the A4 will be available as the saloon, sporty S4, Avant (or
estate
), and the more rugged Allroad, which has a higher ground clearance and all-wheel-drive as standard.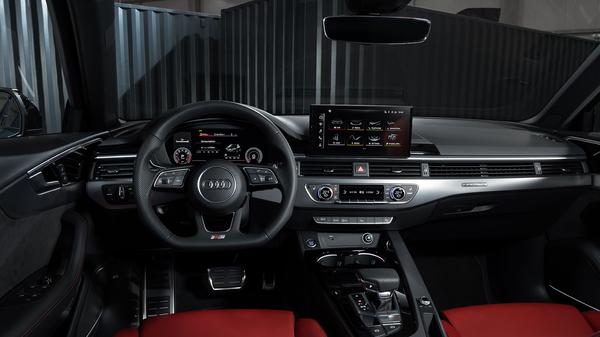 Interior
We've had a sneak preview of the car in Germany, and while we haven't been able to drive it yet, we've had a good poke around. Audi interiors are generally excellent, and the new A4 follows that trend. Like the exterior, it's been brought in line with Audi's top end models and is a bit simpler and cleaner.
There's a 10.1-inch touchscreen, which is easy to use and comes with a load of online services that can help you find parking spaces and show hazard and traffic information. It'll also show traffic light information, so a driver can match their speed to the next green light. You get all the usual Bluetooth, DAB,
Apple CarPlay and Android Auto
connectivity. In the previous A4, you could control the touchscreen with a dial in the centre console, but that's now gone and there's a bit more storage in its place. The A4 also comes with Audi's Virtual Cockpit. This is a screen behind the steering wheel which shows you all your car information, sat-nav directions, media info and so on, as well as digital dials.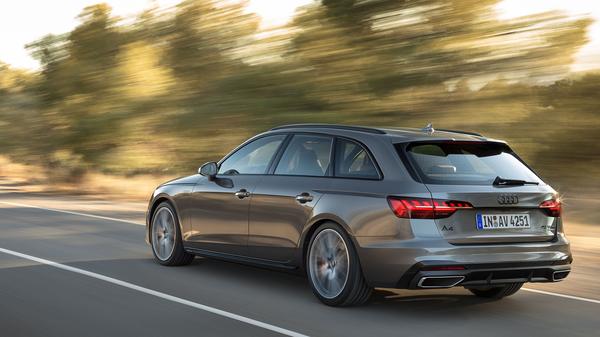 Space in the back will be fine for most adults, with a decent amount of legroom. However, there is quite a high transmission tunnel, so anyone sat in the middle seat will have to navigate that.
Boot space is 495 litres, or 1,495 litres with the rear seats folded down. There are lots of driver assist systems on offer with the new A4. To make it simpler for buyers, the systems are bundled into packages, called 'Tour', 'City' and 'Park'. For example, the 'Tour' package includes adaptive cruise control, which automatically keeps a set distance between you and the car in front, including braking and accelerating for you.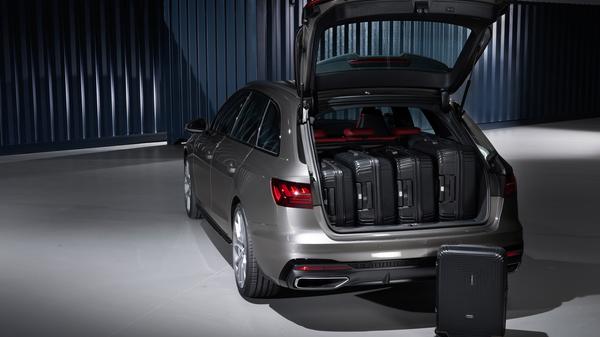 Engines
At launch in Europe, the Audi A4 will be offered with six turbocharged engines. However, the UK won't be getting the full engine line-up. Instead, we'll be getting a simplified range based on what was popular with customers before. Exactly what that'll be will be confirmed soon.
Some of the variants feature a mild hybrid system, which helps to reduce fuel consumption. Except for the entry-level petrol engine, all A4 models come with an automatic gearbox as standard. The 35 TFSI petrol engine with 150 horsepower will be available with a manual gearbox, as will the 40 TDI diesel engine with 190 horsepower. Buyers will be able to choose between the standard setup and a sports suspension, and there are two adaptive suspension set-ups as well.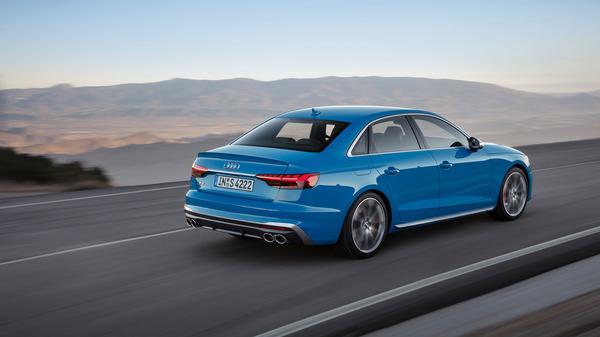 On sale?
The new Audi A4 goes on sale in May, with first UK deliveries expected before the end of 2019.