Expert Review
Subaru Forester SUV (2018 -2022 ) review
The Forester is a practical all-wheel drive SUV that prides itself on go-anywhere ability and is a rival for cars like the Toyota RAV4 and Honda CR-V Hybrid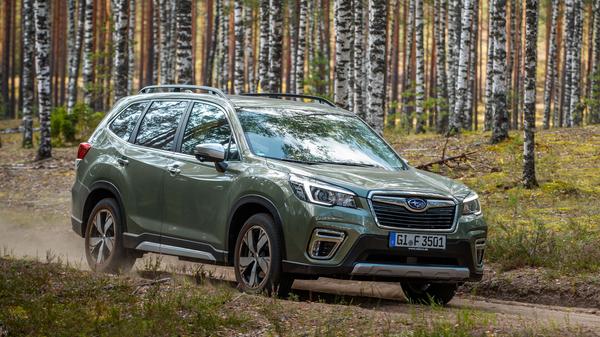 The Auto Trader expert verdict:
The Forester is an impressively capable and practical SUV, and it's nicer inside than Subarus of the past, too. The performance isn't as impressive as in some hybrid rivals, but the ride and handling are good, and it's got a tonne of clever safety kit.
Reasons to buy:
Excellent off-road ability
Impressive ride and handling
Lots of safety kit as standard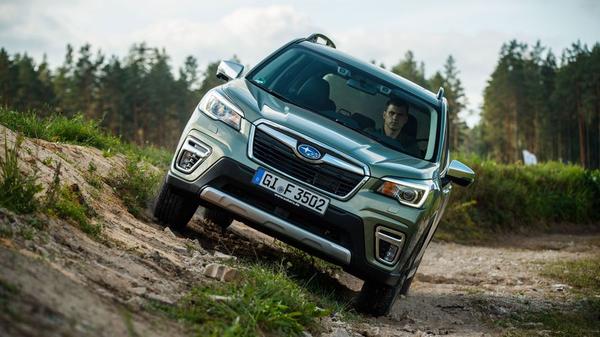 Running costs for a Subaru Forester
We don't yet have full running cost estimates for the latest Forester, so when it comes to resale values and service, maintenance and repair costs we'll have to wait and see how it performs. Purchase prices, however, are competitive against other hybrid SUVs like the Toyota RAV4 and Honda CR-V, especially when you consider its capability off road and generous equipment levels. Fuel economy figures and CO2 emissions don't look quite so impressive, though, lagging behind those rivals, and that's before you consider that the rivals also offer two-wheel drive models that will be even more efficient.
Expert rating: 2/5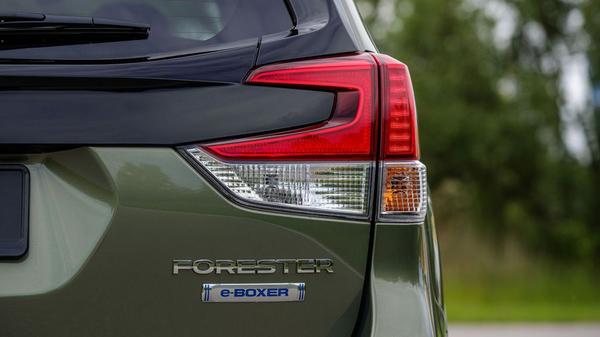 Reliability of a Subaru Forester
Subaru sells in small numbers in the UK, which means it's often missing from industry reliability surveys and doesn't show up on JD Power's 2019 Vehicle Dependability Study. As a brand, Subaru sits mid-table in Warranty Direct's Reliability Index, although this focuses on older, out-of-warranty cars and the Forester has rather newer mechanical bits. It's difficult therefore to get an accurate picture of how reliable a new Subaru is, but should anything go wrong with your Forester, Subaru offers a three-year, 60,000-mile manufacturer's warranty, and an extended five-year, 100,000-mile warranty on the engine.
Expert rating: 4/5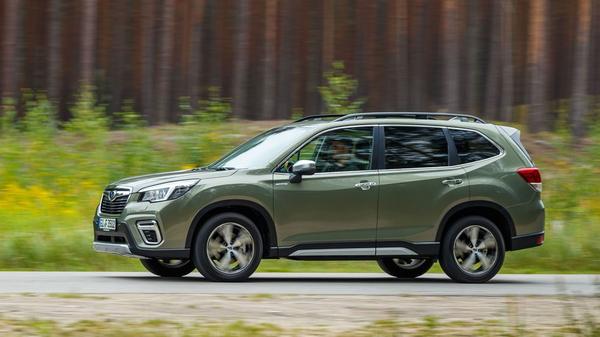 Safety for a Subaru Forester
Subaru's EyeSight package features a range of systems including automatic emergency braking, lane departure warning and lane keep assist, while all Foresters also include blind spot monitoring and rear cross traffic alert, which keeps an eye out for oncoming traffic when you're backing out of a parking space. There's also a driver monitoring system, which uses infrared cameras to keep a virtual eye on you as you drive, and will sound an alert if you take your eyes off the road for too long. If that's not enough, there's also a reverse automatic braking system to stop you inadvertently backing into stuff.
Expert rating: 5/5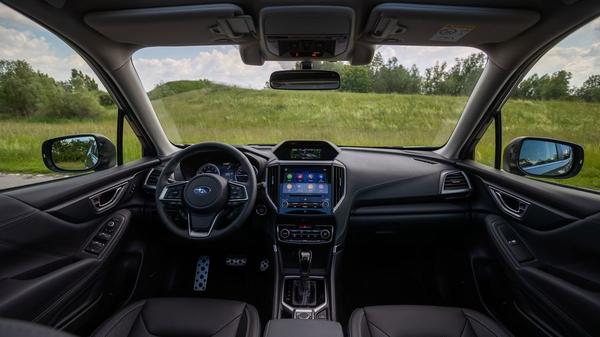 How comfortable is the Subaru Forester
The Forester's ride comfort is impressive on all surfaces, both on and off the beaten track. On the road it's a heavy machine, but even so it's agile through the corners, keeping flat and composed. The steering is nice and sharp, and some very clever systems send power to individual wheels to ensure you've got the maximum amount of grip and traction available. This works especially well off-road and in wet, slippery conditions, playing to Subaru's traditions as a car for country folk who need to get around in all weathers. The seating position is high enough you won't forget you're in an SUV, but there's plenty of adjustment to find your preferred position, and the seats are comfortable. There's an impressive amount of space in the Forester, with lots of head and legroom for rear-seat passengers and large rear door apertures that should make it (relatively) easy to load small children in and out. The boot aperture is big too, and with 520 litres of space it should easily cope with multiple large suitcases.
Expert rating: 4/5
Features of the Subaru Forester
Both trim levels in the Forester come with a very decent amount of equipment. The entry level model has fabric upholstery on heated, electrically adjustable front seats, keyless entry and start, adaptive cruise control and dual-zone air-conditioning. It doesn't have the built-in navigation you get on the next model up but you can use Apple CarPlay or Android Auto to plug your phone into the touchscreen and use your preferred navigation app instead – given our experience of the factory navigation system this is probably the better bet anyway. If you want a bit more luxury the posher of the two trim levels adds leather upholstery, a heated steering wheel, rear privacy glass, heated rear seats, a sunroof and a powered tailgate.
Expert rating: 4/5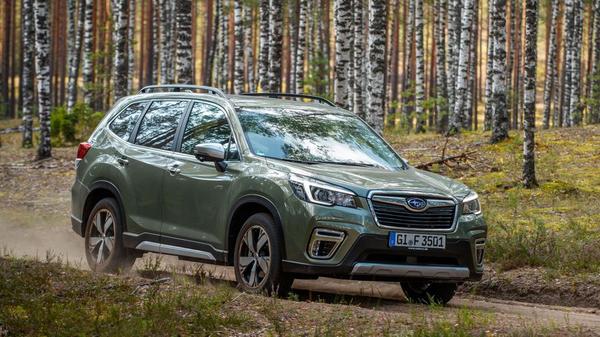 Power for a Subaru Forester
Power in the Forester comes from a 150-horsepower, 2.0-litre petrol engine with a small electric motor and battery attached. Subaru calls this the e-Boxer, the name signifying a modern twist on the signature engine design the brand is associated with. It's a relatively small hybrid system, with less than 20 horsepower coming from the electric motor, but in the absence of a diesel-powered Forester, the extra low-down electric grunt serves to add extra zip when you put your foot down. The petrol engine itself is at its strongest high in the rev range, and this means that performance is zippy when you're revving things hard, but it does lack a bit of punch before that. The automatic gearbox – a continuously variable transmission, if you're technically minded – doesn't help, either, as it often sends the revs soaring without a huge jump forward in acceleration. There's no option on Subaru's hybrid system to choose when to go into electric-only mode, or when to use the petrol engine to recharge the battery. Instead, the car manages these processes itself, and it works fairly well, but don't expect to be able to cruise very far on electric power alone.
Expert rating: 2/5