Toyota RAV4
New from £30,805 / £740 p/m
Is the Toyota RAV4 SUV a good car?
Read our expert review

Words by: Dan Trent
"The existing RAV4 already gets Toyota's proven hybrid assistance for improved efficiency, this standalone plug-in – or PHEV – version going a step further toward electrification with impressive battery-only range. It's considerably more expensive but in other respects it's the same deal as the regular RAV4, which is to say spacious, well-equipped and stylish in its unapologetically angular way. Toyota's longer warranty, additional equipment and proven track record for reliability arguably make it a more appealing choice than the near-identical Suzuki Across, which is in effect a RAV4 PHEV with a different badge. Read our review of the standard RAV4 here."
Read the review by category
Running costs for a Toyota RAV4
SUVs remain incredibly popular and hybridisation helps make them more efficient and cost effective to run, both for families and company drivers. The latter will love this plug-in RAV4, given it offsets the £10,000 price premium over the standard version with much more favourable Benefit In Kind and related running costs. Private buyers who plug in every night and are able to benefit from the RAV4 PHEV's better than average electric-only range for school runs and commutes could also reap some savings on fuel costs and the Toyota can go further without using its petrol engine than most of its type.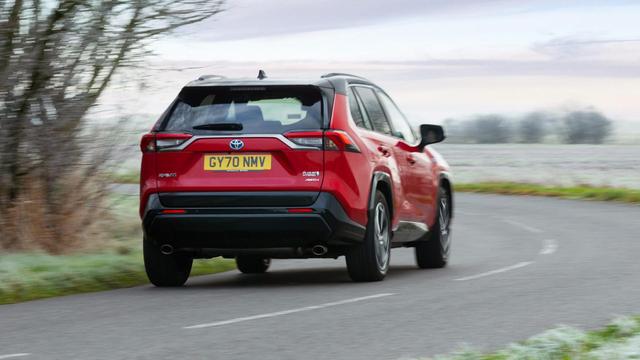 Reliability of a Toyota RAV4
Toyota has, for many years, had an excellent reputation for reliability, and it's often one of the main selling points for the brand. That said its standing on respected surveys and league tables has dipped somewhat in recent years but, overall, the picture is still pretty good and Toyota's hybrid technology is well-proven and robust. The five-year warranty is a confidence booster and probably the single biggest selling point over the near-identical Across, given Suzuki only offers three years of cover.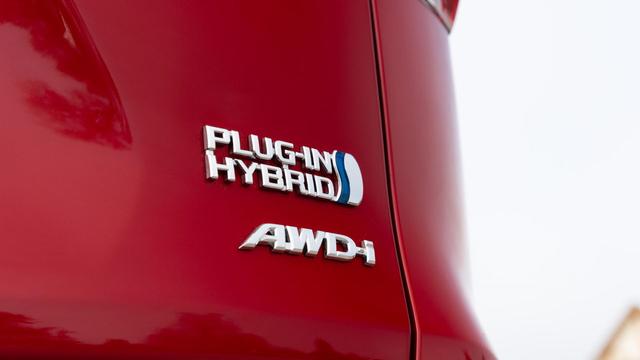 Safety for a Toyota RAV4
All models of the new RAV4 include an impressive array of safety kit, packaged together under the name of Toyota Safety Sense. Credit due as well, because where many rivals make you pay extra for driver assistance features they're all standard here. This includes automatic emergency braking that can detect pedestrians and cyclists as well as lane departure alert, which helps keep the car from inadvertently drifting out of its lane. Blind spot warnings are also standard.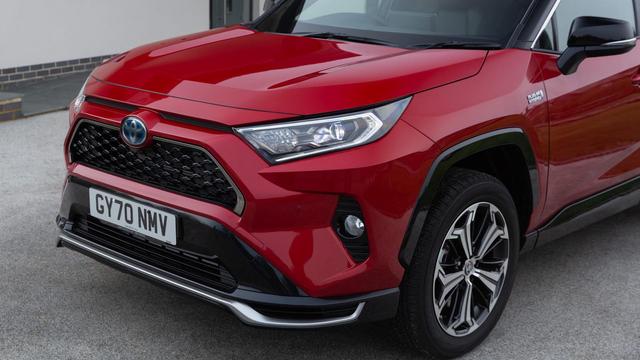 How comfortable is the Toyota RAV4
Compared with the cool sophistication of rivals like the plug-in hybrid Volvo XC40 and impressive Korean alternatives like the Kia Sportage and Hyundai Tucson the RAV4 has quite a 'busy' looking interior that's generally well made but also has some cheaper fixtures and fittings. It does, though, have that sense of Toyota robustness that suggests it should be well up to the rigours of family life and those in the back will appreciate the space (unless they end up in the middle seat) and fact the generous spec includes such luxuries as heating for the outer rear seats as well as the front ones. The rears also recline and standard leather upholstery feels tough and luxurious in equal measure. The boot is a little smaller than the non-PHEV version of the RAV4 but is still pretty sizeable and less compromised by needing to accommodate a bigger battery than some rivals. That also brings some advantages of its own, the extra 200 kilos or so the PHEV is carrying actually helping calm the harsh ride quality we criticised in the standard RAV4. The heavy steering feels at odds with the otherwise easy-going driving style of the car, the Toyota built more for comfort than speed and happier at a cruise than being chucked around. Which is appropriate for its target audience, though it can show a surprising turn of speed when you want it to and copes better than you might expect if you are in a hurry.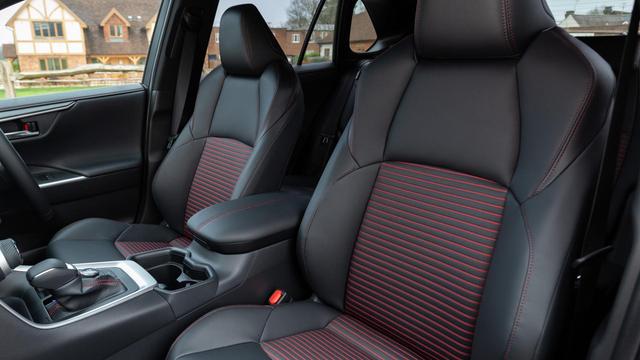 Features of the Toyota RAV4
Unlike some manufacturers Toyota keeps its trim levels pretty simple and there are just two options for the RAV4 PHEV, both of them very well equipped. Indeed, the only notable things the base Dynamic misses out on are the head-up display, JBL speaker system and panoramic roof, all of which are 'nice to haves' but not essential. The important stuff like built-in navigation on the central touch-screen and various connected services that support it are all standard and if, like us, you find the Toyota mapping a little old-fashioned looking you can always plug your phone in and use your apps through CarPlay or Android Auto instead. Convenience functions like a reversing camera, parking sensors, privacy glass, LED headlights and a power tailgate are all standard on every model as well.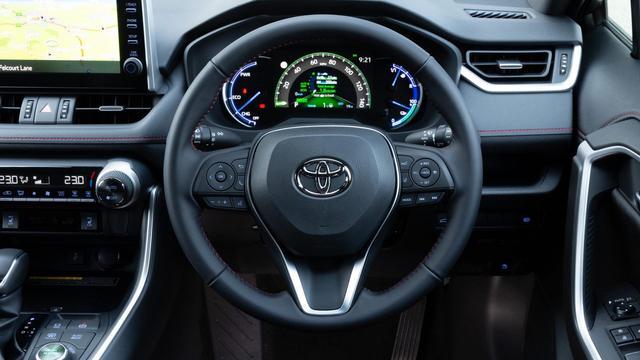 Power for a Toyota RAV4
Like fancier versions of the regular RAV4 the plug-in has electric motors front and back for, effectively, all-wheel drive. Thanks to the bigger battery the one assisting the 2.5-litre petrol engine up front is much more powerful and takes up a lot of the strain we detected in the non-PHEV version. Indeed, the RAV4 PHEV feels powerful and refined, the noisy howl of many Toyota hybrids silenced by the hum of electric assistance with an impressive 46-mile range available without waking the petrol motor. You could cruise around peacefully in the standard driving modes totally happy with the way the RAV4 PHEV goes but it also has a bit of a hidden trick up its sleeve when you select the Sport mode. In most cars this doesn't make a huge difference but here it transforms the performance and you suddenly feel every one of the 305 horsepower, as if your big SUV has suddenly gained rocket boosters. The RAV4 PHEV doesn't need to be this fast, but it's quite amusing to discover that it is and you can, if you wish, give hot hatch drivers a bit of a surprise when the mood takes you. That alone is possibly worth the extra money over the standard RAV4!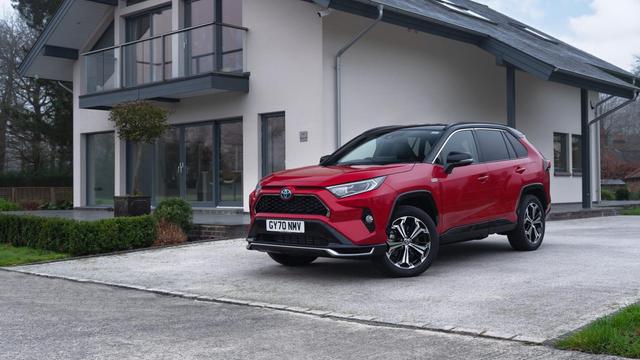 Lease deals
These deals are based on terms of 8,000 miles, for a 36 month lease with a 6 months initial payment.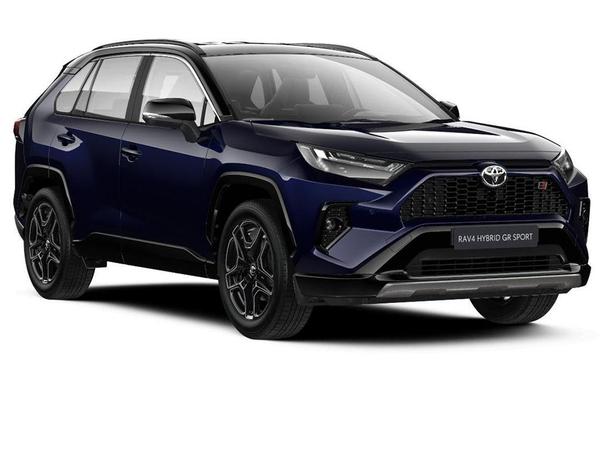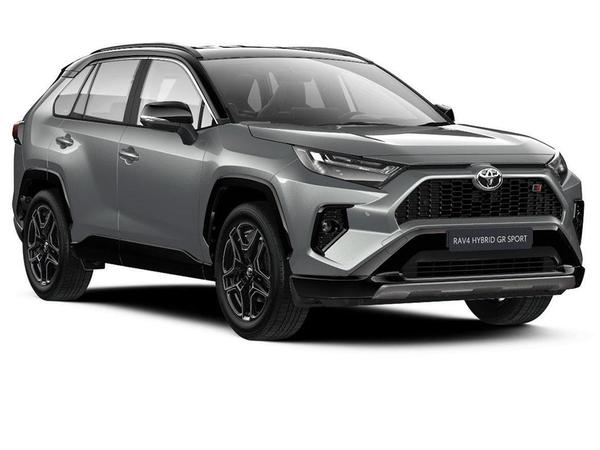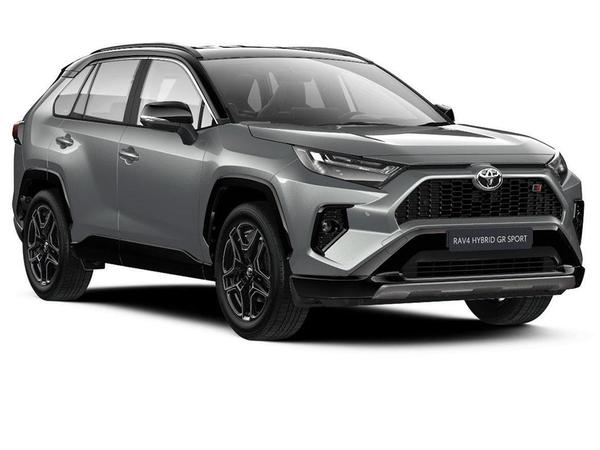 Standard equipment
Expect the following equipment on your Toyota RAV4 SUV. This may vary between trim levels.
Related articles and reviews