Long-term Review Living with a... Toyota Corolla Touring Sports TREK (Month 1)
The Toyota Corolla Touring Sports joins our long-term test fleet – is hybrid power and estate practicality the perfect combination for an active, outdoorsy family?
View gallery
We're trying out the
Touring Sports
estate version of the
Toyota Corolla
, in lifestyle 'TREK' specification created in collaboration with the well-known bike brand. Derived from the regular, Golf-sized
hatchback
, for all the fancy name the Touring Sports is basically your traditional small estate car with a little crossover attitude. An electric motor and battery pack give the petrol engine a helping hand, our test car featuring the larger and more powerful 2.0-litre in an effort to see if this combination is actually more economical for long-distance driving.
What is it?
Model: Corolla Touring Sports

Version: 2.0 Petrol Hybrid

Spec level: TREK

Options fitted: Detachable tow bar (£499), Thule EasyFold XT 3 bike rack (sold separately, £715)

Cost as tested: £31,499 (plus bike rack)
We like
It's not an SUV

Hassle-free hybrid powertrain

Ride comfort
We don't like
Slow power tailgate

CVT gearbox

Dated infotainment system
Month 1
Mileage: 1,498 (on arrival)
Fuel consumption: 35.8mpg (measured)
Taken literally 'Sports Utility Vehicles' are not in fact high-riding, 4x4-inspired crossovers but, instead, practical, no-nonsense cars more suited to supporting the lifestyle activity of your choosing. That's my thinking in choosing a Toyota Corolla Touring Sports, given our household of four needs a roomy, comfortable car to transport us and our bikes to the various riding spots we frequent of a weekend. My personal car is an old Subaru Forester, which is perfect for the job but guzzles the fuel. Hence, I was curious to see if a modern hybrid equivalent could do a similar job but free up petrol money for more important things, like pre-ride coffees and post-ride ice creams.
Toyota Corollas have never traditionally been exciting cars but I think this new one is really sharp looking, reflecting the brand's more recent design awakening. Inevitably, I was attracted to the GR Sport version of the Touring Sports (it seems 'estate' is a dirty word these days) with its body kit and bigger wheels but Toyota reckoned this TREK Bikes branded version would be more appropriate to my needs. It gets an extra 20mm of ride height for lumpy car parks, smaller wheels and a bit of plastic cladding on the outside to project a more outdoorsy image, while inside it gets natty brown fabric seats and some token fake wood trim around the air vents. The latter is thankfully subtle enough not to be too noticeable.
Toyota is big on hybrids and all Corollas are petrol-electric, driving through a 'CVT' style automatic transmission. The 1.8 has a combined 122 horsepower but I've gone for the 184 horsepower 2.0-litre with the
bigger battery
on the basis I do a lot of motorway miles and A-roads so the powertrain will be less stressed and more efficient as a result. Hopefully. The official figures when compared with a
Rav4
are a little better on CO2 and fuel consumption (but not dramatically so) but the Corolla is a good chunk cheaper to buy as well as being smaller, neater and, well, not an 'SUV'.
The hybrid system in the Corolla is familiar from many other Toyotas and isn't
a plug-in
, so the electric element basically means diesel CO2 and fuel consumption with a petrol engine. So, it doesn't have the triple-digit mpg or
Benefit In Kind
beating emissions stats of a PHEV like the
Volvo XC40
I was running previously, but you can just jump in and drive it without having to think about charging, preserving electric range or all the rest.
In the Japanese style equipment is generous and the bottom-line price pretty much all-inclusive, with the only options being metallic paint (not applied) and a protection pack of rubber floormats and the rest I probably could have done with but haven't got as yet. Toyota also fitted a detachable tow bar for my bike rack, which costs an additional £499. I'll talk more about the features on this car in the next update, along with what it's actually like to drive once I've covered some miles.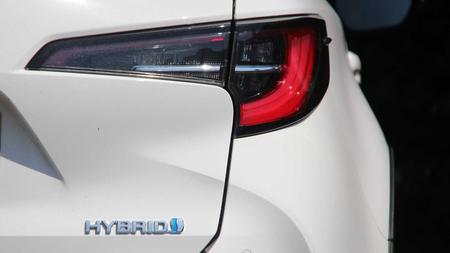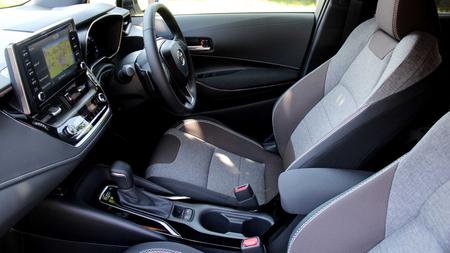 Interested in buying a Toyota Corolla?