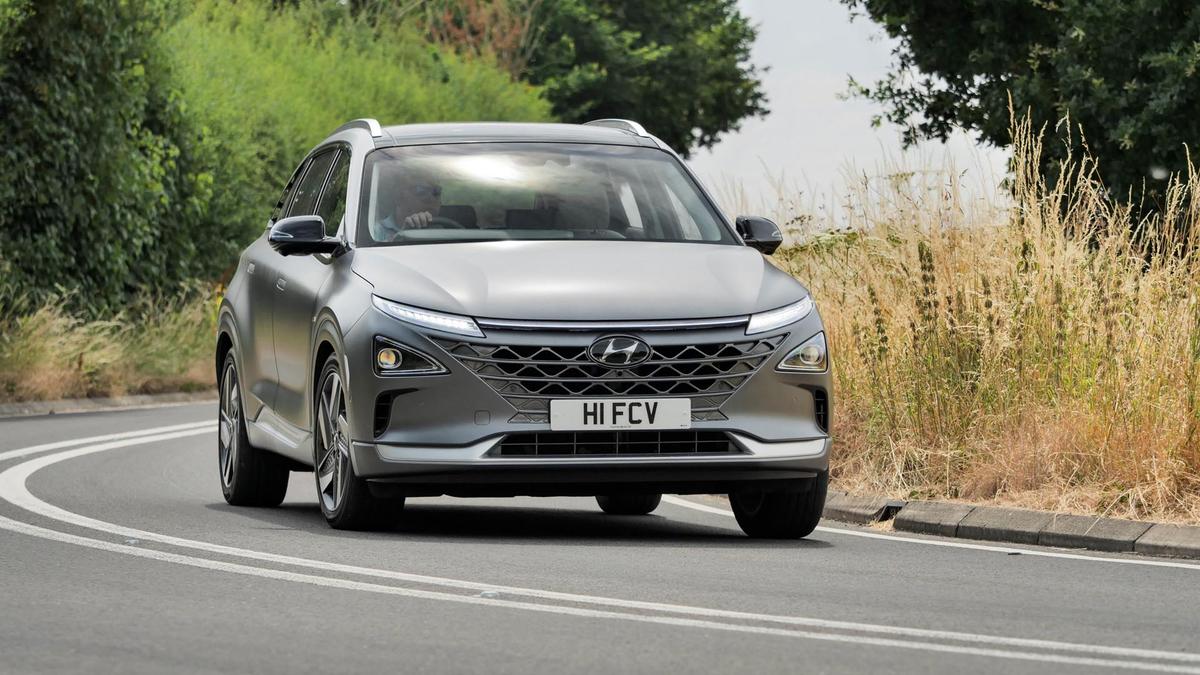 View gallery
The Auto Trader expert verdict: ★★★★★

★★★★★
3.5
From an alternative fuel perspective, the Hyundai Nexo is nothing short of impressive. It ticks the zero-emissions box, yet doesn't come with the lengthy charging times battery electric vehicles require. Admittedly, the Nexo is hamstrung by a high price and, more critically, a limited hydrogen refuelling network. We can't fault it for its comfort on the move, even if it feels a little slow compared with the best EVs. For now this remains a very specific choice only a tiny minority of motorists could realistically consider.
Reasons to buy
Eco-friendly

Refined driving experience

Well-finished interior
Running costs for a Hyundai Nexo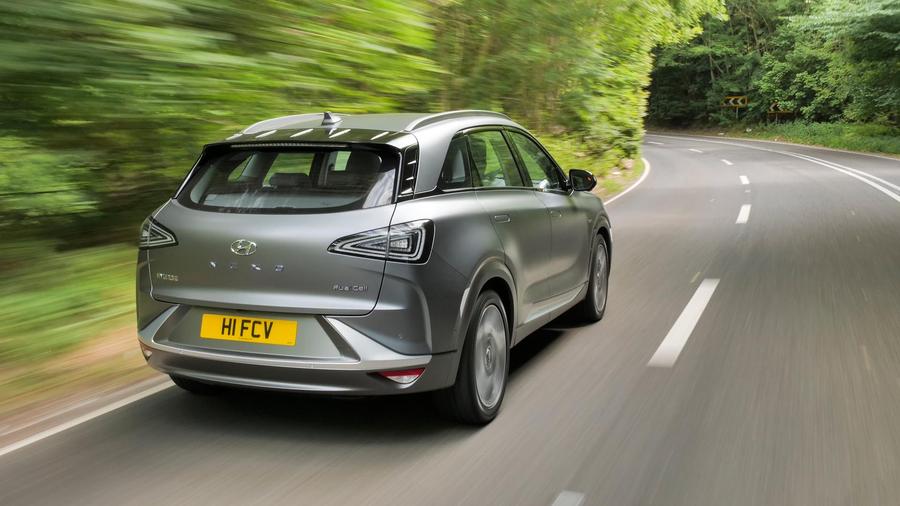 According to Hyundai's official figures, the Nexo should be capable of covering up to 413 miles on a single fill of hydrogen. That's not bad when you consider that it takes no longer to refill than a diesel or petrol car, and there are no harmful tailpipe emissions. However, it is less costly to recharge an EV compared with the price of a hydrogen top-up – and, well, plug sockets and chargers are considerably more widespread than hydrogen filling stations. There are only a handful currently in operation in the UK. Its only real rival currently is the Toyota Mirai.
Reliability of a Hyundai Nexo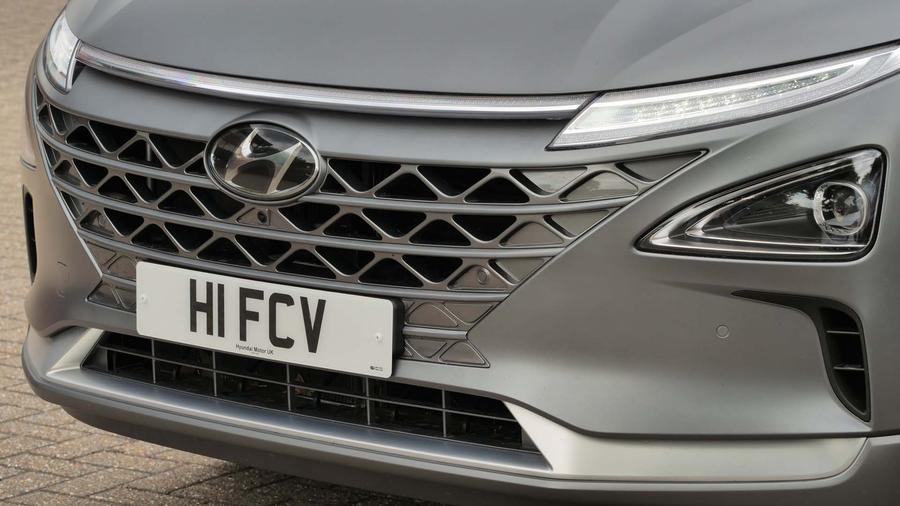 As the Nexo is in its first generation, there isn't yet any data on how reliable it is. What is worth remembering is, like an electric vehicle, the Hyundai doesn't have as many moving parts as a traditional car, so there's theoretically less to go wrong. As with other Hyundais, the Nexo gets a five-year/unlimited mileage warranty package.
Safety for a Hyundai Nexo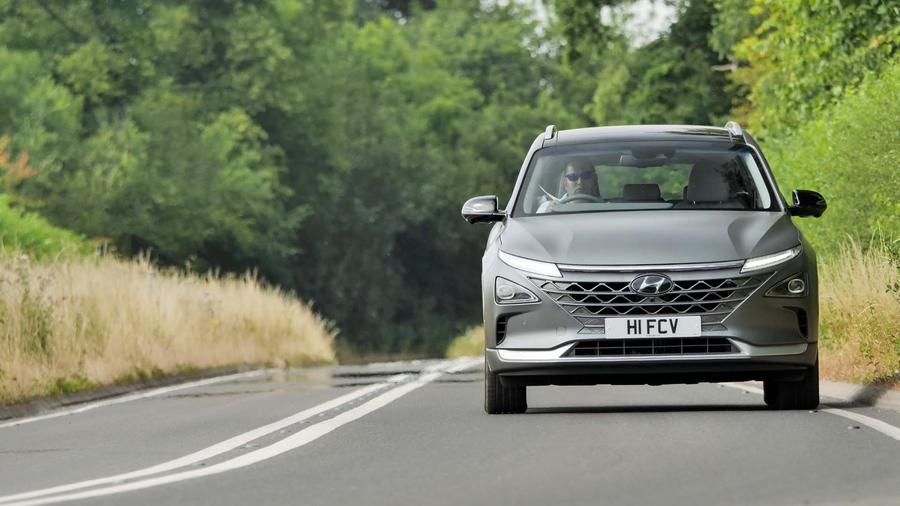 As the Nexo represents the pinnacle of Hyundai's engineering, the car gets the best and most advanced safety systems. In addition to adaptive cruise control to keep a safe distance to the vehicle in front, there's a lane-keeping system that helps to maintain the car's position on the road. As useful as this might be on the motorway, if you're not paying attention, we did find it tends to beep every time you came close to crossing the line on secondary roads. At night, the car automatically detects oncoming traffic and cars ahead, and reduces the lights to low beam to avoid dazzling them. One of the most useful safety systems in the Nexo is a new blind spot monitor. When you indicate, the instrument cluster immediately displays a clear video image of the blind spot in the direction you're turning. It's impressive to use, and you quickly become used to it. A total of six airbags, including curtain airbags that run from the front to rear seats, is fitted.
How comfortable is the Hyundai Nexo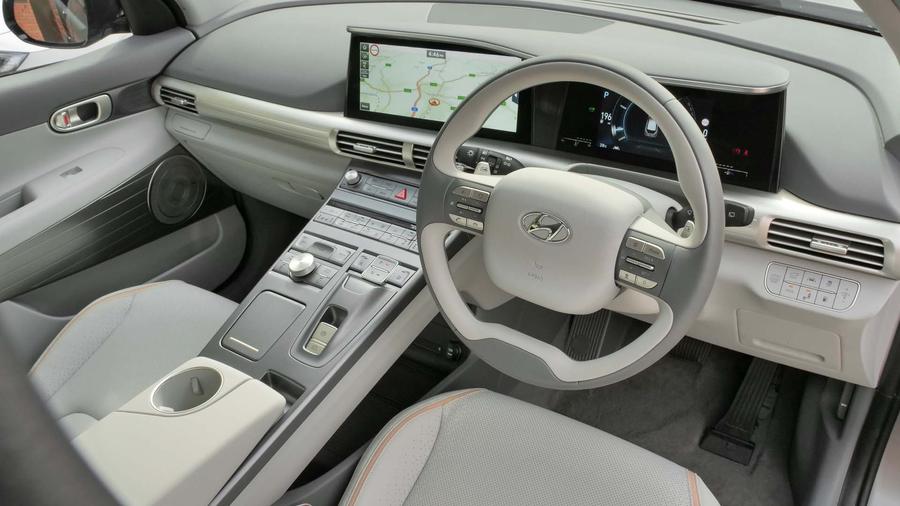 Just as the Nexo's exterior stands out from the crowd, the interior makes a strong first impression. Nonetheless, it's not as spacious inside as you'd expect from the size of the Nexo. Light colours throughout help to make it feel airy at least, though we are not so sure owners will enjoy trying to keep it looking clean. The quality of the interior is a step up from other Hyundais, which buyers will expect given its price point, while more sustainable materials such as vegan 'leather' and plant fibres in items like the floor mats are employed to good effect.

The rear can seat three, but the middle perch is narrow, and a raised floor section restricts foot space there. In the outer seats, head and legroom are good. Although the Nexo uses three small hydrogen storage tanks spread around the car to help cabin space, boot capacity is still only average.

The Nexo isn't a light car, and you certainly feel it in the bends and when braking. This sensation discourages you from trying to drive it more enthusiastically. On top of that, it doesn't have the same composure as other premium SUVs like the Audi Q5 or BMW X3, and the handling isn't as sharp as in the better electric vehicles, such as the Jaguar I-Pace. You can choose from different drive modes but that doesn't help matters particularly.

The suspension is more biased towards comfort and, when cruising along, it does do an excellent job of absorbing surface imperfections. Its near-silent operation results in a relaxed cabin experience on the move, too. The Nexo feels most at home when driving in urban settings where its comfort and refinement can shine through. Saying that, it does cruise happily on the motorway and can cover longer distances with ease. You'll stop short of taking the windy way around, though.

Features of the Hyundai Nexo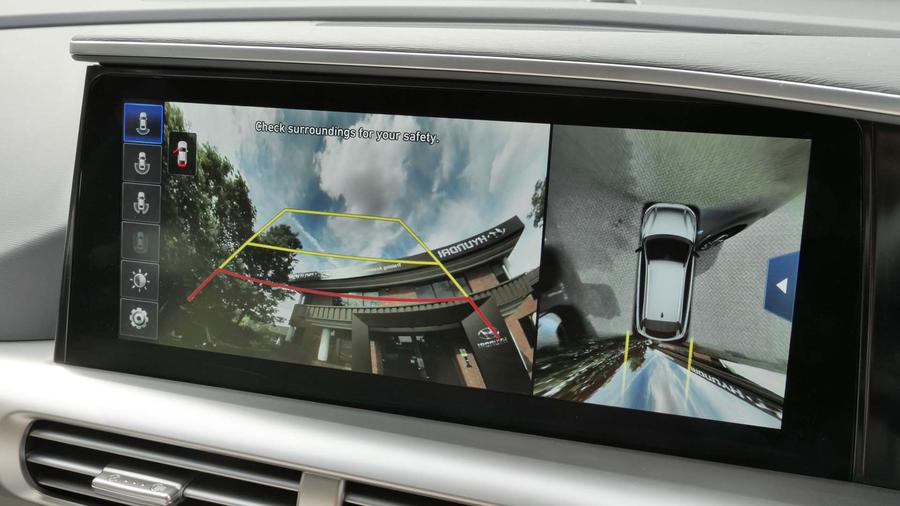 The Nexo isn't short on equipment. Its seven-inch instrument display and 12.3-inch infotainment touch-screen are standard, look great and are easy to navigate. Speaking of navigation, the onboard maps can pinpoint the nearest hydrogen filling stations and show a nifty driving range radius in real-time. A high-end Krell sound system pumps your tunes out, and Hyundai equips the Nexo with voice recognition, Bluetooth and smartphone integration for Android and Apple devices. A powered tailgate adds to the convenience of loading the boot, while the interior gets climate control and a large sunroof. One of the Nexo's party pieces is that it can park itself in or pull out of either a parallel or perpendicular parking space at the touch of a button, even without you being in the car. Useful for the next time somebody parks too close to your car and there isn't enough room to squeeze into the driver's seat.

Given the amount of thought that has clearly gone into designing some aspects of the Nexo, it could be a bit more practical. However, both front seats are electrically adjustable, and the steering adjusts for height and reach. Beneath the floating centre console lies a wireless charging pad, two USB sockets and some additional storage. Accessing and seeing the latter isn't the easiest task though. A decent sized glovebox is welcome, as is the cubby under the large armrest between the front seats.

Power for a Hyundai Nexo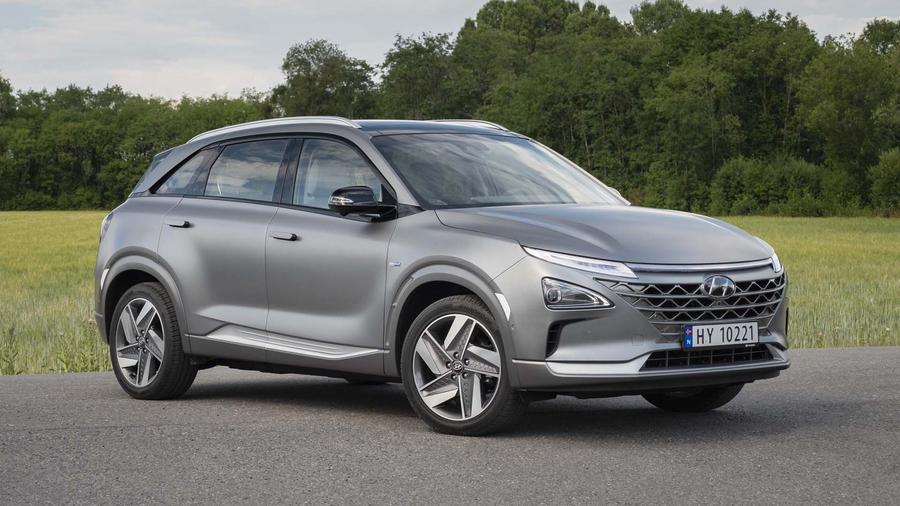 While the Hyundai Nexo uses hydrogen as its fuel source to create electricity, it still has an electric motor to drive the front wheels – and so performs in much the same way as other EVs. The fuel cell stack uses a chemical reaction between hydrogen and oxygen to generate the electricity. Outright performance isn't particularly brisk; with a power output of 163 horsepower, its pace is similar to that of a mid-size diesel engine. The Hyundai has a single-speed automatic transmission operated by buttons rather than a traditional lever. It features what appear to be gearshift paddles behind the steering wheel, but these are for adjusting the rate of energy recuperation while slowing down. At its highest setting, it feels like applying the brakes when you take your foot off the throttle.