Expert Review
Ford Focus Estate (2018 - ) review
The Ford Focus is the benchmark by which all family hatchbacks are measured, and the estate is also pretty popular, too. Find out here if it can measure up.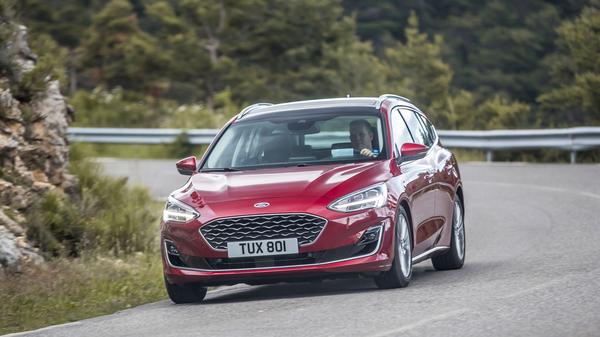 The Auto Trader expert verdict:
The Ford Focus has traditionally been the keen driver's choice in this class, and the latest car follows that theme, with a seriously polished driving experience that's as comfortable as it is engaging. It does a very solid job in every other area, making it a really good all-rounder. Don't buy your next small estate without giving this a look first.
Reasons to buy:
Great ride and handling balance
Some cracking engines
Good reliability record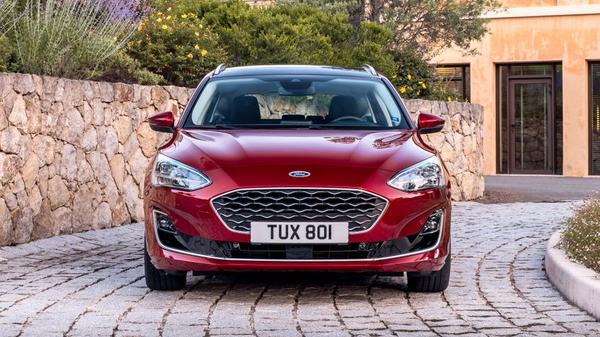 Running costs for a Ford Focus
This is a really key area with cars like the Focus, and as a result, the margins of difference are pretty slim. When judged on price, efficiency and resale values, the Focus is just about bang on with the
Seat Leon
ST, so it should cost roughly the same to own over a typical three-year period. The
Volkswagen Golf
Estate is
pricier to buy
and not as clean as the Ford, but the VW's superior resale values will even out that difference. And, while neither the
Hyundai i30
Tourer or
Vauxhall Astra
Sports Tourer are as
efficient
as the Ford, both
cost a little less
to buy. However, these differences are by no means deal-breaking, and if you decide on the Focus, you'll be getting decent value for money, whichever version you buy.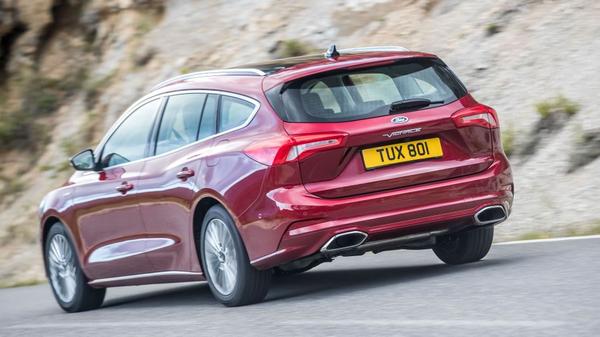 Reliability of a Ford Focus
The latest Focus is obviously too new for there to be any meaningful reliability data available, and because it bears very little mechanical resemblance to the previous Focus, looking at the performance of that car can only tell us so much. However, the owner reviews on our site paint a largely positive picture of life with the previous Focus, with very few horror stories reported, and the car has a pretty good score in the Warranty Direct Reliability Index, too. The car sits comfortably within the Top 100 cars in the study, while Ford also sits comfortably in the top half of the manufacturer standings.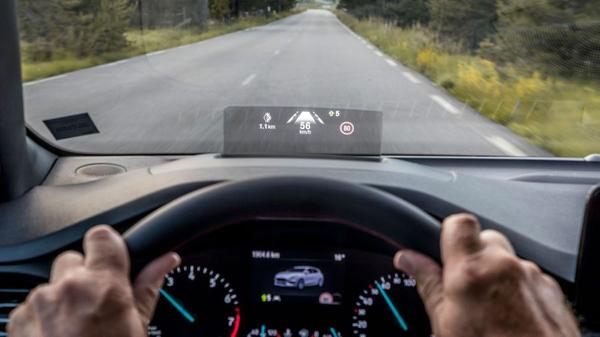 Safety for a Ford Focus
Standard
safety
kit across the range includes automatic emergency braking, electronic stability control, hill start assist and a system that locks the brakes on after an accident to help prevent any further impacts. It also has MyKey as standard, which is a programmable fob you can give to your kids when they drive the car, and it allows you to set maximum thresholds for things like speed and stereo volume. Blind spot monitoring is available as an option across the range, and on most versions, you can also specify a Driver Assistance Pack, which brings together traffic sign recognition, automatic high-beam lighting, and adaptive cruise control with lane centring.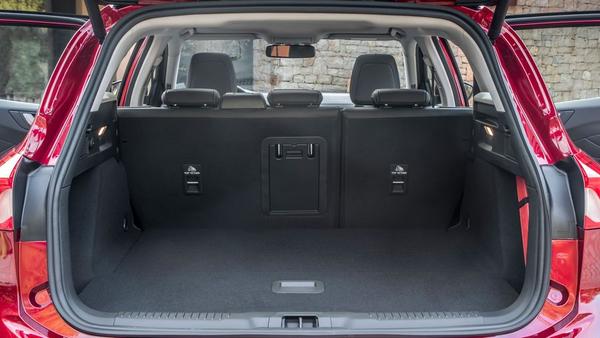 How comfortable is the Ford Focus
Obviously practicality is critically important to an estate car, and the Focus does a very solid job indeed. The boot is a presentable size at 575 litres, but while that's enough to carry most of what a family could throw at it, it's less than you get in most of the car's rivals in terms of outright capacity. The space is a little shallow, too, but the access to it is great, with a huge opening and barely any load lip to negotiate. There's more space to be found under the boot floor, too, and when you drop the spring-loaded rear seats (done with either pull catches in the boot or buttons on top of the backrests themselves), they lie pretty much flat, giving you a very competitive 1620 litres of cargo space. There's loads of space up front, and in the rear seats, legroom is generous and headroom is better than in the hatchback, so even tall passengers will sit very comfortably. The wide cabin means there's more shoulder room than in many competitors. This aspect will only really come into play when you're carrying three people across the rear bench, and the wide middle seat and flat, low-set transmission tunnel will help on that score, too. The materials used in the cabin are absolutely fine, and should prove fairly hard-wearing, but most of the surfaces don't have the tactility or texture to cut it with those in, say, a
Volkswagen Golf
. The touchscreen infotainment system will take a bit of getting used to, but after some playing about, it soon becomes second nature. The rest of the dashboard has a fairly sensible layout, too, although there are still more buttons than you'll find in many competitors, and the steering wheel is also full of the things, which can be a little bamboozling when you're trying to use the trip computer. That said, there's lots of adjustment, so it's easy to find a comfy driving position, and visibility is pretty clear in every direction, with no major blind spots. Traditionally, driver engagement has always been the area in which the Focus – in both hatchback and estate forms - has excelled, and happily, that's still the case here. It feels sophisticated and grown up at all times, because the ride is compliant, comfortable and superbly controlled at all speeds, while exterior noises are also extremely well isolated. And despite that impressive comfort, you still have every ounce of trademark Focus agility. There's bags of grip, body movements are really well tied down, and the steering gives you quick responses and a decent amount of feel. The car flows really nicely from bend to bend, giving you a feeling of safety, as well as putting a
smile on your face
. What's more, that's all on the most basic suspension setup on offer. Cars with the bigger petrol and diesel engines have a more sophisticated setup on the rear end, and although the ride is even smoother with this arrangement fitted, the difference is very marginal indeed. The Active models, meanwhile, have a suspension that's jacked-up by 30mm, but again, this makes very little difference to how the car behaves. So, rest assured that whatever Focus you pick, you'll have a car that's fabulous to drive. The options list also offers an adaptive suspension that alters its behaviour according to which driving mode you select, but we haven't had a chance to try it yet. All Focuses have driving modes that alter things like steering weight and throttle response, but while you can feel the differences the modes make, they don't really make the Focus any more engaging to drive. Good job it's already pretty engaging in the first place.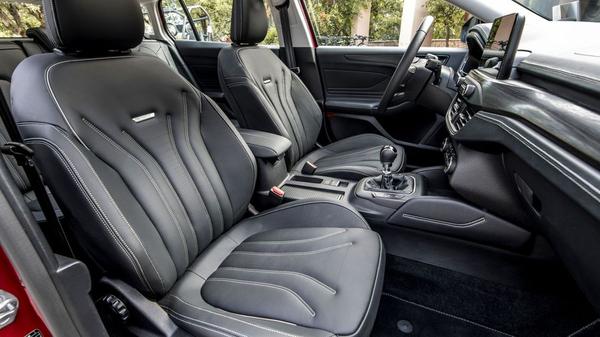 Features of the Ford Focus
Even the entry-level Style car comes with a decent amount of standard equipment, with four powered windows, automatic lights, remote locking, manual air-con, DAB radio and Bluetooth all as standard. Most buyers will want to upgrade to Zetec trim at the very least, though, as it provides cruise control, leather trims for the steering wheel and gearknob, a heated windscreen and a touchscreen infotainment system with Apple CarPlay/Android Auto. ST Line trim adds a sports suspension and keyless start, while ST Line X cars have all sorts of luxury extras including climate control, front and rear parking sensors, part-leather trim, heated front seats, a powered driver's seat, rain-sensing wipers and a bigger touchscreen complete with sat-nav. It's a similar deal with Active and Active X models, although the visual makeover you get is a 4x4-style one rather than a sporty one. Titanium forgoes the sportiness of the ST Line X or chunkiness of the Active X, but gets most of the same luxury kit. You do have to upgrade to Titanium X if you want the part-leather trim and electric driver's seat adjustment. The range-topping Vignale model gives you all sorts, like full leather upholstery, a rear camera, LED ambient lighting, a head-up display, a heated steering wheel, active noise cancellation, an upgraded stereo system and a system that pretty much parks the car for you.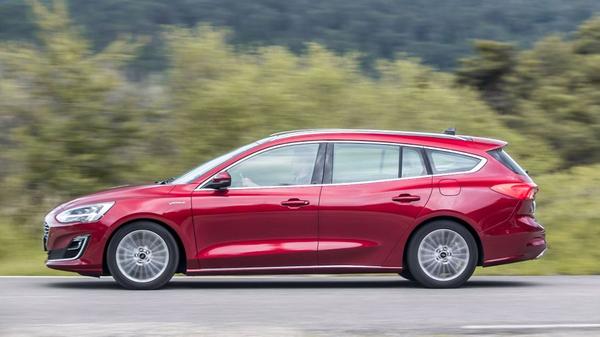 Power for a Ford Focus
Petrol choices include turbocharged 1.0-litre three-cylinder engines with either 85-, 100- or 125 horsepower, and 1.5-litre units with either 150- or 182 horsepower. So far, we've tried the most powerful 1.0-litre and both 1.5s. The 1.0-litre is the one most buyers will choose, and it does a thoroughly decent job. You have to keep the revs high, because it feels rather flat below 1500rpm and doesn't really wake up until you're upwards of 3000rpm. However, it'll be flexible enough for most drivers, and it's also capable of pretty decent acceleration when the need arises. You might not be a fan of the manual gearshift, though, which is rather notchy and clumsy. Oddly, the gearshift with the 1.5 engine is much sweeter and slicker, and predictably, there's a good deal more performance on offer. It doesn't feel quite as strong as the output of 182 horsepower suggests, but the low- to mid-range pull is stronger, making it much easier to maintain your progress. We've also tried the 150-horsepower version paired with the optional eight-speed automatic gearbox, and this isn't a particularly happy union. The perkiness of the engine combined with the clumsiness of the gearbox results in a car that wants to run away with you when you want slow progress, yet reacts too slowly when you want to pick up the pace. However, pair the auto' with the 120 horsepower diesel engine, and it's much better. It swaps gears smoothly and cleanly, and usually selects the right one. And the engine's a little cracker, too, regardless of whether you choose the auto' or stick with the slick-shifting six-speed manual. It's not particularly quick or particularly keen to rev, but importantly, there's always enough grunt there when you need it. Where it really impresses, though, is in how quiet and smooth it is. It's so good that it puts the diesel engines in many big executive saloons to shame, and it contributes to an impressive level of refinement overall. This engine is also available with an output of 95 horsepower, while there's also a 2.0-litre diesel with 150 horsepower, neither of which we've tried yet.