Volkswagen Golf
New from £25,685 / £424 p/m
Overview
Petrol, diesel or hybrid options
Is the Volkswagen Golf Hatchback a good car?
Read our expert review
"To paraphrase a famous quote the report of the VW Golf's death may have been an exaggeration, but it's true this benchmark hatchback is at something of a crossroads. For decades the perfect combination of size, performance and practicality, the Golf's real trick was a classless sense of prestige able to cut it in any company. These days, though, it feels like it's being quietly superseded by its all-electric ID.3 relative, even if VW insists it'll still be around for a while yet. A reworking of the previous Golf, this current one is still very accomplished but feels – whisper it – just a little half-hearted given the standards set by its predecessors, the quality of rivals like the Vauxhall Astra and Peugeot 308, and even the Seat and Cupra branded Leons it shares so much with. Still a great car, the Golf perhaps isn't the car its 'Das Auto' branding once suggested."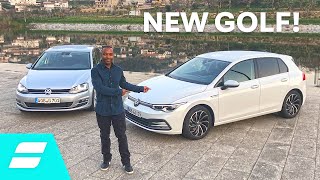 Read the review by category
Running costs for a Volkswagen Golf
In this age of electrification credit to Volkswagen for offering a Golf with whatever type of engine you need, be that an affordable small petrol, mild-hybrid or full plug-in hybrid (PHEV) capable of over 40 miles on electric power alone. There's even a diesel, if you still want one. For the nearly two-thirds of Golfs sold to fleets that plug-in eHybrid is the sweet spot, though, the low CO2 and Benefit In Kind incentives slashing monthly costs for those running one as a company car. Availability is an issue, though, with ongoing supply problems meaning, at the time of writing, the eHybrid was available from stock only, while choice of other engines and trim levels is constantly changing according to what the factory is able to build at any given time. The hybrid might be the one you want, but whether you can actually get one is another matter.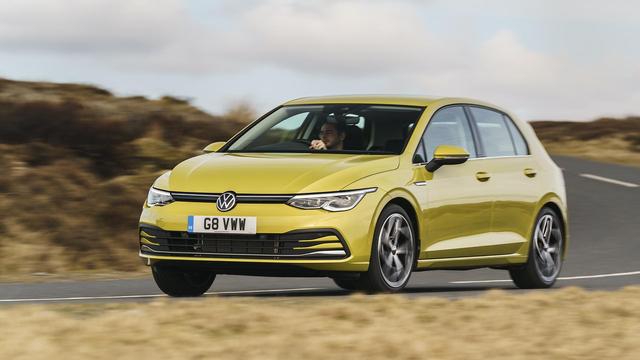 Reliability of a Volkswagen Golf
Volkswagen is a master at building lots of cars across all its brands on shared platforms and technology, hopefully meaning benefits of scale in cost and reliability. And this eighth-generation Golf is, in reality, an evolution of the previous one, so uses proven parts and engines. This is a good thing but the screen- and touch-driven systems controlling everything from infotainment to heating have proven a little flaky going by anecdotal evidence. There must be something in that as well, given in 2021 VW announced improved hardware with additional computing power, along with a range of software updates to make it work better. While earlier cars only get the improved software (the car needs to come into a dealer to have it installed) there's hope VW has learned from this uncharacteristic dropped ball.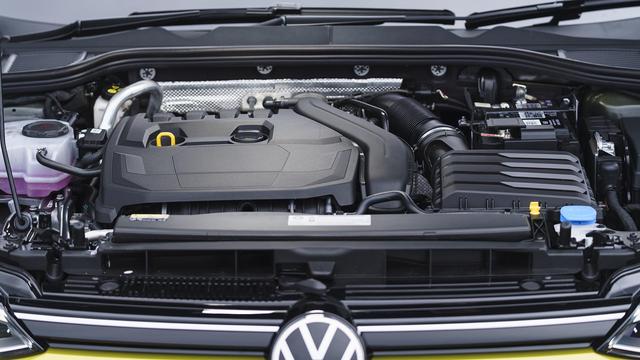 Safety for a Volkswagen Golf
The new generation of technology on this Golf opens the door for a whole range of safety and driver assistance systems, building on an already strong platform of ISOFIX mounts in the outer rear and front passenger seats, airbags and all the rest. It's worth scrutinising the configurator before pressing 'buy', however, because some, like airbags in the rear, are cost options. Likewise, some of the more advanced driver aids like assisted driving are only on the higher trim levels, though in better news VW's sophisticated emergency braking system (with detection for pedestrians, cyclists and oncoming vehicles) is standard and the Golf is wired in to VW's 'Car2X' network where vehicles automatically warn each other of hazards, accidents and congestion.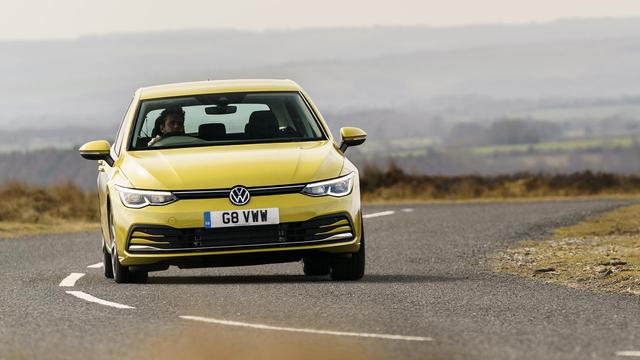 How comfortable is the Volkswagen Golf
As everyone rushes to buy crossovers and SUVs of various sizes a trip in a Golf is a reminder that, as always, for most people this is really all the car you need. Our test car's pale interior felt light and airy, with comfy seats and general sense of refinement. You might want to consider darker materials if you have a family, though! In practical terms the Golf remains a good size for most needs, with enough room in the back for adults to ride in reasonable comfort, a boot large enough to carry what you need and an overall size that's easy to park and drive in busy traffic. If ride comfort and handling matter to you it's worth noting, meanwhile, that cars with less than 150 horsepower (effectively the base petrol and diesel versions) have a more basic rear suspension arrangement to save costs – the one we drove had the fancier set-up on more expensive models but not all Golfs are equal in this respect.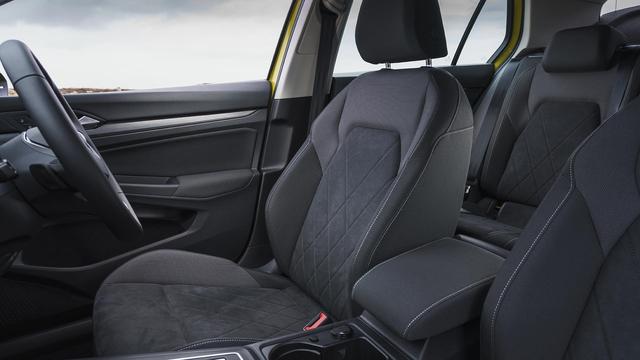 Features of the Volkswagen Golf
Ditching conventional dials for paired screens for instruments and the central infotainment display sounds fancy but, as above, the tech powering them hasn't been as slick as you'd expect from VW. Nor is the integration into the physical architecture of the dashboard as smart as some – a Mercedes A-Class might seem an extravagant comparison but sets the standard for premium hatchbacks of this size. Previous complaints about the system being slow to boot up and respond to touch requests seem to have been addressed with the updated hard- and software and the voice control is apparently upgraded, for those less self-conscious about talking to their car than we are. What appears a logical range progression through regular trims and into the faster GTE, GTI and R models is relatively straightforward, with kit getting predictably fancier as you work your way up. It pays to scrutinise the configurator carefully, though, as VW is quite canny about burying the stuff you probably want into option packages and upgrades you need to pay extra for. And if you're not careful you could end up missing out. The We Connect package meanwhile integrates your Golf with a phone app, through which you can potentially add additional features down the line where compatible. If you want We Connect Plus with extra functionality like live traffic updates, internet radio and more you need to register within 90 days of collecting the vehicle and pay a subscription.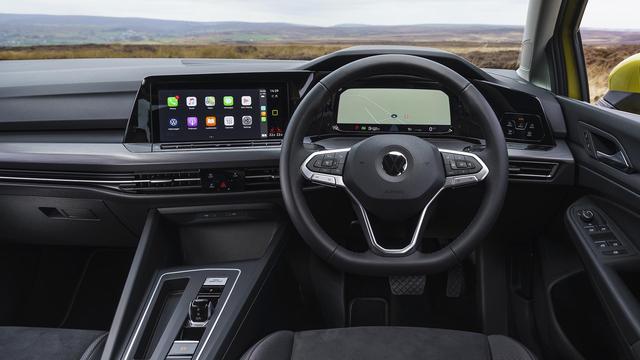 Power for a Volkswagen Golf
While the on-paper choices look broad the reality of what you can order will be driven by what's available when you click 'buy'. The core petrol engines, meanwhile, are based around a 1.0-litre three-cylinder and a 1.5 four-cylinder, both coming as standard with a six-speed manual. The eTSI branded versions like the one we tested are all automatics and feature 'mild hybrid' assistance, which is basically an upgraded start-stop system to improve fuel consumption. The 150 horsepower one we tried certainly felt impressively slick in combination with the automatic gearbox, with a nice balance of performance and efficiency. Again, we come back to that 'all the car you really need' thing the Golf has always done so well. Although we've not tried the full plug-in hybrid in the Golf we have in other Volkswagens and experience shows it's also a very slick system, the 44 miles of official electric range double that of rivals like the Astra we've had on long-term test . Diesel may, meanwhile, be off-trend these days but if you do big miles may still have a place. At the other end of the scale the GTI and R performance versions use their own 2.0-litre petrol engine with, in some cases, over 300 horsepower. These play to a very specific audience, and have a strong following all of their own.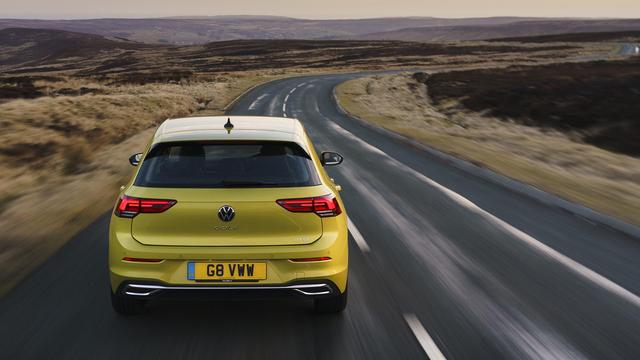 Lease deals
These deals are based on terms of 8,000 miles, for a 36 month lease with a 6 months initial payment.
Standard equipment
Expect the following equipment on your Volkswagen Golf Hatchback. This may vary between trim levels.
Related articles and reviews