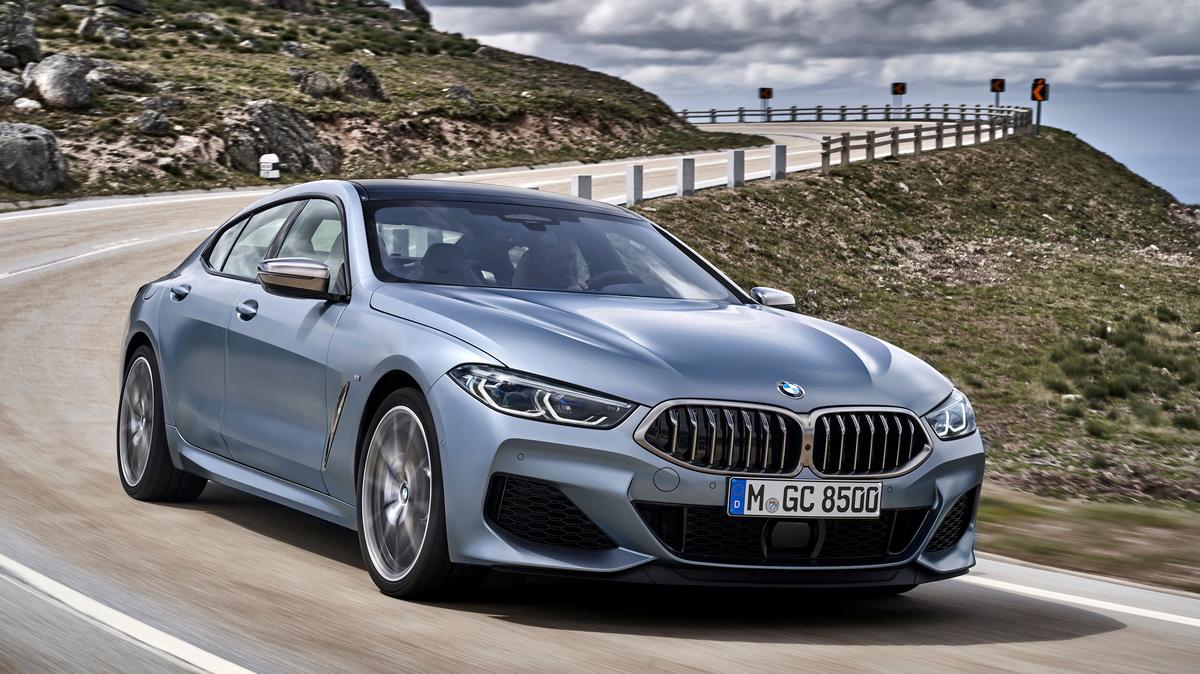 View gallery
The Auto Trader expert verdict: ★★★★★

★★★★★
4.5
BMW first unveiled its 8-Series in 1990. A flagship, sporty, two-door coupe, it was the epitome of Nineties grand touring. Nine years later it disappeared, but - happy days - it's back, in hardtop and convertible standard versions, and the same two body styles in M8 Competition form, for hardcore motoring. And then there's this, the Gran Coupe option. With four doors and a a bit more space, it's the practical face of the 8-Series, and the most popular in the UK, by a long way. An M8 Gran Coupe follows.
Pros
Amazing looks

Silent cabin

Blends luxury and practicality
Cons
Expensive

Heavy

Feels very wide
Interested in buying a BMW 8 Series Gran Coupe?
How good does it look?
Most fans of the original 8-Series have not been disappointed by BMW's re-imaining of its luxury coupe. It has kept some of the original exterior charm - a swept-back silhouette, low profile and sporty stance - while updating the styling to reflect the current range of models.

The addition of two frameless rear doors and slightly longer, higher bodywork to accommodate them has done nothing to dent the grand tourer's appeal.
What's the interior like?
Inside, BMW has perfected the art of the brand's minimalist approach, mixed with subtle touches of luxury. So you still have pared-back leather surfaces on the dash and doors, which is all tightly cut and stitched, but you can specify more gregarious touches like the cut-glass gear-lever handle which is illuminated inside. If you want more sporty styling, you can choose seatbelts with the M-badge red and blue stripes.
How practical is it?
The Gran Coupe gets full marks for the space it offers and how comfortable and usable it is, for such a performance-focused sporty car.

There's room for four six-foot adults to travel long distances in comfort, and room for all their luggage in the deep, wide boot. Thankfully the boot rises electronically as standard, which you don't realise is so helpful until you no longer have it on a car.

The four doors means there's no unseemly scrabble to reach the rear of the car either.
What's it like to drive?
This is a big, heavy car, but also a powerful one (see next section). While that means you'll have no qualms about acceleration or speed, it is a slightly off-putting car for manoeuvring round town and parking. It takes a while to feel confident about the width.
It's a shame too that BMW puts such thick steering wheels in its cars these days, but the fact that we're picking out such tiny details to criticise shows you what an outstanding luxury car this is.

Overall, it's an extremely relaxing drive for such a powerful car: simply push the starter button, slot the gear-lever into Drive and off you go, with barely a murmur from the road reaching the cabin.
How powerful is it?
You can buy the 8-Series Gran Coupe in 840i, 840d and M850i form, all with a smooth eight-speed automatic transmission. Don't confuse the last engine option with the M8 Gran Coupe, due in the UK after the standard version. The M850i is simply the most powerful form of the 8-Series Gran Coupe. The 840i comes with an "S" after its name, denoting rear-wheel drive, the other two with xDrive, BMW's four-wheel-drive system, which has a rear-wheel-drive bias.

The only reason for docking a star here is the imminent arrival of the M8 Gran Coupe, which is louder, faster and more exciting if it's dynamic thrills you're after. But for all grand touring experiences, the 340 horsepower provided by BMW's new straight-six, 3.0-litre engine is plenty, especially with the smooth, immediate delivery of that power, which BMW engineers so well.
How much will it cost me?
This is a proper luxury grand-touring car, which places it up there with GT offerings from Aston Martin and Porsche. When you think along those lines, the purchase price for the standard 840i model seems reasonable; it's a lot of car for the money. Go up to the M50i xDrive however, and add a couple of options, and you'll be looking at six figures which puts a different complexion on things. The standard equipment list is generous, however: owners won't necessarily have to delve into the toy box much.

The fuel consumption figure will fall as the purchase price rises; combined with high insurance premiums, running costs will be large but to scale with similar premium vehicles.

How reliable is it?
The 8-Series is an all-new model, with lots of technology and engineering tricks, which might make those worried most about reliability nervous. However, a company as venerable as BMW is unlikely to put a flagship model up against Mercedes and Audi without testing its limits, and the 8-Series shares a production plant with the 7-Series which has a fairly good record. The BMW brand has fallen in some consumer reliability surveys to below Mercedes, Jaguar and Lexus.

The warranty is a standard three-year/unlimited mileage offer.
How safe is it?
We hustled the 8-Series with xDrive four-wheel drive round a circuit in Portugal with the traction control off, and the four-wheel drive system provided very impressive grip, scrabbling about to save us when we overcooked it on the bend.

Among the standard equipment on offer with the Gran Coupe is a raft of safety features including active cruise control (brakes and accelerates the car while keeping a safe distance from the one in front), rear-view camera, head-up display, lane-keep assist and emergency braking.
How much equipment do I get?
You get a lot of standard equipment, because this is intended to be a luxury purchase, even in base specification. There are 20in alloys, M Sport brakes, BMW's display key which has a little digital screen showing car information, head-up display, adaptive LED headlights, parking assistant, LED rear lights, rear-view camera, ambient interior lighting, four-zone air-con, front and rear seat heating, welcome lights, automatic tailgate, M aerodynamic package, enhanced Bluetoth with wireless charging and a Harmon/Kardon audio system.
Why buy?
This is a stunning, powerful GT which combines comfort and space for four adults with a quiet, comfortable, luxurious driving experience. It looks fantastic inside and out and embodies the very best of BMW engineering. It's also generously kitted out in standard spec.
Interested in buying a BMW 8 Series Gran Coupe?