Expert Review
BMW 8 Series Gran Coupe (2019 - ) review
Read about the BMW 8 Series Gran Coupe, the four-door twist on the already compelling luxury sporting coupe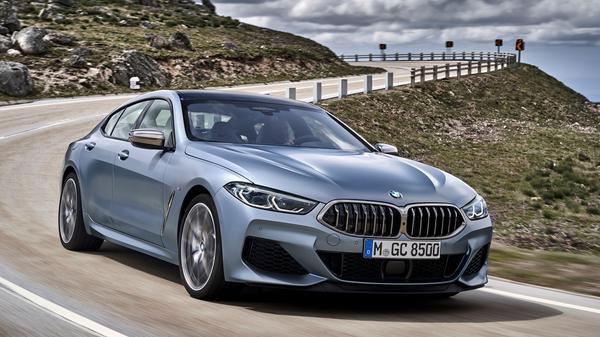 The Auto Trader expert verdict:
The four-door, four-seat derivative of the 8 Series Coupe, the Gran Coupe shares all of their style, sportiness and performance but with an extra dose of practicality. Competing against cars like the Audi RS7 and Porsche Panamera, BMW has lavished the 8 Series Gran Coupe with the best of its technology and luxury features for a compelling combination of usability and performance.
Reasons to buy:
Amazing looks
Silent cabin
Blends luxury and practicality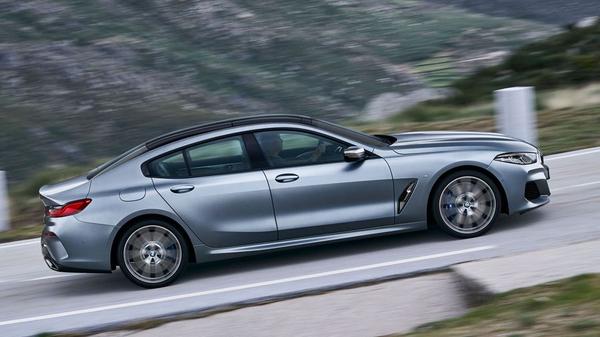 Running costs for a BMW 8 Series Gran Coupe
In six-cylinder 840i and 840d trim the 8 Series Gran Coupe is a fast, refined and luxurious alternative to cars like the
Audi A7 Sportback
and higher-performance derivatives of the
Mercedes-Benz CLS
like the CLS53 AMG. These are all expensive cars to buy and run but BMW's typically competitive fuel consumption and CO2 figures – especially on the diesel 640d version – make it an attractive choice for senior managers running one as a company car. Don't kid yourself though – no 8 Series Gran Coupe is going to be a cheap car to buy or own. The M850i version is another league above, its hugely powerful petrol V8 putting it into contention against the RS7 version of the A7 Sportback and the supremely accomplished
Porsche Panamera
, whose four-door coupe format arguably defined this segment of the market. And against the Porsche the BMW looks like a bit of a steal, delivering performance equivalent to the much more expensive Panamera Turbo while undercutting it on price by a significant margin. Porsche perhaps maintains an advantage in terms of prestige but BMW has always chased its German rival hard on road and track and, all things relative, in this comparison looks like good value.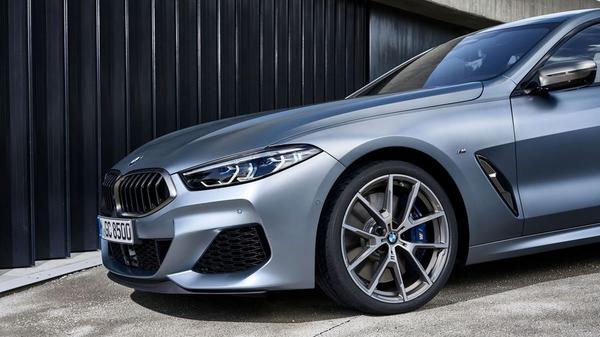 Reliability of a BMW 8 Series Gran Coupe
The 8 Series is an all-new model, with lots of technology and engineering tricks, which might make those worried most about reliability nervous. The standard three-year warranty and BMW's fixed-cost service plans should give new owners peace of mind but there remain lingering doubts about the brand's ongoing dependability, not least thanks to its poor showing in the JD Power Vehicle Dependability Survey and by Warranty Direct's Reliability Index. In fairness to BMW its premium rivals also score poorly in these studies, though the brand has remained consistently low in the ratings for some time.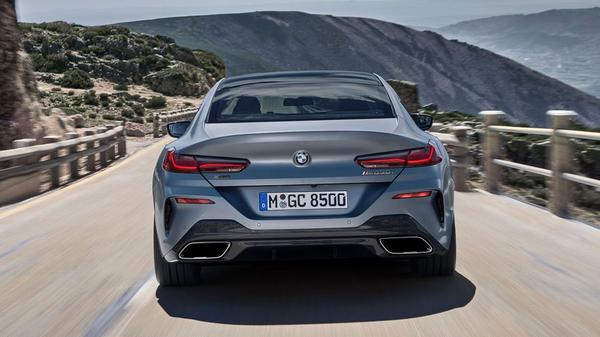 Safety for a BMW 8 Series Gran Coupe
We hustled the 8 Series with xDrive four-wheel drive round a circuit in Portugal with the traction control off and the four-wheel drive system provided very impressive grip, scrabbling about to save us when we overcooked it in the bends. The confidence that it will do the same on a wet and greasy road in the middle of winter at more modest speeds is what you need when you consider the power under your right foot, especially in the M850i. Among the standard equipment on offer with the Gran Coupe is a raft of safety features including active cruise control (brakes and accelerates the car while keeping a safe distance from the one in front), rear-view camera, head-up display, lane-keep assist and emergency braking. As ever though the more advanced active driver assistance functions are cost-options, bundled into various packages that can swell the price of the car by significant amounts.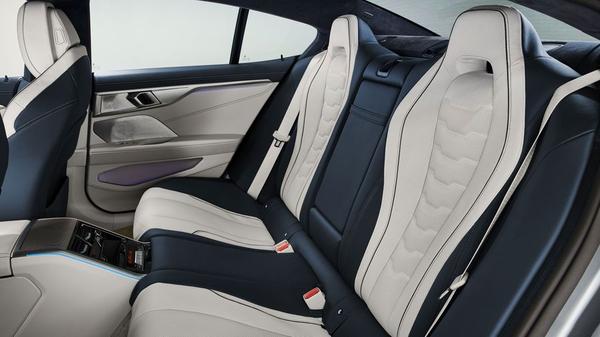 How comfortable is the BMW 8 Series Gran Coupe
This is a big, heavy car, but also a powerful one. While that means you'll have no qualms about acceleration or speed, it is a slightly off-putting car for manoeuvring round town and parking. It takes a while to feel confident about the width but the four-wheel steering optional on the 840i and standard on the M850i and 840d helps make it feel smaller than it is. The Gran Coupe gets full marks for the space it offers and how comfortable and usable it is, for such a performance-focused sporty car. There's room for four six-foot adults to travel long distances in comfort, and room for all their luggage in the deep, wide boot. Thankfully the boot rises electronically as standard, which you don't realise is so helpful until you no longer have it on a car. The four-door format means there's no unseemly scrabble to reach the rear of the car either. It's a shame that BMW puts such thick steering wheels in its cars these days, but the fact that we're picking out such tiny details to criticise shows you what an outstanding luxury car this is. Overall, it's an extremely relaxing drive for such a powerful car: simply push the starter button, slot the gear-lever into Drive and off you go, with barely a murmur from the road reaching the cabin. Inside, BMW has perfected the art of the brand's minimalist approach, mixed with subtle touches of luxury. So you still have pared-back leather surfaces on the dash and doors, which is all tightly cut and stitched, but you can specify more gregarious touches like the cut-glass gear-lever handle which is illuminated inside. If you want more sporty styling, you can choose seatbelts with the M-badge red and blue stripes.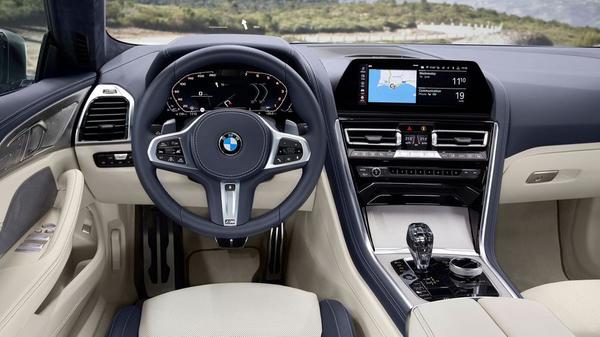 Features of the BMW 8 Series Gran Coupe
You get a lot of standard equipment, because this is intended to be a luxury purchase, even in base specification. There are 20-inch alloys, M Sport brakes, BMW's display key which has a little digital screen showing car information, head-up display, adaptive LED headlights, parking assistant, LED rear lights, rear-view camera, ambient interior lighting, four-zone air-con, front and rear seat heating, welcome lights, automatic tailgate, M aerodynamic package, enhanced Bluetooth with wireless charging and a harman/kardon audio system to mention just the highlights. As ever though BMW encourages its customers to spend in the options list and, in this instance, spend big. Opportunity to make an already expensive car even more so is there for the taking…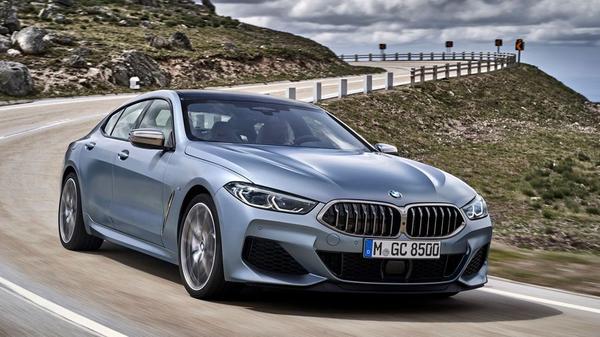 Power for a BMW 8 Series Gran Coupe
You can buy the 8 Series Gran Coupe in 840i, 840d and M850i form, all with a smooth eight-speed automatic transmission. Don't confuse the last engine option with the M8 Gran Coupe, due in the UK after the standard version. The M850i is simply the most powerful form of the 8 Series Gran Coupe. The 840i comes with an "S" after its name, denoting rear-wheel drive, the other two with xDrive, BMW's four-wheel-drive system, which has a rear-wheel-drive bias. True performance junkies will be eagerly awaiting the M8 version, which will be louder, faster and more dynamic still. But the M850i is already an incredibly fast car with a broad range of talents. Indeed, for most drivers the 840i and 840d will be more than plenty for most grand touring adventures, the diesel especially appealing for its refinement, punch and range.