Expert Review
Audi A7 Hatchback (2018 - ) review
The A7 Sportback is a large, four-door hatchback based on the similarly sized A8 limousine. Read our review to see how it compares to its luxury rivals.

Words by: Phill Tromans

Additional words by: Ivan Aistrop
Last updated on 4 December 2019 | 0 min read
The Auto Trader expert verdict:
Available new from £56,385
The A7 Sportback is a very well-made, comfortable and technology-festooned car that has plenty of appeal thanks to its sharp-but-understated looks. It's a very attractive luxury machine.
Reasons to buy:
Dashing looks
Excellent engines
Loads of clever technology
Running costs for a Audi A7
The purchase prices of the Audi A7 Sportback are broadly in line with those of the Mercedes-Benz CLS, although industry predictions suggest that the Mercedes will hold its value slightly better, and it's likely to be cheaper than the Audi to service and maintain. However, strong fuel economy in the A7 will save a considerable about of money over the years and miles, and in the end, there's not a huge amount between the two when it comes to overall costs. The plug-in hybrid models will be of particular interest to company car drivers, as their super-low official efficiency figures result in some very compelling tax breaks.
Expert rating: 4/5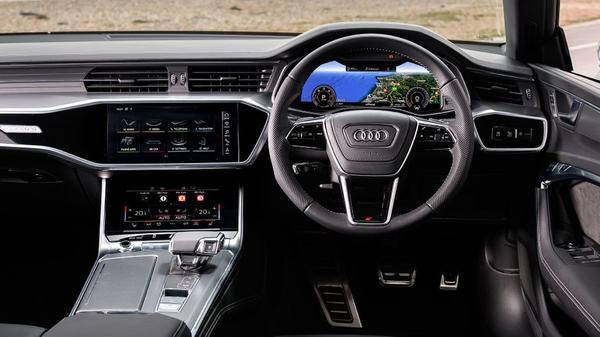 Reliability of a Audi A7
As the latest Audi A7 Sportback is so new, there's no historical data on how it'll perform. As a brand, Audi doesn't have a brilliant reputation when it comes to reliability, sitting towards the bottom of Warranty Direct's Reliability Index, which ranks manufacturers by past performance. It's a similar story in JD Power's Vehicle Dependability Study, which listed Audi in the bottom three of all manufacturers analysed in 2017, 2018 and 2019. Here's hoping the A7 Sportback can play a part in turning that around.
Expert rating: 2/5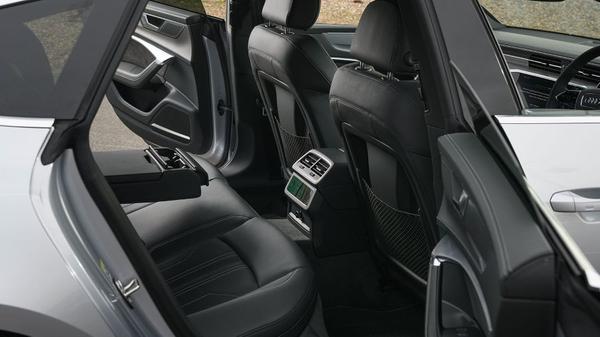 Safety for a Audi A7
Audis have an excellent reputation for safety, and we expect the A7 Sportback to uphold that and more. It has loads of state-of-the-art technological features as standard, including automatic emergency braking, which will intervene if you don't react to an impending accident. A lane departure warning system is also standard on all models, as are front, side and full-length curtain airbags, plus two Isofix child seat mounting points in the back. There's more clever stuff on the options list, too. The Tour Pack, for example, includes adaptive cruise control that maintains a safe distance between you and other cars, and there's also a system that reads nearby speed limit signs and amends your velocity automatically.
Expert rating: 5/5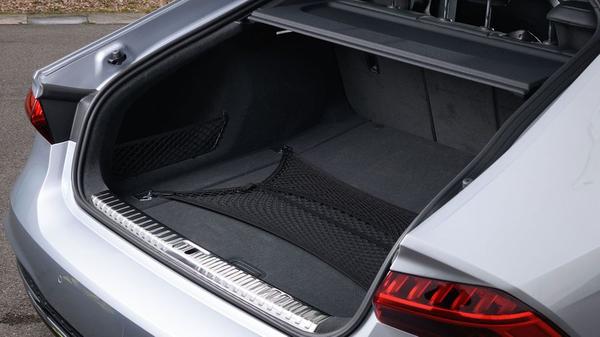 How comfortable is the Audi A7
Most Audi models set the benchmark in their respective classes for interior quality, and the A7 is no different. The materials and build quality are superb, and the design is slightly jazzier than we've seen from many Audis in the recent past. Technology dominates, with two central touchscreens to control most of the systems from sat-nav and audio on the top screen to seat controls and air-conditioning on the bottom one. It looks great, but we've found it slightly confusing to use. However, that will no doubt improve once you've spent more time with it. You also get a virtual instrument panel in place of traditional analogue dials, and depending on spec, a jet fighter-style head-up display that projects information onto the windscreen. Very cool. The Audi A7 is a big car and as such there's plenty of room inside for four adults. The sloping, coupe-style roof means that rear headroom could be tight for those over six feet tall, but anyone under that will feel nice and spoiled. The boot is also big – 525 litres with the rear seats up, or 1,390 with them down – and Audi says it'll hold two full golf bags. If you don't play golf, you should be able to get a family's holiday luggage in, and the hatchback boot lid makes access much easier to access than in a traditional saloon. Inside, there's a glovebox, two cupholders next to the gearstick and door pockets big enough for a sports bottle (or lots of empty chocolate wrappers). There's also a small storage space under the central armrest. There are four suspension set-ups available, depending on which version of the A7 you go for. The basic Sport model has a standard setup, while the S line has a setup that's been both lowered and stiffened for a sportier drive. You can also have an adaptive air suspension as an option (or standard on the Vorsprung model) that changes its behaviour according to which driving mode you select, or full-on air suspension that does the same, but also regulates the car's ride height. The standard Sport setup is the one that'll suit most buyers. The ride isn't perfect, with the suspension occasionally getting caught out by the sort of bumps you'd expect it to deal with easily, but it stays pretty comfortable most of the time, and on most surfaces, so it (just about) gives you the appropriate impression of luxury. The firmer setup on the S line doesn't, however, because it's pretty darned firm. You feel rather too much of grainy and ridged surfaces at low urban speeds, while potholes can really thud into the cabin. Things don't improve at higher speeds, either, with a constant, unsettled tremor to be felt through the floor of the car, even on smooth motorways. We think many drivers will find it too uncomfortable, and even for those that don't, it still won't feel anywhere near as luxurious as you would expect from car like this. While the adaptive air suspension isn't perfect, it's a lot better than the S line setup because it isolates you better from the effects of a scruffy road surface. You still feel more than you'd like - or expect - to, though, and again, it's still not the cosseting, wafty experience you'd expect from a big luxury barge. It's not a cheap option, either, and that's why we'd advise sticking with the standard Sport car's setup. That said, in all the versions we've tried, the handling is impressively capable, with commendable control over body roll through the corners and masses of grip and traction from the standard four-wheel drive. An optional rear-wheel steering system that works in tandem with the front wheels for improved manoeuvrability and responsiveness makes the car pointer in the bends, too. However, the A7 still stops short of being properly sporty due to its size, weight and the fact that the steering is a fraction light and short of genuine feel.
Expert rating: 4/5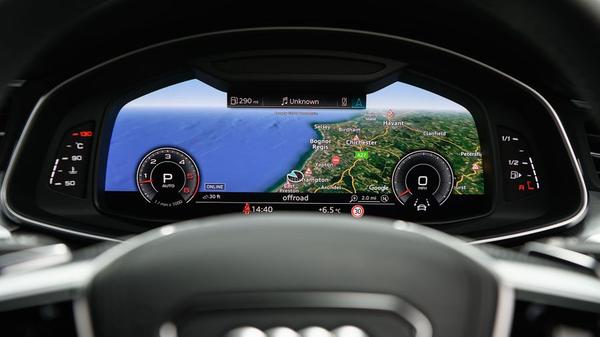 Features of the Audi A7
Even the entry-level Sport model is a high-end, luxurious car, and as such it comes with a good amount of equipment as standard. It rides on 19-inch alloy wheels and has full LED headlights. The electric seats are clad in leather and heated in the front, while two-zone climate control air-conditioning keeps things cool (or hot). An LED pack provides some funky interior ambient lighting, the colours of which are customisable, and the boot is electrically operated. Under the centre armrest is a wireless phone charging plate, and there's also a six-speaker sound system with Apple Car Play, Android Auto and DAB as standard. Upgrade to the S line for a few special embossed logos and black headlining, but most of the extra money goes on 20-inch wheels and very clever Matrix headlights that will maintain full beam while tracking oncoming cars in shadow so as not to dazzle them. The S line also has sportier suspension, which means it sits 10mm lower than the Sport. The upgrade to the Black Edition gets you more styling upgrades but pretty much nothing else, while top-of-the-range Vorsprung models get a panoramic roof, four-zone climate control, a premium sound system, a head-up display and a 360-degree camera.
Expert rating: 5/5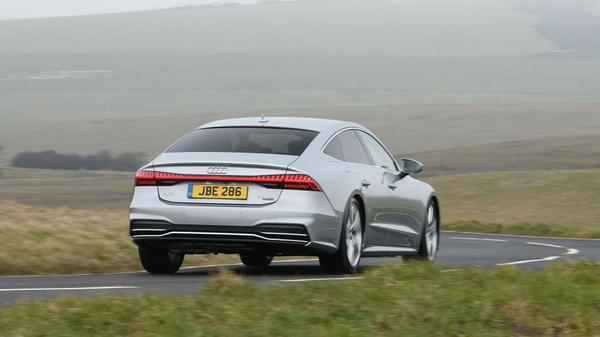 Power for a Audi A7
The diesel range kicks off with the 40 TDI and 45 TDI, which develop 204 and 231 horsepower respectively, but so far, we haven't tried either. We have, however, tried the 286 horsepower 50 TDI, and it's truly mighty, with enormous low-down torque making it capable of properly explosive acceleration no matter how many revs are on the counter. That said, the speed at which the engine reacts is delayed by the reticence of the eight-speed automatic gearbox. Press the accelerator pedal with any meaningful force, and the gearbox takes a couple of seconds to figure out what it's doing before it unleashes the pace you're looking for. This happens whether you're pulling away from a standstill or accelerating when already on the move, and it hampers your progress noticeably. The effect is lessened if you select the gearbox's Sport mode, but it's never eradicated completely. We haven't yet tried the petrol range, which starts with the 245 horsepower 45 TFSI and also includes 340-horsepower 55 TFSI. There are a couple of hybrids on the way too. We've yet to try the 50 TFSIe, which is a 299-horsepower plug-in hybrid that combines a 2.0-litre petrol engine with an electric motor. We have, however, had a shot in the more powerful version of the hybrid, known as the 55 TFSIe. With 367 horsepower, it's capable of some serious pace when you plant your foot, but it's also capable of an electric-only range of around 26 miles (up to speeds of 84mph) when you don't.
Expert rating: 4/5