Long Term Review
Living with a… Dacia Logan MCV
There are some cheap cars out there on the new car market, but what's the cheapest one a family can get away with as its only car? Auto Trader's Road Test Editor Ivan Aistrop reckons that honour falls to the Dacia Logan MCV. Over the next six months, he'll see if he's right.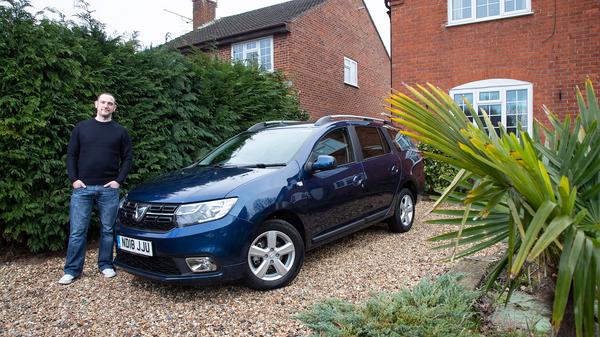 Month one: The hypothesis…
Mileage: 1600
Costs: £0 Whenever we embark on one of these
long-term tests
, we always go into it with one key thought in mind: a hypothesis about the car we want to put to the test, either proving or disproving the theory. Well, here's the hypothesis where our new
Logan MCV
is concerned. Ahem… "The
Dacia
Logan MCV
is the
cheapest
new car that a
family
can get away with." Big words, those, but not without substance. You see, it's well known Dacia punts out some very cheap cars, many being the cheapest on the market in their respective areas. There's a good reason the Romanian marque – now owned and operated by
Renault
– was voted by 40,000 car buyers as the winner of the '
Best Value Brand
' gong in Auto Trader's 2018
New Car Awards
.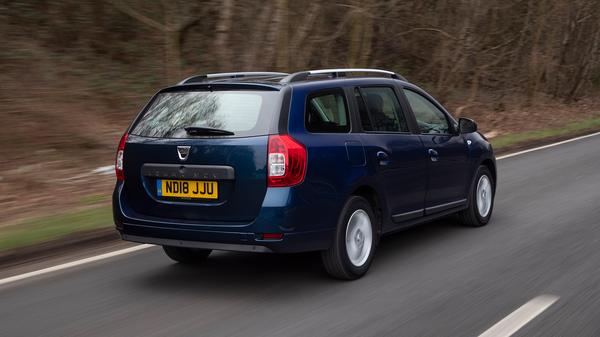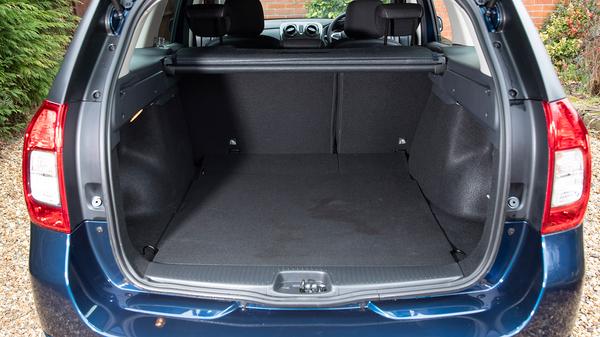 But here's the thing. Although there are cheaper Dacias than the Logan MCV (which stands for 'maximum capacity vehicle', or
'estate'
to you and me) in the shape of the
Sandero
and
Sandero Stepway
, we don't think these cars quite have the practicality to serve as a family's only car. Sure, both are fine when used as runabouts or to pop to the shops, but those sorts of duties are more what you'd expect from a second car. And when you're buying on a budget, which most Dacia buyers are, you probably don't have the cash for a second car. So, you want one car that'll suit all your family's needs for a low price. That's where the Logan comes in.
At 573 litres,
the boot is an absolute whopper
, much bigger than the 320 litres you get in the
Sandero
. And when you're lugging around the pushchairs, bikes, coats and wellies that accompany most small children on a daily basis, let alone the luggage needed for a family holiday, that extra space is pretty much a deal-breaker.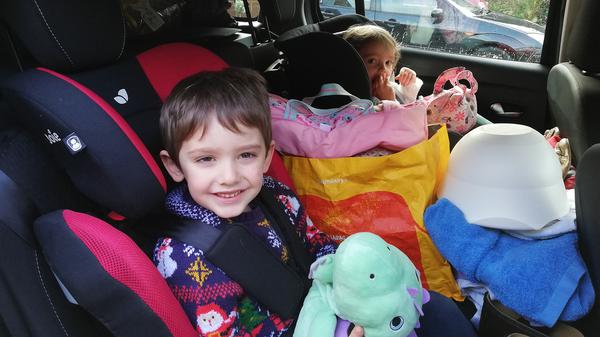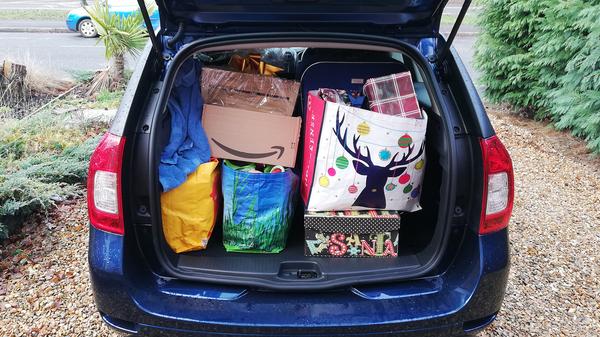 To put our theory to the test, I'll be using the Logan to cope with the needs of my own little family – which includes four-year-old Felix and two-year-old Bess – for the next six months. The car has already faced one stern test in its first few weeks of service, too, a schlep from Surrey to Devon for a family
Christmas
. The car not only managed to accommodate all four members of the Aistrop family in comfort, it also managed to swallow everything we'd need for a few days away, plus a small mountain of presents. Impressive stuff.
Over the next six months, there'll inevitably be compromises that need to be made in a car so cheap (a shade over £11k if you can believe that!), but my aim is to find out exactly what these compromises are, how bad they are, and whether they're worth living with for the price.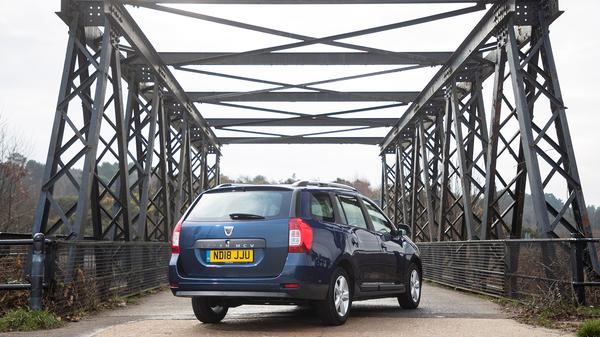 Month two: Getting the spec right
Mileage: 2500
Costs: £0 Sounds like a bizarre thing to say, but our Logan MCV is actually far more sophisticated than I wanted it to be. You see, as we stated last month, the whole idea of all this is to test our theory that the Logan is the cheapest car that a family can get away with as its only car. So ideally, we'd have liked the car itself to have been as cheap as we can possibly get away with. But alas, the only example Dacia had available to send us was in the top-end Comfort trim. Oh well, we'll still be able to put our theory to the test with a bit of careful analysis. So that begs the question: what is the cheapest version you can get away with? Well to our mind, it's the mid-range Essential version. Sure, it's not the cheapest version, but the basic Access version is a little toooooo basic, doing without, erm, essential kit like air-conditioning, remote locking, a boot light, electric front windows and a stereo. That's right, a stereo. There are some things that even the most miserly miser can't live without. Black plastic bumpers mean the Access looks a bit bargain-basement from the outside, too. The Essential's body-coloured bumpers do a rather better job of concealing your stinginess, and all those other vital boxes mentioned are checked as well. And importantly, the stereo you get comes fitted with Bluetooth, DAB, an aux input and a USB port. The Comfort version adds a few bits of chrome inside and out, a trip computer, front foglamps and a touchscreen stereo with incorporated sat-nav, but do you really need any of that when you're trying to keep your outlay as low as possible? We'd say not. Granted, you do also get rear parking sensors, which are an appealing thought, but they're rubbish - they tell you to stop reversing when you still have loads of space - so you might as well not bother. We'll admit, the Comfort's cruise control might well be missed, but is that on its own really worth the extra grand you pay over the Essential? Again, we'd say not, especially not for families on a budget. One upgrade that definitely is worth the money, though, is your choice of petrol engine. The entry-level 75 horsepower 1.0-litre engine doesn't struggle too much for pace, but it's too noisy for a quiet life, emitting an obvious three-cylinder crackle at low revs, and getting progressively more shouty as the revs climb. The cacophony is also accompanied by a fair amount of vibration through the pedals and steering wheel. An extra £800 gets you the engine in our car, the 90 horsepower 0.9-litre turbo, which, while it isn't perfect due to a rather stuttery power delivery, is nowhere near as strained or as rowdy. It's a good bit stronger and more flexible, too, which also helps contribute towards an easier life. Our car also came fitted with a few optional extra I wouldn't have chosen if it were left to me. The alloy wheels, emergency spare wheel and reversing camera on our car are needless fripperies for the dedicated penny-pincher, although I'll admit to being glad of the Cosmos Blue metallic paint in place of the solid white paint you get as standard. So, follow our advice and spec your Logan in TCe 90 Essential form, and the car comes in at a shade over ten grand. That's right, ten grand. For a fully-fledged family estate car with an enormous boot. Let's put that into some kind of context with another, more recognisable estate car. You wouldn't normally compare a Dacia with a
BMW
, but believe it or not, the Logan actually has a slightly bigger boot than a
5 Series
Touring (573 litres plays 570 litres). The cheapest 5 Series, meanwhile, comes in at a shade under 40 grand. So, for the price of one 5 Series, you could have - as near as makes no difference – four Logans. How's that for value?
Month three: You get what you pay for
Mileage: 3400
Costs: £0 Right, let's get this out of the way fairly sharpish: there's plenty about the Logan MCV that's less than ideal. There, I've said it. As we've mentioned in previous reports, the Logan is extremely cheap. Cheap by any standard, let alone by the standards of a car that's this big and this practical. However, for the price to be so low, there will inevitably be some sacrifices. The question is, what are they, how bad are they, and are they worth it? Well, let's consider them one by one. We'll start with one of the most obvious, which is the cabin quality. The materials are very basic, the design is no-frills, and in a few places, you'll notice exposed screw heads and rough edges that don't exactly give you a feeling of class. Indeed, on the passenger side of the dashboard, the plastic is so thin and low-grade that you can even see the outline of the airbag unit through it. Got to admit, that's a new one on me.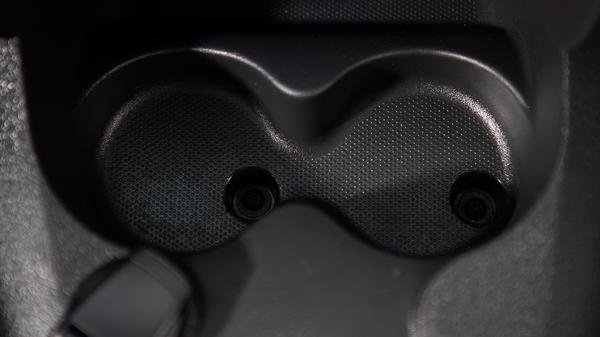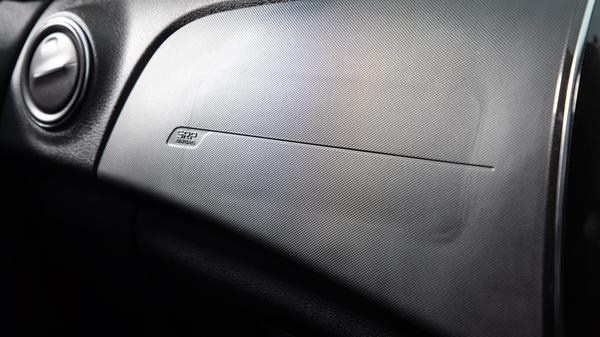 Then there's the basic nature of how some things operate. For instance, in most modern cars you'll have a button to open the tailgate, whether that button be in the cabin, on the key, on the tailgate, or all of the above. On the Logan, meanwhile, you have to walk round to the back of the car, stick your key in the slot and turn it. Why? Because it's a much simpler, much cheaper mechanism, which contributes to the car's low price. It's a similar story with the fuel filler. Most modern cars have a locking flap - usually unlocked remotely, either automatically as part of the central locking system, or by a button in the cabin - and either a cap that unscrews, or no cap at all. Again, in the Logan, you have to lift the non-locking flap, stick the key into the cap, and twist. Simple, cheap parts.
Some aspects of the driving experience are also a little bit sub-par. The handling's a wee bit stodgy, you feel some slightly unsettling kick-back through the steering over mid-corner bumps, and it's not a very quiet car. There's plenty of wind and road noise to be heard at high speed, the suspension sounds clonky over low-speed urban bumps and the engine sounds strained and overworked, both on the motorway and when asked for anything more than moderate acceleration.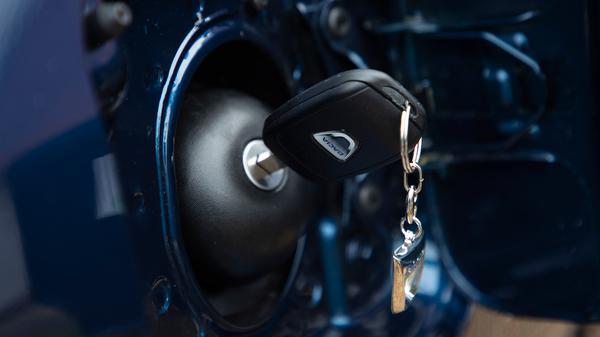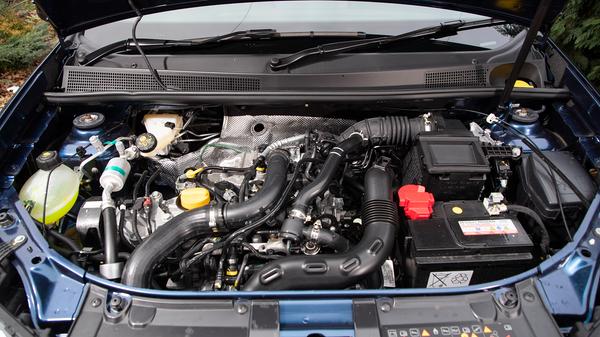 And, if you don't choose your version wisely (just to reiterate, the version we recommend is the TCe 90 version in mid-range Essential trim, which costs just £10,300), then you'll also have to endure stingy equipment levels, flat performance and levels of noise and vibration that are even worse than in the car we've got.
Other niggles? There's nowhere to rest your left foot when it's not on the clutch pedal, the real-world economy is disappointing (currently 38.4mpg against an official WLTP figure of 53.3mpg) and whenever you're approaching a speed camera, the infotainment system repeatedly bongs away at you, even if you're behaving impeccably. So, those are pretty much all the niggles, so let's address the second part of the question: how bad are they? Well, aside from the bonging (it really is very annoying, and I've not found a way to turn it off), I've got to say, not very. It's all stuff that's no problem to live with. And the final part of the question: is it worth it? Well, I'll answer that with two simple words. Ahem… TEN GRAND! At that price, you bet it is. In fact, I'd go further than that. Oddly, these little foibles and shortcomings actually become positives if anything. You see, the great thing about the Logan is that it makes you feel clever. You've got this massive amount of car for such a small amount of money, and that makes you feel like you've pulled off some sort of fiendishly clever trick on the world. And then you look around the car at all these little idiosyncrasies, and you realise that they're exactly the reason why. And that makes you not only forgive these minor imperfections, it also makes you – in a funny kind of way – thankful for them.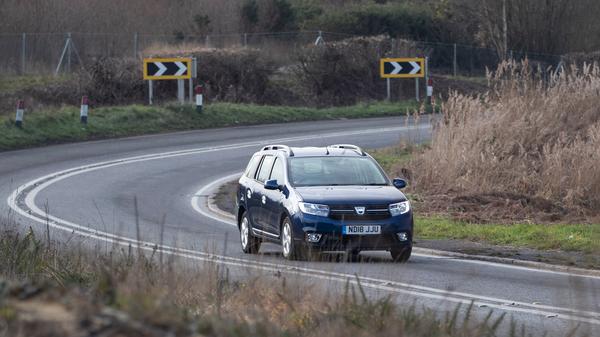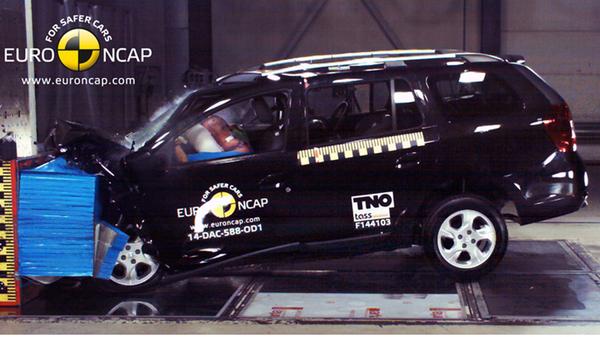 There is one area where this doesn't apply, though, and that's on safety. As we've stated before, the whole reason we're conducting this test is to prove (or otherwise) our theory that the Logan MCV is the cheapest car that a family can actually get away with. And with your family on board - your most precious cargo of all - the car's disappointing three-star (out of five) Euro NCAP crash test rating is far from ideal.
You could look at it this way. At the price you're paying, you're probably more likely to consider an older used car as an alternative to the Logan, rather than another new car. And, with Euro NCAP tests becoming tougher and tougher year on year, it's entirely feasible that today's three-star car could be as safe, or perhaps even safer, than the five-star car of yesteryear. However, that argument rather falls down when you realise that the Logan MCV was tested by Euro NCAP all the way back in 2014, so you'd have to be considering a much older car for the differences to even themselves out. And if you're not, you'll need to do some soul-searching and figure out whether, for you, in this one crucially important area, the Logan might turn out to be something of a false economy.
Month four: Not all doom and gloom…
Mileage: 4600
Costs: £0 In last month's report, we acknowledged – quite rightly – that the Logan MCV has various shortcomings due to how cheap it is, and discussed whether or not these were acceptable given the car's super-low price. And we decided that, by and large, they were. However, don't go thinking that life with the Logan is about nothing more than compromise. Yes, there are a few little idiosyncrasies you have to put up with in the pursuit of pricetag parsimoniousness, but for every little fault or foible, there's something else about the car that's genuinely good, and not just for the price.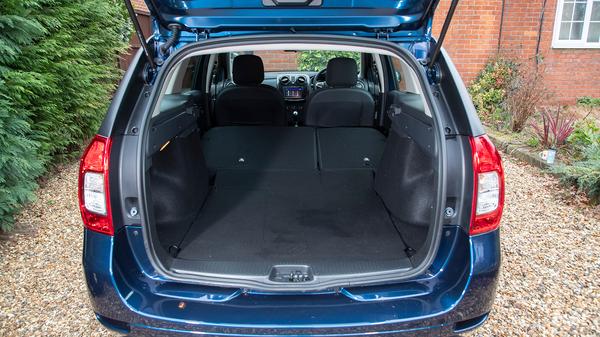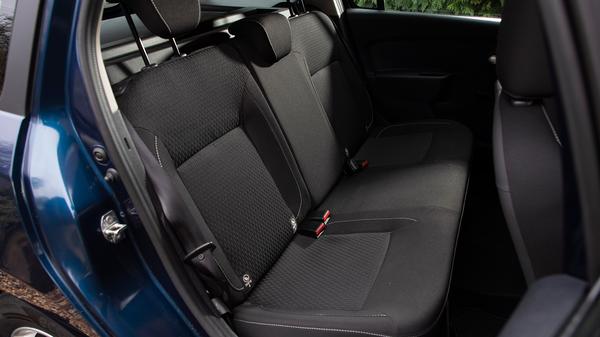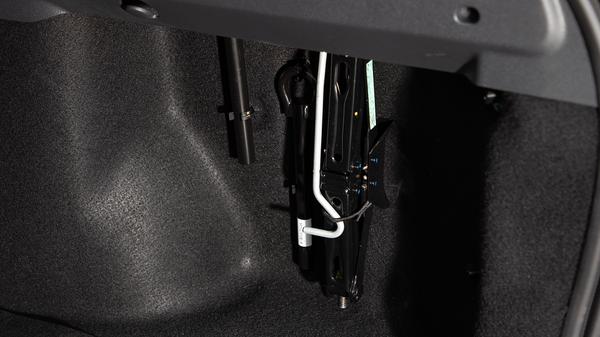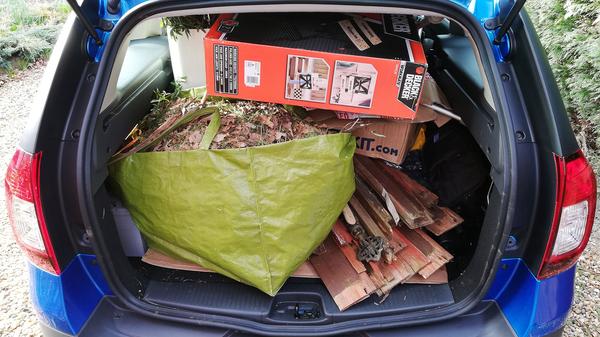 Let's start with the main one, and that's the car's incredible practicality. As we've noted previously, the boot on this thing has the beating of some executive estate cars for outright capacity, and there's also enough space in the back seats to deal with a brace of tall adults, or a couple of bulky child seats, complete with appropriate offspring installed. Granted, there isn't much in the way of ingenious packaging solutions – the jack is simply lashed to the sidewall of the loadspace, for example – but when a space is this big, it doesn't necessarily have to be clever. And besides, the boot on the Logan is still cleverer and more useable than in some estates we could mention, due to the fact that there's no load lip and that the rear seats fold down more or less flat. This came in very handy when a recent simultaneous clearout of both shed and garden resulted in a dump run made up primarily of large, bulky items.
It's not just the boot and passenger compartment that are generous on capacity, either. The glovebox and door pockets (which as the photo suggests, can comfortably accommodate a footlong Subway sarnie) are nothing short of huge, meaning you'll rarely go short of somewhere to stash your odds and ends.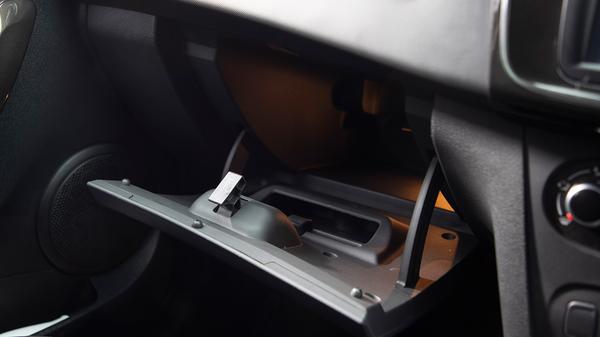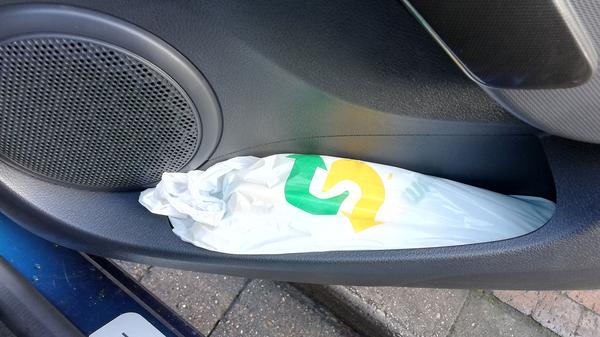 Visibility is also fab. Dacia hasn't tried too hard to make the Logan look slinky or sexy, concentrating instead on design that maximises practicality and simplicity, and that means large windows and flat-edged extremities than make manoeuvres easier.
In fact, simplicity is key to another of the Logan's strengths, that being good ergonomics in the cabin. The dashboard isn't overendowed with switches or buttons, and the few there are sit pretty much where you expect to find them (with the one exception of the bizarrely placed rocker switch to activate the cruise control). Meanwhile, many other functions on our car are controlled through the touchscreen infotainment system (you only get this on range-topping Comfort trim, mind), and again, the system is basic enough that it's very simple to find your way around. Sure, it doesn't have as much functionality as some such systems, and it doesn't look as posh due to dated graphics, but there's no faulting how easy it is to use.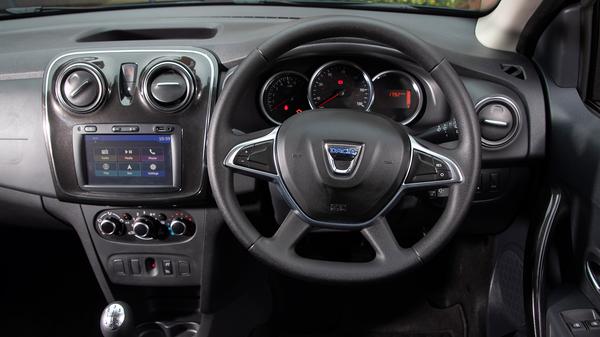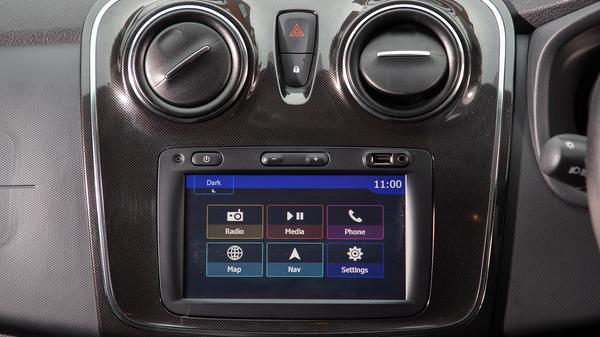 And while the Logan isn't exactly the most polished car you'll ever drive, there is plenty to like about the way it behaves on the road. The suspension can get a bit clonky over particularly nasty bumps, but most of the time, it stays nice and comfortable. And, while the turbocharged engine isn't the quickest or the quietest you'll ever encounter, its relative gutsiness at low revs does at least mean that your progress is easy and eager.
And, if the 2018 JD Power Vehicle Dependability Survey is to be believed, that progress should be pretty reliable as well. Dacia placed 7th out of 24 car makers ranked in the study, a performance that's impressive by any standard, let alone by the standard of a budget brand. If you then consider that at the money the Logan costs, it's competing with used cars more than it is new cars, yet new car buyers still get it with zero miles and a three-year warranty, then the Logan's argument becomes even more compelling.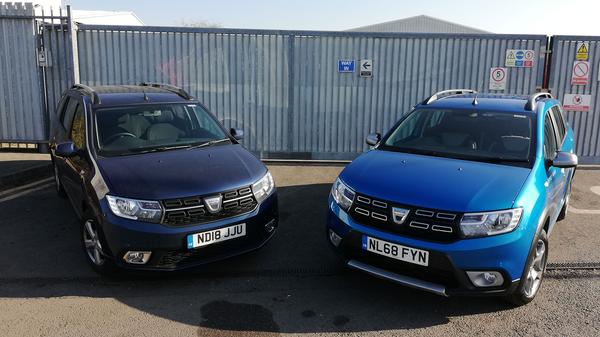 Month five: Stepway to heaven?
Mileage: 1100 (5200 on previous Logan)
Costs: £0 Quick game of spot the difference for you. What's the difference between the Logan on the left, and the one on the right? Well, the one on the left is the Cosmos Blue TCe 90 Comfort that I've spent the last few months tootling around in. However, for my final couple of months with the Logan, I've swapped it for the car on the right, a Stepway version, with the same engine, but in a brighter Azurite Blue. Stepway, you say? What on earth does that mean? Well, the detail of what it means is what we're aiming to find out. More on that later. At a very basic level, though, Dacia's Stepway cars are versions of their regular hatchback models – including the Sandero and well as the Logan – that have undergone an SUV-style makeover. In the case of the Logan, that means two-tone front and rear bumpers with silver-effect finishes for the integrated skid-plates. You'll notice more silvery finishes on the grille, foglamp surrounds, door mirror housings and roof rails, and you'll also notice the word Stepway stencilled along the front doors. Meanwhile, the wheelarches and side sills have plastic covering for better off-road protection (again, more on that later), and there are dark-coloured wheel trims that look like alloy wheels, but are much cheaper to replace than an alloy wheel is to fix should they come into contact with a kerb.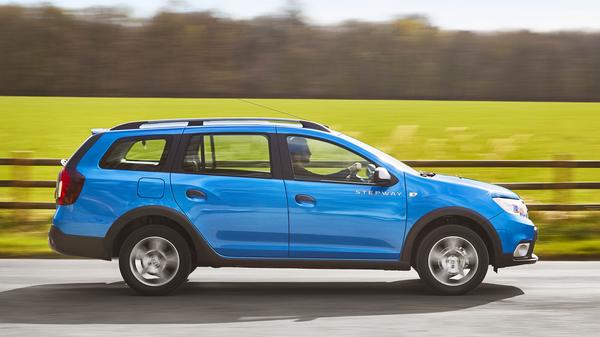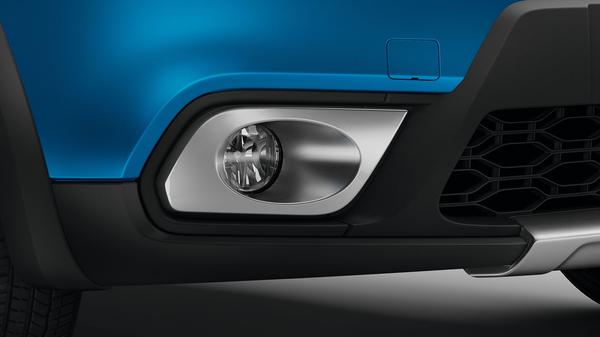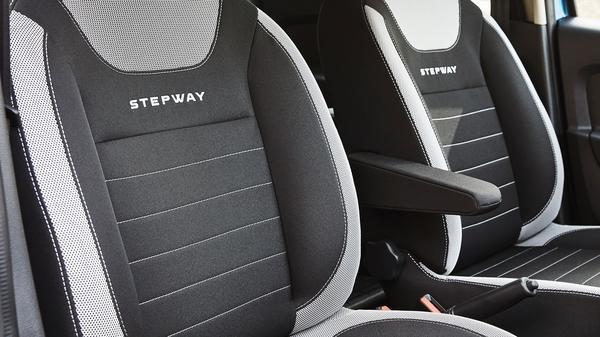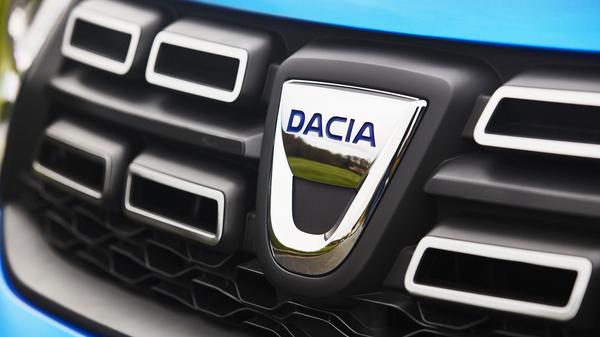 Inside, meanwhile, there are a couple more silvery bits to be found, while you'll also find swankier looking cloth upholstery and a soft-touch leather-effect wrapping on the steering wheel, instead of the plastic finish on the wheel of our previous Logan.
So, that's what you do get with the Stepway, but what about what you don't get? Well, for starters, you don't get much more in the way of luxury equipment compared with our previous range-topping Comfort-trimmed Logan, upon which the Stepway is based. Other than all the aesthetic bits and bobs, the Stepway gets a set of electric rear windows rather than the handle-wound ones in our other car, but that's pretty much it. And does the Stepway give you any more dynamic ability? Well, no. The ride height is jacked up by 46mm compared with the regular Logan, but that smidge of extra ground clearance hardly makes it an accomplished off-roader, especially considering that it's still front-wheel drive only. Makes those plastic covers for the wheelarches and side sills seem a little redundant, doesn't it? What's more, the raised ride height doesn't make the on-road ride any more comfortable, either. So, bearing all that in mind, is the Stepway worth it? Well, to answer that, let's first consider how much it costs. Our petrol powered Stepway starts at £12,495, which is around £1200 more than our previous Logan. Seems like a lot for a few styling trinkets. That's especially true when you consider that - as we've observed before - the Logan is at its best when it's kept cheap. We've identified the TCe 90 in mid-range Essential trim as our favourite, because it gets you everything you really need for an unbelievably low price of £10,300. And that makes the price difference even more considerable. So, for an old miser like me, the Stepway is a needless expense for nothing but a bit of extra visual chunkiness. Personally, I'd much rather trouser the price difference than look a shade more fashionable on the school run.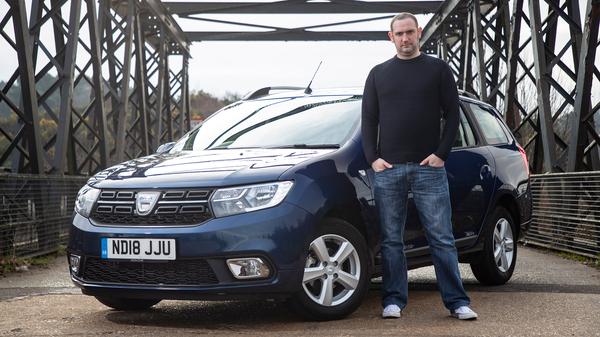 Month six: Now that's what I call value
Mileage: 2300 (5200 on previous Logan)
Costs: £0 Over the last six months, we've been banging on and on repeatedly about what good value the Dacia Logan MCV is. We'd say we've proved, beyond all reasonable doubt, that our original hypothesis - that the Logan is the cheapest car that a family can get away with in the real world – is spot on, and that this alone gives it a very unique appeal for buyers on a budget. Of course, cheap doesn't necessarily mean good value, but in our book, the Dacia is both. The car costs just £10,300 in our favoured form, and for that, you get a car with a huge amount of family-friendly space and plenty of other stuff to like besides. And yes, while you do have to put up with a few ergonomic shortcomings and other rough edges, it's nothing that you can't easily put up with, and it's well worth doing so for the price. But just how low is that price? After all, we talk about the £10,300 price tag like it's nothing, but in fairness, that's still a lot more than your average family will be able to find down the back of the sofa. So, let's look at it in context.
PCP
(Personal Contact Purchase) finance is the most popular way of buying a new car these days, and if you look at the
current deals
on Dacia's website, our favourite version (the TCe 90 Essential) of the Logan costs just £129 per month on a four-year agreement (full representative example below). Divide that by a 31-day month, and you're looking at a grand total of £4.16 per day. That's nothing. That's two small coffees. That's three-quarters of a pint of London-priced lager. That's a Big Mac plus another 50p in your pocket. That's all manner of other insignificant little things you wouldn't think twice about as a daily outgoing. And yet, in the Logan's case, that's a large, practical family car with an enormous boot. That's insane. It's no wonder then, that Dacia – for the second year in succession – has just been voted by Britain's car buyers as the '
Best Value Brand
' in
Auto Trader's 2019 New Car Awards
. And on performances like this, we can't see Dacia being toppled any time soon. However, while our last six months with the Logan have consolidated our views about the value that the Logan represents, it's also taught us a lot more than that about the car. It's taught us that even when you forget how cheap the Logan is, and how much value you're getting for your money, this is still a really likeable car in its own right. It's an honest car. It's a no-nonsense car. It's a what-you-see-is-what-you-get car. And in an industry that'll batter and barrage you with hard-sell marketing spin at every available opportunity, that's really, really refreshing. It's for this reason, and many others, that I'm going to be very sad to see it go. PCP Representative Example: Logan MCV TCe 90 Essential Monthly Payment amount: £129.00 Number of monthly payments: 48 Duration of agreement: 49 months Average miles per year: 6,000 Annual Interest rate: 6.90% fixed Representative APR: 6.90% Cash Price: £10,300 Deposit: £1,991.00 Deposit contribution: £250.00 Amount of credit: £8,059.00 Optional final payment: £3,466.00 Fees: £0.00 Total amount payable: £11,899.00 Date of deal: 28/05/2019 *All figures correct at the time of publication
Key specs:
First car:
-Model: Dacia Logan MCV TCe 90 Comfort -List price: £11,300 -Price as tested: £12,445 -Engine/gearbox: 0.9-litre 3cyl turbo petrol, five-speed manual -Power: 90 horsepower -Top speed: 109mph -0-62mph: 11.1 seconds -Economy: 53.3mpg -CO2/BIK tax liability: 28% -Boot space: 573/1518 litres Everything extra fitted to our long-termer: Cosmos Blue metallic paint: £495 15-inch alloy wheels: £300 Rear parking camera: £200 Emergency spare wheel: £150 Second car: -Model: Dacia Logan MCV Stepway TCe 90 Comfort -List price: £12,495 -Price as tested: £13,340 -Engine/gearbox: 0.9-litre 3cyl turbo petrol, five-speed manual -Power: 90 horsepower -Top speed: 104mph -0-62mph: 12.4seconds -Economy: 51.4 mpg -CO2/BIK tax liability: 125g/km/29% -Boot space: 573/1518 litres Everything extra fitted to our long-termer: Azurite Blue metallic paint: £495 Rear parking camera: £200 Emergency spare wheel: £150