Feature
Best Value Brand: Dacia
Find out why Dacia is the 2018 winner of our Best Value Brand award.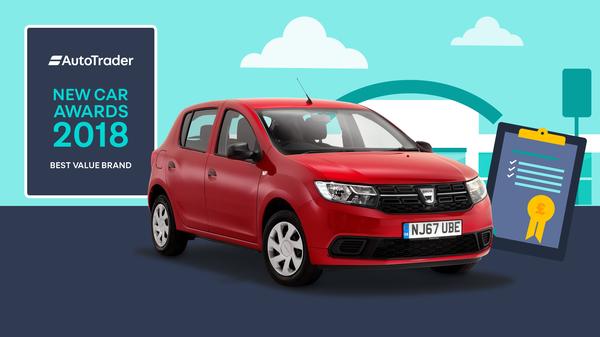 This is one of three awards given to a manufacturer rather than a particular model, and it'll be of little surprise to anyone that our Best Value Brand award goes to
Dacia
.
Like most of our awards, this category was decided by feedback collated from a survey of more than 40,000 car owners, all of whom rated their car in 16 key areas. That means an Auto Trader New Car Award is a real stamp of approval from people that live with the car day-in, day-out, and it makes each winner a true consumer champion. Not only did owners rate Dacia top in the value-for-money stakes, but two of the top five best value models were also Dacias: the
Sandero
and the
Sandero Stepway
. Here are just a few of the comments owners made about their Dacias…
"The rear seat is big enough to carry three adults. In a car of that price range, it is brilliant."
"Brilliant value for money."
"Price for a decent new car less than most second hand versions."
Commenting on Dacia's win in this category, Auto Trader's Road Test Editor, Ivan Aistrop, said: "Value is what the Dacia brand is all about, and this award shows that message has really struck a chord with car buyers. After all, everyone likes to feel like they've got a good deal, and with a Dacia, you've every right to feel as smug as you like. No other car company can offer such aggressive pricing, offering a new-car alternative for buyers on a used-car budget. Long may it continue."
There's more to like about Dacia's cars than just their value, too, as you can see here in our
various expert reviews
. And although value doesn't always necessarily mean cheap, you'll also notice our list of the
cheapest cars you can buy new
contains two Dacias. If you're after a new set of wheels, and you like the idea of getting a lot of car for not a lot of cash, you can
start configuring your brand new Dacia on Auto Trader
right now.