BMW 5 Series Saloon (2017 - ) review
Topping the manically competitive executive class is no easy task, but BMW reckons its 5 Series will knock spots-off anything Mercedes, Audi and Jaguar has to offer.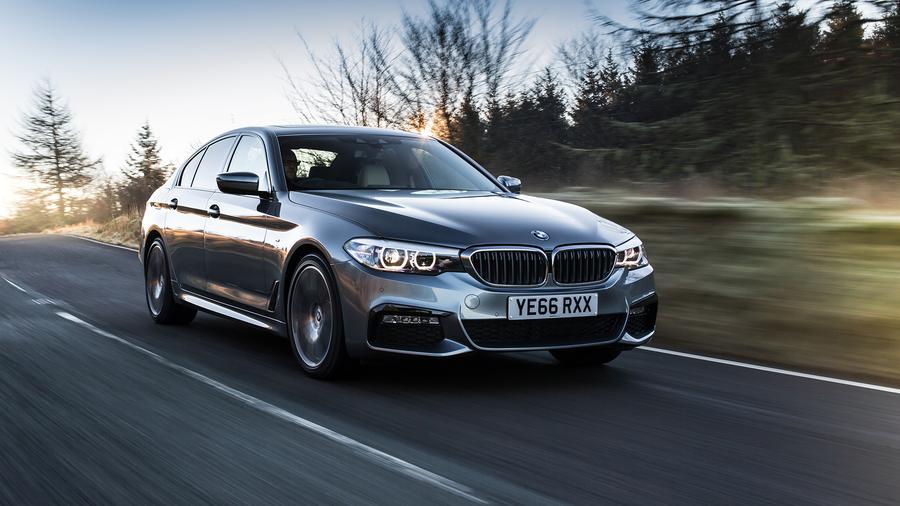 View gallery
The Auto Trader expert verdict:
★★★★★

★★★★★
4.3
A raft of improvements to the seventh generation 5 Series have put clear daylight between it and its nearest rivals. It's got superb refinement, amazing ride quality and engaging handling, while a spacious, beautifully tailored cabin and advanced connectivity make it the most complete office-on-wheels we've driven. If you're in the market for the most talented executive motor money can buy, the BMW 5 Series should be the first name on your search list.
Pros
All models come with an automatic gearbox and sat-nav

Advanced infotainment and connectivity

Superb ride and handling
Cons
Steering occasionally feels disconnected

A Mercedes E-Class offers more rear leg-room

Optional Gesture Control is a bit hit-and-miss
Pick of the range
The best seller and for good reason. M-Sport trim looks great and provides plenty of standard kit, while the 2.0-litre engine delivers fantastic refinement and efficiency.
Most economical
Powered by a 2.0-litre turbocharged petrol engine and a torque laden electric motor, the 530e emits just 49g/km of CO2 and has a theoretical EV range of 28-miles.
Blow the budget
Top of the range model comes with all the bells and whistles, but costs an arm and a leg to buy and run.
Interested in buying a BMW 5 Series?
How good does it look?
It seems like a lifetime ago since previous BMW designer-in-chief Chris Bangle was given free range to produce as many whacky designs as his imagination could muster. Nowadays, most of the motors coming out of Munich follow a more conservative, Russian doll approach. No surprise then, the 5 Series looks like a shrunken version of the latest 7 Series. The twin circular headlights (LED units are standard across the range) frame the familiar kidney grille, while alloy wheels – at least 17 inches – are standard across the range. All models come with twin exhaust pipes, while M Sport models feature 19-inch alloy wheels, more prominent bumpers and sit a little lower to the ground on their sports suspension.
What's the interior like?
There's no such thing as a budget 5 Series, and nowhere is this more evident than in the cabin, where swathes of expensive materials and laser precision panel gaps are complemented by sharply-focused instrumentation. The seats in the 5 Series offer excellent support and comfort, and every knob, switch and lever is harmoniously weighted to convey a real sense of precision engineering and a tangible air of luxury. The driving position is also a study in precision, thanks to a steering wheel aligned with the driver's sternum, and pedals that fall directly underfoot. There's also a good sized, stepped area to rest your left foot. Every 5 Series also comes with a large 10.2-inch touch-screen, with the infotainment arranged on swipe-able tile shaped menus. When driving, it's easier and safer to call up the menus via voice control, or access information at a more granular level by using the iDrive rotary dial that sits to the left of the drive selector. There's also the option of a Microsoft Office 365 compatible system, that lets you see your emails, calendar entries and contact details. This allows addresses for appointments to be transferred straight into the sat-nav to guide you to your next venue. Live traffic updates will suggest a different route or an earlier departure time if things are looking particularly sticky. And if all else fails, the stored phone numbers of your destinations can be dialed directly, so you can keep everyone in the loop.
How practical is it?
"
At 530-litres, the 5 Series provides one mighty big boot.
"
The latest 5 Series has been stretched in all directions, and the greatest beneficiaries of this are rear passengers. Leg-room is still not quite up to Mercedes E-Class levels, but it's not far behind, while elbow- and head-room are both in plentiful supply. There's also lots of glass around the place, so the cabin feels light and airy. Because BMW has thought long and hard about the relationship between the rear seats base and the top of the door, even children will get a good view of the great outdoors. The rear seats base is quite flat, but at least this means those forced to occupy the middle pew won't feel hemmed-in in quite the same way as they will when travelling in some rivals that adopt more of a two-plus-a little'un rear seat design. In common with almost every car in this class, the thorny problem of a large, foot-space-robbing transmission tunnel running down the centre of the car means you'll still feel you're getting a raw deal if you end up riding in the middle.

At 530-litres, the 5 Series provides one mighty big boot. It's also a particularly wide boot, so you can simply fling your golf clubs in laterally, without having to worry about scuffing your driver's head cover. The rear seats will split fold 60/40, and can be released using a couple of handles located in the boot, but you'll need to pay BMW a few extra quid for this, which seems all the stingier when you consider a whole gamut of much cheaper family cars provide this free of charge.
What's it like to drive?
BMW press car are generally fitted with plenty of options, including VDC – variable damper control – and Adaptive Drive, but if our experience on some pretty demanding European routes turns out to be repeatable on UK roads, we reckon adding VDC could be the best £1,000 you ever spend. With VDC in control of proceedings, the 5 Series rides with a plushness and a composure that puts most luxury cars to shame. There are certain aspects of the steering that could be better, including a lack of connection that's exposed as you transfer across the straight ahead position when swooping between right and left hand bends, but in almost every other respect the 5 Series is a phenomenally engaging car. Blessed with a chassis that boasts phenomenal grip and oozes super-sensory levels of information from all four wheels, it is so composed and so confidence inspiring, you will simply drive away from colleagues in their Mercs and Audis, not to mention those piloting some pretty exotic sports cars.
How powerful is it?
Make no mistake, in most respects the previous 5 Series was an exceptional car, and the vast majority of owners were more than happy with their 520ds, even if they secretly coveted the more potent, more refined 530d. With the introduction of the latest 5 Series, that's a situation which has all but been turned on its head.

The 530d still offers a good deal more performance thanks to its 3.0-litre six-cylinder engine, but because the latest four-cylinder turbodiesel engine in the 520d is now so well isolated, so strong, and its performance delivery is so linear, it feels like the sweeter of the two models. Not to mention, it's also a good deal cheaper.
How much will it cost me?
The latest 5 Series is up to 100kgs lighter than its predecessor, which benefits ride and handling, but also helps reduce fuel consumption. The 520d will return 68.8mpg and emit 108g/km of CO2, which translates to a BIK rate of 21%, Soon there'll be an even more economy-focused 520d, labelled ED for 'Efficient Dynamics', which officially returns 72mpg. If you're happy to trade a little economy for some extra oomph, the BMW 530d will still returns 60.1mpg and emits 124g/km of CO2.

As an insight into the future, the real economy gains are to be found from a petrol-electric plug-in hybrid version of the 5 Series called 530e, which officially returns 141.2mpg with CO2 emissions of just 46g/km. As with many hybrids, that figure will only be achievable if you commute at low speeds, running primarily on electric power. However, mix in a spot of motorway use where the petrol engine is doing the donkey work, and your consumption will go through the roof. Business users won't care too much about that though, as their BIK liability will be just 7%.
How reliable is it?
Such is the robust feeling of quality and solidity of the 5 Series' cabin, you could easily imagine the car would last forever and a day. We haven't heard any particularly alarming stories about the reliability of the previous 5 Series, but BMW's reputation isn't as strong as you might think: the company currently languishes in the bottom half of Warranty Direct's manufacturer standings. While a few owners reported the odd electrical gremlin with the iDrive system, and made note of noisy diesel engines – something that BMW has addressed with the latest 5 Series – none say they have had any major mechanical issues, which is hopefully a good indicator of the robustness of the latest 5 Series. A three-year warranty without mileage limitation, along with roadside assistance, is standard, plus BMW has several reasonable fixed-price service plans to choose from.
How safe is it?
The 5 Series comes with all the usual safety kit you'd expect at this end of the market, including a deployable bonnet that will help to reduce the impact on pedestrians should the worst happen. Little wonder, then, that it scored a full five-star rating in Euro NCAP crash tests. The 5 Series also employs autonomous low-speed braking to help avoid this type of accident from happening in the first place. Myriad electronic sensors that feed into the car's electronic brain are also employed to help determine how many occupants are in the car, and how severe any anticipated collision might be. By firing only the airbags that are required, if a secondary collision is encountered, the original unemployed airbags can then be activated. There's also the option of BMW's Driving Assistant, which provides Lane Departure Warning and Rear Cross Traffic Alert, as well as a system upgrade that will autonomously brake and steer around obstacles in the road and help alert drivers – through steering wheel vibration – if another vehicle is encroaching from the side.
How much equipment do I get?
"
You can even use the key's interactive screen to remotely park your 5 Series.
"
SE trim is the entry point into the 5 Series, but it's not exactly a pauper spec. It comes with 17-inch alloy wheels, LED headlights, heated leather front seats, and steering wheel-mounted shift paddles for the automatic gearbox, plus the brilliant iDrive infotainment system that includes sat-nav.

Upgrading to M Sport trim gives you bigger alloys, sport seats, and plenty of 'M' detailing dotted around the cabin, plus an enhanced body kit. M Sport cars also come on sports suspension, but you can delete this in favour of the standard suspension if you like the looks but prefer a cushier ride.

BMW's Display Key allows you to pre-set the temperature of your car remotely, and check fuel range and servicing information on the screen. Spend a bit more and you can even use the key's interactive screen to remotely park your 5 Series.
Why buy?
If, for some bizarre reason, you're looking for an excuse not to buy a 520d, we're afraid you're fresh out of luck. Brilliant to drive or to be driven in, the 5 Series' cabin provides an oasis of tranquillity, thanks to its luxurious appointment, superb comfort and exceptional refinement. While running costs for the 520d are as good as it gets, the latest connectivity will help alleviate the stress of congested traffic conditions, and keep you in the loop with your business activities, even when you are miles from the office.
Interested in buying a BMW 5 Series?