Expert Review
Renault Megane RS Hatchback (2018 - ) review
The Renault Megane RS sits at the more hardcore end of the hot hatch spectrum, pitting it against rivals like the Hyundai i30N, Hondas Civic Type R and Ford Focus RS.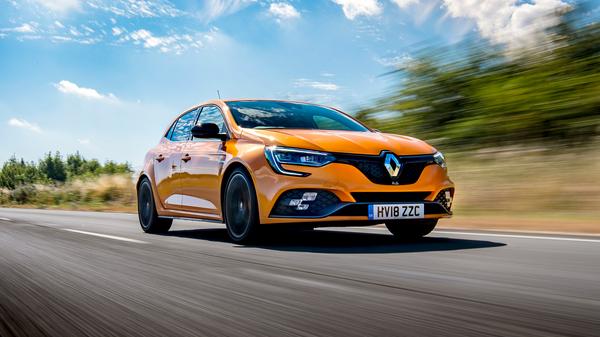 The Auto Trader expert verdict:
The Renault Megane RS will be a very appealing prospect for the UK's legion of hot hatch fans thanks to its theatrical looks, thrill-a-minute handling, soul-stirring soundtrack and affordable running costs. It can't ultimately match the very best-in-class for performance or dynamic polish, while only the most dedicated hot hatch aficionado will be able to put up with the raw ride delivered by the optional Cup chassis, which is standard on the top-of-the-range Trophy model. There's still a lot to like, though, and if you do end up opting for the RS, you're unlikely to be disappointed.
Reasons to buy:
Looks fab
Brilliant handling
Makes a good noise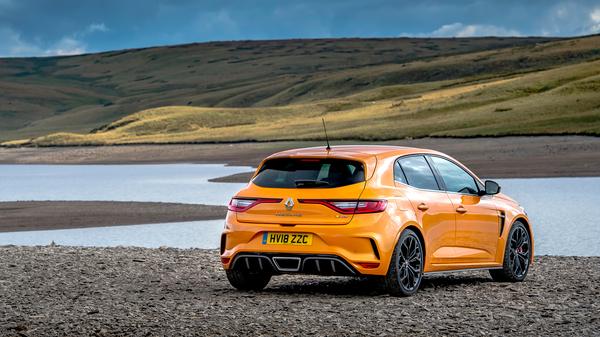 How good does it look?
The
regular Megane
is a fairly flamboyant-looking car in its own right, so it's no surprise that the styling of the full-fat hot hatch version is fairly in-your-face. The C-shaped all-LED headlamps are complemented by chequered flag-like designs for the front foglamps, while the single exhaust mounted centrally in the rear air diffuser makes the back end look more theatrical. The obligatory spoilers and gaping air intakes are all present and correct, as are 18-inch alloys that can be upgraded to 19s as an optional extra and come as standard on the top-end Trophy model. The options list also contains a couple of properly lurid paint colours, which really suit the car, but they're not cheap.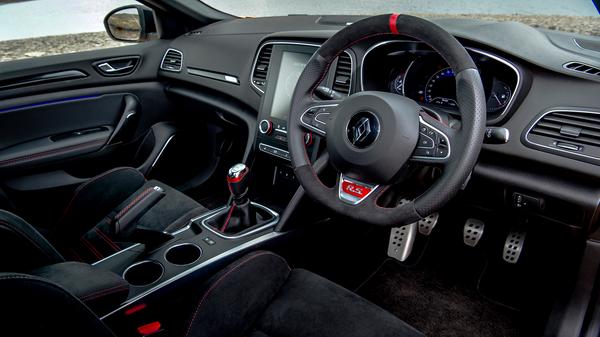 What's the interior like?
It's perhaps a little surprising that this flagship Megane is fitted as standard with the same 7.0-inch screen found in other small Renaults, which can be rather cluttered and confusing to use. The 8.7-inch portrait screen would be more fitting in a high-end model like this, but if you want that, you have to pay extra. It does give the cabin a more high-tech feel and the bigger screen makes the
infotainment
easier to navigate, too, although it's still not very intuitive. There aren't too many sporty embellishments inside the cabin, either, and quite a few of the cabin materials are a little bit lacklustre in quality. Chuck in the dark colour scheme and some might feel that the RS's cabin is a disappointingly drab environment for a hot hatch. The small back window and thick pillars mean your rear visibility is rather limited, too. At least the seats are impressive: they're fantastically supportive and grip you in place when you're attacking corners.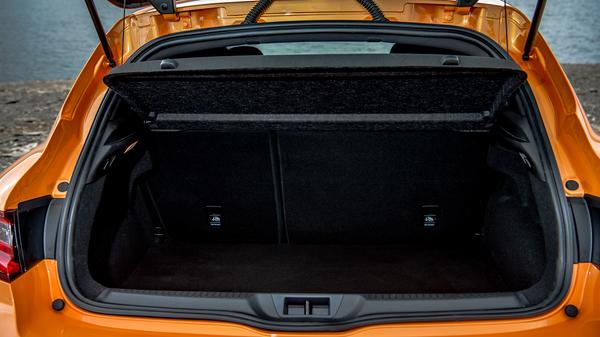 How practical is it?
It won't be much of a surprise to learn that the RS does an identically average job to the regular Megane in this area. The front seats have bags of space, but the rear chairs are tight for both headroom and legroom; anyone over six feet tall will struggle on both counts. The middle seat is wider that you find in many cars of this type, and it's not raised too high, either, but the limited foot space throughout the rear footwell still means that carrying three in the back is not a comfortable experience. Things aren't that great where luggage is concerned, either. While the
boot
is a decent size at 384 litres, there's an enormous lip that you'll need to muscle heavy items over, and the back seats don't go anywhere near flat when you fold them down, leaving vast step and a small slope.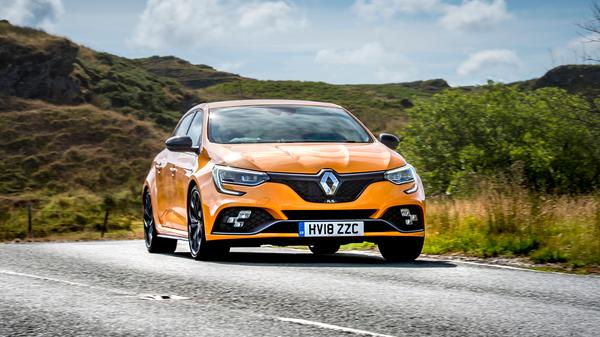 What's it like to drive?
So far, we've only had the chance to drive cars with the Cup Chassis Pack, which is standard on the Trophy model and an option on the RS 280. This adds a limited slip differential and makes the suspension stiffer. And stiff it most definitely is. Bumps in the road have a very pronounced effect on the car, and you'll feel jittered and jolted at pretty regular intervals. You'll need to be a fairly committed hot hatch fan to put up with it, but in fairness, if you are that committed, then that rawness will probably only add to your enjoyment. Besides, you'll reap the rewards when you come to a set of corners, because the body stays impressively flat, which helps the car change direction with impressive sharpness. So does the strong grip (so long as you've taken the time to get some warmth into those fat tyres) and the fast, responsive, feelsome steering. What's more, the steering is made even better by the fact that the rear wheels turn in conjunction with the fronts to make direction changes even brisker. That diff is also really effective in maximising traction through – and out of – bends, and that helps make the car even more of a point-to-point weapon. Best of all, though, the handling is as playful and adjustable as it is polished and precise, and that makes it one of those cars that you enjoy a little bit more every time you drive it. It doesn't quite have the overall dynamic polish of a Honda Civic Type R, because the steering wheel gets tugged from side to side too much as you accelerate hard, and the car does squirm around a bit when you're hard on the brakes. However, this is still an enormously capable and thrilling hot hatch that you'll thoroughly enjoy, and those little foibles mean you'll learn more about it as time goes by.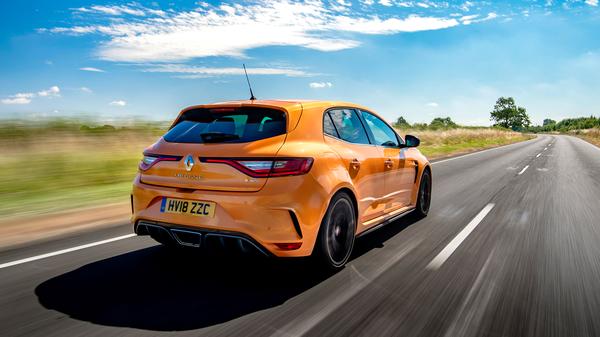 How powerful is it?
The RS is powered by a 1.8-litre turbocharged petrol engine that develops 280 horsepower in the standard RS, and 300 in the Trophy. That puts some way behind the most powerful hot hatches for output, and as a result, the acceleration you feel isn't quite as maniacal as it is with some. It's not great news for those interested in hot hatch bragging rights, either. However, the RS is still plenty fast enough to keep you entertained, blasting from 0-62mph in less than six seconds. The engine is one that thrives on revs, too, which really eggs you on to work it harder and harder, adding to the car's frenetic character. So does the car's throaty exhaust note. The extra 20 horsepower in the Trophy doesn't make an enormous amount of difference – it only takes a tenth of a second off the 0-62 time – but you never feel like you're lacking power in either version. We haven't yet tried a car with the optional dual-clutch
automatic
gearbox, but we can tell you that the shifts provided by the standard six-speed manual gearbox could be slicker (it doesn't have anywhere near the precision of a Type R's gearshift).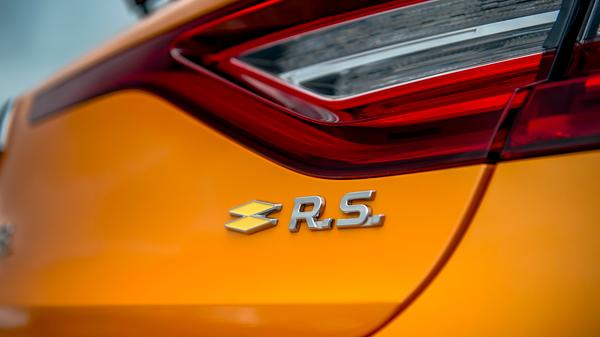 How much will it cost me?
The RS costs a bit more than the similarly powered
Hyundai i30
N
, but a decent slice less than more powerful rivals like the
Honda Civic
Type R
and
Ford Focus
RS
. The Renault can't match any of these rivals for official fuel economy or emissions, but with the exception of the Hyundai, there isn't a great deal in it. Where the Renault does have the beating of the Hyundai, though, is on how well it hangs onto its value, and that means you'll get a bigger slice of your money back when you sell it on. All that means that the Renault will cost you marginally less than all three rivals over an average three-year ownership period.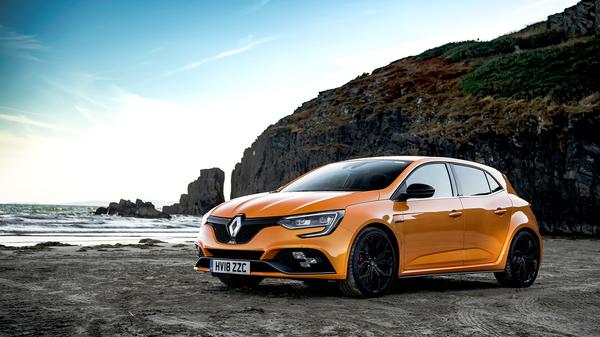 How reliable is it?
Take a look at the Warranty Direct Reliability Index, and you'll be pretty happy with the prospect of how
reliable
your Megane should be. Renault sits firmly in the top half of the manufacturer rankings, and as an individual model, the Megane hasn't done at all badly, either. Granted, that historic performance could count for nothing with the latest car being based on a different platform, but we've heard very few complaints from owners of cars that share that platform – including the
Nissan Qashqai
and
Renault Kadjar
– over reliability. But JD Power's 2019 Vehicle Dependability Study puts Renault as a brand slightly below average for the industry, which is disappointing. Should anything go wrong, Renault offers a middle-of-the-road three-year/60,000-mile warranty.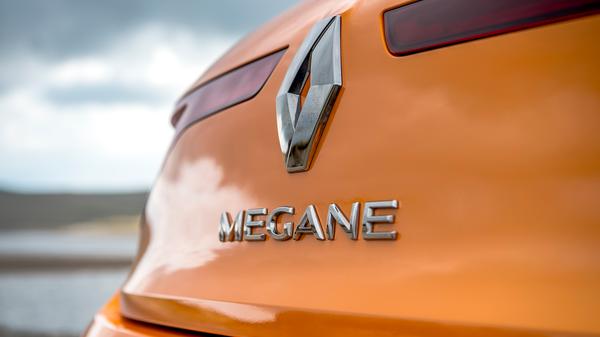 How safe is it?
Renault has a fabulous record for
safety
, but we can't help feeling the RS is a little bit disappointing in this area. For instance, most family hatchbacks have clever safety aids like automatic emergency braking included in the standard roster of safety kit these days, but even with a high-spec Megane like the RS, you have to pay extra for it. It's an affordable option, and the pack it comes in also gives you adaptive cruise control and distance warning, but it's still rather mean that it's not standard. Otherwise, you get most of the safety kit you'd expect as standard, such as six airbags, electronic stability control and tyre-pressure monitoring. The regular Megane earned the full five stars in Euro NCAP crash tests when it was tested back in 2015, but the standards have become tougher since then.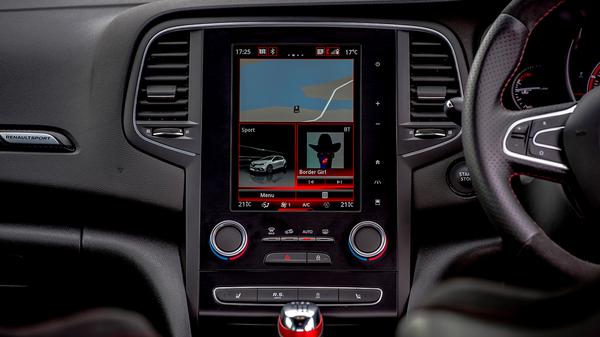 How much equipment do I get?
The standard RS comes with a reasonable amount of standard kit, which includes cruise control, two-zone climate control, hands-free locking, four electric windows, rear parking sensors and the 7.0-inch touchscreen infotainment system that brings together sat-nav, Bluetooth, DAB radio and smartphone integration. A few more bits and bobs are available on the options list, and most are reasonably priced. These include the upgraded infotainment system and the Cup Chassis Pack, as well as an opening sunroof, a rear parking camera and a suede-effect steering wheel. The Trophy model gets the Cup Chassis Pack as standard, as well as the RS Monitor (software that can display telemetry from the engine and steering, laptimes and various other motorsporty data).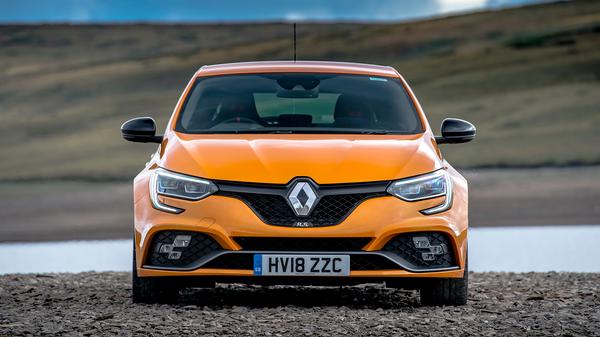 Why buy?
The RS will appeal if your taste in hot hatches sits towards the more hardcore end of the spectrum, and you've been seduced by the Megane's dramatic looks. If that's the case, you won't be disappointed by the RS, because it's a laugh a minute.