Hyundai i30 N hatchback (2017 - ) review
The i30N is priced to go head-to-head with the Golf GTi. It has that classic hot hatch licked for power and pace, but does it have the polish to upset Volkswagen's legend?
The Auto Trader expert verdict:
★★★★★

★★★★★
4.1
The i30N is Hyundai's first foray into the hot hatch world and it's a very commendable effort. It's not the most powerful, the most engaging, or the most thrilling car in the class, but dial in the right settings, and you know what, it's not far off. It also comes in at a very competitive price considering the performance stats and amount of equipment included as standard.
Pros
Highly enjoyable car to drive

Plenty of standard kit

Should be reliable
Cons
Fuel economy and emissions not brilliant

Similar interior to standard i30

N mode too extreme for UK roads
Interested in buying a Hyundai i30?
How good does it look?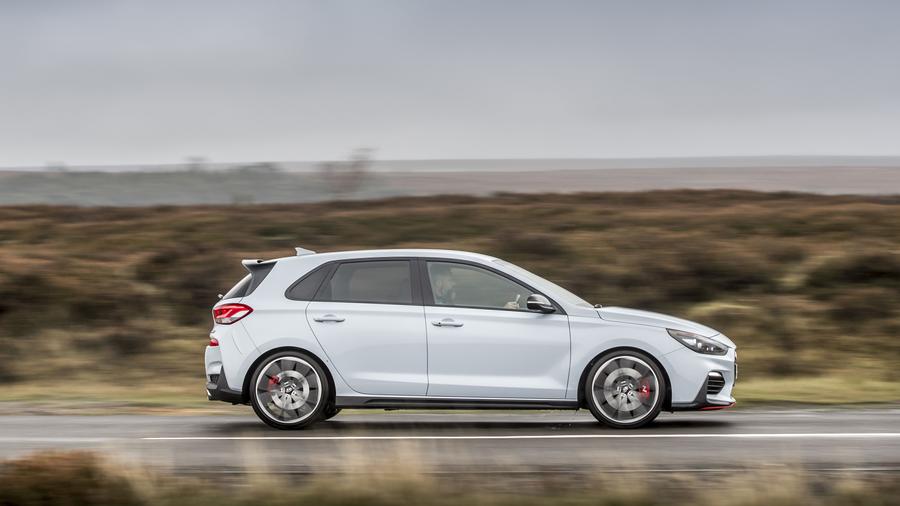 Looks are subjective, so we'll leave it up to you whether or not you like the i30N's visual style. It's relatively restrained compared to the extreme looks of Honda's Type R, and stays relatively close to the standard i30, but with a few performance inspired extras. Two versions of the car are available – the i30N and the more powerful i30N Performance – and both have lower suspension for improved handling, different front and rear bumpers from the standard i30, and sporty red brake calipers, which match a lick of red paint on the bottom of the bumper in a nod to Hyundai's rally cars. Both models also have LED headlights and a rear spoiler. The regular i30N comes on 18-inch alloy wheels, while on the i30N Performance you get 19-inch versions.
What's the interior like?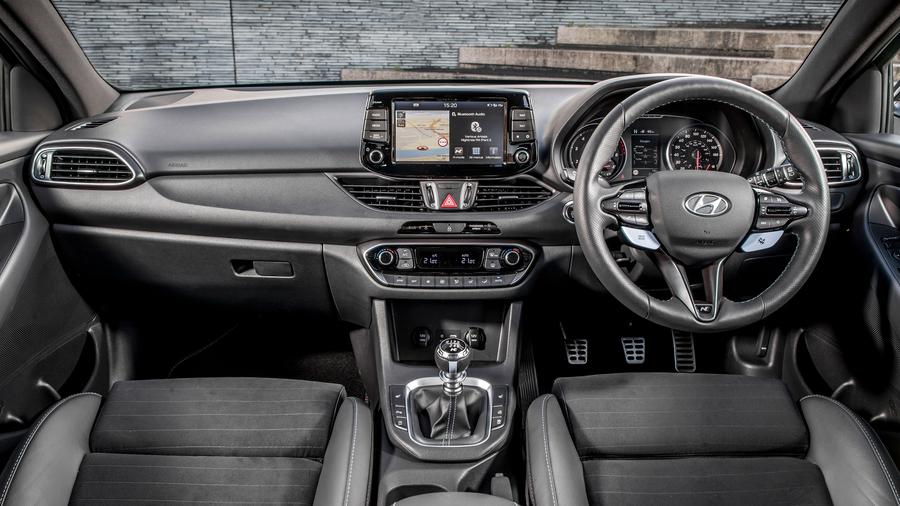 Like most hot hatches, inside, there's not a whole lot that marks this sportier model out from the standard car. As such, the interior quality is not a patch on a Golf GTi with more hard, scratchy plastics than we'd like to see. All in all, things look and feel a wee bit utilitarian.

Still, there's a bright, 8.0-inch infotainment screen that gives you 3D sat-nav maps, live traffic alerts, and points-of-interest information. The major star in the N's interior is its steering wheel. Trimmed with blue stitching and an N logo, it features two big buttons of note. The one on the left allows drivers to select three drive modes: Normal, Sport and Eco, while the chequered flag emblazoned on the right summons up the fire-breathing N mode (more on that later). Jab this button once more and you can access a central screen menu that allows you to personalise and store your preferred settings from the various drive modes.

You also get a pair of sports seats clad in cloth in the standard car and leather in the N Performance. They look great, although some people might wish the driver's seat was a bit lower for the full sporty experience. Opt for the N Performance model, and both front seats adjust electrically.

How practical is it?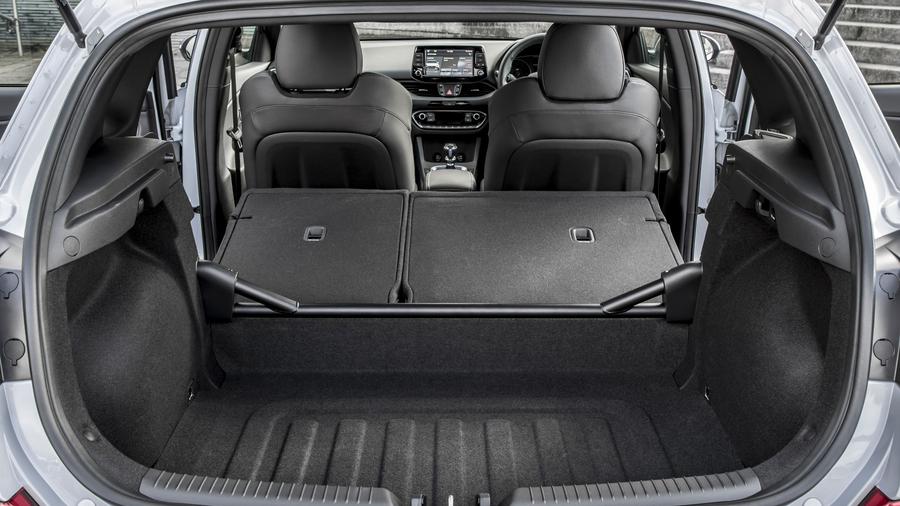 Just like the standard i30, the N gets a decent amount of room inside, and it pretty much matches the vast majority of rivals in its class. Thankfully, the transmission tunnel running down the centre of the car is low and flat, so foot space for those travelling in the middle rear seat is far less compromised than in some rivals. As is the norm, the rear seats split fold 60/40, but the step between boot floor and rear seats is made bigger by the big strut brace that Hyundai has installed to increase body stiffness. With the seats back in place, the boot wins the bragging rights over a Golf on capacity, but if your priority is large (and speedy) deliveries, you'll probably be better off with a Skoda Octavia vRS.
What's it like to drive?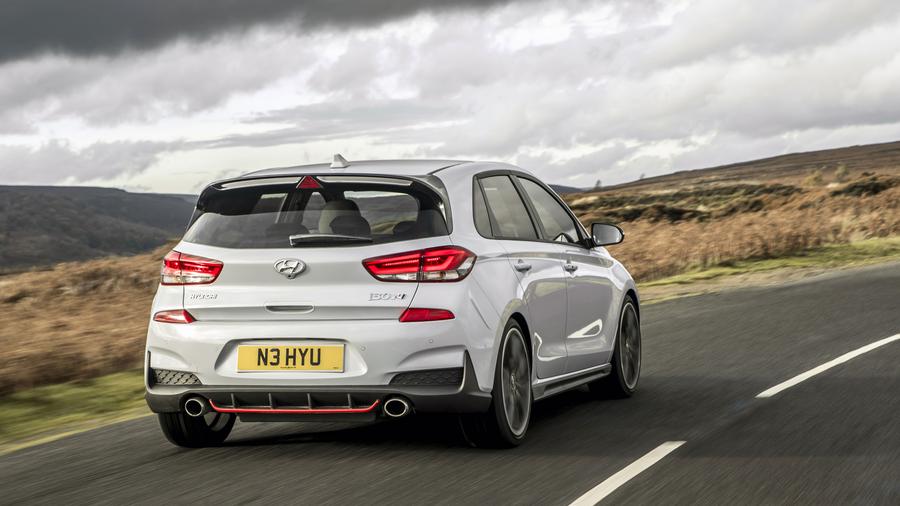 Hyundai reckons the standard i30's body shell is stiff enough to cope with the stresses that the N's greater performance places upon it, but there's a lot of underbody reinforcing as well as a big strut brace between the rear suspension mounts that sits just behind the rear seats. Regardless of the amount of blacksmithing, the results are pretty impressive, as in most modes, the car rides fluidly and changes direction swiftly and predictably.

There are no end of engine, suspension and steering settings you can play with, and it's worth taking the time to dial in your preferences and store them in the custom menu. That's because the N mode, which boosts the throttle, exhaust noise, suspension stiffness and steering weight, is too extreme for UK roads, especially with how much it firms up the suspension. Some might wish for more feeling and accuracy from the steering, too, and a little more response from the brakes, although they're nicely powerful. We suspect, though, with a bit of experimentation with different settings, you'll be able to tune the i30N to your liking, and when you do you'll have plenty of fun.

How powerful is it?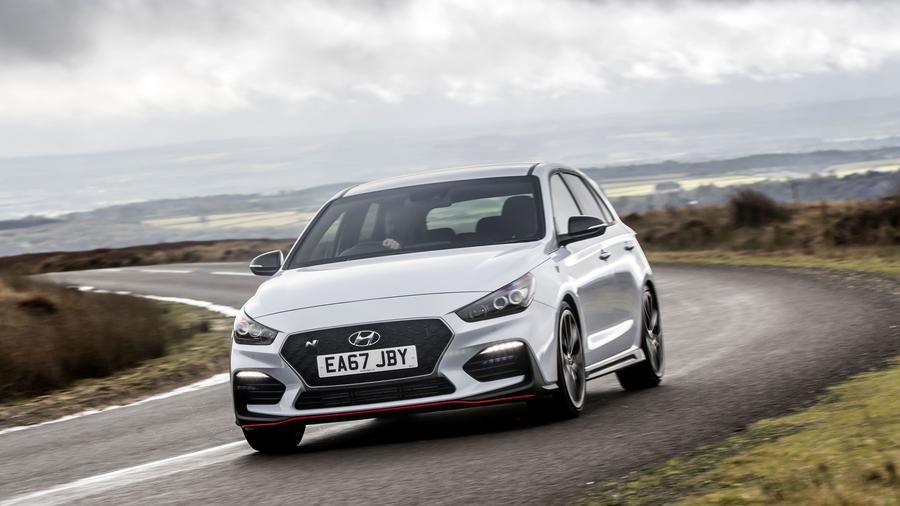 The N uses a pumped-up 2.0-litre four-cylinder turbocharged engine that channels its power to the front wheels via a six-speed manual gearbox. So far, we've only driven the punchier N Performance version – Hyundai reckons this will make up 90% of N sales – which comes with a limited slip differential, a rabble-rousing exhaust, bigger brakes, and a handy 25 horsepower boost over the cheaper model's 250 horsepower.

It's not the smoothest sounding engine and you can hear quite a bit of buzzy vibration as the engine note is piped into the cabin. Thankfully, you don't have to rev it too hard, as its real strength lies in its prodigious mid-range thrust. You rarely feel the need to ring its neck in the quest for extra speed, and it will still haul strongly out of corners even when the revs have fallen well down the pecking order.

Like all powerful front wheel drive cars, the engine's power can be felt tugging away at the steering wheel when you really get on it, but it's nothing major. Unusually, for a car with a manual gearbox, there's a launch control programme that can be used to maximise traction away from the mark, and a rev matching function that will automatically blip the accelerator to help you replicate those slick, race-style down-shifts. Although the clutch is quite heavy, the gearshift is one of the sweetest we've encountered, thanks to its relative short travel and a steely-edged feel as the gears are slotted home.

How much will it cost me?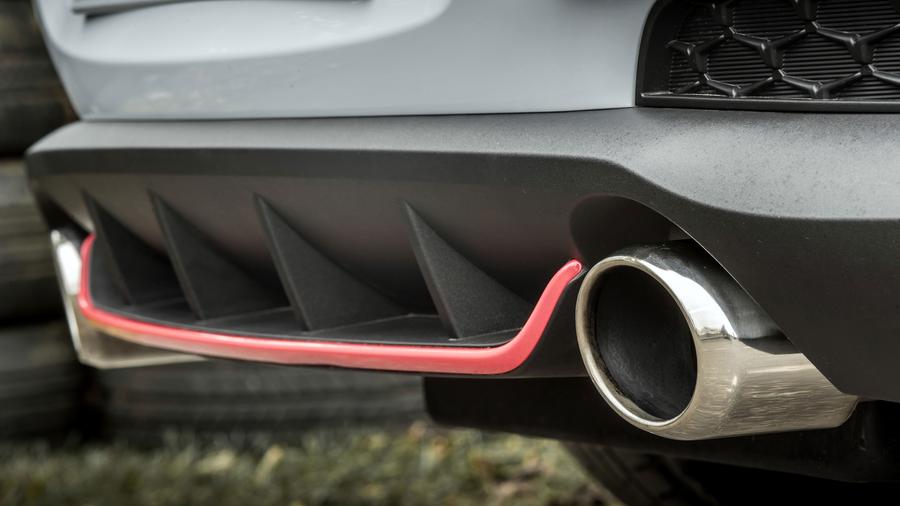 The i30N Performance is cheaper than Volkswagen's GTI and thousands cheaper than the more powerful GTI Performance. Consider, too, that the Hyundai has more power and standard equipment, even if it lacks the cachet and can't match the official combined fuel economy (it's about 5mpg behind the regular Golf GTI). The less powerful i30N will return 40.4mpg, and is one of the cheapest hot hatches on the market.
How reliable is it?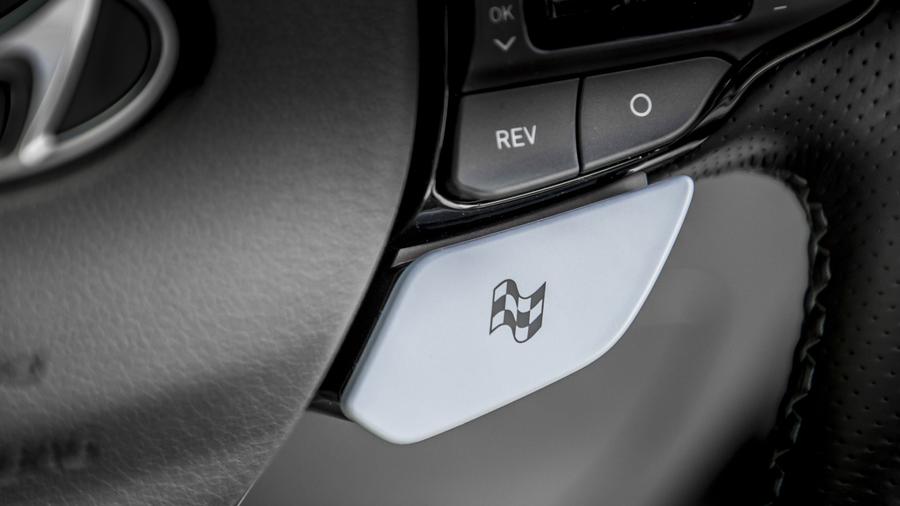 Although the N has upped the power stakes, we don't see any reason why it shouldn't be every bit as reliable as the regular i30, which has proved to be a tough and durable car. Additionally, Hyundai generally has an excellent reputation for reliability and robust construction. Five years of roadside assistance and vehicle health checks are included with the standard, fully transferable, unlimited-mileage warranty.
How safe is it?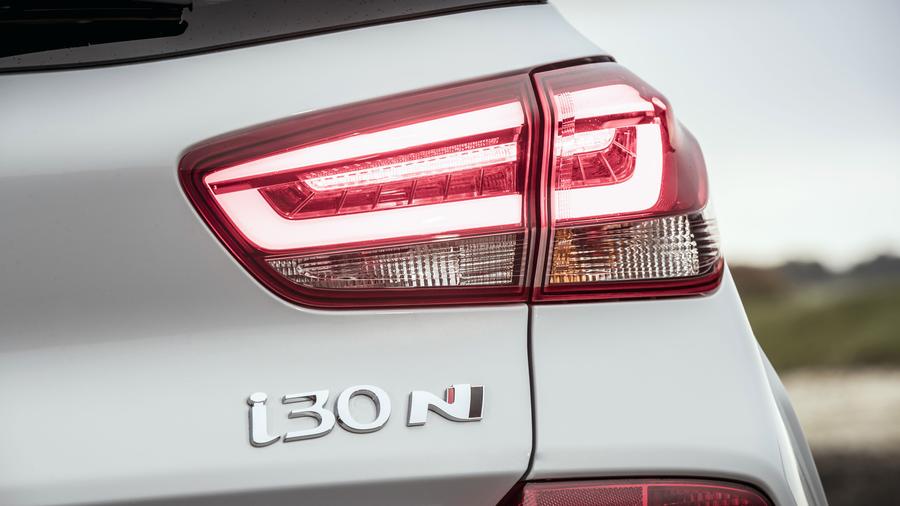 The N gets all the same safety kit as the standard i30, and that car was awarded a five-star Euro NCAP crash test score. Its active safety elements include six airbags, hill-start assist, electronic vehicle stability management, and brake lights which flash during an emergency stop. The i30 also comes with automatic emergency braking, which intervenes to stop you crashing into a car in front, as well as driver attention alert (which keeps an eye out for tiredness behind the wheel) and lane-keep assist, which stops you drifting unintentionally out of your lane.
How much equipment do I get?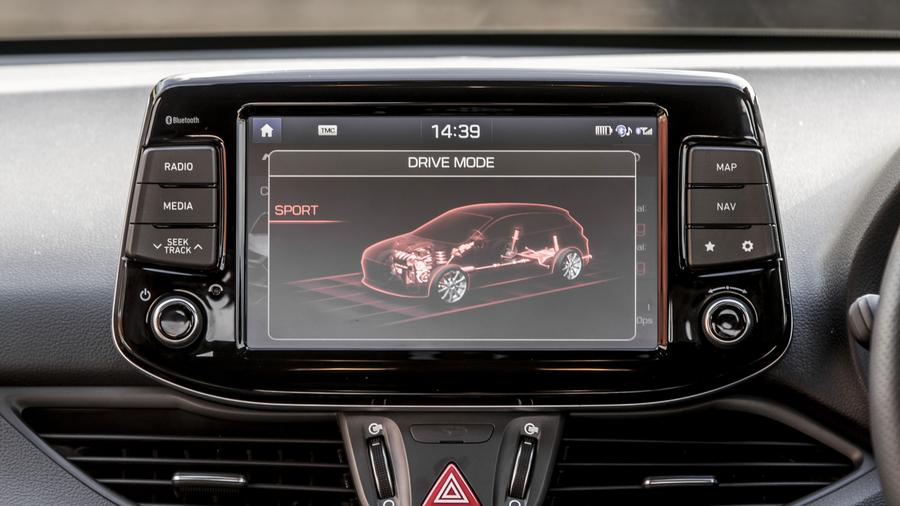 The N is the most expensive i30 you can buy, so you'd expect it to have lots of equipment, and it does. Cruise control, LED headlights, a reversing camera, keyless entry and start, and a wireless phone-charging pad are all included. The 8.0-inch infotainment system is integrated with sat-nav as well as Apple CarPlay and Android Auto smartphone mirroring systems. All features are standard, with only metallic paint available as an option.
Why buy?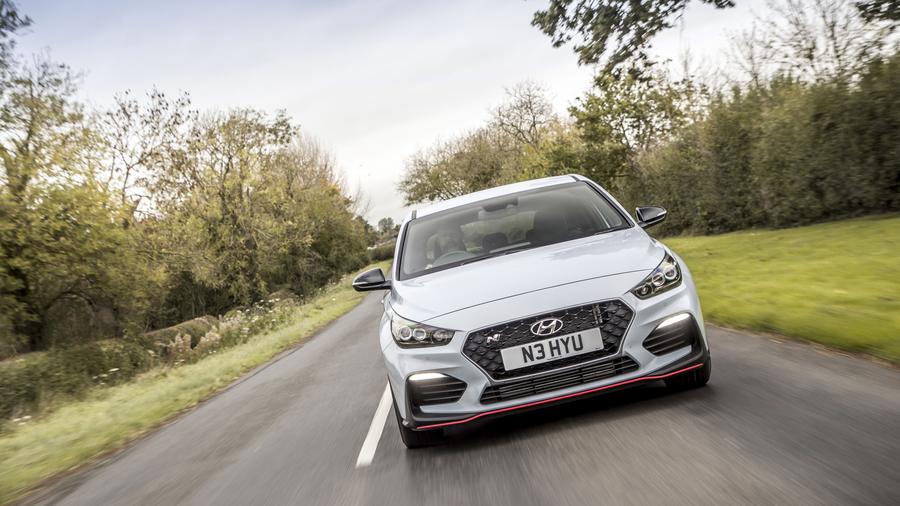 Generally speaking, you can fit the hot hatch market into two sections. One is the hardcore, fully performance-focused machines like Honda's Civic Type R, while the other features cars that are basically regular hatchbacks with a bit of extra poke, such as the Volkswagen Golf GTI. The i30N fits in the latter section, but it's towards the more performance-focused end of that segment without getting too lairy and wild. You can get sharper, more refined cars of this type, but you'll have to pay more, and not all of them have the same level of power that Hyundai offers. For the price, the i30N offers an engaging drive with plenty of equipment, and it's well worth checking out.
Interested in buying a Hyundai i30?