Expert Review
Honda Civic Type R hatchback (2017 - ) review
The latest Type R still looks bonkers, but it's no longer a one-dimensional back street hero. Instead, it's a simply stunning 21st century hyper-hatch and a worthy rival to the Focus RS and the Volkswagen Golf R.
The Auto Trader expert verdict:
Don't think for one moment that the latest Civic Type R is simply an evolution of its predecessor. Thanks to an all-new body that's lighter, stiffer, wider, longer and lower – and tied to the road using a much more sophisticated suspension – the new car displays poise and agility, and provides levels of driver interaction, that the previous car could only dream of. It's still crazily quick, but it's also far more refined and far more comfortable, and the driving position is light years better than before. Together, these comprehensive changes have transformed the Type R from a brutal, no-compromise hot hatchback into a car that offers stunning performance and exhilarating handling alongside everyday usability and comfort.
Reasons to buy:
Stonking performance
Brilliant compromise between ride and handling
Excellent driving position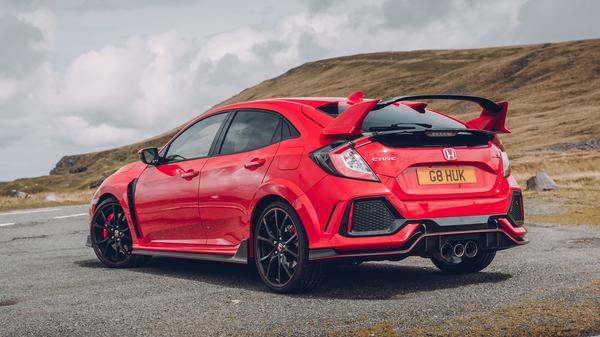 How good does it look?
Although the latest Type R is a far more sophisticated device than its predecessor, it still looks like an absolute ruffian. All massive air dams, triple-barrel exhausts, mega wings and with a greedy bonnet scoop, topped off with carbon fibre this and LED that, it's the absolute antithesis of the understated styling that you get with a Volkswagen Golf R. Honda is unashamedly proud of the Type R's 'in-yer-face' styling and although its overt brashness may deter some more conservative buyers, the Type R's myriad adornments aren't purely cosmetic. For example, while most boot-mounted wings on hot hatches are purely decorative (and, in some cases, actually harmful to high-speed stability), the collection of wings, diffusers and underfloor airflow management help the car stick to the road.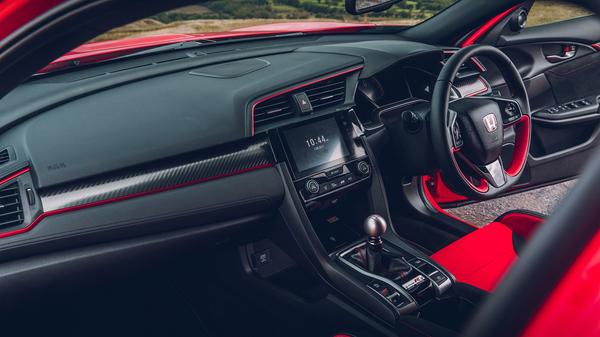 What's the interior like?
Perhaps the biggest and most welcome change to the Type R's interior is its driving position. Whereas you sat more upright than a number 49 bus driver in the old car and most folk had to have the steering wheel on their laps to see the instruments, it's a doddle to adopt a pseudo-racecar driving position in this new car, mainly because you sit so much closer to the ground. This low-slung position also enables you to raise the steering wheel into a far more natural position and allows you clear sight of the instruments, as well as of the road ahead. The new positioning of the ball-shaped gear-lever helps, too: it sits close to the steering wheel and almost directly under your hand, allowing you direct access to the Type R's legendary flick-of-the-wrist gearchange. The sports seats are also absolute belters. Granted, you have to clamber over the heavily bolstered side supports before settling down; and, if you're a bit rotund, you might find the seats on the slim side. However, not only do they provide excellent support when you're pushing on a bit, they're also still blessed with enough padding to keep most folk comfortable on longer journeys. Rear visibility is absolute rubbish, though, as that huge boot wing does its best to slice the view through the shallow rear window in half.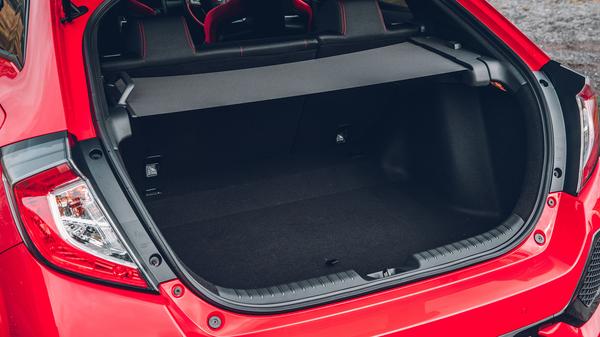 How practical is it?
As well as majoring on the thrilling stuff, any hot hatch worth its salt must double as practical, everyday transport, and the Type R does better than most. For a start, it's only available with a five-door body, so there'll be no deep sighs as you clamber out of the driver's seat for the umpteenth time and struggle with seat-folding levers to let your kids in and out of the back. Eventually, it'll dawn on you that the previous car's 'magic seats' have lived up to their name and done a disappearing act – so you no longer get the same seat-flipping and -folding versatility – but the Type R is still not exactly compromised. The boot is plenty big enough for most family needs, and the rear seat backs still fold down to allow you to carry longer items. One thing that's unique to the Civic is its sliding parcel shelf. Well, we say 'shelf', but it's more like of a piece of lightweight material that rolls in and out like a roller blind. Undoubtedly, it's a clever weight-saving device, keeps your valuables safe from prying eyes, and doesn't let any extra road noise into the cabin, but it doesn't lift up when you open the rear hatch, so it's a bit more of faff to pull it in and out every time you open and close the boot.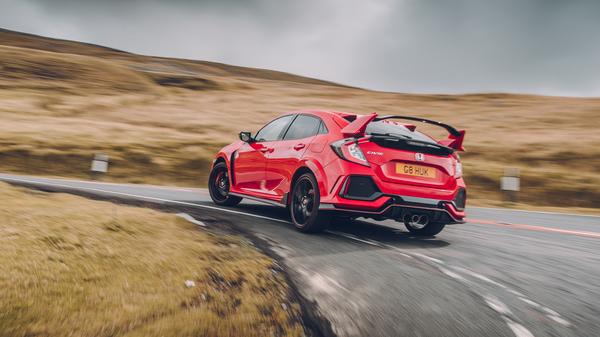 What's it like to drive?
The Type R has three different driving modes that can be accessed by a rocker switch next to the gear lever. Along with quicker responses when you press the accelerator and less stringent interventions from the stability control system, these give you access to three progressively stiffer suspension settings. The good news is that, even in its stiffest setting, the balance between ride and handling remains absolutely spot on, and the car always feels light and alert. But, even when the going gets tough, you never get bounced up and down in your seat as you did in the old car, and like you do in some rivals. For the same reason, the levels of grip are simply huge, as the R's mammoth 20-inch alloys and skinny-walled tyres remain resolutely glued to the road, no matter how bad the surface. Our one concern is the steering, which – although much improved – still lacks a degree of finesse. At lower speed, in particular, it's difficult to judge what the front wheels are up to, because the steering wheel feels quite numb. Increase your speed, though, and things begin to improve, because the weight of the wheel and your confidence in the front end of the car build, and the sheer amount of grip begins to boost your conviction in fast corners. Mind you, the increased weight can be almost too taxing, as it requires a fair amount of effort to hold the wheel on a steady setting as you power around long, sweeping bends.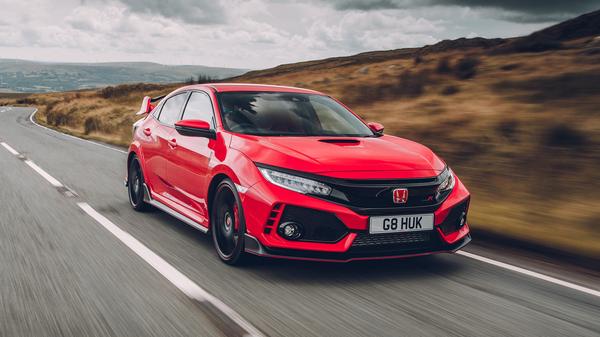 How powerful is it?
Although the Type R's engine is still a turbocharged 2.0-litre four-cylinder unit, as it was on the old car, many parts have been lightened to reduce friction and allow the engine to put on revs more quickly. Changes to the gearbox also lead to more immediate throttle responses, and the results are pretty sensational. Light the blue touch paper from a standstill, and the R flies off with such intensity that you'll need super-rapid reactions to grab second gear before the engine crashes into the rev-limiter. The Type R isn't immune from the unruly scrabble for traction and aggressive sideways forces felt through the steering wheel that afflict most super-powerful front-wheel-drive cars, especially on a soggy surface or if you haven't taken the time to get some heat into the front tyres. However, these phenomena are far better controlled than they were in the old Type R, and better than they are in some rivals, too. Once you've got some speed under your wheels, the engine feels properly strong and flexible; so much so that, even at B-road speeds, you don't need to change down a gear as often as you might imagine to get past slower traffic. Chances are, you won't be able to resist playing with the sweet-shifting gearbox, just so you can listen to the shrill engine note as the revs rise to a yelping crescendo. But, if you're just trying to wend your way home at a brisk rate, you can simply rely on the engine's strong mid-range oomph to spirit you past slower traffic.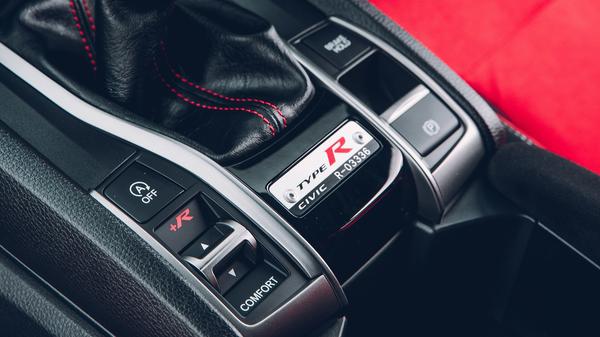 How much will it cost me?
Buying and running costs for the Type R will be very like most of its major
hot hatch
rivals', including the Ford Focus RS and Volkswagen Golf R. Obviously, insurance costs will be high, especially for young drivers, for whom they could well be prohibitive; and, if you drive the R with a heavy right foot – which you'll probably be inclined to do on a regular basis because of the Type R's rev-hungry character – you'll drain the tank at a ferocious rate. What's more, unlike its four-wheel-drive rivals, the Type R forces all its power through the front wheels, so you'll also spend a fair chunk of cash replacing those front tyres on a regular basis. However, the Type R's resale value should be strong, as it's massively sought-after as used buy.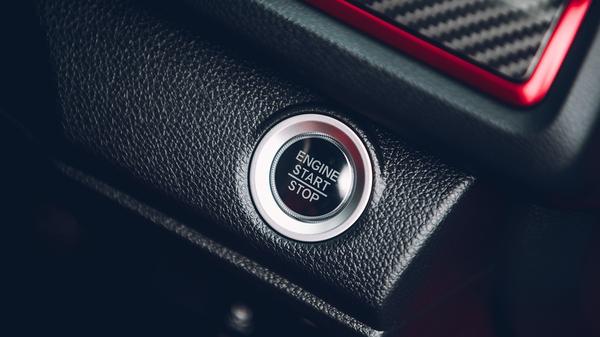 How reliable is it?
You won't find many hot hatches that are likely to perform better in this area than the Type R. As a manufacturer, Honda is a constant fixture on – or near – the top of every reliability study or customer satisfaction poll; and, as an individual model, the Civic doesn't do half bad, either. Unlike many rivals, there's no four-wheel drive system or complicated automatic gearbox to go wrong in this Type R; and, if something does go awry, Honda dealers are renowned for their excellent customer service, so getting it put right shouldn't be too painful a process.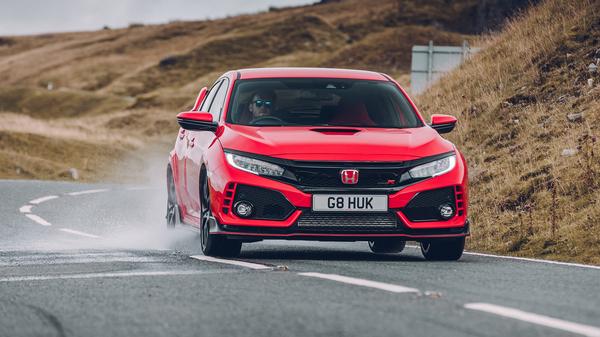 How safe is it?
The Civic has been awarded the full five-star rating from Euro NCAP, and given the amount of standard safety kit, along with Honda's proven safety record, that's not a massive surprise. Safety technologies on the Type R include collision mitigation via autonomous braking, lane departure warning and lane-keeping assist systems, traffic sign recognition and 'intelligent' adaptive cruise control. To this, the higher-specification Type R GT model also benefits from blind spot information, including cross traffic monitoring.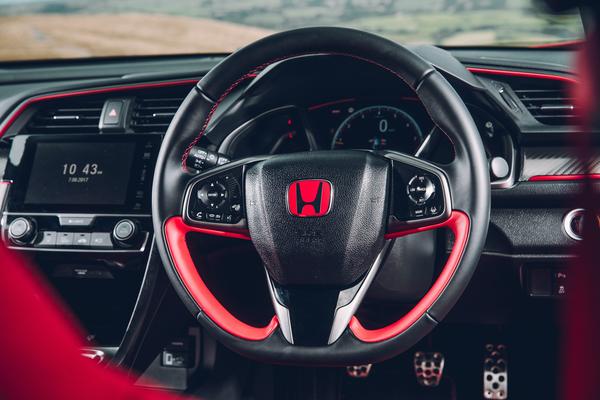 How much equipment do I get?
Although many folk will no doubt fancy the more expensive GT model, the standard car is not exactly shabby in terms of standard kit. Climate control and cruise control, keyless entry and a touch-screen infotainment system that brings together Bluetooth, DAB, internet radio and a rear parking camera are all included. If you still want more, GT cars add dual-zone climate control, an auto-dimming rear view mirror, sat-nav, a wireless charging pad and an 11-speaker audio system.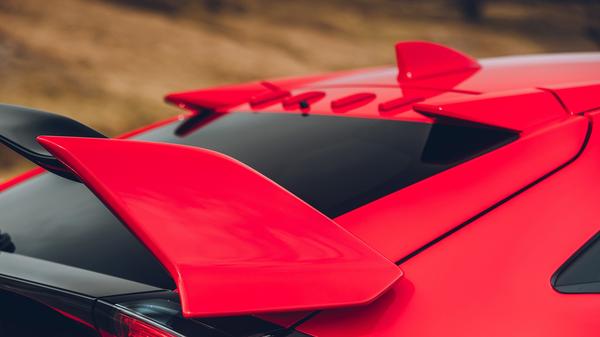 Why buy?
You'll buy a Type R because you want one of the most exciting driver's cars in production. It's fast with a capital F, but for the most part, it's only as unruly as you want it to be, thanks to a wonderful chassis that offers immense control, poise and precision. Of course, you'll need to be happy to announce to the world you're an R-devotee, because wherever you go, the R's madcap styling and profusion of wings, splitters and scoops are guaranteed to cause a stir.