Expert Review
Ford Focus RS hatchback (2016 - ) review
Surely, the Ford Focus RS is just a blinged-up rep-mobile with a big engine and a bunch of bolt-on spoilers, right? Wrong. It's so much more than that, with stunning performance, phenomenal driving dynamics and amazing soundtrack.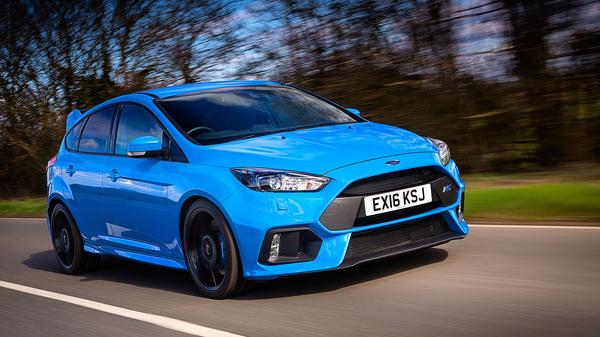 The Auto Trader expert verdict:
The Ford Focus RS truly is in a hot-hatch class of one. We know, because we've tested it against every single one of its high-performance mid-size rivals. The speed, the noise and the barely believable handling ability ensure that every journey is packed with drama, and like any good hot hatch, it's an affordable prospect, too. Over the years, the RS badge has been worn by some seriously game-changing machinery, and this latest incarnation is certainly worthy of the moniker.
Reasons to buy:
Immense performance and handling
Sounds like a back woods fire-fight
At this kind of dosh, it feels like Ford is giving it away
How good does it look?
With more aerodynamic adornments than a Euro-fighter, no one is going to mistake the RS for any other run-of-the-mill Focus. Ford reckons none of those components are superfluous design trinkets, and all play a part in increasing downforce and reducing lift. That's great to know if you're an aero boffin, but if you're more like the rest of us, chances are you'll just think the RS looks meaner than a swamp full of 'Gators. The bright blue paint work is a must if you want the full effect. Even if you don't see the RS coming, you'll definitely hear it. Running an unrestricted straight-through exhaust from the engine's manifold to a largely inadequate rear muffler, an electronically controlled flap is all that stands between the menacing popping and banging noise and the wild blue yonder. Certainly not a car for the shy-and-retiring. As standard it comes on 18-inch alloy wheels, but a set of forged 19-inch wheels are available as an option for around a grand. The standard headlights are also incredibly bright.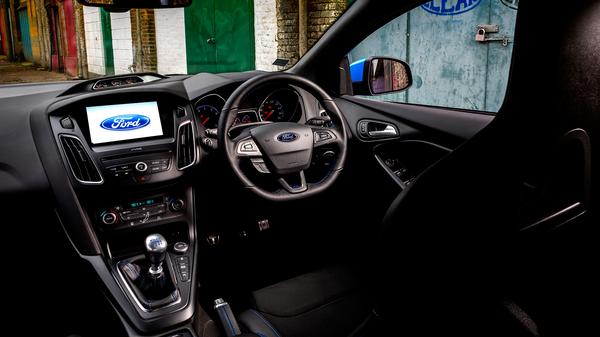 What's the interior like?
"

A lofty driving position makes you feel like you're sitting on top of the car, rather than in it

"
With the exception of a black headlining, a marginally shorter gear lever and a couple of additional buttons to activate the drift function, the RS cabin is virtually identical to that of its humbler ST cousin. As a consequence, you also get straightforward ergonomics and a dominant central 8.0-inch central screen that features clear, logical menus and graphics. It can take its sweet time responding to your inputs though, particularly the optional sat-nav. Another consequence, however, is a lofty driving position that makes you feel like you're sitting on top of the car, rather than in it. The optional Recaro shell front seats don't have any up-and-down adjustment, either. Although the materials on display look and feel reasonably robust, they don't come close to those in a Volkswagen Golf R - not to mention a number of other hot hatch rivals - for quality, and we wish the interior on this Focus managed to feel even half as special as the outside looks.
How practical is it?
Unlike its three-door predecessor, the RS is only available as a five-door hatchback. Now, you may consider five doors to be a hot-hatch anathema, but at least you won't have to put up with the palaver of sliding the front seats back and forth to get folk in and out of the back. Once your passengers are on board, however, they may not be that impressed by their surroundings. Chances are they'll be happy enough with the amount of leg and shoulder room, but their view of the road ahead is quite restricted due to those wide-boy front sports seats. The boot isn't exactly ideal, either. Ford has had to package in a bespoke saddle-shaped fuel tank to accommodate the bespoke four-wheel-drive system and the associated suspension components. This reduces boot volume from the 316 litres you get in the ST to just 260 litres in the RS, and unlike the ST, VW Golf R and Seat Leon Cupra, you can't have the Focus RS as an estate.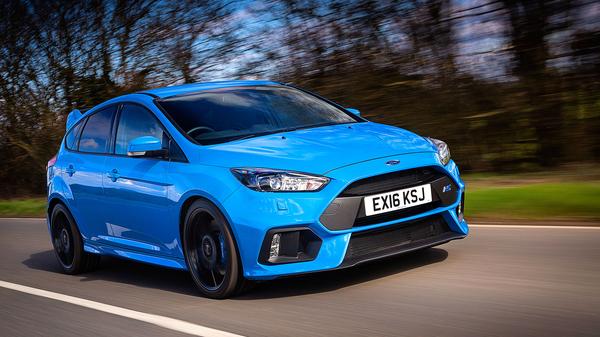 What's it like to drive?
We're not suggesting that the RS's ride is inappropriately harsh – it is a hardcore hot hatch after all - but even with the adaptive suspension in its road setting, it's properly firm. You won't often find yourself switching to the even firmer setting, which further stiffens the dampers by a full 40 percent. This really does push the boundaries of acceptability, but on the other hand, Ford is very clear that this mode is for track use only. Importantly for this kind of car, the RS handles with incredible drama whatever mode you choose. The straight-line traction is phenomenal, the grip levels through bends provide you with the ultimate test of rib cage flexibility, and extreme braking (courtesy of some seriously sizeable Brembo hardware) generates enough retardation to drive chins into sternums. You'll also love the RS's bespoke steering, which is beautifully weighted, both on turn-in and turn-out, and linear in its feel and response. Of course, the RS's real party trick is its ability to drift at will. Hit the button that enables the drift function, and you're immediately transported to a world of lurid sideways slides that can be effortlessly controlled with no more finesse than a big prod of the accelerator pedal. In every single driving situation, this car has the ability to thrill and delight in equal measure.
How powerful is it?
With a maximum power output of 345bhp at 6800rpm and a thunderous 325lb ft of torque delivered from just 2000rpm, it's little wonder that Ford has resorted to a trick four-wheel-drive system to manage the turbocharged 2.3-litre four-cylinder petrol engine's stellar output. Set to max-attack launch mode, acceleration is head-bangingly brutal. You're also treated to a cacophony of pops, bangs and burbles being stoked under the bonnet before exiting from the exhaust, which then give way to a fusing of drive shafts and a chirping of fat rubber on Tarmac. At full tilt, 0-62 mph comes up in a blistering 4.7 seconds, while the top-end mayhem is pegged at a dizzy 165mph. This sort of speed certainly isn't for the faint-hearted, and it has the beating of most rivals, as well as a lot of more expensive performance cars.
How much will it cost me?
Purchasing an RS certainly won't be cheap, but when you consider the amount of pace and engineering excellence you're getting for your money, the price looks like an absolute steal. And, if the previous RS is anything to go by, resale values will be super-solid; these cars are still fetching silly money even now. Other costs, however, won't be quite so affordable. Simply getting insurance cover will be an unsurmountable hurdle for a lot of younger drivers, and if you fully indulge the performance, you'll gobble through tanks of unleaded at a ferocious rate. At least the four-wheel-drive system should help your tyres go a bit further than they did on the previous front-wheel-drive RS, provided you stay well away from the Drift button, and by the standards of cars with this much power and pace, servicing will be very affordable. What's more, the RS can be maintained by any of Ford's myriad dealerships.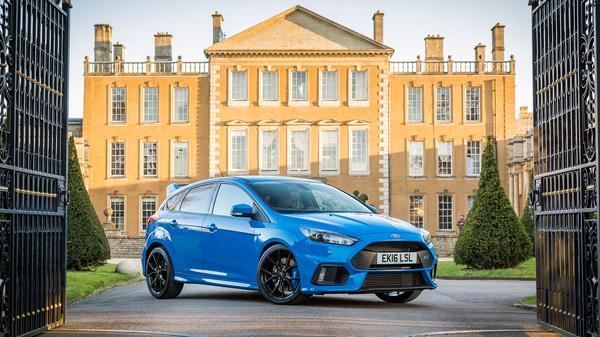 How reliable is it?
"

Fords generally have a decent rep for robustness and longevity

"
The RS's 2.3-litre engine is effectively the same four-cylinder lump that's found in the Mustang, albeit heavily fettled. Yes, 345bhp is a whole lot of poke from a relatively small-capacity engine and, yes, the full force of the power output is toned down in first gear to protect the transmission. However, we still don't envisage the RS being any less reliable than any other Ford model. That's good news, as Fords generally have a decent rep for robustness and longevity. Although the four-wheel-drive running gear is unique to the RS, a lot of the mechanicals are sourced from less exotic Fords, so if things do go pear-shaped, it shouldn't cost an arm-and-a-leg to fix.
How safe is it?
In common with all Focus models, the RS comes with a hatful of airbags and a stability control system. Other standard features include tyre pressure monitors, hill start assist and Ford's MyKey system, that allows you to programme various settings into the key's electronic chip. Should you be liberal enough, or deranged enough, to include teenage relatives on your insurance policy, you can restrict the vehicle's speed and even prevent the volume of the stereo from being cranked up until everyone on board has strapped in. Perhaps not surprisingly for such a mainstream model, the Focus range scored a maximum five-star Euro NCAP test rating when it was first assessed in 2012. More surprisingly, however, autonomous city braking features only on the options list, rather than the standard kit roster.
How much equipment do I get?
Along with all the RS insignia, Ford's hot-shot also comes with Bi-Xenon headlights with power wash facility, sports seats, dual-zone climate control and Ford's SYNC2 infotainment system with voice activation and 8.0-inch central screen. In addition to thumping out some banging tunes, the nine-speakers dotted about the cabin are used to synthetically enhance the RS's exhaust note and give it give a beefier soundtrack. You also get Ford's Quickclear heated windscreen, which is an absolute godsend on frosty mornings, clearing the screen in double-quick time. Why more manufacturers don't offer a similar set up is anyone's guess. Ford reckons most buyers will spec the Luxury Pack that includes folding door mirrors, rear parking sensors, keyless entry, cruise control and privacy glass. If that isn't sufficient, you also have the option to customise your RS with motorsport-style Recaro front seats and 19-inch forged alloys. A Thatcham Category 1 alarm system is also fitted to help dissuaded scallywags from tampering with your pride and joy.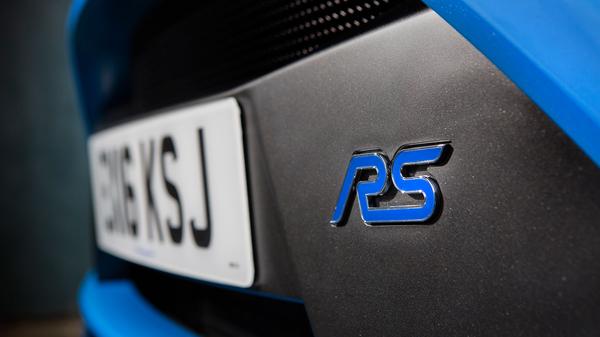 Why buy?
"

Outrageously fast and phenomenally fleet of foot, the RS is exceptional

"
If you like your hot-hatches to slip under the radar, then the RS' boorish looks and bombastic exhaust probably aren't going to cut-it for you. However, take our advice; shake off your inhibitions and treat yourself to one of the most engaging and exhilarating hot hatches ever brought to market. Outrageously fast and phenomenally fleet of foot, the RS is exceptional in almost every respect. That includes the price, which, given the levels of performance, would seem cheap at twice the money. Aside from the car's lack of subtlety, the firm ride (albeit by necessity) and some pretty steep fuel bills, we can't think of any other reasons why you wouldn't break down the door of your local Ford dealership and demand an RS pronto.