Expert Review
Lexus UX 300e SUV (2020 - ) Electric review
The UX300e is the first all-electric Lexus and complements the existing hybrid UX range
The Auto Trader expert verdict:
Available new from £44,095
The UX300e is Lexus's first all-electric car and builds on the wide experience the brand (and that of parent company Toyota) has in building hybrid models. Rather than launch with an all-new model Lexus has instead electrified the existing UX SUV, which you can still buy as a petrol-electric hybrid if you prefer. Like that car the UX300e impresses with its build quality and style but the relatively short range and middling performance put it on a back foot compared with many rivals.
Reasons to buy:
Affordable electrified running costs
Very easy and relaxing to drive
Great build quality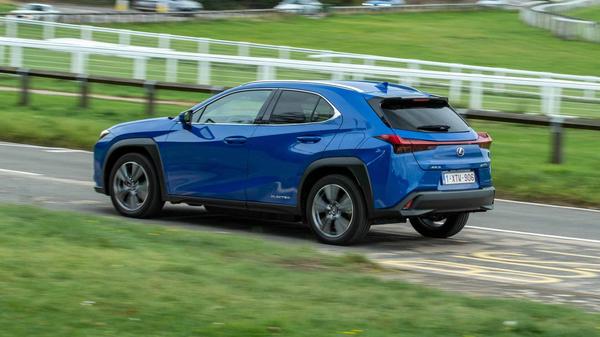 Running costs for a Lexus UX 300e
Electric cars are appealing in terms of running costs on two fronts. If you run one as a
company driver
you can save huge sums every month on
Benefit In Kind
, while private owners will also enjoy free
VED
, or 'road tax' as it's commonly known. Also, if you are lucky enough to have off-street parking where you can install a
home charging point
and take advantage of cheap off-peak electricity tariffs you can 'fuel' your car for next to nothing. It can get more expensive if you travel further afield and need to use
public charging
points. To help mitigate the faff this currently entails Lexus has a partnership with Digital Charging Solutions, meaning access to a huge network of charging points managed through a single app, payment card and account. First you have to buy – or finance – the car, though, and here the UX300e is in interesting middle ground between the likes of the
Kia Soul EV
and
Hyundai Kona Electric
and the premium brands Lexus is more typically compared with. Partly because of the smaller
battery
it's cheaper to buy than an
Audi E-Tron
,
Mercedes-Benz EQC
,
Polestar 2
,
Jaguar I-Pace
but, for the same reason, has significantly less range or performance. A closer comparison in terms of size and cost will be the fully electrified Volvo XC40 and forthcoming VW ID.4 when they arrive in the market.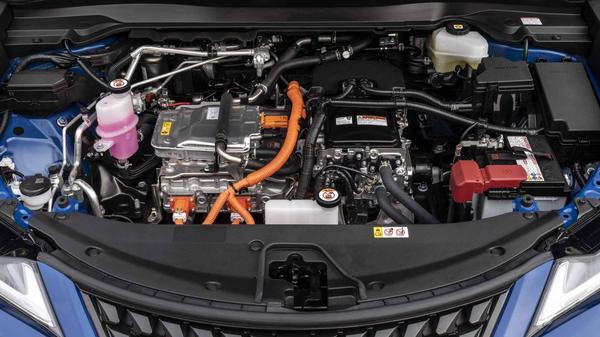 Reliability of a Lexus UX 300e
Lexus's parent company Toyota has an excellent reputation for reliability, even if its placing on the JD Power Vehicle Dependability Study isn't all that impressive. Anecdotally, though, Lexus has a much better standing and is regularly praised for its customer service so you should be in safe hands. Curiously Lexus models stick with a standard three-year warranty where Toyota offers five years on its regular models, many of which use the same engines and other hardware. There is, however, five-year cover for drivetrain issues and an eight-year/100,000-mile battery warranty you can extend to 10 years and 600,000 miles if you commit to a battery health check at each service.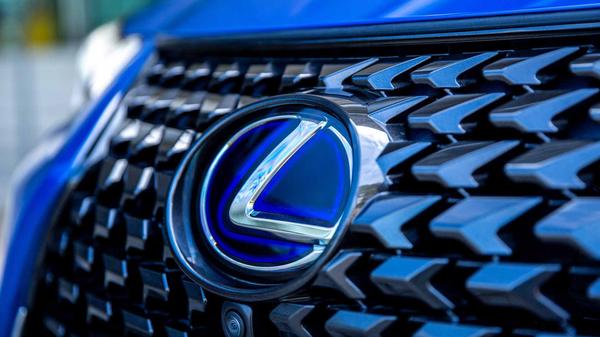 Safety for a Lexus UX 300e
Standard safety kit for the UX300e is generous, and bundled in as part of the Lexus Safety System+ package. This includes sensors to detect pedestrians and other hazards and automatically apply the brakes if you don't, radar-monitored cruise control to maintain a constant distance to the car in front, lane-keeping interventions if you weave out of the white lines, cameras to read traffic signs and automatic high beam for the headlights. The only optional upgrades are blind-spot warnings and alerts if you're backing out of a space and fail to spot vehicles crossing your path. Given the poor rear visibility there's every chance this could happen so it's a desirable upgrade.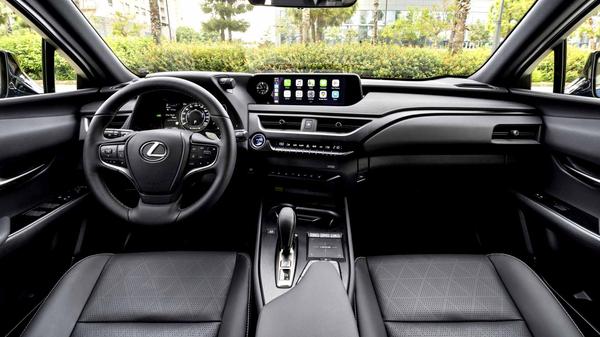 How comfortable is the Lexus UX 300e
Lexus builds supremely comfortable, refined cars and the silence of electric power plays to this soothing character very well indeed. The flipside with there being no engine noise is there's no hiding other sounds, like wind or tyre roar at speed, but a great deal of effort has gone into making the cabin a peaceful place to spend time. This in turn reduces stress levels and helps you keep fresh. Like the
regular UX
, though, the poor forward visibility through the slot-like windscreen and huge blind spots created by the upwardly sloping windowline rather destroy any advantage you might feel from sitting in a high-riding SUV style vehicle. The fashion for raised ride height also comes at a cost in terms of ride quality and, like many of its type, the UX300e manages to be both wallowy in the corners and a little 'brittle' over poor surfaces at lower speeds. The steering is nice and light, which makes it easy around town. But there are nicer electrified SUVs to drive and it can't match more performance-oriented rivals like the Polestar 2 for fun at the wheel. Rear seat space is adequate rather than generous, with limited legroom for the passenger unlucky enough to end up in the middle of the back seat. Small windows also mean it feels rather claustrophobic back there and, while the boot is a fraction larger than a regular UX, it's not the biggest in its class.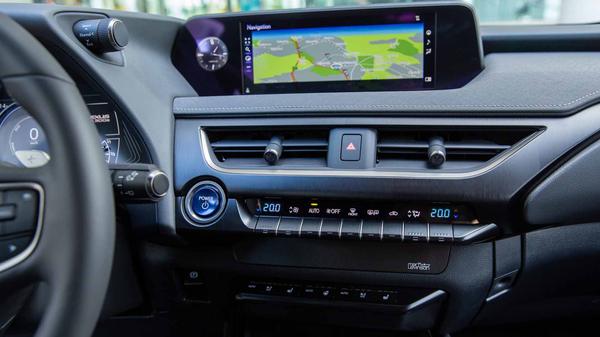 Features of the Lexus UX 300e
There's a distinct cultural difference between German brands and their Japanese counterparts when it comes to standard equipment and, rather than bury all the tasty kit in the options list, Lexus bundles everything into three, easy to understand trims. Lexus expects well over half of its customers to opt for the mid-level, which includes a relatively small 7.0-inch central multi-media screen. You can plug your phone in via Bluetooth or the USB ports and all models have
Apple CarPlay and Android Auto
so you can use your own apps for navigation and music. A reversing camera is standard on all versions, as is dual-zone climate control and powered adjustment for the steering column and seats. Upgrade to that mid trim and you also get leather upholstery, heated seats front and rear, privacy glass and a heated steering wheel. The range-topping Takumi trim gets you absolutely everything, including a fancier 10.3-inch central screen and built-in navigation. It's a pity, though, your main interface with the car is via a fiddly, laptop style touchpad between the seats – a niggle shared with other Lexus models and no less annoying for it.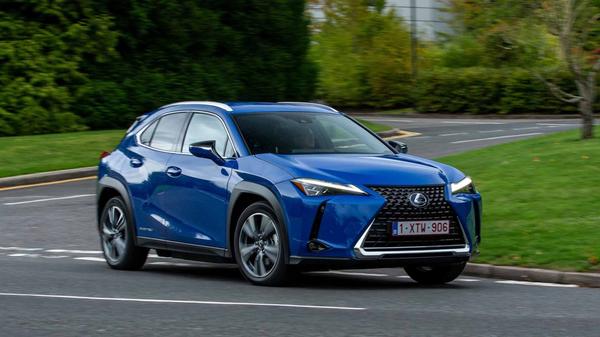 Power for a Lexus UX 300e
Like all electric cars the UX300e accelerates smoothly and silently with absolutely no delay in response to the throttle pedal, which makes for relaxing and refined progress. There are no gears but you can use the paddles on the wheel like an automatic gearbox, shifting 'down' with the left one when slowing to use the electric equivalent of engine braking to help charge the battery instead of slowing with the brakes. The effect isn't as strong as in some electric cars and you can't drive the UX300e on one pedal but it gives keen drivers something to do at least. The 204 horsepower driving the front wheels is adequate and comparable with the aforementioned Kia Soul EV and Hyundai Kona Electric. But, as a brand, Lexus has higher aspirations and most premium rivals have double (or even more) power, better performance and – crucially – much more range. Officially the UX300e will cover 196 miles on a charge – slightly less with the 18-inch wheel option – which will be fine for city dwellers but limiting for those who need to go further afield. It's on a par with the Audi E-Tron in this regard but the Polestar 2 does closer to 300 miles while the
Tesla Model 3
will do more still, with the added novelty of performance to out-drag many supercars. True, these cars are more expensive to buy. But the lack of performance and range compared with many rivals puts the UX300e at an apparent disadvantage before it's even turned a wheel.