Tesla Model 3
New from £41,990 / £758 p/m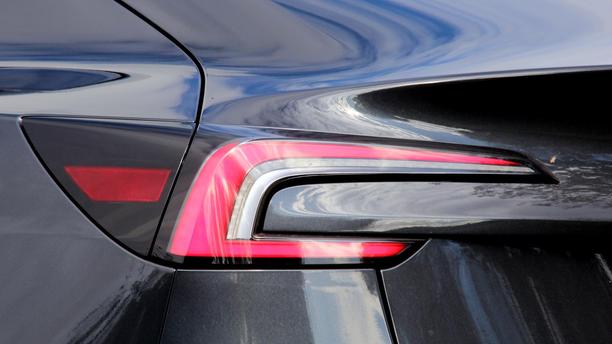 About the Tesla Model 3
More range

Improved refinement

A true long-distance EV
The Tesla Model 3 has an airy, modern, clean-living vibe and is the electric benchmark for range, performance and tech. It's Tesla's most affordable car, with space for five, challenging the popular Audi A4 and BMW 3 Series, as well as electric newcomers like Kia's EV6. Best of all, Model 3 ownership opens the door to the Tesla supercharging club which banishes range anxiety thanks to the car's ability to talk to the chargers in real time, telling you what's free and how long it will take to charge.
How long will it take to charge?
Results based on 53.00kWh Tesla Model 3 battery
0

For a part charge (up to 0 miles)

0

For an 0% charge 0
You can charge this vehicle in 29 minutes at its fastest charging speed of Tesla CCS 250 kW
* We have used data from the manufacturer to estimate these charging times, they are only a guide. Charging times for some speeds may not have been provided.
Is the Tesla Model 3 Saloon a good car?
Read our expert review

Words by: Dan Trent
"When we first reviewed the Tesla Model 3 we described it as a game changer. But in the short time it's been around the game itself has changed beyond recognition, and Tesla now finds itself in a much harder fight with reinvigorated rivals from the so-called 'legacy' manufacturers it once caught napping. This upgraded Model 3 is the attempt to keep the car fresh against the likes of the Hyundai Ioniq 6, BYD Seal, BMW i4, Mercedes EQE and many other electric saloons now muscling into the market. New lights, upgraded tech and improved refinement are among the new features but is it enough to reinforce Tesla's position as the king of electric cars? Or is the Model 3 showing its age?"
Read the review by category
Running costs for a Tesla Model 3
Where previously the Model 3 offered a near unbeatable combination of relative affordability, performance and range it now finds itself squeezed from the top by establishment premium rivals like the BMW i4 or Polestar 2 while newcomers like MG are now doing the ludicrous performance thing for less money. The Model 3 is still competitive on price against the likes of BMW, though the margin narrows as you go up the range and into the faster, Dual Motor version. Fresher alternatives like the Hyundai Ioniq 6 push Tesla harder on monthly pricing as well, meaning it's less of a done deal than it once was. Where the Model 3 retains an advantage is in the ease of use, integration into the brilliant Supercharger network taking the pain (and some of the expense) out of public charging if you need it while out and about, home charging saving you money if you have the off street parking and variable domestic energy tariff to accommodate.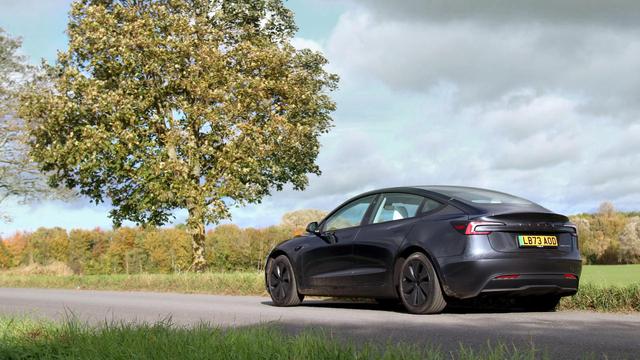 Reliability of a Tesla Model 3
Improvements in what is known in the business as 'perceived quality' are a big part of the refreshed Model 3's offer, and it feels more solidly built than previous Teslas. The mechanical simplicity of electric powertrains has always counted in the brand's favour as well, while as much of the servicing and electronic updates as possible are done over the air without need to visit a workshop. You'll still need to replace tyres, brakes and other components as required, though. A four-year warranty for the car goes a little beyond the industry standard, while the battery is protected for a full eight years or 120,000 miles, whichever comes first.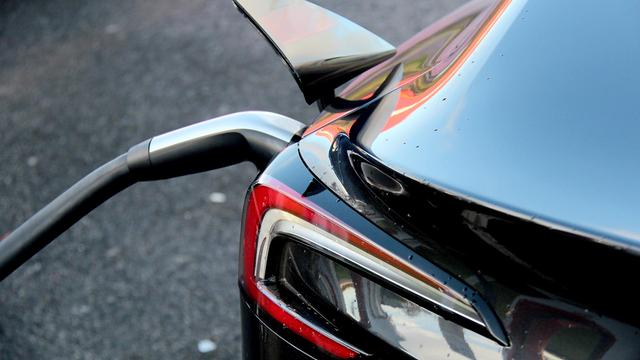 Safety for a Tesla Model 3
Tesla is a tech brand as much as a car manufacturer, and this informs much how the Model 3 keeps you safe. As such it bristles with sensors and cameras to support the various levels of Autopilot branded assisted driving, which at its core is geared to keeping you in lane, maintaining a fixed distance to the car in front in traffic and even slamming on the anchors automatically if it thinks it necessary. Unfortunately, our test car decided it needed to do that in the middle lane of the M1 in free-flowing traffic, which was alarming to say the least. This and the many and various alerts warning this camera or that sensor was temporarily out of action was less than confidence inspiring, too. Then there's the whole policy of putting everything through the screen, demanding way more time with your eyes off the road than we'd consider desirable or sensible. It's an industry-wide trend Tesla can take credit (or blame) for, but one that feels totally at odds with bans on phone use when driving because of the documented distraction this causes.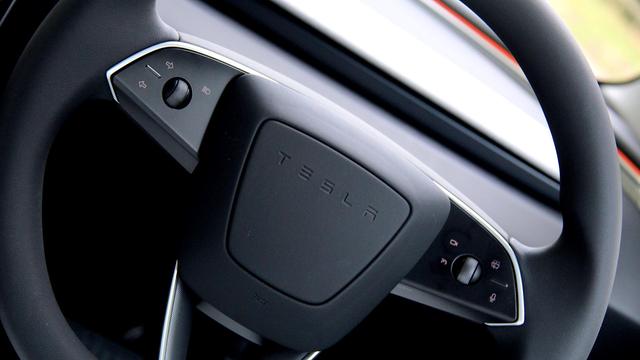 How comfortable is the Tesla Model 3
While the updates to the Model 3 may seem detail they add up to a considerably more pleasant driving experience, with a real focus on improving the sense of quality through the design and materials inside, along with increased comfort and refinement on the road. This comes from double-layered 'acoustic glass' to reduce wind and road noise, changes to the suspension and various other tweaks to the set-up. The characteristically low dashboard means great forward visibility (though it's not brilliant at roundabouts or junctions) and if you're willing to pay a bit more the combination of white upholstery and glass roof make it feel less claustrophobic than many other modern cars. If you've got kids we'd perhaps stick with the standard black seats, unless you want chocolate smeared into the seats making it look like there's been some sort of dirty protest going on. Much has been made of Tesla's minimalist approach, this taken to new extremes with the removal of all the stalks in favour of control of everything through the screen, including gear selection. A new wraparound dash and configurable ambient lighting at least break up the otherwise stark surroundings, though. Practicality wise there's a useful storage compartment up front (though, inevitably, you can only access it via the screen) and the boot is big, though it's worth remembering the 3 is a saloon and not a hatchback, so the access is pretty tight and you won't be loading big items, even with the seats down.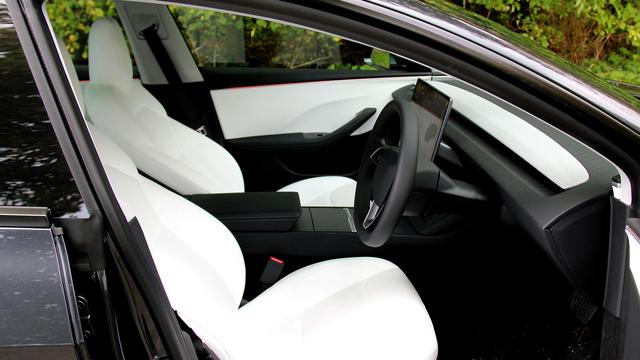 Features of the Tesla Model 3
Tesla keeps it simple in terms of trim levels and specifications, so choosing your Model 3 basically comes down to whether you want the standard battery and single motor or the Long Range Dual Motor version, for now at least. Both offer a couple of new colours for additional cost, wheels can be upgraded from standard 18s to bigger 19s (at the expense of range) and you can pay extra for increasing levels of assisted driving, even if some of the functionality is still listed as 'upcoming' at this stage. Based on our experiences (see 'Safety') we'd probably pass on this. Long Range models like the one we drove also come with a new 17-speaker stereo system, whose double subwoofers are big on thumping bass if not sonic subtlety. If you're willing to operate your life around the apps Tesla offers (Spotify and Apple Music among them) you'll not be left wanting in terms of infotainment but the brand's stubborn refusal to provide phone connection via CarPlay or Android Auto is, frankly, infuriating in this day and age, and somewhat at odds with the brand's tech credentials. At a fundamental level you'll either love or hate the way everything goes through that big screen as well. Tesla's influence is such manufacturers across the board are going the same way, pitching it as techie cool when in fact it's as much about saving manufacturing costs and being able to offer subscription-based upgrades down the line.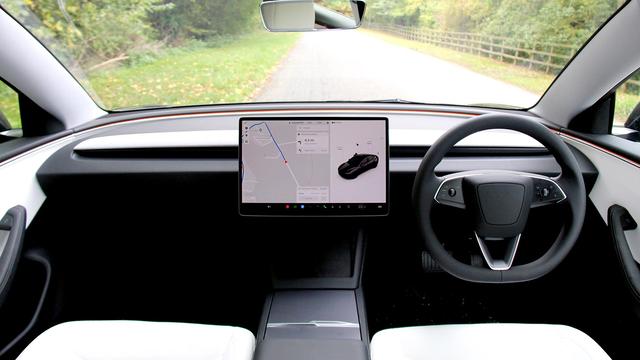 Power for a Tesla Model 3
Effortless electric performance has been Tesla's thing from the start, and remains a Model 3 signature even if the rest of the industry is catching up fast and we're now getting used to family saloons capable of leaving supercars for dead. In an age where an MG4 now accelerates as fast what was once a unique selling point for the Model 3 is now just a selling point, but the performance is effortless and the brand's long experience in electric cars means everything just works with a slick polish others are still playing catch-up on. While Tesla remains coy about sharing stats on battery size and power output these are still up there, with improved range for both the standard battery single motor car and the Long Range Dual Motor. This can now do over 400 miles on a full charge, though the bigger wheels rob some of that if you choose them. But even the standard one does nearly 350 miles, which is plenty enough to stave off range anxiety even without the reassurance of the Supercharger network. Driving wise Tesla has seemingly softened things off a bit in the name of refinement in this new Model 3, and when we really pushed it in the corners it can wallow around a bit. But for the way most people will drive most of the time the extra comfort and refinement will be more relevant, and attractive.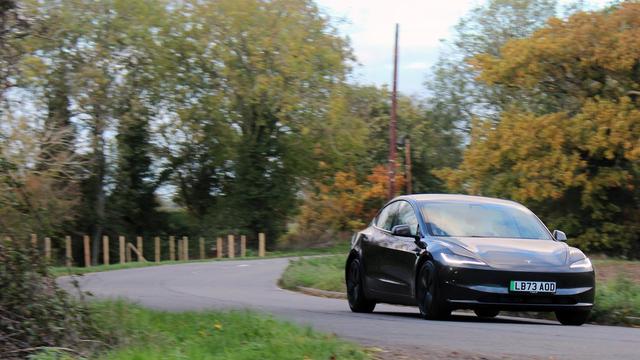 Lease deals
These deals are based on terms of 8,000 miles, for a 36 month lease with a 6 months initial payment.
Standard equipment
Expect the following equipment on your Tesla Model 3 Saloon. This may vary between trim levels.
Related articles and reviews