Expert Review
Lexus UX SUV (2019 - ) review
The Lexus UX is a small SUV with stylish looks and a premium badge – it's available with both petrol-electric hybrid and full electric powertrains
The Auto Trader expert verdict:
Available new from £29,955
Dynamically speaking, the UX is the most competitive car Lexus makes, blending a comfortable ride with neat, controlled handling. With the option of a petrol-electric hybrid or full electric powertrain it's also going to be very strong on running costs. It's a stylish car, too, though that does come at the expense of practicality and if you're looking for a family friendly hybrid or electric crossover there are better options.
Reasons to buy:
Very sound financial package
Generous luxury and safety kit
Should be faultlessly reliable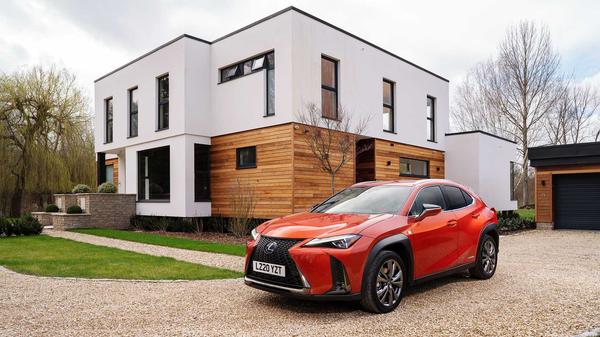 Running costs for a Lexus UX
The UX is one of Lexus's most affordable cars, and importantly, it undercuts most of its premium-badged rivals by a wee bit, but don't go thinking this is a cheap car, because it's really not. Interestingly, though, it does have super-strong resale values that'll massively help reduce long-term ownership costs for those that buy outright, and keep monthly payments down for those that get their car on
finance
. However, it's company car drivers who stand to make the biggest financial gains by choosing the UX. Compared with diesel-powered rivals, it has lower CO2 and – because it's a hybrid – it also avoids the diesel surcharge, meaning monthly
Benefit In Kind
tax bills are much, much lower. There's also a full electric version coming too, which will be Lexus's first EV. It's more expensive to buy outright and pricier than crossovers like the
Kia Soul EV
or
Hyundai Kona Electric
. Lexus is positioned as more of a premium brand, though, and compared with the similar Volvo XC40 Recharge it looks decent value. If the 196-mile range is enough for you the savings in everything from
VED
to company car tax and
home charging costs
, could more than offset that higher purchase price.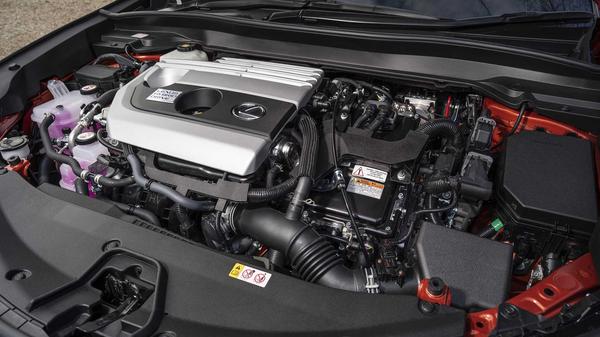 Reliability of a Lexus UX
Meaningful reliability data on the UX is virtually impossible to come by, and the same goes for the
Toyota C-HR
to which it's closely related. The Toyota Prius – which also shares the same hardware – has traditionally scored very well in Warranty Direct's Reliability Index, but that'll refer to previous generations of the car that use different bits and bobs to the latest one, so you can only read so much into that. You'll just have to take solace in the fact that Lexus – and Toyota, for that matter – sits on or near the top of just about every reliability survey out there. And if something does go wrong, it'll most likely be sorted relatively quickly and easily, because Lexus is renowned for its first-class customer service. You're also protected by a three-year/60,000-mile warranty, while the hybrid parts are covered for five years/60,000 miles.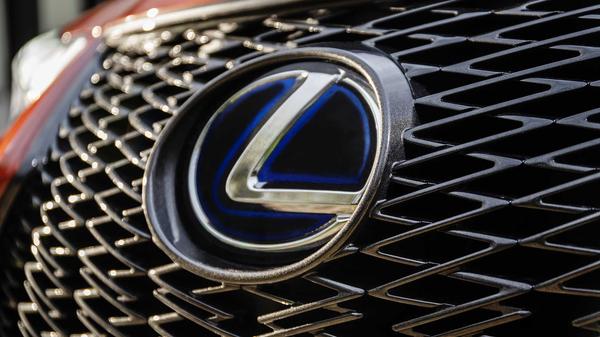 Safety for a Lexus UX
Standard safety kit includes automatic emergency braking (which slams on the brakes if the driver doesn't react to warnings about an impending collision with another car, a pedestrian or various other detectable obstacles), active cruise control (which automatically adjusts your speed to keep you a safe distance from the car in front, and can automatically move the car along at lower speeds in stop-go traffic), lane keep assist (which steers you back into your lane if you start to wander out without indicating) and road sign assist (which reads nearby speed limit signs and, when the cruise control is activated, adjusts your speed automatically). On top of all that, the range-topping Takumi model gets a blind spot monitor and rear cross traffic alert (which warns of cars approaching from the side as you reverse out of a parking space), which you can also add to the other two versions as an optional extra.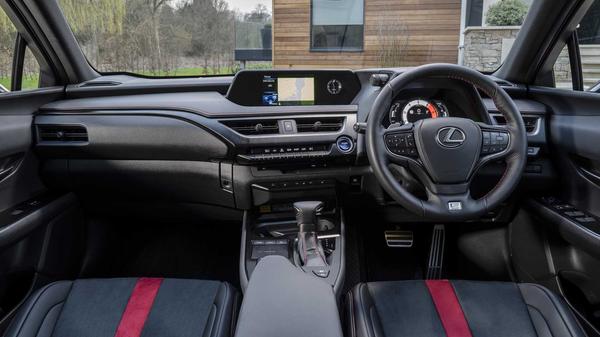 How comfortable is the Lexus UX
SUVs and crossovers are traditionally bought with practicality in mind but the UX arguably puts style before function and trails its rivals by some margin here. Space is fine up front, and while there's enough headroom and legroom in the back for tall adults to fit, it feels cramped and claustrophobic in the back. That's not helped by small and high-set rear side windows, which might also make smaller children grumble that they can't see out. The boot, meanwhile, is much smaller than those of rivals, and the usable space is more akin to what you get in a supermini. Different models get different suspension set-ups, the main difference being that the F Sport version gets a stiffer, sportier feel. You can also upgrade the F Sport with adaptive dampers with different modes but, whichever one you choose, it doesn't feel as comfortable as the standard suspension, which strikes a fine balance between comfort and body control. Admittedly, the UX doesn't like being thrown around but it does feel secure and grips well. Some models have an extra motor driving the rear wheels for a manner of four-wheel drive though, in honesty, you likely probably won't notice the difference, even in extreme driving situations. We haven't driven the electric UXe yet but, given experience of its rivals, the extra weight of the batteries and their position low in the car can actually have a positive effect on ride and handling.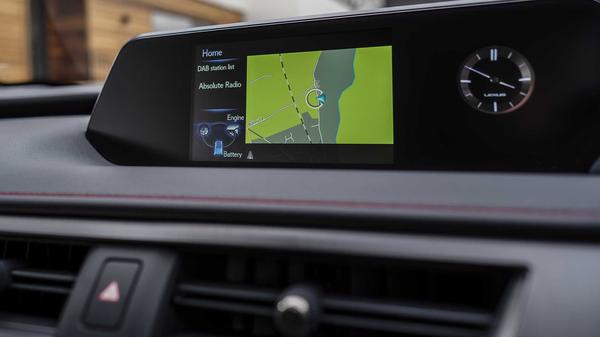 Features of the Lexus UX
Anyone already familiar with Lexus products will instantly feel right at home in the UX. Despite being one of the firm's cheapest models, the quality of the materials and the standard of assembly are just as high as they are in any of the company's bigger, more expensive cars, making the UX feel every inch the quality product. Unfortunately it also shares some of the ergonomic issues seen in other Lexus models. You're surrounded by a vast array of small, fiddly buttons that are hard to read or hit at a glance, and the trackpad controller you use to navigate through the (rather illogical) infotainment menus is distracting to use on the move. On the plus side the standard kit is very generous, and Lexus bundles its upgrades into clearly defined packages rather than bury them in the options list like many of its German rivals. Even the entry-level UX comes with sat-nav, Bluetooth, numerous USB ports, dual-zone climate control, powered windows, rain-sensing wipers, a reversing camera and automatic high-beam headlights.
CarPlay and Android Auto smartphone integration
is also standard on all models. The only thing missing buyers might want in a car like this is leather upholstery. You can add it as an option, but only as part of a pack that costs several thousand pounds. For all the bells and whistles – and a real sense of luxury – the top-spec Takumi version has it all.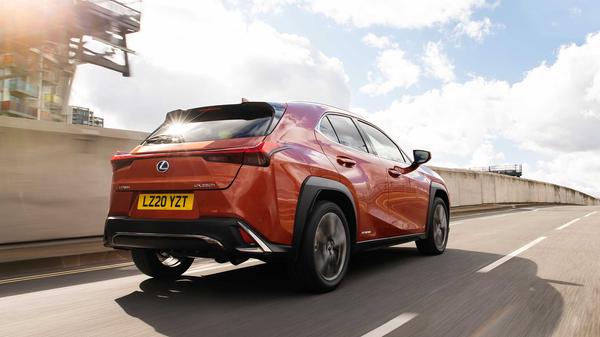 Power for a Lexus UX
Regular UXs are powered by a 2.0-litre petrol engine with an electric motor to deliver combined 184 horsepower. Performance is reasonably sprightly and entirely adequate for everyday use, but like with most hybrids, pressing the accelerator with any meaningful force sends the engine revs soaring, meaning the engine become noisy and coarse for way too much of the time. It's a shame, because otherwise, exterior noises are really well isolated from the cabin of the UX. We've not driven the electric UXe yet but the 204 horsepower means it's quicker than the hybrid by the usual benchmarks, though the 54.3kWh
battery
is on the small side and the official range is just shy of 200 miles. The flipside of that is, of course, that it's
quicker to charge
but for the same money you could have a Volvo XC40 Recharge with exactly double the power and another 50 miles of range. The related Kia Soul EV and Hyundai Kona Electric are less premium but have equivalent power and bigger batteries, meaning they can do more like 300 miles on a full charge by official figures.