Review
BMW 8 Series Convertible (2019 -) review
The BMW 8 Series Convertible is a glamorous open-topped car with seating for four. It's glamourous, luxurious and expensive, and in that regard, it competes with cars as disparate as the Porsche 911 Cabriolet, Mercedes-Benz S-Class Cabriolet and Aston Martin DB11 Volante.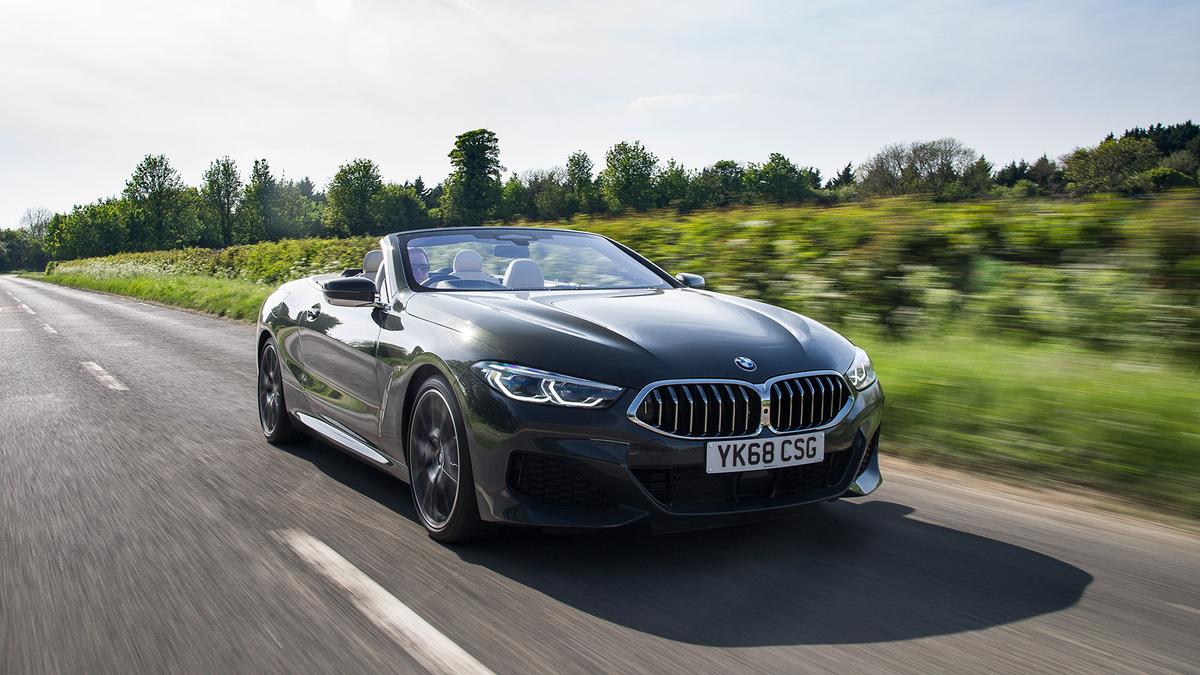 View gallery
The Auto Trader expert verdict: ★★★★★

★★★★★
4.0
Despite an increase in weight that slightly dulls performance in comparison to the BMW 8 Series Coupe, and a reduction in practicality, the Convertible is no less alluring. Fans of high-end cabriolets will love its mix of dynamic abilities and its fast-folding roof, although it's best to think of it as a car for two and their luggage rather than a proper four-seater.
Pros
Packed with the latest tech

High quality

Great performance
Cons
Small rear seats

Small boot space

Pricey
Pick of the range
BMW 840d xDrive M Sport Convertible
Mixes long-distance economy with plenty of performance
Most economical
BMW 840d xDrive M Sport Convertible
If you're restrained with the accelerator pedal, this is surprisingly frugal
Blow the budget
BMW M850i xDrive Convertible
Huge performance from a biturbo V8 engine
Interested in buying a BMW 8 Series?
How good does it look?
The BMW 8 Series Convertible is designed to get you noticed. Its front and rear, framed by distinctive LED lights, are identical to those of the 8 Series Coupe, but it's all change in between. The big talking point here is, of course, the folding roof. It's a multi-layer fabric design that folds slickly away at the touch of a button (one in the car or one on the key fob) in 15 seconds. And that can be done at speeds of up to 31mph. The roof stows neatly behind an integrated cover, maintaining a smooth rear deck that flows into a gentle integrated spoiler.

There are subtle differences in style between the entry-level M Sport versions and the standalone M850i variant, though all ride on stylish 20-inch alloy wheels as standard. Buyers can upgrade the black soft top to include a silver fleck in its finish, but the number of paint colours offered is disappointingly low
What's the interior like?
The interior of the BMW 8 Series Convertible is of very high quality, with gorgeous leather upholstery (using a sun-reflecting coating) and comfortable sports seats. There's a high-tech theme, too, with a large and partially-customisable screen instead of traditional instruments in front of the driver, which looks flash but can be hard to read. That's complemented by a big touchscreen in the middle of the car to access the navigation and music system, along with various other sub-menus. The way it all works is impressively intuitive, and if you can't even be bothered to do that, it's also backed up by BMW's excellent voice-control functionality. All this means that the 8 Series Convertible stands toe-to-toe with more expensive rivals in the desirability stakes.
How practical is it?
Up front in the BMW 8 Series Convertible, there's just as much space as in the Coupe, with plenty of oddment storage, but rear passengers don't fare anywhere near as well. The seat backs are more upright and there's less shoulder room than in the Coupe, due to the need to fit the folded roof in. Those seat backs do split 50:50, however, and fold down so longer items can be pushed through from the boot. That loadspace is 70 litres smaller than the Coupe's (at 350 litres) at its best, but bear in mind that it holds less when the roof is folded. To do that, owners need to remember to manually position a divider in the boot. Back in the cabin, if the rear seats are not in use, the standard wind deflector can be put in place. This, along with the four side windows raised, reduces wind buffeting in the front seats, but even so, you're still not as well isolated from the breeze as you are in some rival convertibles.
What's it like to drive?
Despite a significant weight gain over the equivalent BMW 8 Series Coupe, it would take an experienced driver and a back-to-back test drive against the Convertible to really notice any change in the way the car drives. By any measure, the 8 Series is an accomplished creation, helped by the option to tweak the driving settings at the touch of a button. This allows the driver to choose a comfort setting that switches the suspension to its softest when required, though the ride quality is always on the firm side of comfortable.

The Sport Plus mode in the M850i version is particularly aggressive, making the suspension firmer again and allowing faster cornering speeds. However, you can add an even cleverer version of the adaptive suspension to the M850i as an optional extra, and this makes for by far the best-driving version of the 8 Series. The handling is just as sharp and alert, but that's also combined with a vastly improved – and impressively comfortable – ride.

Four-wheel steering is included on models fitted with four-wheel drive and it allows the Convertible to feel stable at high speed and agile through slower corners. It also makes parking easier as it turns the rear wheels in the opposite direction to the fronts. The four-wheel-drive system complements the huge reserves of grip from the high-performance tyres to make it easy for anyone to exploit the performance on tap safely.
How powerful is it?
Until the inevitable M8 model arrives, the M850i xDrive Convertible tops the two-model line-up. It's powered by an exceptionally powerful twin-turbocharged V8 petrol engine, producing 523 horsepower. It starts up with an attention-grabbing rumble, and can shriek and roar like a thoroughbred sports car's engine, but it also fades into quietness when you're just cruising along. Its considerable performance is only ever an ankle flex away, though.

Within the constraints of the public road, however, the 840d xDrive is just as impressive. Its diesel engine sounds sporty in its own way and though it only produces 315 horsepower, it punches from low revs, so you never need to push it hard to extract its performance. Both engines are paired with BMW's excellent eight-speed automatic gearbox, which can be operated in various modes, including fully manual.
How much will it cost me?
Like all of the BMW 8 Series Convertible's rivals, it's an expensive car to buy and run. Nonetheless, few competitors are available with a diesel engine, as the BMW is, so that will certainly keep costs down for those that cover larger mileages. On top of that, the resale values are expected to be strong for this car, reducing the cost of depreciation. However, that's offset by expensive consumables, road tax and insurance. In fairness, all cars in this elevated bracket are in the same boat, and buyers that can afford this car will be prepared for the running costs. Fixed-price servicing is offered by BMW.
How reliable is it?
There isn't sufficient data on the reliability of the current BMW 8 Series to make a call on it, but for reference, its predecessor, the 6 Series, fared acceptably well when compared with cars from other premium marques. However, it's not all good news. BMW came dead last in the 2019 JD Power Vehicle Dependability Study, just below Audi and some way below Mercedes-Benz, which is concerning. Like all BMWs, the 8 Series comes with a three-year, unlimited mileage warranty that includes BMW Emergency Service.
How safe is it?
There's no Euro NCAP rating for the BMW 8 Series, as it's a low-volume car that has not been tested. Even so, BMW has a strong track record for safety and the Convertible comes with eight airbags in total for protection. Buyers will also be reassured to know that there's a rollover protection system hidden behind the back seats. If the car detects a chance it will turn over in a crash, a pyrotechnic charge releases two high-strength roll bars that extend above the passengers' heads. The windscreen surround has been strengthened for the same reason. As on most BMWs (and its premium rivals), the 8 Series Convertible comes with two distinct levels of active driver assistance safety, the most impressive of which is, sadly, on the options list. There are Isofix child seat mounting points in both rear seats.
How much equipment do I get?
Buyers of the 8 Series Convertible won't find it lacking in equipment as standard. The automatic roof and wind deflector are included across the range, of course, but so too is soft leather upholstery and an excellent neck-warming system built into the front headrests. There's a large suite of connected services as standard, as part of the impressive technology offering, including a sophisticated automated parking function. Those that like to drop the roof whenever it's not raining should consider paying extra for the Premium Package, which includes heating for the steering wheel, the armrests in the doors and on the centre console. BMW offers many different alloy wheel designs to choose from.
Why buy?
British buyers are known for their love of open-topped cars, which may seem at odds with our 'variable' climate. The BMW 8 Series Convertible works well in this environment as its roof is secure and quiet when up, plus it's quick and easy to drop out of sight whenever the weather allows. To the average person, it's as close to the 8 Series Coupe in terms of performance and handling as makes no difference, and it comes with an extra dollop of elegance and grandiosity. For those that like convertibles and like the 8 Series, it'll be a no-brainer.
Interested in buying a BMW 8 Series?