Expert Review
Mercedes-Benz SL convertible (2016 - ) review
The Mercedes SL has been a motoring icon for several decades. Find out whether the latest version is still one of the best luxury convertible money can buy.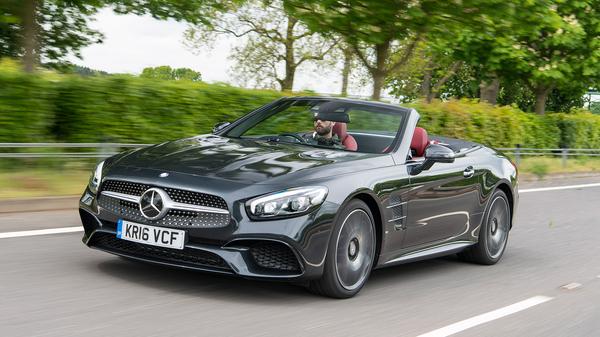 The Auto Trader expert verdict:
The Mercedes SL is all about glamour, and it provides that in spades – just one reason why it's become one of the most desirable convertibles over the years. But with strong competition from rivals like the BMW 8 Series Convertible and Jaguar F-Type, can the SL hold its own?
Reasons to buy:
Glamorous looks and image
Comfortable, refined and enjoyable to drive
Some sensational engines available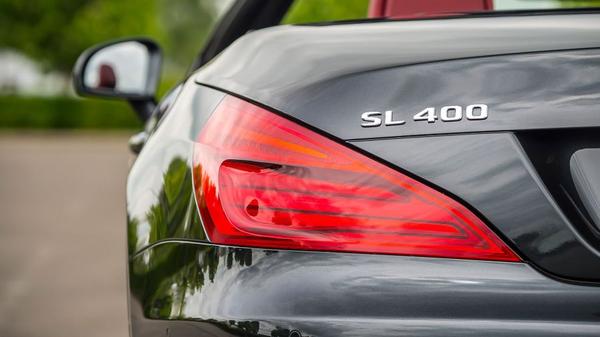 Running costs for a Mercedes-Benz SL Class
Obviously, you don't buy an SL if you live life on a shoestring, but compared with other luxury convertibles, the prices aren't outrageously expensive. If you settle for the 400 model – which we suggest you do – your running costs won't be too ruinous, either, with official fuel economy standing at a pretty reasonable 29.7mpg. Heavy depreciation means it'll cost you much more over the course of your ownership than either of the two rivals we've mentioned above, though at least the relatively innocuous fuel consumption is better than that of the Jaguar F-Type.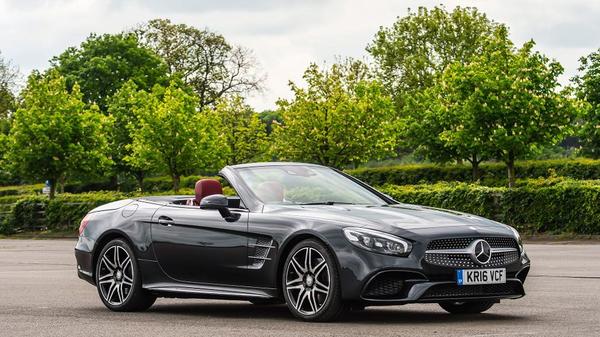 Reliability of a Mercedes-Benz SL Class
Take a look at Warranty Direct's Reliability Index, and you'll see that Mercedes Benz figures a lot lower down in the manufacturer rankings than perhaps they ought to. Even worse, the SL is one of the brand's worst-performing cars, with a pretty much rock-bottom score for mechanical dependability. Interestingly, almost half the faults reported are electrical, with the next largest area of concern being axle and suspension problems. Any issues that do arise will undoubtedly cost a packet to put right, which will be exactly why the SL is quite so far down the rankings. Having said all of that, owner reviews on our site suggest that SL drivers are pretty satisfied with their cars; while we don't have any reviews for the current generation, the previous model, which was closely related under the skin, achieved uniformly favourable star ratings from our readers.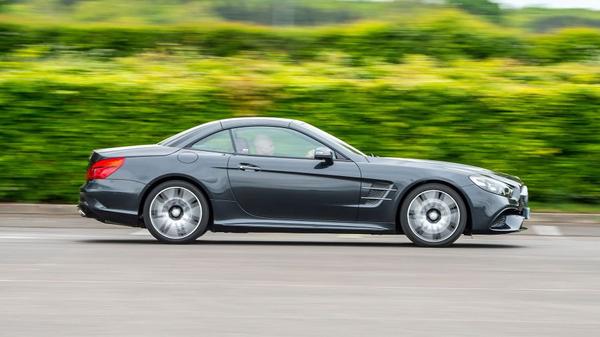 Safety for a Mercedes-Benz SL Class
All the usual stuff – six airbags and stability control, for instance – is included in the standard safety roster, as is a tyre pressure monitoring system and autonomous braking. However, you also get cleverer systems as standard, like an active bonnet that'll automatically pop up a bit to lessen pedestrian injuries, and a system that detects fatigue in the driver and urges them to take a break. The optional Driving Assistance Package also adds extra clever aids like lane-keep assist, a blind spot indicator and radar cruise control. Use all of them together an the SL will literally drive itself through traffic jams, with no input required. It's a taste of motoring in the future, but it can cause you to pay less attention to the road and become a lazier driver, so it's best used wisely.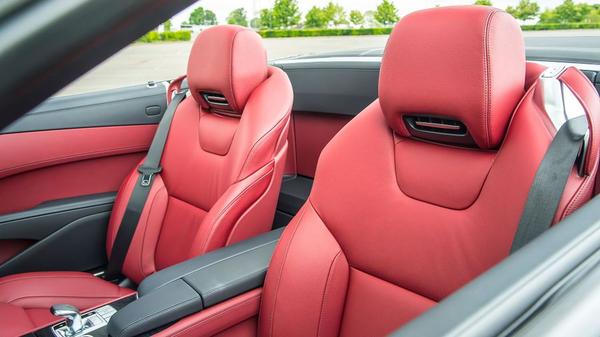 How comfortable is the Mercedes-Benz SL Class
The SL's interior is exactly what you expect from a luxury convertible; a collection of lush materials and high-tech gadgetry, all fused together to deliver a comfortable and luxurious driving environment. The steering wheel is a little bit small, and it's less hi-tech in here than the latest E-Class, something you notice looking at the main display screen, but it's still pretty plush. Most of the controls are easy to use, and although the infotainment interface isn't the most intuitive, it doesn't take long before most of it becomes familiar. It has Apple Carplay, too, meaning a greater level of integration between your car and your iPhone. Standard electric adjustment for all aspects of the driving position make it a doddle to get comfy, while your all-round visibility is also pretty clear for a car of this type, even roof up. Practicality is not an area of critical importance for most convertibles, so it's no surprise that the SL does a reasonable, if not spectacular, job. The two-seat cabin isn't short of space for occupants, and there's a decent amount of storage for odds and ends, with bins down behind the rear seats, lots of cupholders and a deep central cubby that's lockable too. The boot, meanwhile, has enough capacity for a couple's holiday luggage. The solid metal folding roof raises and lowers in 18 seconds, and you can operate the mechanism at speeds of up to 25mph, which could be very helpful if you get caught out by a sudden downpour. Rivals with cloth roofs do open a bit quicker, but the ballet of watching the SL's metal hard top, and the added security it provides, are difficult to argue with. Both the 400 and 500 versions of the SL come with an adaptive suspension that changes its behaviour according to which of the driving modes you select; but, regardless of the setting, it's much better at playing the role of luxury cruiser than that of the sports car. The smooth ride and impressive refinement make it perfect for destroying long distances in a relaxed and easy manner, and while the size, weight and slightly numb steering prevent it from dazzling you in the corners, it still handles very capably, with strong body control and reasonable grip. If you get greedy with the throttle, the rear tyres will start sliding, even in the dry, though leave the traction control switched on and this trait won't trouble you.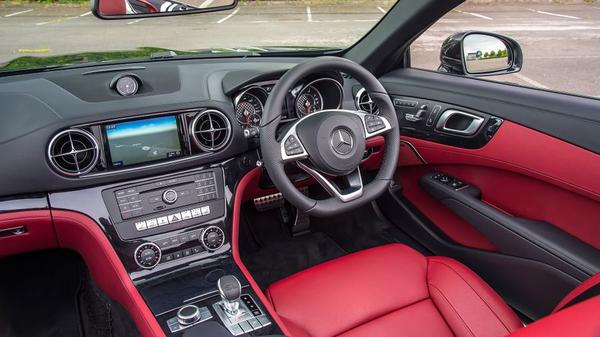 Features of the Mercedes-Benz SL Class
Entry to the SL club comes with the Grand Edition, which provides plenty of luxury equipment as standard. That includes 19-inch alloys, LED headlamps with active high beams, climate control, remote locking, heated leather seats, automatic lights and wipers and a parking assistant that'll steer the car into the space for you. You also get an infotainment system that brings together sat-nav, DAB radio, Bluetooth telephony, Apple Carplay and eight very powerful speakers. You can upgrade further to the Grand Edition Premium, if you choose to, which will get you a pair of massage seats, self-closing doors, cooled seats and an upgraded sound system.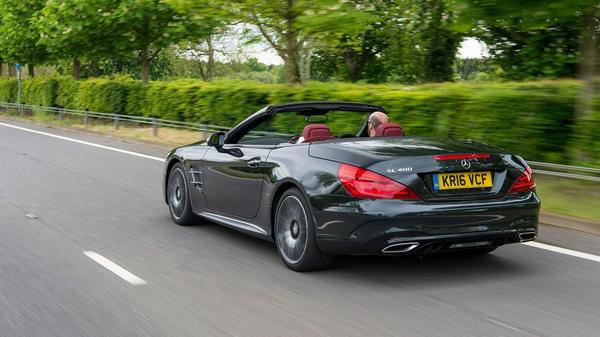 Power for a Mercedes-Benz SL Class
Two petrol engines are available in the SL: a V6 and a V8. The entry-level V6 in the 400 is a twin-turbocharged 3.0-litre with 362bhp, and it's a real peach. Ordinarily, your progress is smooth, brisk and effortless, helped even further by the slick action of the standard nine-speed automatic gearbox. When you need to go faster, though, it'll oblige in impressive fashion. Plant your right foot, and the gearbox will drop down to the perfect ratio, and you're propelled towards the horizon with serious force. We haven't tried the SL 500 with its 449bhp V8, but given how good the V6 is, it's hard to make a case for the larger engine, on paper at least.