News
Coming soon: 2019 Skoda Superb
Skoda has updated the Superb – its flagship model – for 2019. It will also be available as a plug-in hybrid model for the first time.
Facelifted edition of Skoda's flagship model
Style tweaks and new technologies
Three diesel engines, three petrol engines, PHEV option available
Skoda has updated its
Superb
model for 2019.
On the outside, not very much has changed. There's a remodelled grille, new chrome trim behind the tail lights, and a new front bumper which makes the car 8mm longer. Full LED Matrix headlights are also available for the first time in a Skoda. These headlights prevent other road users from being dazzled, even when the high beam is on. There are also new 18 and 19-inch alloy wheels and two new colours, Crystal Black and Race Blue. The Sportline version will have a few more exterior tweaks including a remodelled grille, 18-inch alloy wheels and various black highlights. The Sportline model is also 10mm lower than the standard version thanks to sportier suspension.
Inside, the Superb has had a bit of a freshen up. There are a few new chrome highlights, new seat covers, and coloured contrasting stitching around the interior. The Sportline model comes with sports seats in Alcantara faux suede or leather.
Buyers will be able to choose one of three infotainment systems, as well as an optional Virtual Cockpit (a screen behidn the steering wheel replacing traditional instruments). An 8.0-inch touchscreen is standard, with the option to upgrade to a 9.2-inch version. Phone connectivity (
Android Auto, Apple CarPlay, Mirrorlink
) is standard on all systems, as is Bluetooth and DAB. Boot space is an impressive 625 litres in the hatchback, going up to 1,760 litres with the seats down. The estate version has a 660-litre boot, or 1,950 litres of space with the seats down.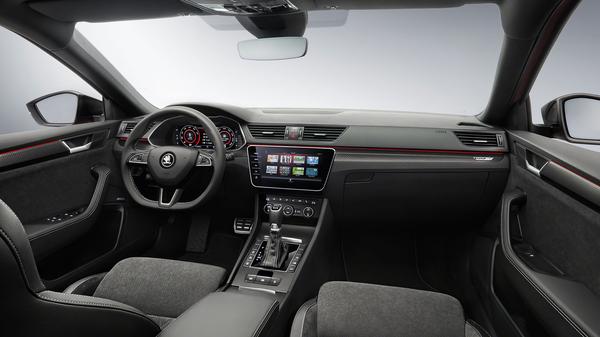 There are some new assistance systems available in the facelifted Superb. The latest version of Predictive Cruise Control uses cameras on the windscreen and sat-nav data to detect speed restrictions and bends, and changes the car's speed accordingly. The Emergency Assist function can also steer the car to the roadside in an emergency, and bring it to a stop. It takes into account traffic in other lanes. The system uses Lane Assist, Park Assist and radar sensors from Side Assist.
Skodas are known for their clever features, and a few more have been added to the latest Superb. There's wireless phone charging, and the car automatically connects phones to the car's aerial to boost the signal. In the boot of the estate model, there's a Space Organiser: a shallow, divided tray under a false floor for storing bits and bobs.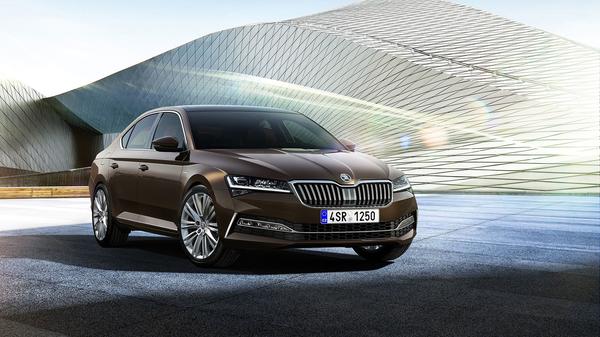 Along with the new
plug-in hybrid option
, buyers will be able to choose from three diesel and three petrol engines with power outputs ranging from 120 to 272 horsepower.
Diesel options: 1.6-litre TDI with 120 horsepower, seven-speed automatic gearbox as standard 2.0-litre TDI with 150 horsepower, either a six-speed manual or seven-speed auto 2.0-litre TDI with 190 horsepower, seven-speed automatic gearbox as standard, all-wheel drive optional. Petrol options: 1.5-litre TSI with 150 horsepower, either six-speed manual gearbox or seven-speed automatic 2.0-litre TSI with 190 horsepower, seven-speed automatic gearbox as standard 2.0-litre TSI with 272 horsepower, seven-speed automatic gearbox and all-wheel drive as standard. The facelifted
Skoda Superb
will go into production later this year, with first UK deliveries at the start of 2020.