Expert Review
Toyota Highlander SUV (2020 - ) review
A spacious seven-seater family SUV, the Toyota Highlander features tons of kit and a hybrid powertrain for improved efficiency compared with diesel rivals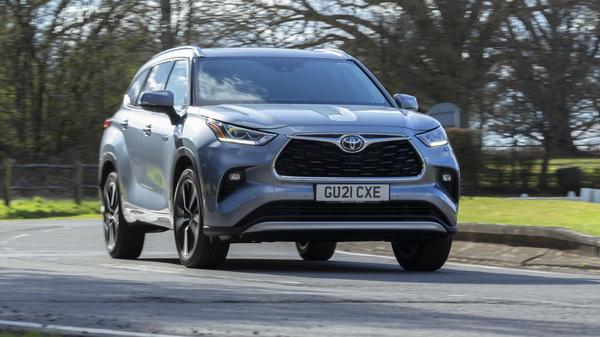 The Auto Trader expert verdict:
Available new from £50,650
If you need a big family SUV with seating for seven and an efficient hybrid powertrain the arrival of the Toyota Highlander to the European market throws a fresh option into the mix. A competitor for popular premium seven-seater rivals like the Land Rover Discovery and Volvo XC90, the Highlander combines generous equipment levels with an attractive price and Toyota's proven hybrid technology. You can't plug it in and run on pure electric power like the XC90 and the interior can't match the premium feel of some of its established rivals but the Highlander – literally – offers a lot of car for your money.
Reasons to buy:
Lots of space inside
Good value for money
Generous spec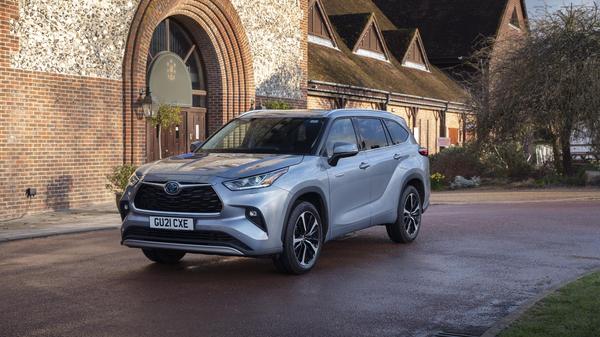 Running costs for a Toyota Highlander
Before comparing the Highlander against its rivals you need to understand where it sits on
the hybrid spectrum
. So-called mild hybrids are now common across the board and use a small electric motor to support the start-stop system and deliver a small power boost. Plug-in hybrids (or PHEVs), meanwhile, use a bigger motor and battery combination to support pure electric driving for short distances, options at this level ranging from the Mitsubishi Outlander to the swanky Volvo XC90 like the one we've been enjoying
on long-term test
. These are especially attractive for company drivers, thanks to their low
Benefit In Kind
costs but, in the case of the Volvo, cost more to buy. Toyota's 'full' hybrid system sits between the two, is well-proven, more affordable and effectively delivers the fuel and running costs of the diesel engines still used by many rivals but without the stigma of fuelling from the black pump. Purchase costs look reasonable given the space and kit you get, but the Highlander is squeezed on one side by the
Mitsubishi Outlander
and top-end versions of the
Peugeot 5008
,
Hyundai Santa Fe
,
Kia Sorento
and their ilk and more premium seven-seaters from Land Rover and Volvo on the other. Several of these alternatives offer PHEV versions with the associated benefits in running costs, too.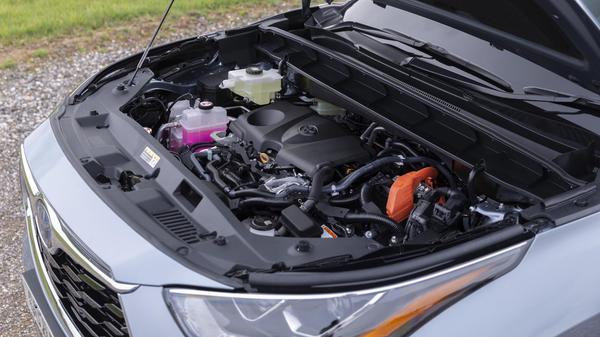 Reliability of a Toyota Highlander
Although its position on respected reliability surveys doesn't look as good as anecdotal stories of Toyota reliability suggest it should the brand retains a strong reputation for building dependable cars. A standard five-year warranty is a reassurance and better than what many premium rivals offer, and should keep you covered for the duration of most
finance
terms. Toyota's hybrid system is proven and tough, too.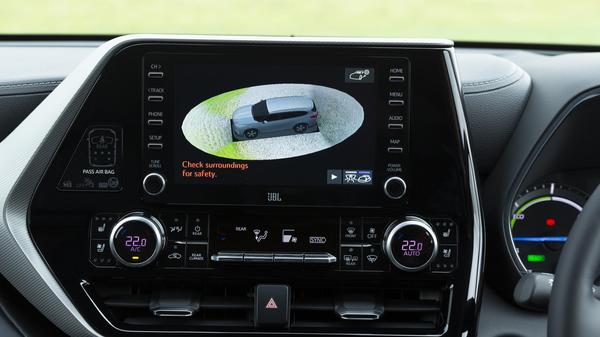 Safety for a Toyota Highlander
The safety section of the Highlander's specification sheet makes for easy – and confidence inspiring – reading, given that everything is included as standard on both the trim levels. And everything really means everything, with an army of driving assistance features wrapped up in the Toyota Safety Sense package. This includes automated emergency braking with cyclist and pedestrian detection, various lane keeping systems, radar-monitored cruise control and a system to keep the vehicle stable when towing. Toyota also includes blind spot monitoring and Rear Cross Traffic Alert to warn you of unseen traffic passing behind you when reversing out of a parking space or driveway – a welcome standard feature given the size of the vehicle but one many manufacturers leave on the options list.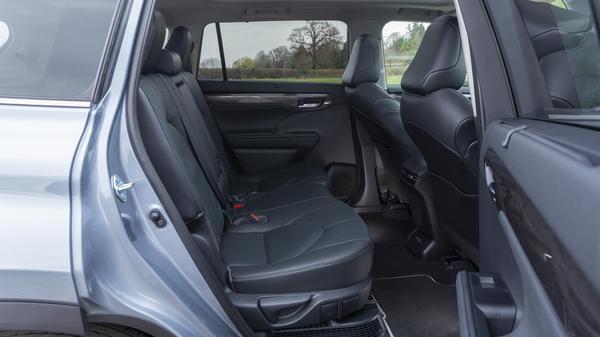 How comfortable is the Toyota Highlander
Although fully optimised for Europe the Highlander's roots are in the US and other overseas markets and the softness of the ride and the easy-going nature are definite carry-overs. Suffice to say, this is not a vehicle seeking to put the 'sport' into SUV like many of its rivals but that's not necessarily a bad thing, given its primary role is as a family bus. The steering is light but responsive, the top-heavy stance is pretty old-school and your passengers won't thank you if you try and fling it about like
a GR Yaris
but it is relaxing and easy to drive and even the initially intimidating size and weight becomes less of an issue with a few miles under your belt. The vast interior is full of useful cubbies and storage spaces and features three-zone climate control so everyone can find a temperature to suit. If you want to carry three people across the rear bench you may be better off with a Land Rover Discovery, given headroom is limited in the centre position and the cushioning only really suitable for shorter journeys. The middle row does, however, have a huge range of foreward and backward movement to adjust the balance between legroom and boot space, though with the third row folded flat into the floor this is so vast you probably won't need to free up any more. When you need them the two rear seats unfold with a simple tug on a strap. If not really big enough to carry adults they are a decent enough size, though the access from the middle row is a bit of a fiddle and the Highlander lacks the power folding seats featured on rivals like the Kia Sorento.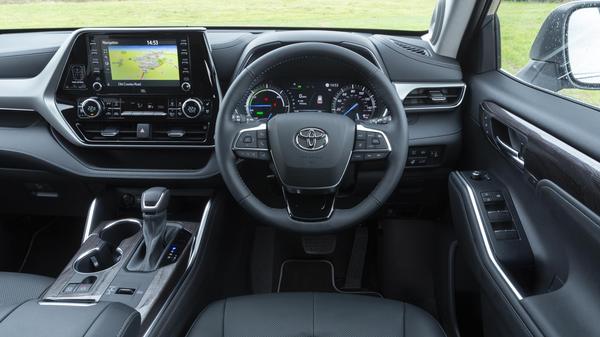 Features of the Toyota Highlander
There are only two trim levels on the Highlander and the standard one is so well-equipped we'd question the need to go any further up the range. Leather, a panoramic roof, privacy glass, LED headlights, a power tailgate, heated and power adjustable seats, JBL stereo and privacy glass are all standard, the higher trim adding heated middle-row seats, a 'kick sensor' for the rear tailgate, a digital rear-view mirror and head-up display among its upgrades. The touch-screen based infotainment system includes navigation and various connected services and does the job but the tiny screen and fiddly graphics are left wanting by the fancier systems in rivals. It looks a bit better when you plug your phone in and use
CarPlay or Android Auto
but there's no escaping the fact Toyota is lacking pizzazz in its onboard tech.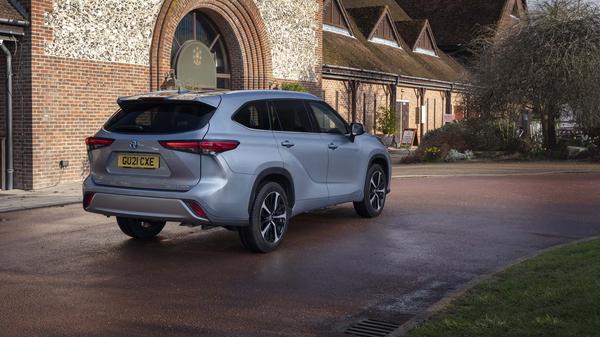 Power for a Toyota Highlander
The Highlander pairs an electric motor with a 2.5-litre petrol engine driving all four wheels through an automatic gearbox and a variety of road and all-terrain driving modes, which should be sufficient for the kind of off-roading most owners will indulge in. Total combined power with both power sources operating is a modest sounding 244 horsepower but the distinct electrified kick to the acceleration and futuristic sounding hum makes it feel more powerful than the numbers suggest. The system seamlessly switches between electric and hybrid modes and can drive on battery power alone, though not for meaningful distances like PHEV rivals. It's a lot simpler to use and understand, though, and left to its own devices delivers diesel-like muscle and mpg with petrol-electric refinement.