Long-term Review Living with a… Volvo XC90 Recharge Plug-in Hybrid (Month 1)
The Volvo XC90 is Auto Trader readers' favourite seven-seat car - we've got one on long-term test to see if it lives up to the hype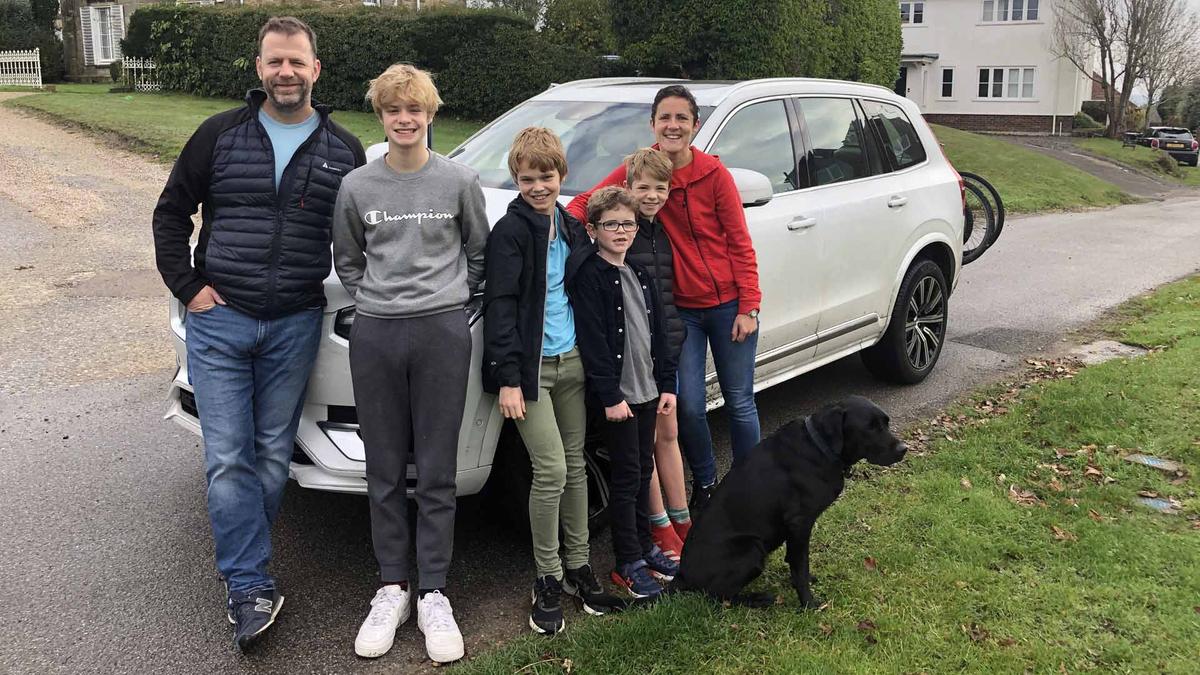 View gallery
What is it?
Model: Volvo XC90

Version: Recharge Plug-in Hybrid T8 AWD

Spec level: Inscription

Options fitted: Lounge pack (£1,800, includes sunroof, 360 parking camera, park assist, interior air cleaner)

Tech pack (£3,000, includes smartphone integration, Bowers and Wilkins premium sound)

Climate pack (£675, includes head-up display, headlight cleaners, heated rear seats, heated steering wheel)

Protection pack (£350, includes moulded plastic boot mat, rear bumper protective plate)

Wireless phone charging (£250), retractable towbar (£1,125), dog grille (£260), towbar bike rack (£475), 7m charging cable (£50), Premium Metallic paint £1,000)

Cost as tested: £78,305 (includes £9,485 of options)
We like
Space

Electric power

Comfort
We don't like
Large, heavy SUV

Harsh ride

Ageing infotainment
Mileage: 1,899
Fuel consumption: 30.7mpg
We've always loved the XC90. As large, seven-seat SUVS go, you can't beat it. The two things most families want in this sector are space and comfort, and the Volvo has more of both than any of its competitors. With all three rows up, you still get some usable boot space (enough for school and games bags, plus a football) and leg room for adults in all three rows.
However, two-tonne cars with thirsty diesel or petrol engines are getting harder to justify as the family run-around, so we're investigating the
plug-in hybrid
version of the XC90 and, in particular, just how far its electric power will take you during a normal week.
The XC90 Recharge has a four-cylinder petrol engine with 303 horsepower, and an electric motor with 87 horsepower. When both are operating it's a perky combo (0-60mph in 5.5 seconds, which is quite something), but we're more interested in running this car in electric (Pure) mode as often as possible, both from an eco point of view and a financial one. We already have a Podpoint charging unit
fitted at home
and an electric-car tariff with British Gas, giving us cheap electricity between midnight and 5am for charging. The XC90 has its charging socket at the front of the car, and it comes with a very long bright yellow charging cable, so it's no problem hooking it up to charge every night, even when it's parked up behind another car.
However, unless you want to wait up until midnight to plug the car in, you need to set the timer for the car, which you have to do on the Volvo On Call app. It's a bit of a faff to set this up - you've got to create a Volvo ID, get a PIN number, download the app, enter your details and add the VIN number from the car (found at the bottom of the windscreen) before completing the set-up in the car with the system on.
You then need the car and app to recognise the charging point, which is where you set the timer for. But we're done now, and it's all working fine. In the morning, the app tells me available charge and fuel, plus outside temperature and whether the car is locked.
We've stuffed this car full of options packs to see what's really needed and what's dispensable, which we'll report back on. We configured this car online and chose the blue wool blend for the sports seats over the leather - Volvos look amazing with pale leathers and open-pore woods but we feel it's time to ditch leather as much as possible in favour of sustainable products, and the wool looks and feels very different and is quite beautiful. Plus, so far it dries fine with no residual marks after wet bottoms have been on it.
We've got the dog grille fitted in the rear but have to confess forgot that this would put the third row of seats out of action, which was dumb of us. We've yet to figure out how to disengage it from the XC90's ceiling but it looks possible … let's hope so. The dog is enjoying the space, however, and I'm enjoying not stressing about whether he'll leap from the boot onto the front seats if left in the car for a brief time while out and about.
The only disappointment so far is that Volvo's once-great infotainment system suddenly feels its age. It takes a moment to load in the mornings, and sometimes doesn't recognise the phone, either on Bluetooth or
Apple CarPlay
, which has sent my partner into a tailspin when expecting a work call.
We'll see. Month two is going to be spent feverishly trying to nail just what range we can get on electric power - Volvo says it's up to 24 miles, depending on outside temperature and driving style etc. Right now it feels more like 15-20 miles but we'll let you know.
Interested in buying a Volvo XC90?