Long Term Review
Living with a… Volvo XC90 Recharge Plug-in Hybrid (Month 5)
The Volvo XC90 is Auto Trader readers' favourite seven-seat car - we've got one on long-term test to see if it lives up to the hype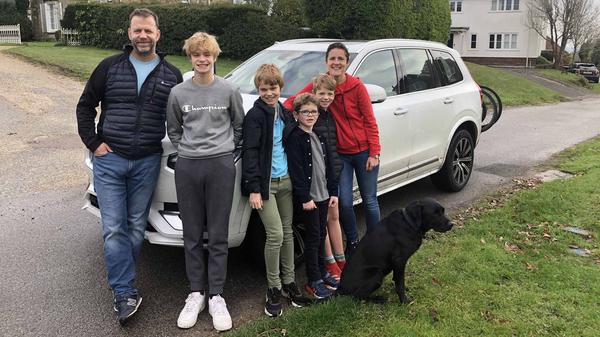 What is it?
Model: Volvo XC90
Version: Recharge Plug-in Hybrid T8 AWD
Spec level: Inscription
Options fitted: Lounge pack (£1,800, includes sunroof, 360 parking camera, park assist, interior air cleaner)
Tech pack (£3,000, includes smartphone integration, Bowers and Wilkins premium sound)
Climate pack (£675, includes head-up display, headlight cleaners, heated rear seats, heated steering wheel)
Protection pack (£350, includes moulded plastic boot mat, rear bumper protective plate)
Wireless phone charging (£250), retractable towbar (£1,125), dog grille (£260), towbar bike rack (£475), 7m charging cable (£50), Premium Metallic paint £1,000)
Cost as tested: £78,305 (includes £9,485 of options)
We like
Space
Electric power
Comfort
We don't like
Large, heavy SUV
Harsh ride
Ageing infotainment
Month 1 - We're liking the woollen upholstery and boot space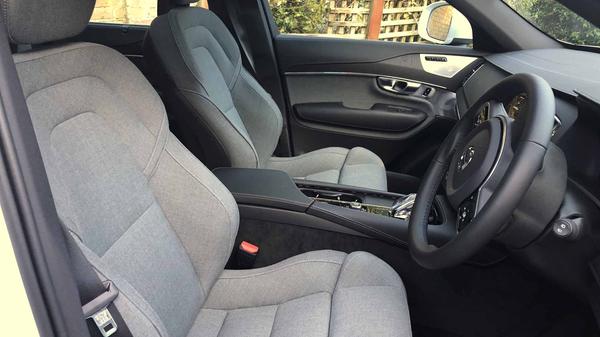 Mileage: 1,899
Fuel consumption: 30.7mpg We've always loved the XC90. As large, seven-seat SUVS go, you can't beat it. The two things most families want in this sector are space and comfort, and the Volvo has more of both than any of its competitors. With all three rows up, you still get some usable boot space (enough for school and games bags, plus a football) and leg room for adults in all three rows. However, two-tonne cars with thirsty diesel or petrol engines are getting harder to justify as the family run-around, so we're investigating the
plug-in hybrid
version of the XC90 and, in particular, just how far its electric power will take you during a normal week. The XC90 Recharge has a four-cylinder petrol engine with 303 horsepower, and an electric motor with 87 horsepower. When both are operating it's a perky combo (0-60mph in 5.5 seconds, which is quite something), but we're more interested in running this car in electric (Pure) mode as often as possible, both from an eco point of view and a financial one. We already have a Podpoint charging unit
fitted at home
and an electric-car tariff with British Gas, giving us cheap electricity between midnight and 5am for charging. The XC90 has its charging socket at the front of the car, and it comes with a very long bright yellow charging cable, so it's no problem hooking it up to charge every night, even when it's parked up behind another car. However, unless you want to wait up until midnight to plug the car in, you need to set the timer for the car, which you have to do on the Volvo On Call app. It's a bit of a faff to set this up - you've got to create a Volvo ID, get a PIN number, download the app, enter your details and add the VIN number from the car (found at the bottom of the windscreen) before completing the set-up in the car with the system on. You then need the car and app to recognise the charging point, which is where you set the timer for. But we're done now, and it's all working fine. In the morning, the app tells me available charge and fuel, plus outside temperature and whether the car is locked. We've stuffed this car full of options packs to see what's really needed and what's dispensable, which we'll report back on. We configured this car online and chose the blue wool blend for the sports seats over the leather - Volvos look amazing with pale leathers and open-pore woods but we feel it's time to ditch leather as much as possible in favour of sustainable products, and the wool looks and feels very different and is quite beautiful. Plus, so far it dries fine with no residual marks after wet bottoms have been on it. We've got the dog grille fitted in the rear but have to confess forgot that this would put the third row of seats out of action, which was dumb of us. We've yet to figure out how to disengage it from the XC90's ceiling but it looks possible … let's hope so. The dog is enjoying the space, however, and I'm enjoying not stressing about whether he'll leap from the boot onto the front seats if left in the car for a brief time while out and about. The only disappointment so far is that Volvo's once-great infotainment system suddenly feels its age. It takes a moment to load in the mornings, and sometimes doesn't recognise the phone, either on Bluetooth or
Apple CarPlay
, which has sent my partner into a tailspin when expecting a work call. We'll see. Month two is going to be spent feverishly trying to nail just what range we can get on electric power - Volvo says it's up to 24 miles, depending on outside temperature and driving style etc. Right now it feels more like 15-20 miles but we'll let you know.
Back to the top
Month 2 - If space is your final frontier look no further
Mileage 4,933
Fuel consumption 31mpg We finally managed to work out how to get the dog grille released from its ceiling mounts! The answer is apparently simple brute force, though there is likely a more elegant method we've yet to find. Moving swiftly on, when you put the third row of seats up you realise just how vast the interior of an XC90 is. We've been through every
seven-seat
SUV on the market and this beats them all for passenger and luggage space. It's very rare to be left any useable boot space when the third row is up, but you can still fit a weekly family shop in the XC90's boot with seven people on board. And there's still lots of legroom for all passengers - our oldest boy is now a gangly 13-year-old and even his long legs swing happily free in the third row without shoving the second seats forward. The seats themselves are less comfy - they look beautiful in the wool trim but are quite hard and each padded section pushes into occupants' backs. We've been making good use of the Volvo customer app during the winter. It allows you to start the car remotely while you wait in the warmth of the kitchen/shout at the kids to get their school stuff together, and you can check fuel range, outdoor temperature and see how much of your driving has been done in electric-only range all week. It also alerts you when the car is left unlocked - when my partner drives it, my phone pings every night. It also - caveat emptor - tells you where the car is parked at any given moment … owners with precarious private lives might like to give that some thought. But the satisfaction of knowing you have a safe, solid, high-riding SUV with four-wheel drive and great grip, designed by those hardcore Scandinavians, really comes into its own in the winter months. The only tiny downside at the moment is the faff of taking such a big car into town to shop and, therefore, park. We are also running a
Honda E
and prefer to take that if we think we might park in the multi-storey, especially as the Volvo's reversing camera gets covered with muck and spray most days. There are still front and rear sensors, thankfully. We've used the XC90 for skip runs, bike trips, family days out and dog walks in the past month, and it has been, in the language of the season we've just enjoyed, a comfort and joy. We're already starting to wonder if we could afford the monthly payments...
Back to the top
Month 3 – Everything but the kitchen sink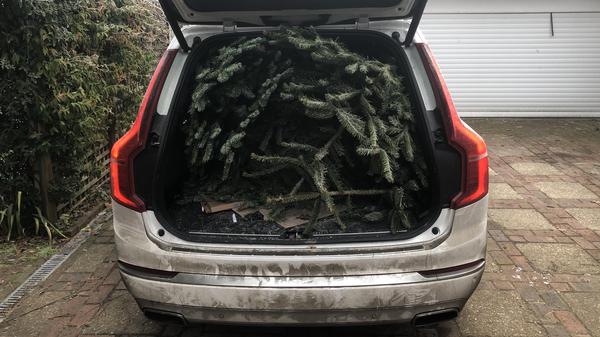 Mileage: 5,690
Fuel Consumption: 31mpg Christmas came and went in the XC90, which normally would have entailed the six of us travelling round the country to see relatives. Instead, lockdown meant a single post-festivities trip to the tip with the Christmas tree. Fun times. On the plus side, there is no finer large SUV for carting people about. Or trees. It's just cavernous. We've mentioned in earlier posts the surprise at fitting all four rapidly growing boys in the rear two rows, and still having room for the dog in the boot. With the second and third row of seats flat, you've basically got a van into which to throw anything and everything. We've transported aforementioned 8ft tree, a chest of drawers and a small wardrobe simultaneously. Actually, rewind to the Christmas tree… When we went to buy it from the garden centre, we remotely opened the boot tailgate without key fob as we were walking back across the carpark with the tree. Unfortunately, a woman was standing next to the car chatting, and jumped as the tailgate rose. She looked around, couldn't see us, assuming she had someone how activated it, so carefully and quietly shut it. This amused the kids no end. One niggle. The car is still disconnecting
Apple CarPlay
when someone calls my mobile. It just sends the whole system into meltdown and we sometimes have to pull over, stop and turn the car off and on again to reactivate CarPlay. Volvo is not the only premium car brand to still have problems with its infotainment system, but we wish it didn't.
Back to the top
Month 4 - All-wheel drive not actually all that?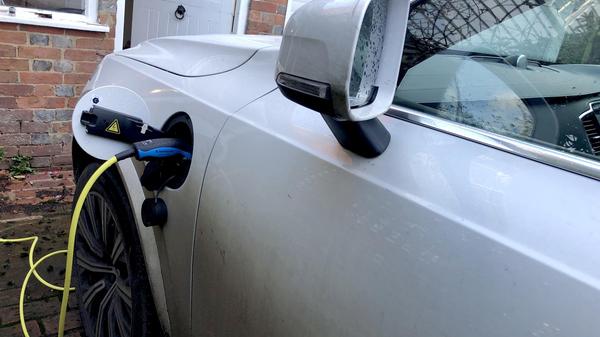 Mileage: 6,595
Fuel consumption: 30mpg My partner has had to travel to Doncaster from Kent quite a bit in the past few weeks, and has been hugely relieved to drive the three-hour trip in the XC90. This, despite the fact long journeys in a
plug-in hybrids
are pretty bad for fuel consumption because you use up the electric juice in the first 20 miles on the motorway and are then hauling a heavy powertrain along at 70mph. That aside he's a 6ft 2in rugby player, so needs a big car to feel truly comfortable in. Add to that the flurries of snow England has had this winter and a tough, sure-footed Scandi SUV is the answer. Just how much more security it offers in the white stuff is debatable, but the peace of mind isn't. The XC90 has four-wheel drive and a selection of drive modes, which allows you to put it into constant four-wheel drive or off-road mode. However, we embarrassed ourselves trying to drive out of a muddy grass carpark last weekend, the wheels slipping and bogging down. There's no escaping that it's a big, heavy car and sometimes all the trickery in the world can't overcome mass. We watched while people in light little front-wheel drive Fiestas and Polos skipped out happily. We got out in the end by doing precisely what you're not meant to do in these situations - flooring the throttle and exiting in a frantic slide. The beautiful wool-blend seats are not faring quite as well as we thought they would, with chocolate stains not coming off with a damp cloth. The kids don't like them and think they're scratchy, and keep asking me why I didn't choose leather. I keep telling them they're the ones who are meant to congratulate me on my sustainable approach to consumerism and best intentions to save the earth. They just stare at me blankly.
Back to the top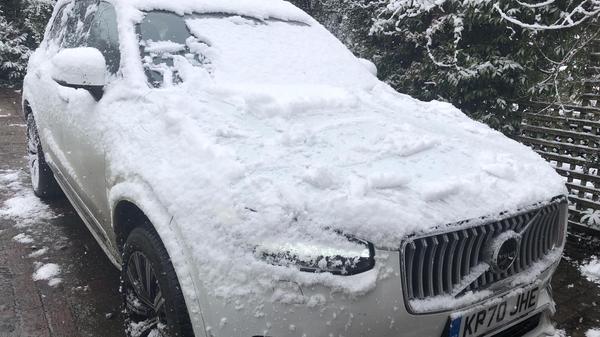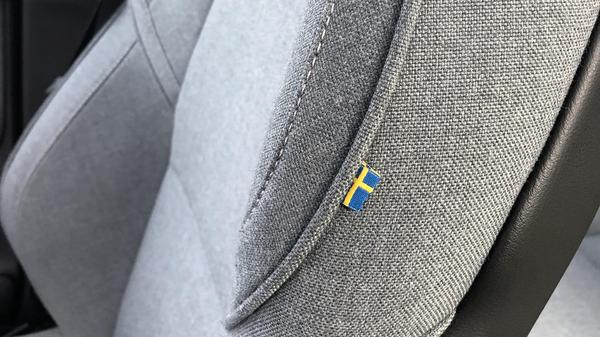 Month 5 - On speed, style … and woollen seats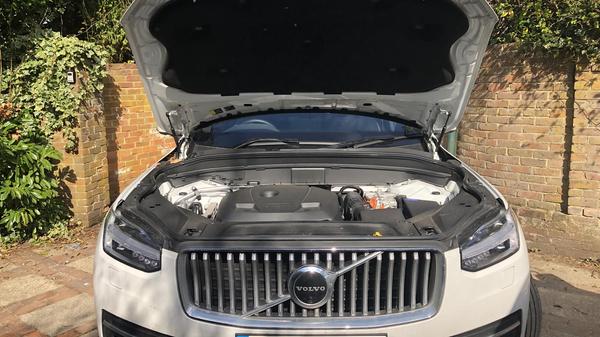 Mileage TBC
Fuel consumption 29mpg It's clearly no coincidence that the month I write about appreciating the acceleration of this XC90 is the month fuel consumption dips to 29mpg. Actually, I've only really put my foot down a couple of times – I would always rather save the money at the pumps or home energy bill. But the couple of times I've been impatient, or dived into fast-moving traffic, I've been very impressed by the pace of this heavy seven-seat SUV. When it uses the petrol engine and the electric motors in tandem it's a high-performance large SUV, which is not what you think of when it comes to Volvo, but you perhaps should if you're going for one of its plug-in hybrids. We've had one extra cost this month - just a refill for the windscreen washer. Took us a minute to find the filler cap when we popped the bonnet. It's just outside of the main engine bay, top right. Volvo has been busy this month talking about its eco plans for the future, which include a fully electric portfolio in the next few years (under the brand's Recharge banner) and no more leather in its cars. For once, we're ahead of the curve on that one, with our lovely wool mix covering the seats. They're not actually very comfortable for long journeys but that's not to do with the wool; rather it's the different panels making up the squabs and backs. They look cool but you get multiple hard surfaces joining together underneath you, which doesn't feel great. Beauty is in the eye of the beholder, but we think the XC90 remains possibly the most handsome seven-seat SUVs out there, and I'm pleased we got it in white. My partner thinks it's a bit bling but I think it looks pretty and stands out in the car park when I've forgotten where I parked. I sat in a line with three others on the school run yesterday (I know, they're everywhere in certain parts of the country…) and the navy paintwork also looks very glam. I tried out Volvo's updated new infotainment system in the electric XC40 last week. The only thing that's a vast improvement really is the sat-nav - new Volvos use Google maps which is much, much better than the map in our XC90. It simply doesn't give enough information, like mapping small side roads and displaying their names, until you zoom right in. It suddenly looks very dated. That aside, we are desperately sad that we've only got one month left with this handsome, spacious beast.
Back to the top