Long Term Review
Living with a… Nissan Leaf
It's farewell to the Leaf - it might not be the flashiest EV around but it might still be one of the better ones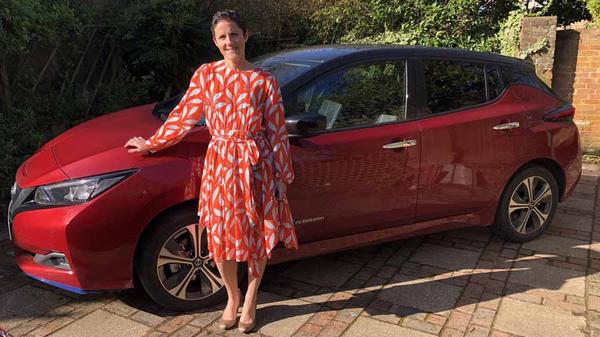 Words by: Erin Baker
Last updated on 5 June 2020 | 0 min read
The
Nissan Leaf
has been on sale for a decade now, which is hard to believe, when you consider that most of us are just starting to think seriously about buying an
electric car
. It's now on its
second version
, and, as well as looking better, can go much further on one battery charge than
the first Leaf
, which had a range of under 100 miles. The new Leaf has a maximum range of 168 miles while the Leaf e+, which we're living with, will do up to 239 miles.
What is it?
Model: Nissan Leaf
Version: Leaf e+
Spec level: eTekna
Options fitted: Two-tone Pearl Black roof (£350), Magnetic Red metallic paint (£575)
Cost as tested: £36,670 (includes government plug-in grant of 35%, up to a max £3,500)
We like
Cheap running costs
Silent drive
Home charging
We don't like
Old-fashioned infotainment interface
Interior design
Squishy rear seats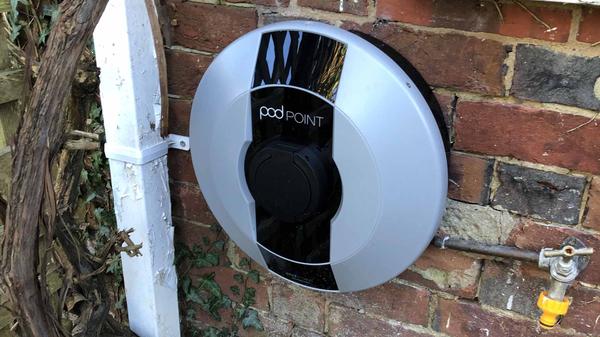 Month 1: How do I sort a domestic wallbox/charging unit?
We've done one month in our electric car, the new Nissan Leaf e+. Which means we've also done one month with our new domestic wallbox, supplied by Pod Point. Getting the charging point fitted was painless - mine sits on the wall below my kitchen window (I have a driveway), and the only bother was getting my electrician to fit a separate fuse box for it in my hall, then run the extra cabling through to the wallbox at the other end of the house, plus data cabling to connect it to the house wifi, from which it operates.
Then a nice man from Pod Point arrived, fitted the wallbox and connected it. I wasn't home so he then took a video on his phone, demonstrating how it works, and what the light means (blue is fine, green is charging, red is a problem), and WhatsApp'd it to me. How very 21st century. The unit is covered by a three-year warranty, and, frankly, most problems can be fixed by turning it off then on again at the fuse box. The company also has a public charging network that doesn't require a subscription or membership fees - hurrah.
How much does it cost to run a Nissan Leaf?
Hmm, I can't answer this one properly yet, partly because I'm waiting for confirmation on my new energy tariff, so am not entirely clear how much each 'drop' of electricity costs me, and whether it's any cheaper overnight, and partly because I chose to be a journalist precisely because I can't do maths, so it's going to take me time to figure it out.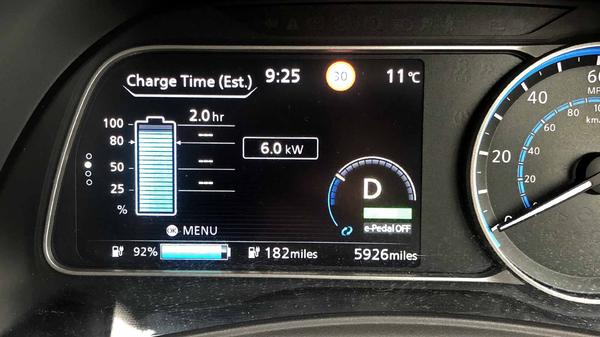 How long does it take to charge the Nissan Leaf?
Well, I have a 7kW home charging unit, which they'll tell you takes seven and a half hours to charge the Leaf from 20% to 80%. But what you learn quickly is that this is all irrelevant, firstly because the car tells you what's what, and secondly because no one waits until their electric car is at precisely 20% charged, then charges it to 80%. Instead, people charge their cars like their phones: whenever you arrive back home, as long as you're staying put for more than 30 minutes, you plug it in. Then, like a mobile phone or laptop, it's always being drip-fed energy, ready to go again. And as for the car telling you the state of play - that's brilliant. the Nissan's digital information behind the steering wheel tells you when you park things like "Charge now, and you'll have a full charge at 16:10", plus how much charge your battery currently has - say, 90%, and how far that should take you - say, 182 miles. Then - and this is the best bit - it will tell you how long it will take to charge the battery to 25%, 50%, 80% and 100%, in a little battery symbol. For example, when I was at 90%, it told me it would take an estimated two hours to charge to 100%.
So, there you go. No need to worry about working it all out for yourself - the only bit the car can't do is tell you how much you're paying for your electricity. Give me another month and I'll have worked it out….
Month Two: How much does it cost to run a Nissan Leaf?
Mileage: 6446
Fuel consumption: 3 miles per Kwh
Last month I said my goal was to work out how much the Nissan Leaf was costing me to run. Thankfully, the Leaf essentially tells you everything you need to know, so you don't have to have a first in pure maths to work it out.
All you need to know is how many miles you're covering for each kWh of energy you expend, and what your domestic energy supplier is charging you per kWh of electricity. Let's do the cost to me per Kwh of electricity first. I'm with British Gas for my electricity, and I'm on their electric car tariff. This tariff charges you essentially two rates - peak and off-peak, with off-peak available between midnight and 5am. I'm paying 4p per Kwh during this time (I pay slightly more during the day as a result). As long as you have a smart meter or dual-rate meter installed at home to correctly charge you, all you need to do is set the timer on the car to charge between midnight and 5am, plug it in before you go to bed, and hey presto: my car, a 62kWh Nissan Leaf, is costing me 62 x 4p for a full charge, so £2.48. How far will that £2.48 take me? Well a full charge will take me about 200 miles. But if I want an actual cost, the Nissan Leaf's read-out tells me that on my last journey I averaged 3 miles per Kwh, so that 3 miles, costing me 4p. If I do a journey of 12 miles, that's 16p. If I have air-con, lights, heated seats and windscreen wipers on, and drive with a heavy right foot, those 12 miles will use more energy. If I put my car into eco mode, and use the one-pedal function that recovers more energy when you lift off the accelerator, and turn off the air-con, it will use less energy and costume less to cover the same distance. Mind you, at the time of writing, the price of petrol is getting near £1 at the pumps, making the winning margins for EVs temporarily smaller, but there is of course also the environmental impact…. So far, though, so good, living with an electric car. It's not half as tricky or intimidating as you might think.
Months 3 and 4
Mileage: 7540
Fuel consumption: 3.3 miles per Kwh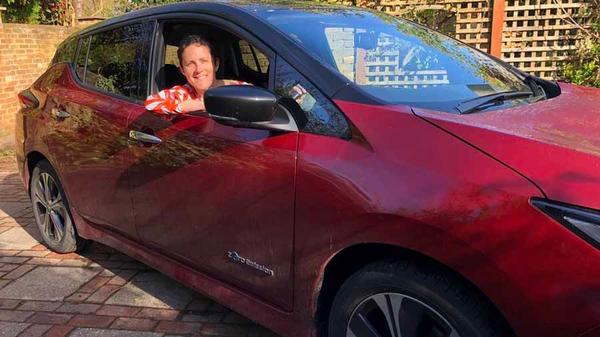 We've settled nicely into electric-car ownership: lockdown and social distancing make an even greater case for an electric car. First, electric cars feel, more than ever, like the responsible and right choice, if your budget can stretch to it, given our new-found respect for nature. Not only do they produce zero tailpipe emissions, but the lack of noise has suited this quiet lockdown period.
Second, you don't have to visit a fuel station to recharge, so you don't have to run the health-and-safety gamut of touching a fuel pump or going in to pay. Instead, you can keep your car charged form the comfort of your home - all the trips we've done in the last two months, some of which have been hour-long motorway journeys each way for necessary work trips, have been covered by one home charge to 100 per cent overnight, which gives you about 240 miles, and we haven't had to use any public charging points. The downside of home charging is that British Gas, which supplies my electricity, cancelled the installation of our smart meter due to the coronavirus, so we can't prove that we've been doing all our charging overnight on the lower tariff - instead they'll just do an estimate, which won't favour us. I'm waiting nervously for the next monthly bill, and meanwhile British Gas can't give us a date for when they'll be round to fit it. We've also encountered some frustration with the Leaf's range. Driving back to Tunbridge Wells from Folkestone after work one evening, the car's satnav told me I was 27 miles from my destination, and that I had 48 miles' range of charge left, which should have been fine. But the car also told me that I had insufficient charge to reach my destination, which made no sense. Not knowing what data to trust - the 48 miles' quoted range, or the satnav's 27 miles, or the warning sign saying I had insufficient charge, my stress levels rose every mile I inched my way towards home at a steady 50mph, radio off, heating off. I made it back with 10 miles' range left, according to the car, so should't have had to worry, but you get a bit fed up feeling like some journeys end in a stressful gamble about range. Another annoying feature: if your phone's connected to the car's Bluetooth and rings while you're driving, the satnav disappears off the screen, replaced by the incoming call information. If you're in the middle of navigating a set of junctions, you have to frantically disable the call to get the satnav screen back. The satnav can also appear in the screen behind the steering wheel if you change your settings, but both screens revert to the incoming call. However, the overall ownership experience remains a more satisfying one than that of a petrol or diesel car: you feel more in control of the entire experience, somehow, mainly I think because of the ability to charge at home, which has been a blessed relief during the last couple of months.
Months 5 and 6
Mileage: 8,598
Fuel consumption: 3.3 miles per kWh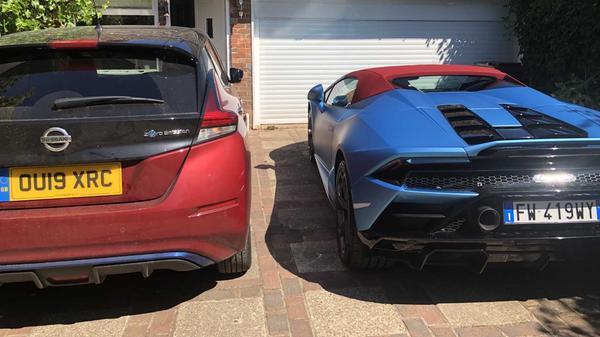 We've just said goodbye to our Leaf, with much sadness. It feels wrong now not to run an electric car, and my Podpoint is sitting forlornly tethered to the front wall of my house, waiting for the next plug-in hybrid or electric car to arrive.
During our tenure with the Leaf, we also tested the
Peugeot e-208
,
Vauxhall Corsa-e
and
Mini Electric
. And, er, a Lamborghini Huracan Evo, just to level the ecological playing field. Two things stood out about the Leaf among these competitors: every other electric car has a better interior, and every other electric car we tested delivers an inferior electric driving experience. First, the point about interiors. The Leaf really is supremely depressing inside. It has patchy graphics, an old-fashioned mixture of analogue dials and digital screen behind the steering wheel and soggy black leather seats. Compared with the digital display in the Peugeot, glossy black surfaces of the Corsa, massive touchscreen of the Zoe or the cool Mini vibe, it's a non-starter. However. When it comes to range, and to how the car conserves its power, lets you know how much energy you're using and how long it will take to recharge, the Leaf beats them all hands down. It's also more spacious, with a bigger boot and longer range (up to about 240 miles) so is more usable. It's obvious Nissan has had skin in this game longer than most, the original Leaf launching over a decade ago. That digital screen behind the steering wheel might be ugly but it is brilliant at displaying what the driver needs to know - the battery bar showing at a glance what percentage of charge is left, a vertical battery stack showing how much you've used and at what time the car will be fully charged if you plug it in now, and how many miles you're getting per kilowatt hour, which is the equivalent of how many miles per gallon of fuel you'd get in a petrol or diesel car. You'd think other competitors would have mastered a one-glance display of equal simplicity, but no. Secondly, none of the other cars we tested has mastered the art of the one-pedal driving mode as well as the Nissan. Variations on this theme are common on all electric cars and mean you can effectively use the throttle pedal for both acceleration and braking, the slowing effect of regeneration when lifting off meaning you rarely touch the brakes while putting charge back into the battery. That's the theory, anyway. But none of the others have anywhere near the strength of Nissan's system. It takes a day or two to get used to, but the results are brilliant - energy saved and a neatly efficient, predictable way of driving round town. Yes, round town. Because you can kiss goodbye to your indicated range as soon as you set tyre on a motorway, as we discovered to our cost. Seemingly we had enough range to and from a job in a different town, via the M20, with about 20 miles left according to the car. Within 20 minutes on the motorway we'd had lost 30 miles of the predicted range, leaving too little to get home. By some small miracle, we did actually make it back without having to stop and recharge, which we had no time to do. However, the stress was pretty unbearable, and makes the EV a second-car proposition unless you only do short journeys. New research shows that no one in the UK is further than 25 miles from a rapid
charging point
these days, but what happens if you get there and it is out of use, occupied or belongs to a network you're not a member of, and you're short of time? It's still a purchase for life's gamblers, to some extent, although it won't stay that way for long as more charging points join the network, and battery range increases. We miss our little electric car, now we know how and where to use it and charge it, and what to expect from the range. Our tenure with the Leaf has proves electric car ownership isn't tricky, doesn't take long to master, especially with a car like the Leaf which tells you what to do when, and is not to be feared. Bring on the next one.