Hyundai KONA
New from £25,470 / £369 p/m
Overview
Petrol, electric or petrol hybrid
Is the Hyundai KONA SUV a good car?
Read our expert review

Words by: Auto Trader

Additional words by: Dan Trent
"There is little to fault the Kona Electric on, aside from a touch more road noise on the motorway compared to other electric cars like the Nissan Leaf and the more expensive BMW i3. The Kona's chunky design makes it one of the more distinctive looking offerings in the small SUV segment, but it is the choice of two versions, both with a decent driving range, that makes it a winner in our eyes and offers a clear advantage over the closely related Kia Soul EV."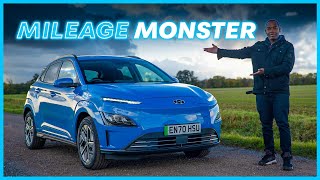 Read the review by category
Running costs for a Hyundai KONA
The cash price is a crude comparison given most people opt for various pay monthly options these days, but does highlight the extra cost of the Kona Electric over its regular internal combustion and hybrid equivalents. The additional cost for hybrid over basic petrol is about £5,000 on a Premium spec model while for the EV it's at least £10,000 and considerably more if you opt for the more powerful version. How that equates to the monthly cost will depend on deals but gives you a sense of how much more expensive the electric version is, like-for-like. The question of whether you'll recover those costs in your day-to-day driving depends very much on your typical journeys and whether or not you stand to gain from the various tax incentives hybrids and EVs attract, especially for company drivers. Obviously, it'll help a great deal if you have off-street parking and the facility to install a home charger and the more powerful version of the Kona has a longer driving range than many rivals. However, it's a fast-moving industry and that advantage is likely to be challenged quickly, not least by its equivalent in the Kia range, the new Soul EV.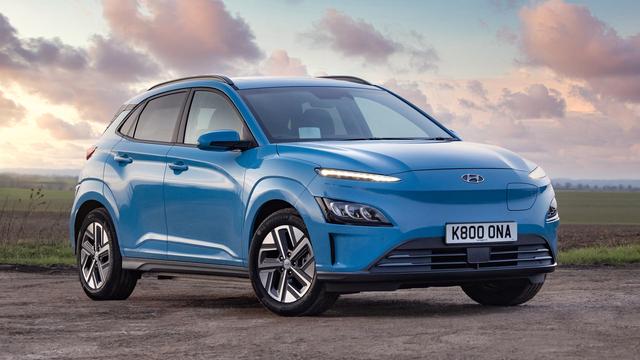 Reliability of a Hyundai KONA
Hyundai is a brand that features numerous times towards the top of Warranty Direct's Reliability Index. Being an electric car, the Kona has fewer moving parts than conventional petrol or diesel combustion engined cars, which should help to keep maintenance and running costs down. Hyundai offers a five-year/unlimited mileage warranty that includes roadside assistance and annual vehicle health checks.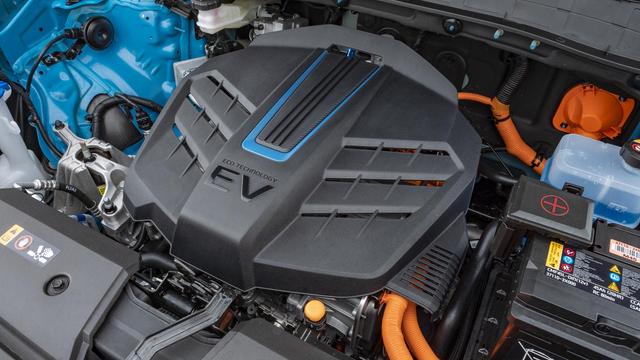 Safety for a Hyundai KONA
Other variants of the Hyundai Kona achieved a full five-star rating when crash tested by the Euro NCAP safety organisation. As the Kona Electric uses much of the same design, we expect it to offer similarly high levels of protection. It features a total of six airbags, with two in front, two side and two curtain airbags that extend to the second row. All Kona Electric models get an automatic emergency braking system that is active above five miles per hour and can help to prevent slow-speed shunts. This can also detect pedestrians, alerting the driver and braking if necessary.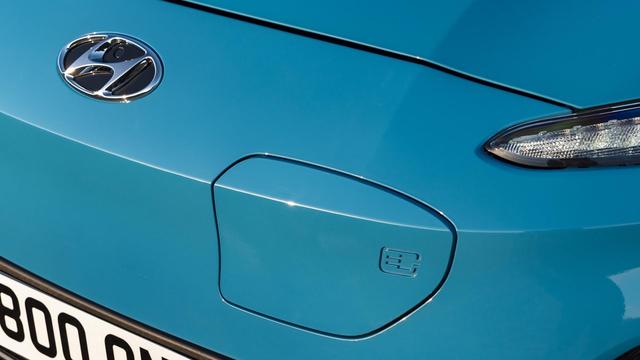 How comfortable is the Hyundai KONA
For a small SUV, the Kona Electric can be a fun car to drive, especially on twisty roads. As its battery lies in the floor of the car, the bulk of its weight is low down, so it doesn't lean as much from side to side in corners. Despite the lack of a four-wheel-drive option, the Hyundai feels sure-footed on the move. The steering is light and feels reasonably direct, making the car feel agile when navigating city streets. It feels equally settled on the motorway and doesn't have any issue getting up to speed. While the Kona Electric is quiet for the most part, the road noise levels do pick up at motorway speed, especially in the rear of the car. The suspension is a little on the firm side too, due to the car's increased weight, but for the most part, it does a very good job of soaking up bumps in the road and taking the harshness out of speed humps. Its driving position is excellent, though, offering plenty of adjustability, and forward visibility is helped by the car's raised ride height. The instrument cluster is easy to read at a glance, while the infotainment screen is mounted high on the dashboard, so you don't have to take your eyes far off the road to see it. Physical dials are used to adjust the climate controls, and these fall within easy reach. There's no compromise in boot space for the electric version of the Kona over the regular one but, given that's not great for luggage space, don't expect this to be the most practical car of its type.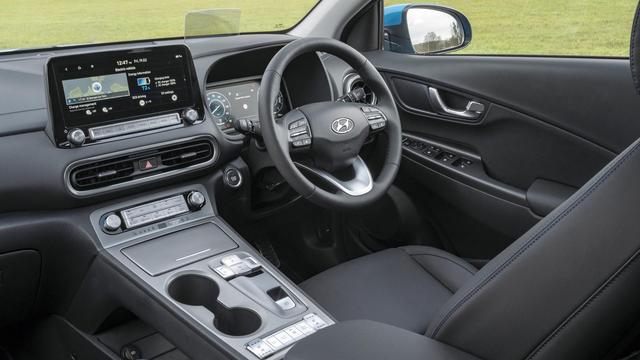 Features of the Hyundai KONA
Hyundai generously equips the Kona Electric, with keyless entry and start, a 7.0-inch touch-screen with Bluetooth and smartphone integration for Android and Apple phones, reversing camera and rear parking sensors, adaptive cruise control and automatic headlights. Also welcome is an electrically adjustable driver's seat, leather-wrapped multifunction steering wheel and electric windows all-round. Go up a grade and you get a bigger screen with built-in navigation and other connected services plus fancier speakers and a wireless charging pad for smartphones with this feature. This spec also adds more driver assistance features like the Lane Follow Assist, which helps prevent you from drifting out of your lane on a motorway. Blind spot detection alerts you to any objects you might not see in your mirrors, and it can warn you of any dangers from other vehicles or pedestrians when reversing out of a parking space, too. The top spec includes leather upholstery and a head-up display projecting vital driving info directly in your line of sight on the windscreen.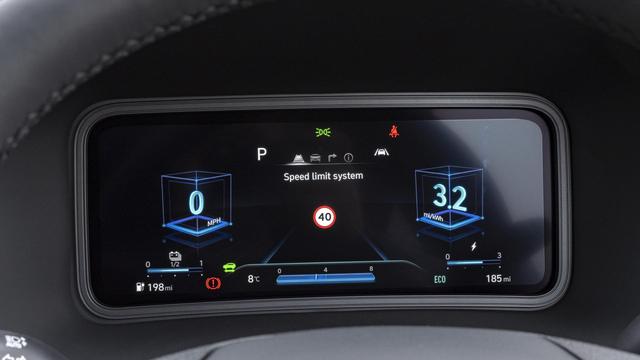 Power for a Hyundai KONA
There are two different batteries available for the Kona Electric, each producing different power outputs and driving ranges. The lesser is the 39kWh model with 136 horsepower, which is similar to the sort of performance a 1.2-litre petrol engine would offer. With this battery, Hyundai claims the Kona Electric has a driving range of up to 193 miles on a full charge. If you stick to urban or rural routes and don't typically drive long distances, this battery should suffice. For those who want to cover greater distances, there is a more powerful 64kWh battery with up to 300 miles of range. This version gets a boost in power to 204 horsepower and, in a car of this size, makes the Hyundai feel pretty brisk. There aren't any perceptible gear changes being an electric car, which results in a very smooth driving experience. It is worth remembering that driving ranges quoted will vary according to factors such as temperature and usage. Driving in winter with the heating on all the time, for example, will make a big dent in the overall range. Charging times can vary depending on the type of charger, and if other cars are using the same unit at the same time. Plugging in at home and using the car's onboard 7.2kW charger will take a little over six hours for a full charge on the 39kWh battery, or nine and a half hours for the 64kWh battery.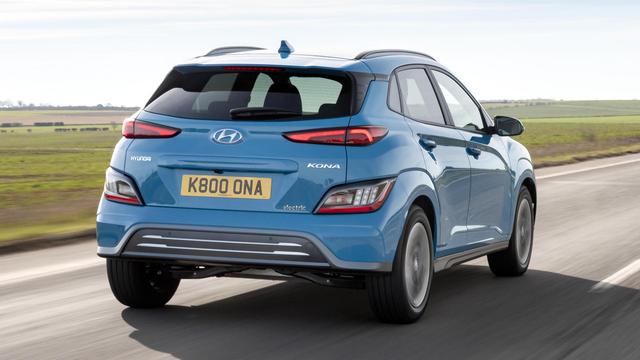 Lease deals
These deals are based on terms of 8,000 miles, for a 36 month lease with a 6 months initial payment.
Standard equipment
Expect the following equipment on your Hyundai KONA SUV. This may vary between trim levels.
Related articles and reviews