Volkswagen ID.3
New from £37,255 / £495 p/m
How long will it take to charge?
Results based on 62.00kWh Volkswagen ID.3 battery
0

For a part charge (up to 0 miles)

0

For an 0% charge 0
You can charge this vehicle in 37 minutes at its fastest charging speed of 150 kW
* We have used data from the manufacturer to estimate these charging times, they are only a guide. Charging times for some speeds may not have been provided.
Is the Volkswagen ID.3 Hatchback a good car?
Read our expert review

Words by: Dan Trent
"The ID.3 is the foundation stone for VW's entire electric car range, as well as those from other brands in the group like the Cupra Born, Skoda Enyaq and Audi Q4 E-Tron. This significance is reflected in the name, the number representing Volkswagen's 'third era', following on from the post-war Beetle, to the all-conquering Golf and now into the electric age. That's a huge responsibility, and one that didn't get off to the smoothest of starts when the ID.3 first launched. This updated version responds to specific criticism and feedback from customers, with obvious improvements to the interior and tech, a streamlined model range and more stable technology powering the screens through which you interact with pretty much everything in the car. The looks have also been tweaked to bring it more in line with SUV relatives like the ID.4 and ID.5 as well, VW hoping this package of improvements can finally realise the ID.3's huge ambitions while also taking on the increasingly talented and diverse rivals it now faces."
Read the review by category
Running costs for a Volkswagen ID.3
When it first arrived the ID.3 range was somewhat confusing, given the range of battery options, trim levels and options, the situation further complicated by fluctuating supply meaning certain models came and went from the pricelist according to availability. The buying process is now a lot simpler, with just two models to choose according to whether you can get by with the standard battery or need the bigger one for more flexibility on long journeys. Squeezed between keenly priced and increasingly capable Chinese newcomers like the MG4 and GWM ORA Funky Cat and reboots of more traditional rivals like the freshly electrified Vauxhall Astra, the ID.3 has to thread the needle on pricing somewhat, and it's worth keeping an eye on deals as VW fights to keep itself competitive in an ever-changing market. In terms of running costs the ID.3 goes further on a battery charge than its bigger ID.4 and ID.5 relatives, which is a bonus as energy costs increase for both home and public charging. Meanwhile incentives like Benefit In Kind savings and salary sacrifice schemes will help if you're buying as a company car, or through your employer.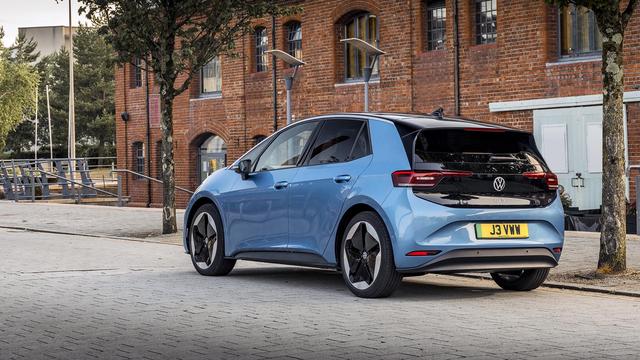 Reliability of a Volkswagen ID.3
While batteries and motors are mechanically simpler than traditional internal combustion engines and have less to go wrong early versions of the ID.3 have suffered from issues with the screen-based system powering everything from entertainment to the heating and ventilation. The operating system powering it has now been upgraded and improved, over the air updates meaning it can now install the latest version automatically just as your phone would. With a huge range of cars now being built of this shared technology we'll have to hope VW has solved some of those initial glitches in this updated ID.3.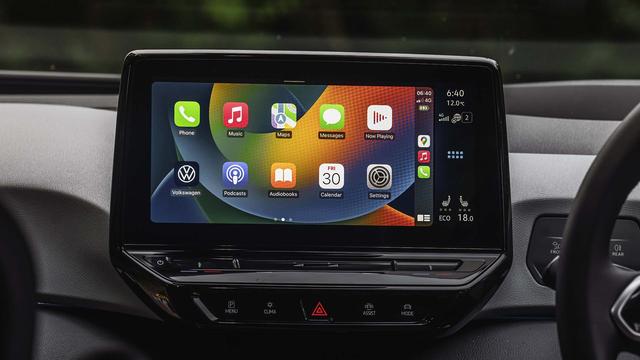 Safety for a Volkswagen ID.3
The technology under the ID.3 is all very much of the moment, and builds on the expected safety features like airbags, automatic emergency braking and lane-keeping interventions to keep you on the straight and narrow. We wish it was easier to turn the latter function off, given how intrusive it is, though. The really clever stuff comes with the slightly sinister sounding 'swarm data' where cars share information about traffic, accidents and other potential hazards and warn you before you get to them. Beyond that you can add two levels of cost option Driver Assistance Packs, the first including a rear-view camera and belts that tighten before a potential impact while the latter goes the whole hog with automated lane changes and a system that can take over and bring the car to a safe stop at the side of the road if the driver becomes incapacitated. Impressive stuff, but it does add quite a bit to the price.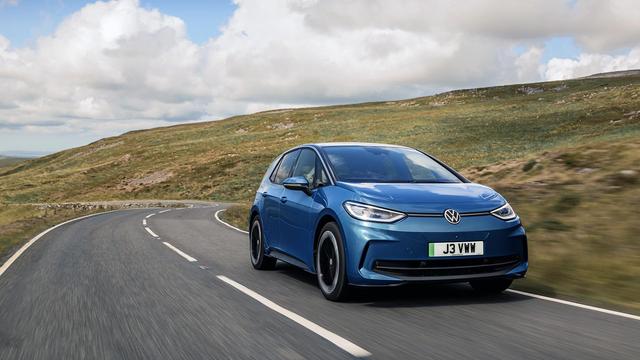 How comfortable is the Volkswagen ID.3
It may only be a matter of perception but the addition of soft-touch fabrics to the dashboard and insides of the doors helps raise the ambience inside the ID.3 from the somewhat basic vibe of the previous version, which in its way contributes to the comfort and wellbeing. We liked the two-tone 'Artvelour' fabrics on the fancier trim level as well, the fact they're made with a high proportion of recycled materials adding to the feelgood factor. This higher grade also gets power adjustable front seats with memory settings and additional lumbar support, though the standard seats are also pretty comfy. With no engine noise the ID.3 is also very quiet on the move, though tyre roar is obvious on poor surfaces. While there's plenty of legroom in the back it's worth remembering that, like its Cupra Born sister car, the bigger battery option means just two seats in the back. So, if you need to carry more than four people you're restricted to the smaller battery, or face upgrading to an ID.4.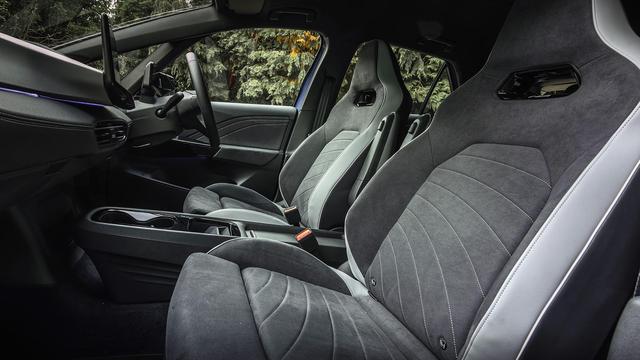 Features of the Volkswagen ID.3
While decluttering the interior and controlling as much as possible through the screen helped the ID.3 feel a lot more futuristic than a Golf not everyone liked the minimalist approach of touch-sensitive surfaces and shared switches. There were also some very specific annoyances, like the lack of backlighting for the volume and heating controls on the bottom of the screen, and the curious position of the light control tucked between this and the instrument cluster on right-hand drive cars. Following customer feedback both have been addressed with a new and larger central touch-screen … but not yet. While these new features are already present on European-market left-hand drive cars UK buyers will have to wait a bit longer, so if you're ordering an ID.3 it might be worth holding off until this improved tech filters through. Once it does it will be standard across the range. Previous complaints about the software powering the screen being slow to boot up claim to have been addressed as well, but you can still be well on your way before everything fires up and you have all systems go. If range is important it's worth noting - and a little disappointing - you have to pay nearly another £1,000 for an energy saving heat pump, something some rivals include as standard.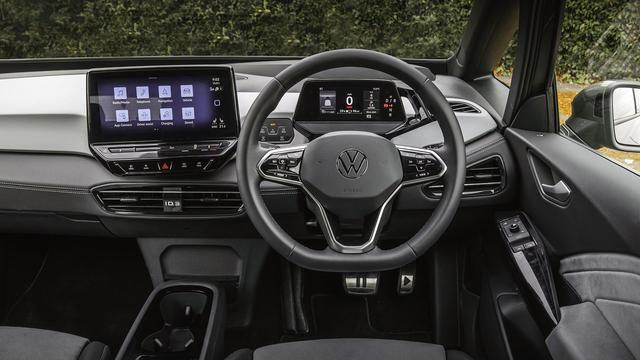 Power for a Volkswagen ID.3
The simplified range makes it much easier to choose your ID.3, all models using the same rear-mounted motor no matter which battery you go for. This feels like it has more than the listed 204 horsepower, the ID.3 picking up smartly at speeds that matter, like when filtering into fast-moving motorway traffic or nipping into gaps in town. It's worth noting the version with the smaller battery is actually slightly quicker off the line as well, thanks to it carrying less weight. Meanwhile there's no specific one-pedal mode where you can slow to a halt in stop-start traffic by simply lifting off the throttle, though the 'B' mode helps and is easily selected from the rotary transmission selector without taking your hands off the wheel. There is some level of 'smart' regeneration as well, though it's a little inconsistent and you sometimes have to revert to the regular brakes at the last minute. Official range on the smaller of the two batteries is 266 miles while the bigger one should see you to nearly 350 miles if you're very gentle on the throttle. In more real-world driving on a warm day we'd have got nearer 300, experience of the similar combination of battery and motor in our Cupra Born long-term test car suggesting 250 usable miles between charges is about the limit in typical conditions. If top-up speeds on public rapid chargers are something you like to compare with your EV-owning friends it's worth noting the bigger battery has a higher rate than the regular one. But we wouldn't lose too much sleep over that.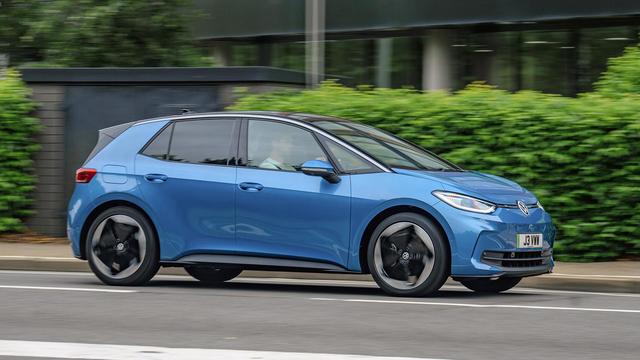 Lease deals
These deals are based on terms of 8,000 miles, for a 36 month lease with a 6 months initial payment.
Standard equipment
Expect the following equipment on your Volkswagen ID.3 Hatchback. This may vary between trim levels.
Related articles and reviews