Mazda MX-30
New from £29,150 / £339 p/m
Overview
Electric or petrol plug-in hybrid
How long will it take to charge?
Results based on 35.50kWh Mazda MX-30 battery
0

For a part charge (up to 0 miles)

0

For an 0% charge 0
You can charge this vehicle in 48 minutes at its fastest charging speed of 50 kW
* We have used data from the manufacturer to estimate these charging times, they are only a guide. Charging times for some speeds may not have been provided.
Is the Mazda MX-30 SUV a good car?
Read our expert review

Words by: Catherine King
"The Mazda MX-30 is a car you buy with your heart, enticed by its quirky looks, well-made interior and the unusual, rear-hinged 'freestyle' doors. Tempting, but for many potential buyers the 124-mile official range has been a stumbling block. Like the Honda E and Mini Electric, the MX-30 has until now been best suited to urban driving, more conventional looking rivals like the Peugeot e-208 or Vauxhall Corsa Electric offering more range and less anxiety. In response Mazda has launched this MX-30 R-EV, fitting it with a small petrol engine solely to generate power once the battery runs low. Does offering what is in effect a plug-in hybrid solve all the MX-30's problems? For the most part yes, but it still might not be the most practical crossover SUV."
Read the review by category
Running costs for a Mazda MX-30 R-EV
The electric MX-30 is already competitively priced, in part thanks to the reduced cost of its smaller than average battery. The R-EV version is equally good value, costing the same as the electric model for all but the range topping Makoto trim. To put this in context, the top spec MX-30 R-EV costs less than a Vauxhall Astra Hybrid. Low CO2 emissions mean company drivers will enjoy Benefit In Kind (BIK) savings, although the fully electric version will still save them more. More generally running costs for the MX-30 R-EV will depend greatly on your lifestyle. As with all plug-in hybrids home charging will score the best returns by making the most of the battery capacity. If you plan to mainly do longer journeys or you don't have your own wall box, fuel costs will start to add up and it might be worth considering Mazda's mild-hybrid CX-30 instead.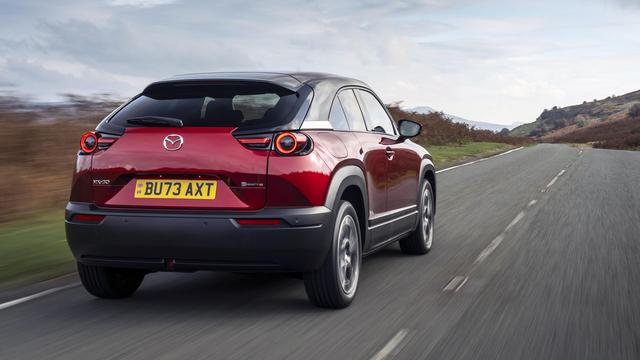 Reliability of a Mazda MX-30 R-EV
At a brand level Mazda has a decent reputation for reliability and all cars come with a standard three-year warranty, which owners can choose to extend. As a new model we don't know yet how reliable the MX-30 R-EV will be. Historically rotary engines have suffered if not well-maintained, but in this car it is only working as a generator rather than powering the wheels. Given it won't have to work as hard at it did in previous rotary-engined Mazdas like the RX-8 reliability should be less of a concern here.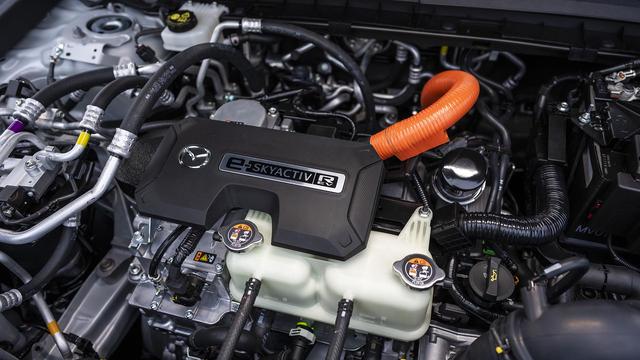 Safety for a Mazda MX-30 R-EV
The MX-30 R-EV has lots of technology to keep you safe, as demonstrated by the five-star safety rating from testing body Euro NCAP. The standard models benefit from radar cruise control which can maintain a set distance between you and the car in front and blind spot monitoring that will alert you and, at manoeuvring speeds, stop the car if it detects you are about to reverse into oncoming traffic. The front and rear parking sensors combined with a reversing camera help with the reduced visibility from the sloping rear bodywork, and lane-keeping assist keeps you drifting off course. This is helpful but can be overly intrusive if you stray over the centre line when navigating around parked cars.
How comfortable is the Mazda MX-30 R-EV
The interior of the MX-30 R-EV is stylish and ergonomic. Bucking the trend for putting all controls through giant screens Mazda instead keeps many within easy reach of the driver, and physical buttons for things like the temperature settings are much appreciated. The driver's seat is easy to get comfy in and from Executive-Line upwards it is power adjusted, which is particularly good on longer journeys if you like to tweak your position to keep comfy. The signature, backwards opening rear doors look cool but are a somewhat polarising feature. For those more petite in stature the reduced head- and legroom is less of a problem and the back of the car is cosily cocoon-like. If you only use the rear seats occasionally there is a regal pleasure in having the door opened for you, but as a main family car the novelty may wear thin. Parking close to a wall, hedge or other car can also leave both front and rear occupants performing an awkward do-si-do around each other and the doors to get free. Mazda has made the MX-30 feel light to steer, while the ride falls into the Goldilocks zone of being neither too soft nor too hard.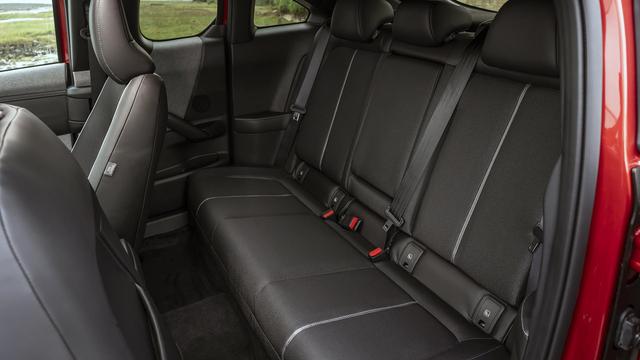 Features of the Mazda MX-30 R-EV
Like the electric MX-30 there are three trim levels, entry level Prime-Line, mid-level Executive-Line and range topping Makoto. Mazda has been generous and even Prime-Line models get features like a head-up display, sat-nav, DAB radio and smartphone connectivity via CarPlay and Android Auto. The turn-and-push dial in the centre console controls the 8.8-inch infotainment system, which is intuitive and means that you don't have to take your eyes off the road like you would for a touch-screen. The driving mode selector is easily accessible and not buried behind menus on the main screen, either. Moving up the range gets you diamond cut alloy wheels and leatherette trim, while Makoto models have a 360-degree camera and luxuries such as a Bose sound system and heated steering wheel.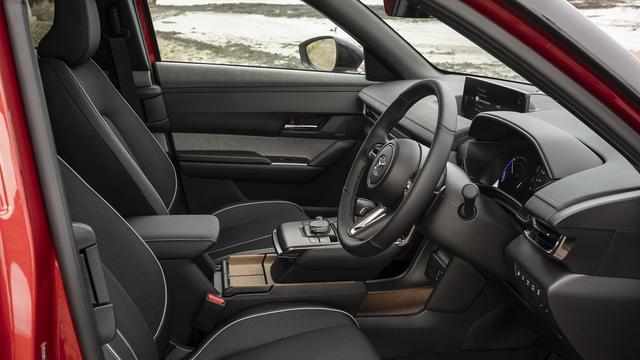 Power for a Mazda MX-30 R-EV
The MX-30 R-EV can do up to 53 miles on battery power alone by official figures, which should cover most local trips. When you need to go further it then uses the petrol engine as a generator to power the electric motor instead. This makes the MX-30 R-EV very smooth as it is never directly driven from the petrol engine, and you always have the nippy, instant acceleration you get in fully electric cars at your disposal. A similar concept can also be found in the Nissan Qashqai e-power hybrid. The switchover between the battery and generator is almost imperceptible, except for a distant hum from under the bonnet when the rotary engine kicks in and the corresponding triangular motif that appears on the driver display. The MX-30 is not quick by electric car standards, but it has enough get-up-and-go that joining motorways and navigating traffic are easy. The MX-30 R-EV has three driving modes all with their own distinct purpose. Most of the time owners are likely to use Normal mode where the car chooses which fuel to use based on the remaining charge in the battery. EV mode will only use the battery, perfect for low emission zones and urban areas. While Charge mode uses the generator to power the car and to top up the battery. In this mode the engine is noisier, and your petrol consumption takes a hit. This mode is most useful if you want to have more range left in the battery for the final leg of your journey, and most people are unlikely to use it often. <h3><i>What is a rotary engine and why does it matter?</i></h3> Mazda is very proud of its engineering heritage, and especially its successful production of nearly two million rotary-engined vehicles. The major difference between rotary and regular engines is that they use a triangular 'lobe' spun around an oval chamber by the combustion of air and fuel, where most engines use the same process to push pistons up and down within a circular bore. While complex in theory rotary engines are smaller, have fewer moving parts and can create more power for their size than a conventional engine, though historically have suffered reliability problems and proven thirsty. Emissions have also been difficult to manage in the past. Nonetheless, Mazda fans fondly associate the rotary engine with cars such as the Cosmo, RX-7 and RX-8 to name a few, though the new MX-30 R-EV is different. Rather than using the rotary engine to drive the wheels in the conventional manner Mazda uses it as a generator to help extend the range of its electric car. The small size saves kilos, and it can be positioned to help improve overall weight distribution. Mazda is not the first manufacturer to use a small, range extending engine in its cars, BMW launched its i3 with the option of an adapted scooter engine operating in the same way. Like most manufacturers it subsequently decided a bigger, more efficient battery was its preferred method for going further between charges and the 'range extender' model was dropped. Mazda, like Nissan, reckons there's still a place for such systems, though, leading to this recent revival.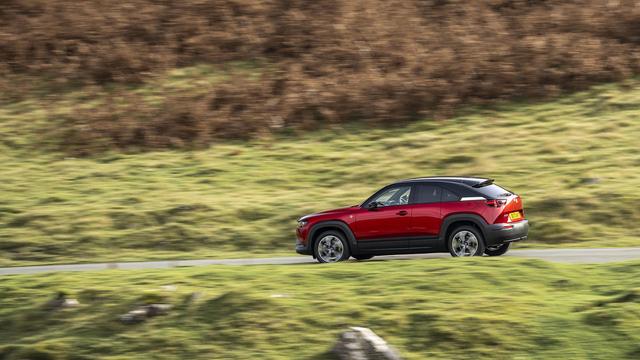 Lease deals
These deals are based on terms of 8,000 miles, for a 36 month lease with a 6 months initial payment.
Standard equipment
Expect the following equipment on your Mazda MX-30 SUV. This may vary between trim levels.
Related articles and reviews
Mazda MX-30 SUV (2020 - ) review
Mazda joins the electric age with the funky looking MX-30, a stylish compact crossover with distinctive styling, a super cool interior and fun handling – only the limited range lets it down