News
Scrappage scheme UK 2023
You can exchange your old diesel or petrol car through a car scrappage scheme and get a new ULEZ compliant vehicle including electric cars. Learn more about the latest deals available in 2023 from London's TfL, Hyundai, Toyota and more.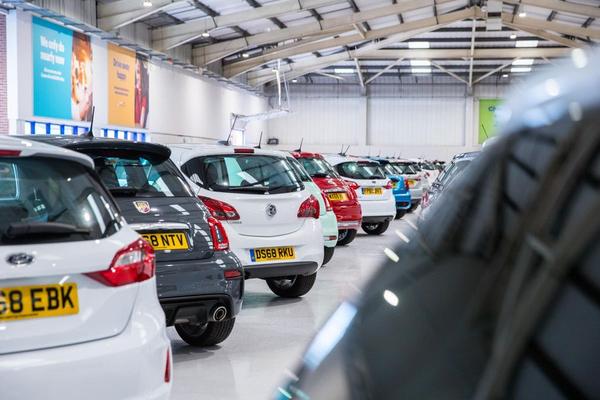 Words by: Nimisha Jain
Last updated on 6 September 2023 | 0 min read
To combat air pollution, the government announced a
ban on the sale of diesel and petrol cars from 2035 onwards
and many cities have started implementing
clean air zones
to charge vehicles that fail to meet the minimum emission standards.
In London, the
Ultra Low Emission Zone (ULEZ)
operates which levies a daily charge of £12.50 on all cars exceeding the emissions standards set for the zone when driving through ULEZ. From 29 August 2023, ULEZ is expanding - to help Londoners being affected by this expansion, the Mayor of London, Sadiq Khan announced that the TfL's scrappage scheme operating in London will be extending to include all Londoners, as well as to increase the amount of grants being offered.
What is a car scrappage scheme?
Car scrappage scheme was first introduced in 2009 to encourage vehicle-owners to scrap their old and polluting vehicles, in exchange for a guaranteed discount on a new and more eco-friendly vehicle. The trade-in deal aims at decreasing vehicle emission levels, as well as boosting sales for manufacturers.
Due to the car scrappage scheme's popularity, it has now expanded to other vehicles as well, including vans, motorcycles, HGVs and commercial vehicles. Over time, car manufacturers have started offering this government-backed vehicle scrappage scheme as well.
What cars qualify for scrappage scheme?
The main criterion for your car to qualify for a car scrappage scheme is your car's age. Your car's age determines if it's
European emission standards
compliant or not.
The car's condition isn't as important as the amount of emissions it produces because the scrappage schemes were introduced to encourage motorists to trade in their old and polluting vehicles for new and greener ones. So if you're driving an old, low-value vehicle, a car scrappage scheme could help you save a few extra pounds. Cars qualifying for scrappage are petrol cars registered after 2005 and diesel cars registered after 2015, with a few exceptions - if in doubt, you can
check here on Tfl.gov.uk.
However, if your vehicle is labelled as
Cat D
by your insurer, you might not be eligible for these schemes.
How does the vehicle scrappage scheme work?
Different manufacturers and city councils have different terms and conditions for their car scrappage scheme.
If you buy a car using a government-backed scrappage scheme, you may be allowed to buy any Euro 6 compliant car that meets the needs of the scheme. If you buy a car through a manufacturer's scrappage scheme, you can only buy a new car offered by that manufacturer. Different scrappage scheme providers will have different requirements – this could be related to the owner of the vehicle and how long you need to have owned the vehicle before trading it in, when was the vehicle first registered and which vehicles you're allowed to trade in. You'll also need to provide certain documents as proof so make sure you have these ready. Finally, these schemes are available for a limited time only and their end-date differs, so make sure you make use of the scheme before the offer expires.
UK government car scrappage scheme 2023
London's TfL ULEZ car and motorcycle scrappage scheme
London's TfL scrappage scheme was first introduced in October 2019 to help low-income motorists switch to less polluting,
ULEZ-compliant cars
by providing a discount. After being re-introduced in January 2023, it has been recently announced that TfL's scrappage scheme in London will be expanding to help the Londoners being affected by the
expansion of ULEZ
in August 2023.
Through TfL's car and motorcycle scrappage scheme, you can apply for the following grants:
Motorcycles: up to £1,000 Cars: up to £2,000 Wheelchair-accessible vehicles: £10,000 to scrap or £6,000 to retrofit your vehicle You'll be eligible for TfL's car and motorcycle scrappage scheme if meet all these requirements: • You live within the 32 London boroughs or the City of London • Your vehicle is registered with the DVLA to you or someone living at the same address as you since 30 January 2022 or earlier (copy of
V5C
required for proof) • Your vehicle doesn't comply with
ULEZ emission standards
- less than Euro 4 petrol and Euro 6 diesel compliant cars or less that Euro 3 for class L vehicles • Your vehicle is insured and has an up-to-date MOT and vehicle tax (copy of vehicle insurance and MOT certificate required as proof) Previously, only Londoners who claimed benefits could apply for TfL's car and motorcycle scheme, but from 21 August 2023 onwards, all Londoners are eligible to apply and benefit from these discounts. Some applicants may be able to claim adult-rate Annual Bus & Tram Passes. TfL's scrappage scheme for
vans and minibuses
has increased, with savings of £7,000 - £11,500 on offer, if you're a small or micro-business, sole trader or a registered charity in London. Also, charities, eligible businesses, and sole traders can apply for up to three different vans or minibuses through this scrappage scheme. You can
read the full terms and conditions
and
apply for the car and motorcycle scrappage scheme
on TfL's website (external link).
Birmingham's vehicle scrappage and travel credit scheme
Birmingham City Council introduced its own vehicle scrappage scheme (worth £10 million) a few weeks before its Clean Air Zone (CAZ) started, from 1 June 2021 onwards.
You'll be eligible for Birmingham's car scrappage scheme if: • You're the registered owner or keeper of a non-compliant vehicle since 10 September 2018 (copy of V5C required for proof) • You work at least 18 hours per week in Birmingham's Clean Air Zone - within A4540 Middleway
(letter from your employer
required as proof) • Your annual income is £30,000 or less (copy of payslips, a P60 or a tax return as proof) With the scheme, you'll be eligible for a £2,000 grant which you can use as 'travel credit' in the form of a Swift travel card for West Midlands trains, buses and metro or to buy a new car that meets Birmingham Clean Air Zone's emission requirements from the dealership – Motorpoint.
Applications for Birmingham's car scrappage scheme opened on 12 May 2021 (external link)
Scotland's Low Emission Support Fund
The Scottish Government introduced a Low Emission Zone Support where they provided disposal grants to those looking to switch to a LEZ compliant car.
You could get up to £3,000 from Scotland's disposal grant if: • you live within 20kms of Scotland's Low Emission Zone • you own a non-compliant vehicle that you've owned for at least 12 months and is fully taxed and has an MOT • you claim benefits
You can learn more or apply on Energy Saving Trust
. Applications close on 17 March 2023. Grants up to £2,000 are also available to micro businesses (up to nine employees) and sole traders.
You can learn more about eligibility and how to apply here.
Manufacturers' car scrappage schemes
Volkswagen ULEZ scrappage scheme
Volkswagen's launched its own discounts in line with the current
ULEZ scrappage scheme
, offering savings of up to £4,500 on their latest ULEZ-compliant cars, including the
VW Polo
,
ID.3
(original and new model),
ID.4
,
ID.5
,
T-Cross
,
Taigo
and the
T-Roc
.
The discount ranges from £1,750 - £4,500, depending upon the model you purchase. You'll be eligible for Volkswagen's ULEZ scrappage scheme if: • You live in one of the 32 boroughs in London • You drive a non-ULEZ-compliant car • You qualify for
TfL's scrappage scheme
The discounts are available till 30 December 2023. You can redeem this offer at any Volkswagen Retailer in the UK, as long as you're able to prove your eligibility for the TfL's ULEZ scrappage scheme.
You can find the full details here (external link).
Renault new for old scheme
Renault's
new for old scheme offers the chance to trade in your old passenger or LCV vehicle when you order a brand-new Renault by 2 October 2023 and register it by 31 December 2023.
The discount ranges from £750 - £2,000, depending upon the model you purchase. You can find the full list of cars on offer
here (external website)
. You'll be eligible for Renault's new for old scheme if: • You've owned the vehicle for at least 90 days • You make a cash purchase
Tesla scrappage scheme
Tesla's
new scrappage scheme offers you the chance to trade in your old car if it's valued at less than £2,000 + an additional £2,000 discount when you buy a new
Tesla Model 3
or a
Tesla Model Y
.
The offer is only valid from 1 June - 30 June and you'll be eligible for Tesla's scrappage scheme if: • You've been the registered keeper of the car for more than 3 months • You have at least 30 days remaining on the car's MOT certificate The total amount of discount will depend on how much the trade-in value of your current car is, but it'll range between £2,000 - £4,000. You can enter your car's registration number and VIN on Tesla's website to
find out your car's trade-in value
.
Other scrappage schemes
Manufacturers introduce new and updated scrappage schemes every quarter - keep this page bookmarked to check back the latest offers available.
In the past,
Audi
,
BMW
,
Ford
,
Hyundai
,
Mazda
,
Mercedes
,
MG
,
Mitsubishi
,
Toyota
,
Skoda
and
Vauxhall
offered scrappage scheme deals. These offers, however, have been discontinued for now. Mazda used to offer discounts between £2,500 - £3,500 in 2020, however, Mazda has discontinued its scrappage scheme. Mazda still offers
PCP deals
.
You can find more information on Mazda's website
(external link) Fiat has introduced a £3,000 grant for its
Fiat 500e
and
500e C
cars if registered between 1 June 2023 - 31 December 2023.
Find out more(external link).