Expert Review
Mazda MX-30 SUV (2020 - ) review
Mazda joins the electric age with the funky looking MX-30, a stylish compact crossover with distinctive styling, a super cool interior and fun handling – only the limited range lets it down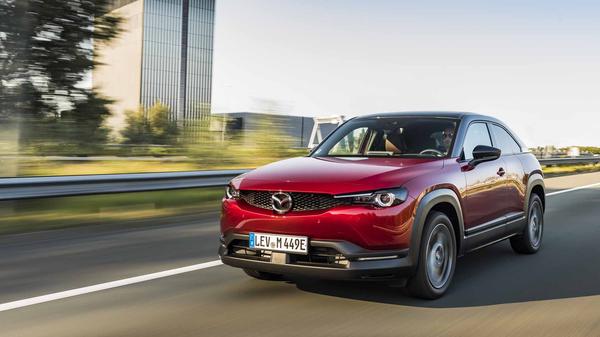 Words by: Dan Trent
Published on 22 October 2020 | 0 min read
The Auto Trader expert verdict:
Available new from £31,250
The Mazda MX-30 is a pure electric crossover with stylish looks inside and out and plenty of appealingly distinctive features, rear-hinged passenger doors for the back seats included. In style terms it competes with the fashion-conscious Honda E and Mini Electric but is more practical than both and more distinctive than the Peugeot e-2008 or Renault Zoe you might also consider at this level. The small battery and limited range are an issue, though.
Reasons to buy:
Competitively priced
Distinctive and stylish
Fun to drive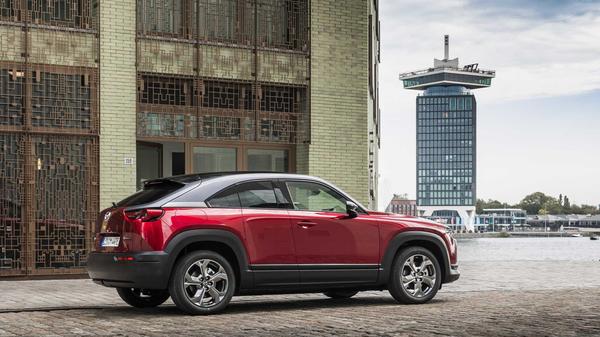 Running costs for a Mazda MX-30
As the small electric car market gets more competitive prices are becoming increasingly attractive and Mazda has taken a bold punt with its MX-30 by reducing the battery size, which it says makes it cheaper to buy than its immediate rivals. These include the Honda E and Mini Electric, both of which have similar appeal for trendy urbanites, and the likes of the Peugeot e-2008 and Renault Zoe, which the MX-30 matches for practicality. If you're lucky enough to have off-street parking where you can install a home charging point the MX-30 is going to cost peanuts to run, the smaller battery also meaning it's quicker and cheaper to charge. Tax incentives like VED and Benefit In Kind will also make an electric car like the MX-30 very appealing to both private and company drivers. That short range does, however, mean you'll need to rely on public charging more than some rivals. That's still cheaper than petrol or diesel but not always by as much as you might think.
Expert rating: 5/5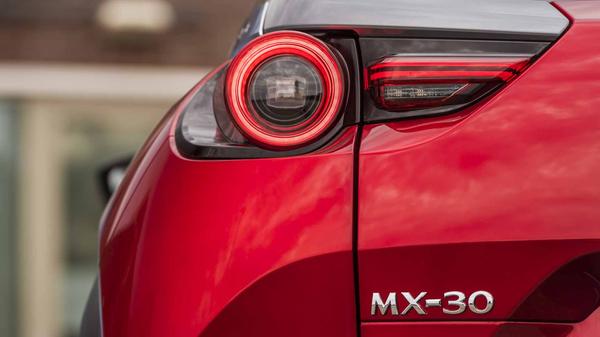 Reliability of a Mazda MX-30
The MX-30 is a brand-new model so it's too early to say how reliable it will be, though electric cars are obviously mechanically simpler than regular internal combustion models so there's hopefully less to go wrong. Anecdotally Mazda has a reputation for building reliable cars, though its mid-table position on the JD Power Vehicle Dependability Study doesn't entirely back that up.
Expert rating: 4/5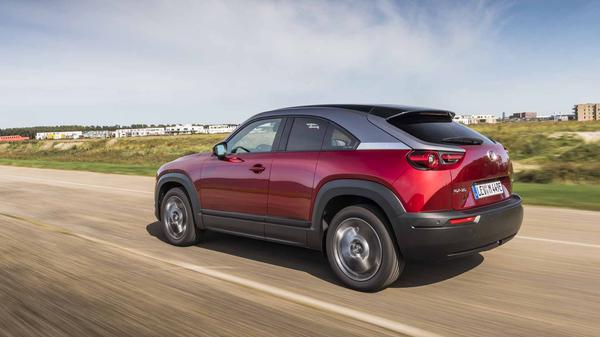 Safety for a Mazda MX-30
Mazda is keen to promote the technology in the MX-30 and that includes the safety systems included as standard on all models. Radar cruise control able to maintain a set distance to the car in front is included as standard, as are LED headlights and a head-up display that projects speed limit and other information into your eyeline on the windscreen. Front and rear parking sensors, and a reversing camera, are also standard, which is handy because rear visibility isn't great. The various sensors and cameras will also warn you of unseen vehicles in your blind spot, steer you back into lane if you start drifting out of it and even correct your path on country roads where there is no defined verge or white line as there is on motorways. It will even brake itself if it thinks you're about to turn across the path of an oncoming car. Some of the systems seem a little over-sensitive, though, meaning frequent false alarms that can get annoying.
Expert rating: 5/5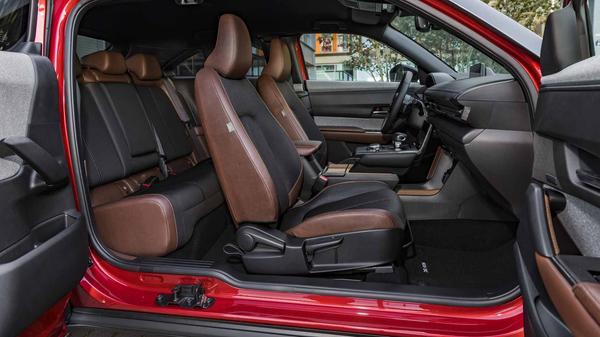 How comfortable is the Mazda MX-30
From its combination of natural, recycled and vegan materials Mazda is obviously keen that the interior of the MX-30 expresses the supposed 'woke' credentials of driving an electric car. You don't have to buy into all that to appreciate the stylish way it's been put together, though, and the driving environment is as functionally slick as it is good looking. The Honda E has been widely praised as a game changer for its interior but, frankly, the MX-30 isn't far behind. The front seats are comfortable, the driving position excellent and the mix of modern screens and more traditional dials looks good. Access to the rear seats via the distinctive 'freestyle' doors at the back is a little tight, though the fact you don't have to walk around an open door to strap kids into their seats will be a boon at the busy school gate and they look distinctive and cool. Adults will need to contort themselves a little to get into the back but, once there, it's reasonably spacious, if a little claustrophobic thanks to the small side windows. If you regularly travel with bigger passengers a more conventional electric hatchback like a Vauxhall Corsa e, Peugeot e-208 or that Renault Zoe might be a better bet but those attracted by the looks alone will be more tolerant of the quirks. The MX-30 is also a lot more practical than the Mini Electric or Honda E those buyers might also be looking at, and not far off the internal size of small electric SUVs like the Peugeot e-2008. Mazda has a talent for making its cars drive well and this carries through into the MX-30. It feels lighter than the figures suggest, with easy, accurate steering and above-average ride quality for a crossover or small SUV of this type.
Expert rating: 4/5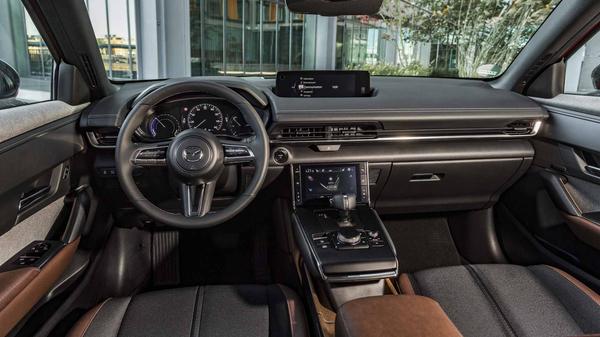 Features of the Mazda MX-30
The MX-30 arrives with a special, limited run Launch Edition and, once those are sold, follows Mazda's established model progression with three trim levels. All are well equipped, which is doubly impressive given the keen starting price. All MX-30s get a small touch-screen to operate the heating and ventilation (proper buttons alongside are a welcome back-up) and an 8.8-inch infotainment screen controlled by a turn-and-push dial in the centre console. This is actually easier to operate with your eyes on the road than the touch-screens in many rivals and includes Bluetooth, DAB and smartphone connectivity via CarPlay and Android Auto as standard. Functionally everything you'd really want is included on the base spec, the more expensive ones mainly there to make your MX-30 look fancier or feel a little more luxurious.
Expert rating: 5/5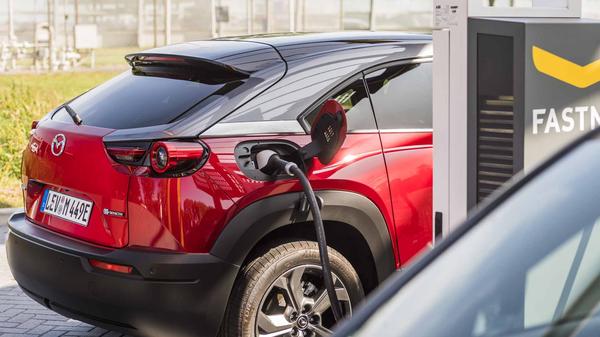 Power for a Mazda MX-30
The MX-30's 145 horsepower electric motor drives the front wheels and is on a par with its immediate rivals in terms of performance. An unobtrusive sound generator inside the car gives you some sense of how fast you're going, which is handy because electric cars are so quiet it's sometimes hard to keep tabs on your speed. It feels plenty brisk enough and is an easy and fun car to drive, the paddles behind the steering wheel letting you adjust how strong the regenerative braking force is. You quickly learn to use these as you might a conventional gearbox, shifting 'down' with the left paddle as you would through the gears when slowing for corners or stop lights and shifting 'up' when you want a more flowy sensation. Keen drivers will enjoy this interactivity but it's equally easy to just leave it in the default and let the car sort itself out. The elephant in the room with the MX-30 is Mazda's deliberate decision to limit battery power in the name of 'rightsizing' and reducing the environmental impact of the car's production. It's laudable but an official range of 124 miles (Mazda claims more in city driving but we didn't get a chance to test the theory) means you're realistically limited to journeys of under 100 miles on a full battery, which is even less than the Honda E. If you only do short urban or suburban trips that will be fine but, for many people, it will be a serious limitation, even with the improvements in public charging infrastructure. Mazda will in time introduce a 'range extender' version with a small petrol engine to charge the battery on the move and open up longer journeys without having to plug in. But, as it stands, the MX-30 is limiting itself to a very narrow, mainly urban, audience.
Expert rating: 2/5