Expert Review
Peugeot e-2008 SUV (2019 - ) review
Full-electric option for the already attractive Peugeot 2008 makes it a perfect, practical family EV for those looking to make the switch
The Auto Trader expert verdict:
Available new from £22,735
The new Peugeot 2008 is an attractive package as it stands but Peugeot wants to offer its customers the choice of petrol, diesel and now electric at all trim levels and it's the latter we're looking at in isolation here. It's a smart move too, the combination of practical and trendy compact SUV packaging with of-the-moment pure electric power at an affordable price making it a tempting choice suited to the typical pattern of use for such cars.
Reasons to buy:
Easy to drive
Performs just as well as regular versions
Cheap running costs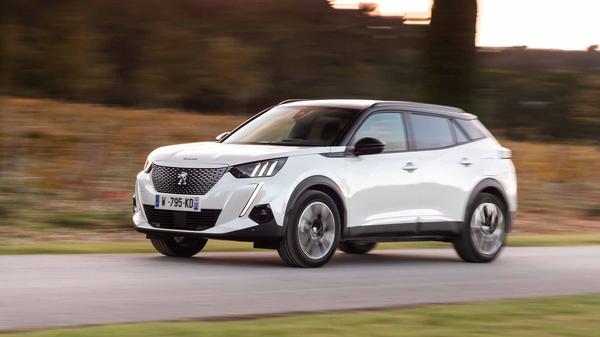 Running costs for a Peugeot 2008
Peugeot is to be applauded for its policy of offering customers a choice of petrol, diesel and hybrid or full
electric
at every trim level in each model range. In the 2008's case the eco-friendly choice is a pure EV, powered by a 136 horsepower electric motor and 50kWh battery with an official range of 193 miles. It's more expensive to buy than
other 2008s
– as much as £10,000 more in some cases – but that's offset by significantly cheaper running costs. Obviously, you don't have to budget for fuel in the usual fashion and if you can charge at home rather than on public points you'll save a fortune. Company drivers will also gain from the adoption of a zero benefit in kind rate, which could save huge amounts of tax if the range is sufficient for your typical journeys. Against the alternatives the e-2008 has a significantly cheaper entry price than the DS 3 Crossback E-Tense, which is based on the same platform and uses the same motor and battery. Competition in this sector is intensifying though and, further up the range, you may be looking at the
Kia e-Niro
,
Kia Soul EV
and closely related
Hyundai Kona Electric
. They're all a little more expensive but have significantly more power and range.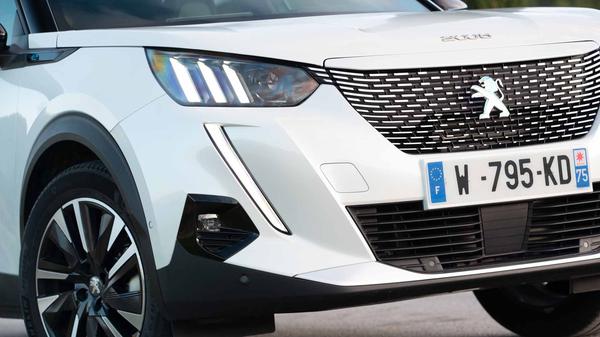 Reliability of a Peugeot 2008
In theory there's less to go wrong on an electric vehicle and this, combined with Peugeot's excellent ratings for
reliability
, should mean you can buy with confidence. To put that into context Peugeot as a brand topped the table in the 2019 JD Power Vehicle Dependability Study, with the lowest number of 'problems per 100 vehicles' by which the rankings are judged. The Kia and Hyundai rivals mentioned previously do have longer warranties and, as a model, the 2008 is too new to make long-term reliability judgements on. But, as a brand, Peugeot has clearly got its act together and would appear a dependable choice.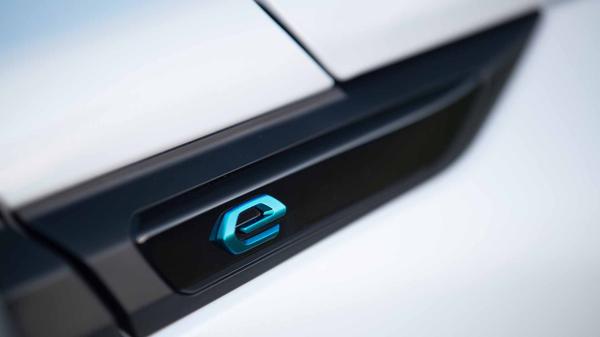 Safety for a Peugeot 2008
As a bang-up-to-date model the 2008 benefits from the latest safety equipment. Standard features include active lane-keeping assistance, which actually tweaks the steering to keep you between the white lines should you start running wide. Automatic braking meanwhile brings you to a halt should a pedestrian step out in front of the car while the screen-mounted camera relays speed limits and other traffic sign information to the dash display. This is good enough for a four-star NCAP rating, which increases to a full five-star score on Allure and up, thanks to more sophisticated automatic braking that works in dark and low-visibility situations too. The flagship GT version gets the full kit, including blind spot detection that steers you out of a collision should you fail to see a vehicle alongside and full active cruise control with stop and go function in traffic. This is optional on lower models.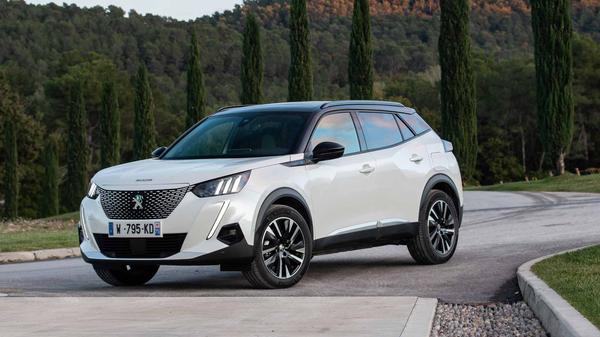 How comfortable is the Peugeot 2008
Style plays a big part in buying choices in this sector of the market and the e-2008 is a good-looking car. It's also a practical one, thanks to its more traditional and boxy SUV-inspired shape. Family buyers will appreciate the extra height for loading kids in and out of the back seats while older children and adults will enjoy decent leg- and headroom. There's plenty of adjustment in the driving position for drivers of all shapes and sizes too while upholstery gets steadily fancier as you progress up the range. Nor is there any compromise in boot space between regular versions and the electric. Ride comfort, at least on the smaller wheels on Active and Allure models, is impressive and copes well with both twisty roads and urban obstacles such as speed humps. Top-heavy vehicles like this often suffer from significant body roll compared with more conventional hatchbacks but Peugeot has done a good job of keeping this in check, the extra weight of the electric version meaning it feels even more tied to the road than the petrols and diesels. Peugeot has also calmed the somewhat twitchy response to the steering found in its 3008 big brother, meaning it's more relaxing to drive while still feeling direct and surprisingly agile.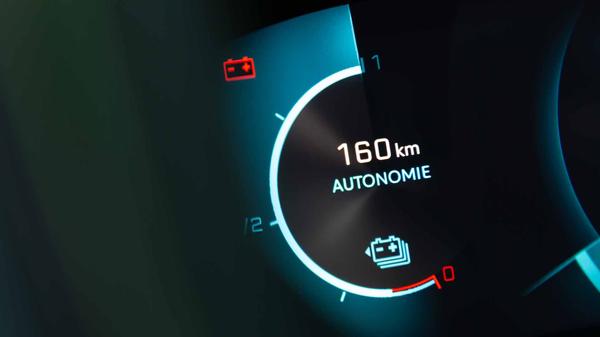 Features of the Peugeot 2008
All 2008s feature Peugeot's distinctive driving environment of a small, low-mounted steering wheel and strip-like instruments positioned above. It takes a little getting used to but soon becomes second nature, the funky three-dimensional dials (standard on all but the entry-level Active model) a true surprise and delight feature that also has real functional benefits. Configurability to include nav information, conventional dials or a 'minimal' display for night driving are all useful, Peugeot claiming a half-second improvement in reaction times to information. Also standard from Active and up is a large touchscreen, mounted high in the dash, angled towards the driver and featuring TomTom-based navigation with additional CarPlay and Android Auto connectivity if you prefer to use your phone apps. In its basic form this uses a smaller display framed within the unit that houses the more sophisticated and function-rich full-screen on GT Line and GT models. Allure buyers can upgrade at a cost, this bringing with it increased connected functionality and a three-year subscription.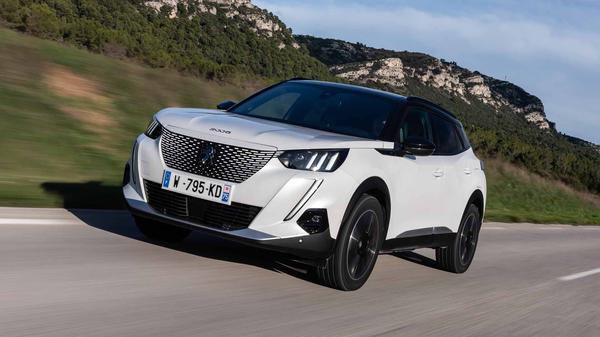 Power for a Peugeot 2008
Power for the e-2008 matches that of the petrol, the considerable extra weight shrugged aside by the effortless, instant response. Performance is more than good enough to keep pace, both in town and on the open road, and the excellent refinement means minimal intrusion on the inner calm from wind or tyre noise. The official 193-mile range is less than that offered by rivals from Kia and Hyundai but the regeneration mode means you can brake by lifting off the accelerator and effectively drive on one pedal. Adopting this method, and using hills and approaches to junctions to get some juice back into the battery, we completed our mixed test route with nearly as much range as we started with, suggesting the e-2008 makes efficient use of its battery. Plugged into the mains it'll charge fully in 24 hours or in 7.5 hours from a dedicated wallbox. If you are travelling further afield or for long distances it can go from zero to 80% charge in as little as 30 minutes, assuming you can plan your route to include suitable DC fast-chargers. As such you could safely cover 250 miles with a single half-hour coffee stop, assuming the infrastructure is there to support it.