Expert Review
BMW M3 Saloon (2020 - ) review
The sensible alternative to the new M4? Check out our full review and Rory Reid's video to find out!
The Auto Trader expert verdict:
Available new from £75,660
A performance car legend with a heritage dating back to the 1980s, the BMW M3 is an icon among enthusiasts. With the two-door version now known as the M4 and forging an identity of its own, the M3 is now closer to the 3 Series saloon on which it is based, albeit with a monstrously powerful 510 horsepower engine and heavily reworked brakes and suspension to make the most of it. The combination of sports car chasing performance and saloon car practicality is as appealing as ever, rivals including the equally impressive Mercedes-AMG C63 and Alfa Romeo Giulia Quadrifoglio. Click here for our review of the standard 3 Series saloon on which the M3 version is based and click here to read about the M4, the two-door coupe version of this car, based on the 4 Series.
Reasons to buy:
Fabulous engine
Thrilling to drive
Sports car pace, saloon car practicality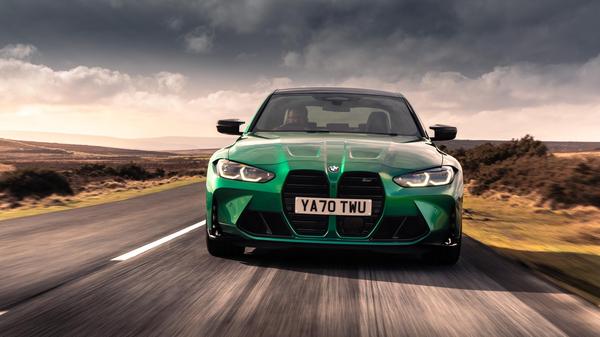 Running costs for a BMW M3
Regular
3 Series saloons
are
company car favourites
, popular for their combination of sleek looks and
tax optimised
emissions figures from their efficient petrol and diesel powertrains. The M3 is absolutely not a regular 3 Series saloon, though, and has speed and excitement as its number one priorities. This is pure indulgence, with purchase and running costs to match. Your return on this investment is a car to turn heads and put a smile on your face every time you take it out, not to mention thrill you when the opportunity comes to enjoy its formidable abilities. Against rivals the M3 is comparable in purchase and running costs to a
Alfa Romeo Giulia Quadrifoglio
or Mercedes-AMG C63 saloon, while BMW has offset an increase in purchase price over the previous car with improved equipment to help maximise residual values and keep a lid on
monthly finance costs
.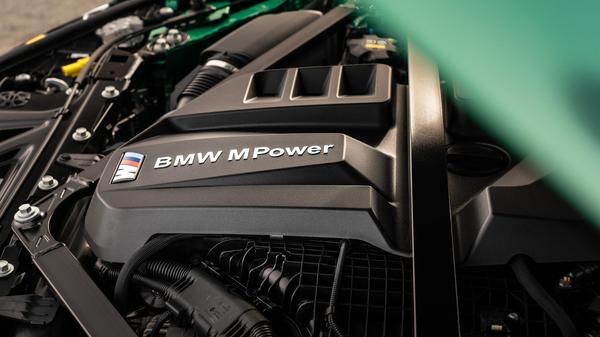 Reliability of a BMW M3
The 3 Series on which the M3 is based is a popular car and a fixture of British roads but, like many premium brands, BMW struggles on reliability surveys and rankings and, as a brand, doesn't have a great showing. The M3 is a specialist product developed by a dedicated performance division so should, in theory, be built with increased attention to detail and quality befitting its premium price.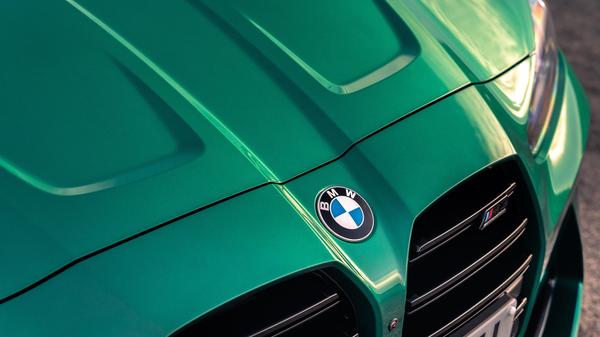 Safety for a BMW M3
The M3 has been built to be both safe and dependable on everyday drives but also deliver thrills if you decide to stretch its legs on a track. As such there is huge bandwidth in the driver assistance systems to accommodate this, with all the usual features you'd expect of a modern saloon car like lane-keeping nudges through the steering and automated emergency braking. Scope to make the driving experience more exciting (or, possibly, scary) lies in the many and various ways you can tune the car to your tastes. This runs as far as a dedicated 'M Drive Professsional' area of the driver menus where you can unleash the full M3 character, with lap timing to your phone and a system for analysing how sideways you can get in the corners. Suffice to say, this is not intended to be used on the public road. If the idea of so much power going to the rear wheels is a little too much the M3 will, for the first time in its history, be offered with an M xDrive all-wheel drive system in due course, derived from similar technology in its
M5
and
M8
big brothers. This maintains the rear-wheel drive balance enthusiasts love in fast BMWs, with the extra security of all-wheel drive in slippery conditions. BMW expects as many as 80 per cent of M3 buyers to take this option up when it becomes available.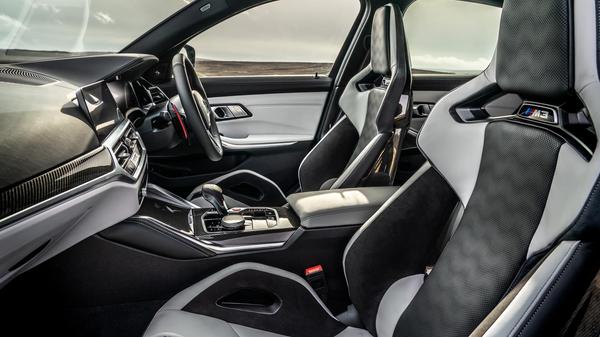 How comfortable is the BMW M3
With its fat tyres, big wheels, stiff suspension and responsive controls the M3's priorities are clear. But BMW has made use of improved control systems to increase the difference in feel between the Comfort, Sport and Sport Plus parameters you can choose from in the various set-up menus, and the new version is much more refined in its most relaxed settings than before. True, it always feels a little more harsh over bumps than a regular 3 Series saloon. But where the old model seemed on maximum attack all the time this new one can also do relatively mellow when you just want to cruise. Make no mistake, though. When you do choose to dial it up there's a properly wild performance car under those sensible saloon clothes, your pre-configured preferences available in an instant via the two red 'M' buttons on the steering wheel. It's a tech lover's delight, given you can mix and match your preferred settings for steering weight, throttle response, brake pedal feel, suspension, engine noise and more and save them ready for when the road – or mood – takes you. Play to your heart's content, though we'd suggest the Sport Plus suspension mode is a bit much for the road and is probably best saved for the track. The cabin is certainly a step up from any other 3 Series, too, especially if you opt for the carbon fibre bucket seats. Their figure-hugging shape and insistence you 'man spread' with your legs apart in a contoured base are a little extreme and are clearly tailored to those of an athletic physique, but they certainly add a bit of character to the interior. They are more comfortable than they look (honest) but for the M3's relatively understated vibe you may prefer the more conventional standard seat, especially if you have kids and don't want them scratching the expensive carbon fibre shells with their feet or poking you in the back through the weight-saving cut-outs. As they doubtless will.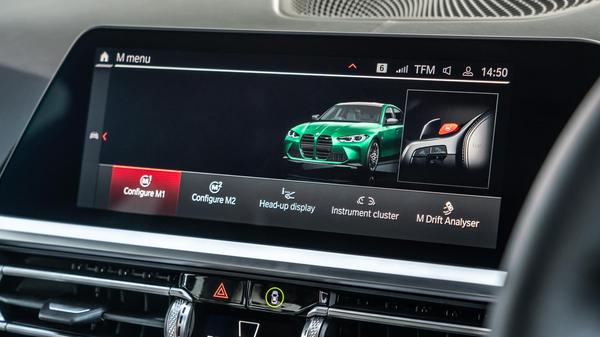 Features of the BMW M3
The new M3 costs more than the previous one but BMW has included as standard a lot of kit buyers previously had to pay extra for. These include additional carbon fibre trim, head-up display and upgraded Harman/Kardon speakers. This comes on top of an already generous array of tech, centred around a configurable screen-based instrument display and second screen in the centre for your various infotainment needs. These are all supported by connected services, can be paired with your phone and can operate by touch, voice or gesture control, though the latter seems more of a gimmick in reality. Not enough? Further extras including a heated steering wheel, 'laser' headlights, uprated ceramic brakes and expanded driving and parking assistance functions can all be added, combined into self-explanatory bundles. Compared with rivals the M3 feels of much higher quality than an Alfa Romeo Giulia Quadrifoglio but we reckon the Mercedes-AMG C63 still pips it for premium feel, and the appeal of its paired widescreen displays.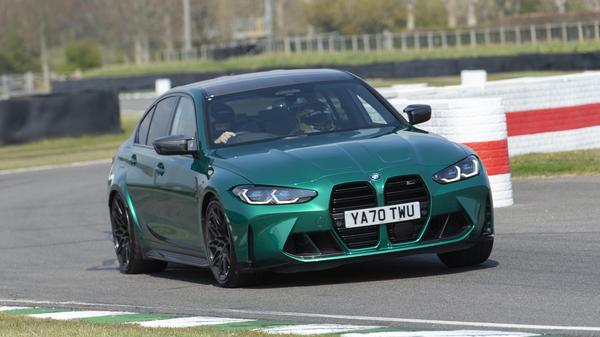 Power for a BMW M3
The main motivation for buying a BMW M car is always the engine first and rest of the car second. Good news? The all-new turbocharged six-cylinder in the M3 is a belter and employs all manner of motorsport derived tech to make it as responsive and powerful as possible. Forget the mushiness found in some turbo engines – in its sportier settings the M3 engine reacts instantly, revs with real enthusiasm all the way to the redline and works in perfect harmony with the standard eight-speed automatic gearbox. This is more refined than the one in the previous car, though some true M enthusiasts may miss the more assertive punch in the back it used to give when shifting up at the limit. While this new M3 is considerably heavier than the previous one you won't hear any complaints about the extra performance this engine delivers, the 510 horsepower whooshing in with a thrilling, never-ending rush, especially when you select the more aggressive modes. Since our road drive with the M3 we've subsequently had opportunity to try it on the race track with a few laps around the iconic Goodwood Motor Circuit. Any fears the extra weight or new gearbox might blunt the car's edge are clearly unfounded, the new M3 feeling sharper, lighter and even faster than the numbers might suggest. Most impressive compared with its predecessor is how smoothly it puts its power down, the suspension, stability control and other gizmos meaning you can get hard on the throttle even mid-corner without any fears of losing the back end as you would in the old M3.That a high-tech, luxurious sporting saloon can be driven this hard on a track is proof BMW hasn't lost its edge here, and long-time fans can rest assured the M3 legacy is in safe hands.