Expert Review
BMW 3 Series Saloon (2018 - 2022) review
Read about the BMW 3 Series saloon, the classic sporting four-door and fleet favourite with a huge range of trims, engines and features to suit every budget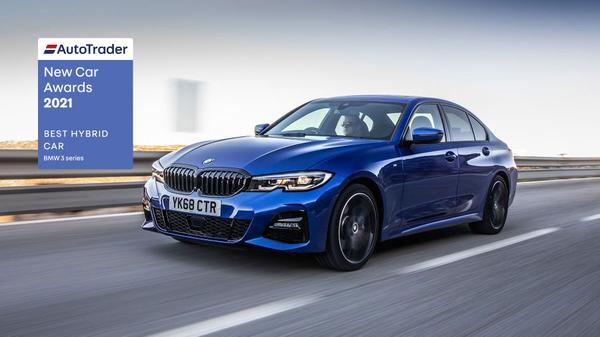 Words by: Auto Trader
Last updated on 27 February 2020 | 0 min read
The Auto Trader expert verdict:
Arguably a benchmark for the sector, the BMW 3 Series has maintained its reputation for sporty handling and fine dynamics while also delivering competitive CO2 and fuel consumption figures. With the option of powerful petrols, commendably refined and frugal diesels and a full plug-in hybrid there are engines to suit every need and a huge amount of technology to support your driving, even if the best of it remains on the options list or confined to fancier trim levels.
Reasons to buy:
Impressive quality
Really sharp to drive
Lots of technology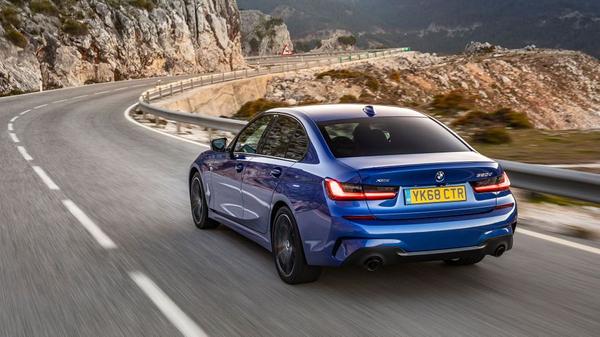 Running costs for a BMW 3 Series
While the outright purchase costs of the 3 Series are high when compared with similarly sized cars from mainstream brands, they're on a par with direct rivals from the likes of Audi, Mercedes and Jaguar. So are the car's all-important resale values, which means your investment will be just as well protected come resale time. Or, if you buy on finance, these robust residuals will help keep monthly payments a bit lower.
Expert rating: 4/5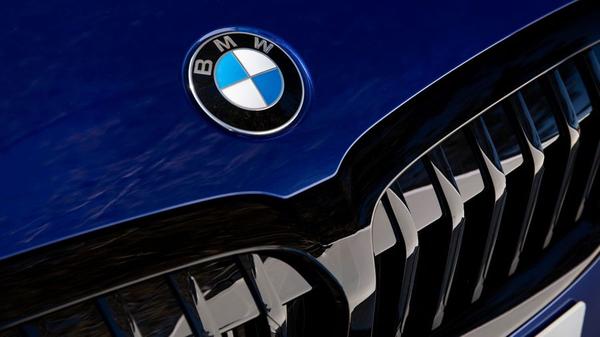 Reliability of a BMW 3 Series
Being so new, there isn't sufficient reliability data available from the latest 3 Series to be able to make an informed judgement. Look at the record of the previous car, though, and you might be a little worried. Warranty Direct's Reliability Index gives this model a distinctly below-par score, and BMW sits disappointingly low down in the manufacturer rankings, too. It's the same story in the JD Power Vehicle Dependability Study, the 3 Series lagging behind key rivals like the Mercedes C-Class and Audi A4.
Expert rating: 2/5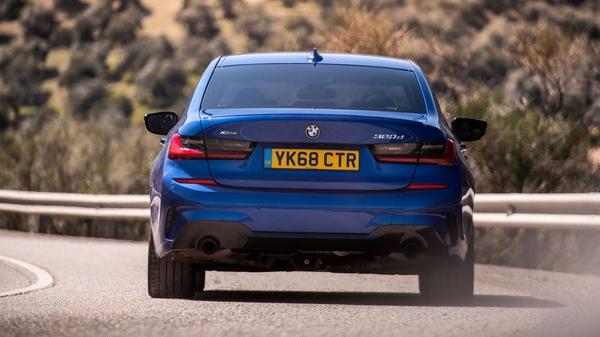 Safety for a BMW 3 Series
The BMW 3 Series received a glowing report in the 2019 safety tests, scoring a best result for occupant protection to date for large family cars and excellent ratings for children and pedestrians. The new car has all the airbags and active safety equipment you would expect at this price level as standard, including a system that detects other vehicles, cyclists and pedestrians and applies the brakes automatically if necessary. It can also warn the driver if they are straying out of their lane, and help them steer back into it if needs be. The car can also warn the driver about changes in speed limits and automatically reset the standard speed limiter to suit. BMW's stability control system is one of the best in the business, preventing skids and loss of traction in a quick and fuss-free manner.
Expert rating: 5/5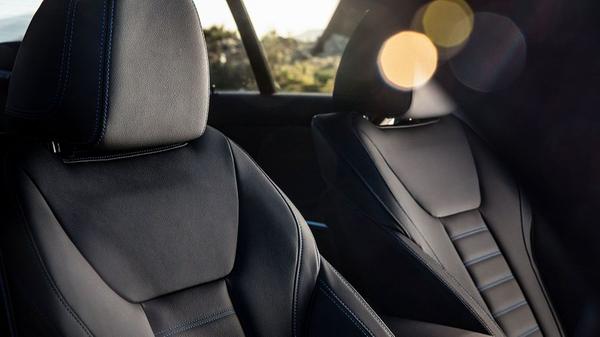 How comfortable is the BMW 3 Series
The BMW 3 Series is a rear-wheel drive car by default, meaning a transmission tunnel down the centre of the car that robs foot space for anyone sitting in the middle of the rear bench. The two main seats are fine though. In terms of headroom and legroom, the 3 Series is not significantly better or worse than its direct competitors from Audi and Mercedes – which means ample space for tall adults – though more mainstream models like the Skoda Superb are better for rear space. The way the 3 Series behaves on the road depends largely on the specification. Even with the least hardcore of the various suspension setups fitted, the car has a very sporty character: it's grippy, controlled and keen to change direction, and the crisp steering also helps makes it really enjoyable to drive on a twisty road, more so than any of its rivals. Be aware, though, that even with the most forgiving setup, it's still not all that forgiving over bumps and potholes. Bear in mind, too, that the 3 Series is quite sensitive to the size of the alloy wheel fitted, and the bigger your rims, the less comfortable your car will be. Those in search of comfort would also be wise to resist the M Sport version, as it comes as standard with lower, firmer M Sport suspension that unsettles things further. That said, M Sport buyers can opt to upgrade to an adaptive suspension, which allows you choose – via the various driving modes – how comfortable or sporty the car is to drive, but we haven't had a chance to try it yet. The range-topping M340i has four-wheel drive for improved traction in poor weather as standard, this available optionally on all but the entry-level 318d diesel.
Expert rating: 4/5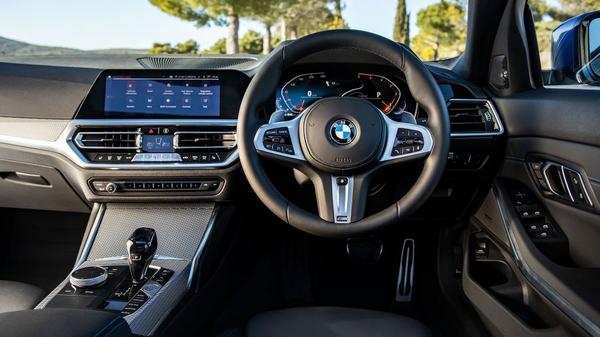 Features of the BMW 3 Series
BMW uses the familiar SE, Sport and M Sport line-up for the 3 Series, though each is offered with tempting packages that group together various extras for a reasonable price. The 3 Series SE includes alloy wheels, LED exterior lighting, three-zone climate control, cool ambient lighting inside, a snazzy 'light carpet' outside to light the way to the car in the dark, heated front seats, parking sensors front and rear, a reversing camera and touchscreen infotainment with sat-nav, Bluetooth and lots more. The Sport model adds exterior and interior embellishments, a larger fuel tank and leather sports seats, while the M Sport variant gets a lot of extra equipment, such as a head-up display, gesture control and the digital instruments, along with a much sportier appearance inside and out.
Expert rating: 4/5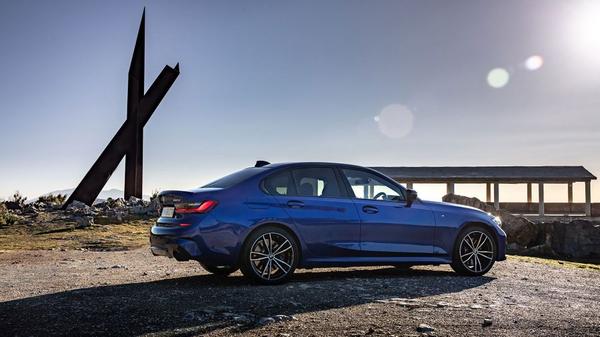 Power for a BMW 3 Series
No version of the 3 Series is slow, and there's a wide range of engine options, from the 320i petrol and 318d diesel, to the 330e plug-in hybrid and M340i high-performance variant. The 330i shares its turbocharged four-cylinder petrol engine with the 320i, and it delivers more satisfying go, capably playing the understudy to the overtly quick M340i. The latter is powered by a turbocharged 3.0-litre six-cylinder engine that sounds fantastic and produces 374 horsepower for some serious pace. If parsimony is more important to you (as it is to most 3 Series buyers), the 320d is difficult to ignore. Its diesel engine is silky smooth once warmed up and disguises its considerable performance with its quietness and civility. You'll need to keep an eye on your speedo though, because it's deceptively fast. An acoustic windscreen is fitted as standard, which helps keep the diesel engine noise at bay. Alternatively, the cost-conscious might also want to consider the 330e plug-in hybrid. A full juice-up of the battery lets you drive up to 41 miles on electric power alone, which is enough for most commutes, but there's also a 2.0-litre petrol engine on hand to allow much longer journeys. It's brisk, too, especially if you select the special driving mode combines electric and petrol power together.
Expert rating: 4/5