Expert Review
BMW M8 Coupe (2019 - 2022) review
The BMW M8 Competition is the most powerful, fastest and most luxurious car in the range and delivers an incredible driving experience – albeit at a cost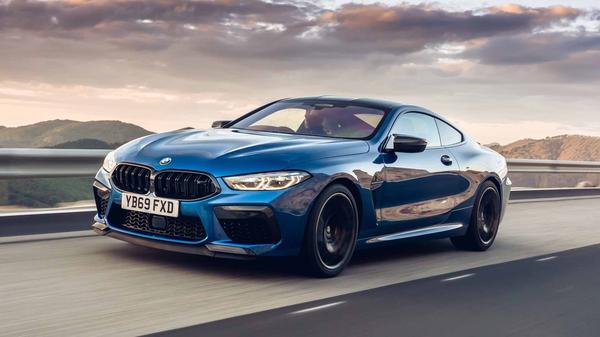 Words by: Dan Trent
Published on 30 January 2020 | 0 min read
The Auto Trader expert verdict:
With its thumping turbocharged V8 engine, multi-mode four-wheel drive system and sophisticated chassis technology the BMW M8 Competition isn't lacking in performance or ambition to bridge the gap between sports cars like the Porsche 911 and luxury coupes like the Bentley Continental GT. Nor is it lacking in prestigious rivals either, the only real question being does the BMW badge cut it at this level.
Reasons to buy:
Muscular performance across the board
Assertive and distinctive styling
As luxurious as it is fast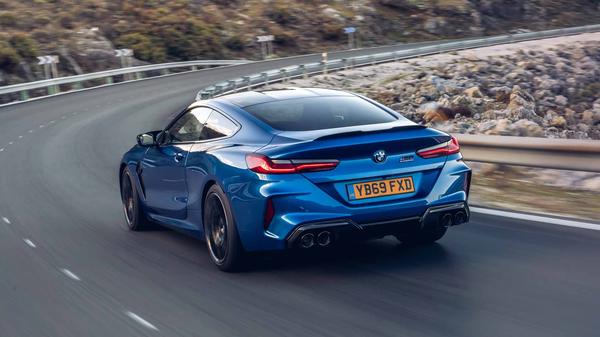 Running costs for a BMW M8
There is a 'regular' BMW 8 Series and that's hardly a bargain to buy or run, or lacking in potency. But it pales against the unashamed excess of this performance flagship, the prestige and firepower of BMW's M performance division moving the 8 Series into a different league entirely. So it goes without saying the M8 Competition is very expensive to buy. And that's before you start considering the options, many of which the market will consider essential to preserve its ongoing value and residuals. As such the expensive Ultimate Package, which wraps every extra you can have into one combo deal, may be a pill you feel obliged to swallow – come resale most buyers will demand it and not ticking that box could be a false economy.
Expert rating: 3/5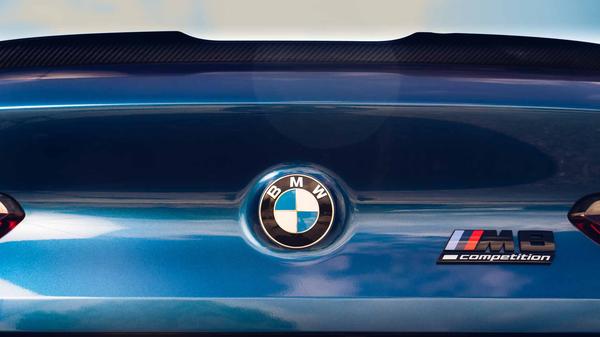 Reliability of a BMW M8
We've said it before and we're forced to say it again – for a prestige, premium brand BMW doesn't score well in the rankings for respected reliability studies. If you're buying new the reassurance of the three-year, unlimited mileage warranty places the onus on BMW to sort out any problems should they occur. But this is a six-figure car with six-figure servicing costs and won't be any cheaper to repair than any rival from seemingly more prestigious brands like Porsche.
Expert rating: 2/5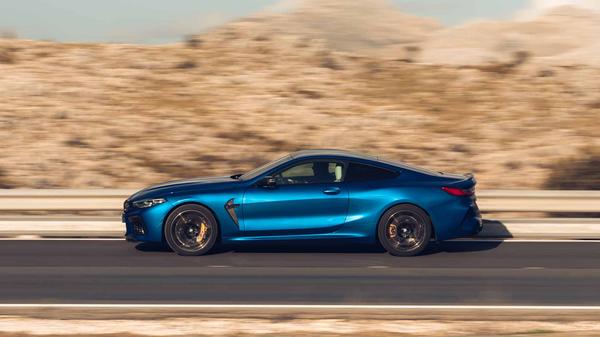 Safety for a BMW M8
The M8 Competition is an immensely powerful car and, in the past, BMW M models were known for a degree of tail-happiness in slippery condition. BMW has faced up to this and, like the mechanically related M5 saloon, made the M8 all-wheel drive so you can safely enjoy the mighty performance, whatever the weather. Confident drivers can progressively loosen the reins of the stability controls as far as turning everything off and reverting to rear-wheel drive only, which is exciting but probably best left for the race track. In more everyday driving scenarios you can take confidence in the fact this is a high-tech car packed with active safety systems to keep you on the straight and narrow. An additional active safety system using cameras and radar to automatically keep you in lane and take the stress out of busy, stop-start traffic is also available and comes with an additional feature to brake the car safely to a halt if the driver should become incapacitated. You can option this in separately but if you've followed our advice and opted for the 'Ultimate Package' you'll get all this included.
Expert rating: 4/5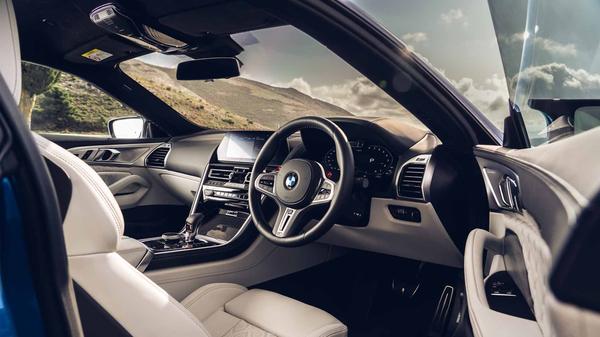 How comfortable is the BMW M8
With the M8 BMW believes it's no either/or equation when it comes to sportiness and luxury. So while the M badge brings with it a heritage of racing and track-inspired performance the interior is set to rival posh coupes like the Mercedes-Benz S-Class Coupe and even the Bentley Continental GT, even if it's a two-plus-two rather than a true four-seater. Inside you get a mix of carbon fibre set against more traditional materials, the soft leather of the seats inspiring confidence you could rack up big miles in comfort. This breadth of character is reflected in the way it drives too, the many different modes meaning you can adjust suspension, steering weight and many other parameters. The sporting character means it's a little brittle at low speeds whichever setting you use but it's acceptable for cruising about, tightening up to a more focused feel at the touch of a button for more spirited driving.
Expert rating: 5/5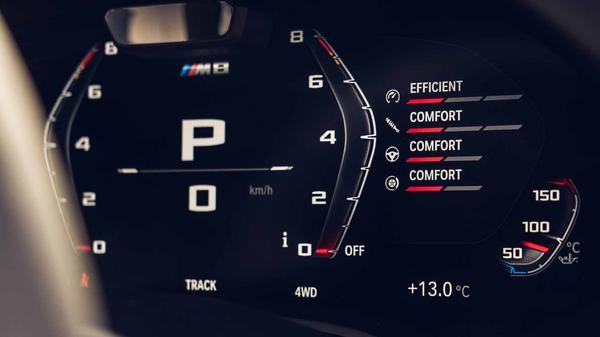 Features of the BMW M8
BMW hasn't held back on the spec of the M8 and includes its top-line and fully connected 'Professional' infotainment system you interact with through a massive screen via touch, voice or gesture control. The instruments are also presented on a screen and fully configurable, the combination as nice to look at as it is to use. A fancy Harmon Kardon surround sound stereo is standard with the option to upgrade to an even fancier Bowers and Wilkins one if you fancy it. With a compatible smartphone you can even unlock and start the car without using a physical key while the high-grade Merino leather with contrast stitching is also standard, along with a suede effect rooflining and carbon fibre trim. Inevitably there are plenty of upgrade options beyond this.
Expert rating: 4/5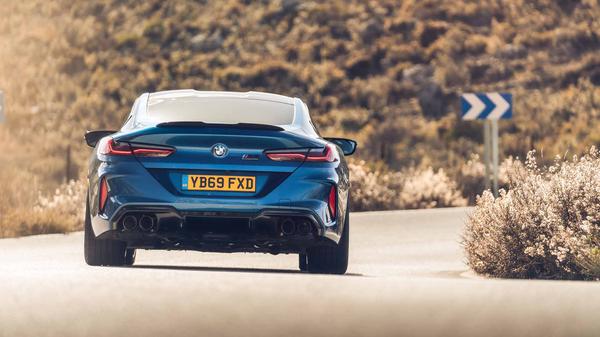 Power for a BMW M8
Performance is your main motivation for choosing an M8 over a regular 8 Series and you won't be disappointed here. While getting bogged down in statistics is best left to the pub bores you can't ignore the headline figure of 625 horsepower from the turbocharged V8 engine. The way it's deployed through the all-wheel drive chassis will have your eyes on stalks, too. By the numbers that's considerably more than the Porsche 911, Mercedes-AMG GT or Aston Martin Vantage you may also be looking at, though it's worth bearing in mind the M8 is also on the hefty side. Not that you'll notice with that much power to spare. BMW has also used the various driver modes to deliver a true Jekyll and Hyde experience too. In its more comfortable settings it feels fast and secure but, at the push of a button, it becomes a much, much more aggressive and exciting machine, switching from refined GT to snarling muscle car in the blink of an eye. This range of ability sets the M8 apart from its more single-minded rivals
Expert rating: 5/5