News
Next BMW M5 to have all-wheel drive
The next iteration of BMW's iconic M5 sports saloon will go toe-to-toe with rivals like the Mercedes-AMG E63 and Audi RS7 Sportback.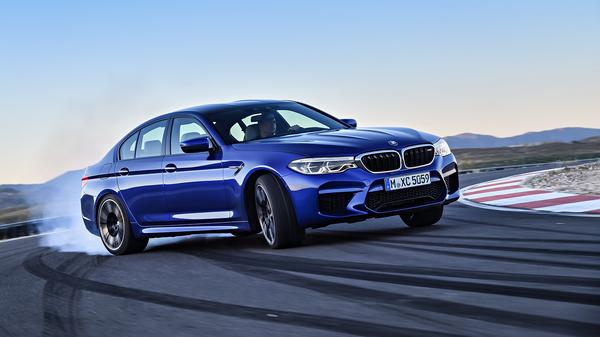 Five-mode AWD system for configurable behaviour
4.4-litre twin-turbo V8 developing 600 horsepower
0-62mph in 3.4 seconds, limited top speed of 155mph
Details about BMW's next-generation M5 have been released today, and the big news is that, for the first time, BMW's iconic super-saloon will feature all-wheel drive.
It'll also feature a 4.4-litre V8 petrol engine, mated to an eight-speed automatic gearbox, which delivers a power output of 600PS, along with pulling power of 750Nm. The new car will be capable of seeing off the 0-62mph dash in just 3.4 seconds, and the top speed will be electronically limited to 155mph. Although, if you're willing to pay extra, the optional M Driver's Package will increase that speed-ceiling to 189mph.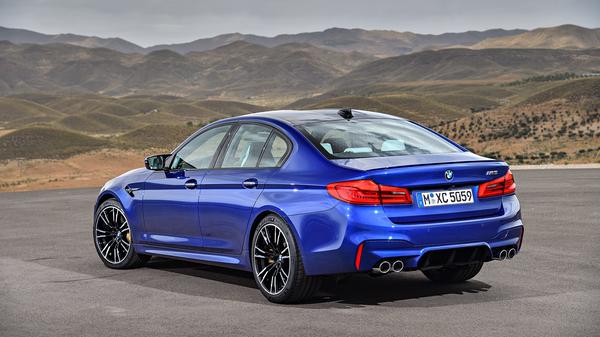 Like many M5s before it, the latest version will give you a dizzying amount of choice on how your car behaves, and it starts with that four-wheel drive system, known as M xDrive. Working in tandem with the car's electronic stability control system, it varies the amount of wheels being driven, the amount of drive those wheels will receive, and the amount of slip those wheels are allowed, according to which of the five modes you select.
At one end of the scale, the system is designed to provide maximum grip and traction in any given driving situation, but with the ability to perform large, smoky drifts at the push of a button. At the other end of the scale, M5 purists might also be relieved to hear you can instruct the system to provide rear-drive only, along with full disengagement of all electronic driver aids. The adaptive suspension – which along with the steering has its own M-specific tuning – also has three modes including Comfort, Sport and Sport Plus. Even the exhaust has multiple settings which make it louder or quieter on request, and that's before you get into the three modes – Efficient, Sport and Sport Plus – that you have for the engine and gearbox.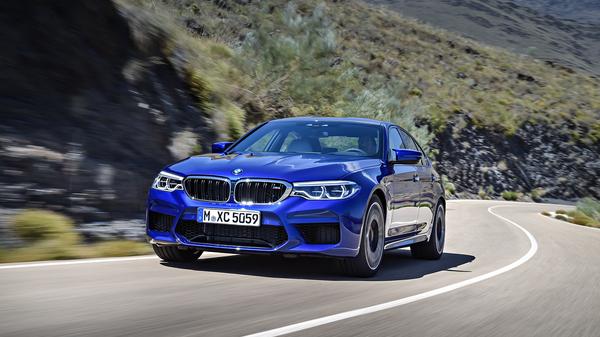 With such a level of adaptability and complexity, it's possible things could get rather confusing rather quickly. Maybe it's just as well that there are a pair of buttons on the steering wheel – labelled M1 and M2 – which allow you to instantly switch to previously selected and stored settings for the engine, transmission, suspension, four-wheel-drive system, traction control and head-up display.
Obviously, the M5 looks a little meaner than the more humble 5 Series models thanks to bigger air intakes, various skirts and spoilers, a new rear diffuser and quad exhausts. And, despite having the weight of that new four-wheel-drive system to lug about, the new M5 will be lighter than the car it replaces. That's due to a range of weight-saving measures, including an aluminium bonnet and a roof made of carbon-fibre reinforced plastic, a material used to great effect in other BMW models.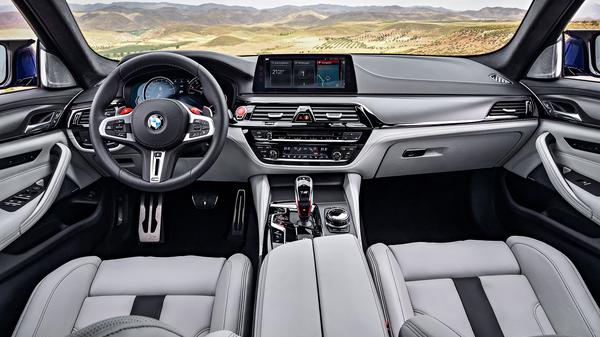 Not that you'll care, but the official efficiency figures for the new M5 are quoted as 26.9mpg for average fuel consumption, and 241g/km for CO2 emissions. Orders open in September, with the first customers due to receive their cars in spring next year. Expect to pay around £90,000.