Review
Audi A5 Cabriolet convertible (2016 - ) review
If you're in the market for an upmarket, four-seat sun-seeker, they don't come any more refined or composed than the A5 Cabriolet.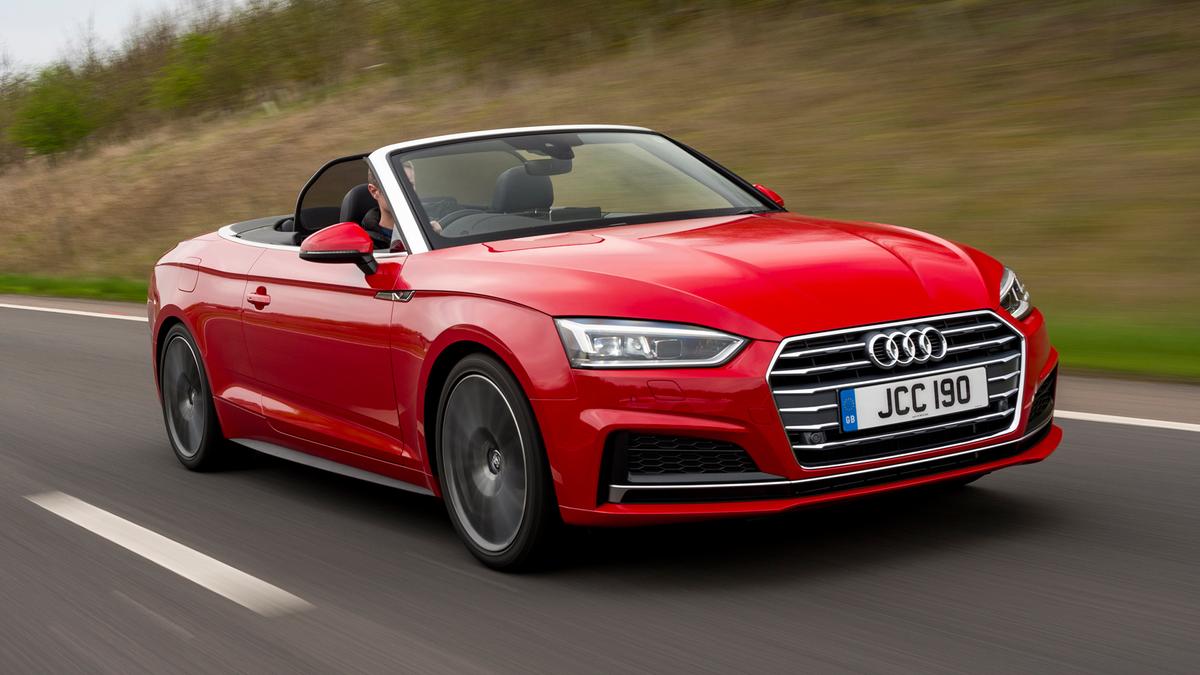 View gallery
The Auto Trader expert verdict: ★★★★★

★★★★★
4.1
You only need to drive the A5 Cabriolet 100 metres to realise Audi has thrown everything it knows at its latest four-seat convertible. While the intense levels of body shake that blighted the previous A5 Cabriolet have been reduced exponentially – thanks in no small part to a body that is a whopping 40% stiffer – the line-up is complemented by a range of powerful, efficient and remarkably refined engines. And the cabin is a near-perfect execution of precision and quality, something we've almost come to take for granted from Audi these days, with the latest advances in acoustic roof insulation ensuring longer journeys can be enjoyed almost as much as boulevard cruises. Put simply, if you're in the market for an upmarket, four-seat sun-seeker, they don't come any more refined or composed than the A5 Cabriolet.
Pros
Powerful, efficient engines

Exceptional interior quality

Extraordinary refinement
Cons
S-line suspension may prove too firm for some tastes

Steering lacks finesse

With the top down, rear passengers won't want to travel too far
Pick of the range
Wonderfully refined and composed with a deceptively quick turn of pace.
Most economical
Rather sluggish handling, but the engine is exceptionally smooth and impressively frugal.
Blow the budget
Storming performance but prohibitive running costs.
Interested in buying an Audi A5 Cabriolet?
How good does it look?
Although the previous A5 Cabriolet was no great shakes to drive, it was one of the more elegant models available in this image obsessed sector. Consequently, it comes as no great surprise that Audi's designers decided to retain the essence of the outgoing model when dreaming up its replacement. The combination of a longer wheelbase, shorter overhangs, a bonnet sporting more creases than a launderette, and a flatter, wider grille, give the latest A5 a more purposeful appearance. Nevertheless, the instantly identifiable wave that runs along the side of the car and its pronounced wheel-arches, mean there can be no mistaking the A5 Cab's stylistic heritage.
What's the interior like?
The A5's interior is typically Audi. In other words, brilliant. And the best part, you get to drop the roof and show it off to an admiring public. Complete with impeccable materials, and assembled with scrupulous attention to detail, the A5's cabin simply oozes quality and substance. While the interior panels all match their counterpoints with millimeter precision, each switch and every control, including the MMI rotary controller, are weighted and balanced to communicate a sense of silky precision. Additionally, all the usual touch points are thickly padded and trimmed with plush materials, while the four-ringed embossed steering wheel and the stubby gearshifter look and feel reassuringly expensive. With all this to shout about, it's all the more disappointing that the deployable wind deflector looks and feels like a bit of an afterthought. It feels rather flimsy and is a bit of a faff to erect. And in some cars we tested, it flopped down when hit with a gust of side wind.
How practical is it?
The A5's relatively long wheelbase translates into plenty of leg- and elbow-room for those up front, but when the roof is up, that plunging roofline means rear head-room isn't quite so generous. While kids will be okay, there's a good chance anyone approaching six-foot will feel their hair brushing against the soft top's lining. While the boot's lid is powered and can be opened via the key fob and closed at the press of a button, opening it reveals a fairly decent, albeit shallow, 380-litres of luggage space, and that space reduces to 320 litres when you drop the roof.

At least the seats split/fold to help boost that capacity when required. The Cabriolet also features a handy drop down box located in the roof of the boot. When it's folded up it will allow you to maximise luggage capacity, and when it drops down it lets you see how much space will be left over when the roof is dropped. As with most Cabriolets, you can raise or lower the roof at speeds up to 30mph – it takes 15 seconds to open and 18 seconds to close – but the A5 goes one better, as it can be operated by a single tug of the deployment lever, rather than having to hang onto to the lever for the duration of the operation.
What's it like to drive?
Perhaps the greatest achievement of the latest A5 is its ability to isolate occupants from the dreaded collywobbles that blight most four-seat convertibles. For a drop-head, it feels remarkably shake-free, dealing with lumps and bumps in assured fashion. You still get the occasional clue, via some vibrations in the rear view mirror, and the odd wobble through the steering column, but for the most part, the windscreen pillars, seat frames and side windows remain remarkably resistant to tremors.

This body integrity is supplemented by smoothly measured suspension that allows the A5's body to breathe vertically and float along fast flowing roads with great poise. However, there's no doubt that cars with the lower S line suspension do have a firmer feel, transmitting more of the lumps and bumps to the car's occupants. Roof down, with the wind deflector in place, front passenger hair-dos will remain unmolested, but a fair bit of buffeting can be heard swirling around the back of the cabin at 70mph, so you'll need to raise your voice to the levels you normally reserve for your Grandad to communicate clearly with your front-seat partner. If you want to take the kids along, you'll need to remove the wind deflector, and this dramatically increases the buffeting. It'll be bearable if you're just popping into town, but if you're venturing further afield, you'll definitely need to pop the roof up.

Handling depends a great deal on which engine you choose. The four-cylinder diesel A5 feels the most softly sprung and it rolls more in corners than the petrol models, and once you get it turned into a corner, you never really lose the sensation that the engine's substantial heft is lolling around under the bonnet. The 2.0-litre petrol-engined car feels far more neutrally balanced and with it, more composed in bends, remaining flatter and reacting much quicker to steering inputs.
How powerful is it?
There's something almost spooky about the A5's ability to suppress engine noise, vibration and harshness. It is powered by some of the most up-to-date powertrains in motoring, but when even the diesel engines sound this smooth and quiet, it suggests there's more going on under the bonnet than meets the eye. Whether it's extensive use of the latest sound-deadening materials, or a newfound ability to fine tune engine mounts, or perhaps both, it's difficult to say. Either way, the results are mightily impressive.

The 187bhp 2.0-litre diesel engine has more than enough thrust, supplementing its effortless punch with an extremely smooth and refined power delivery, easily outshining similarly sized power units from BMW and Mercedes. There's also a V6 diesel available, which delivers serious hot-hatch performance and sets the refinement benchmark for six-cylinder diesel engines. The four-cylinder 2.0-litre turbocharged petrol engine is nothing short of immaculate. It's so flexible and so smooth, if anything, some owners might find it almost too quiet when driving with the roof down. The turbocharged V6 engine found in the S5 produces some properly rapid performance. With an intense power delivery and a willingness to rev hard and fast, working in tandem with a super-smooth automatic gearbox, it turns the Cabriolet into one serious performance weapon.
How much will it cost me?
Although Cabriolet drivers aren't naturally drawn to diesel power, they may change their point of view when they realise the 2.0-litre diesel, fitted with the seven-speed twin-clutch transmission, emits just 118g/km and returns 52mpg, meaning very palatable bills for fuel and tax. Choose the more powerful 215bhp 3.0-litre V6 diesel and your taxation implications only rise by a couple of percentage points. The petrol engines look quite tardy compared to diesel, however. Automatic four-wheel-drive versions of the 248bhp 2.0 TFSI return just 37.4mpg. The S5 will be worse again, and if you're inclined to a heavy right foot, you'll be lucky to see 20mpg. You can spec a predictive efficiency assistance system that evaluates GPS information and helps to save fuel by giving specific driving instructions. While servicing and other running costs such as insurance premiums will be on par with premium rivals, A5 Cabriolets have traditionally strong residual values, so you should get back a good chunk of what you initially invested when the time comes to sell.
How reliable is it?
Given the solid look and feel of its products, it seems strange that as a brand, Audi has never fared particularly well in customer satisfaction or owner reliability surveys. Buyers often complain about the frequency of repairs, and at the cost of them. As a result, the brand sits well down the manufacturer rankings in the Warranty Direct Reliability Index. Mercedes, BMW and Jaguar all perform better. Hopefully, the latest A5 Cabriolet can improve on Audi's patchy record. Like almost every other brand in this exclusive class, Audi offers a standard three-year/60,000-mile warranty for the Cabriolet.
How safe is it?
The Cabriolet provides plenty of technology to enhance safety and comfort, including a city safe system that autonomously brakes the car if it detects an impending collision. However, because there's no way of packaging airbags into the soft top, the Cabriolet only gets four. You can add a labour-saving traffic jam assist system to automatic versions of the A5. In slow-moving traffic, up to 40mph, the car will automatically brake and accelerate, and on less congested roads, it can even take charge of steering. Traffic sign recognition, cross traffic assist and a head-up display are also options. Although you can't draw a direct correlation between the two cars, the A4 (on which the Cabriolet is based) achieve a maximum five-star rating from Euro NCAP.
How much equipment do I get?
The Cabriolet comes with plenty of standard equipment including leather seats, folding rear seats, LED interior lighting, three-zone climate-control, cruise control (complete with freewheeling mode for automatic transmissions), keyless go, Xenon headlights and LED running lights. Audi's excellent MMI is also standard, along with Bluetooth and seat belt microphones that help you to make clear phone calls when driving with the top down. An S-line upgrade adds leather and Alcantara trimmed seats, complete with embossed S-line signature and four-way lumbar adjustment. S-Line models also feature bigger wheels and sports suspension that is lowered by 20mm, so you'd be well advised to take a test drive to see if you are comfortable with the firmer set up before being seduced by the slinkier looks. Audi virtual cockpit, which replaces the standard speedo and rev counter with a 12.3-inch TFT screen that shows selectable graphics, is sure to be a popular option. Another option worth considering is a head-up display, which displays relevant information onto the windshield directly in the driver's field of vision.
Why buy?
The Cabriolet is a stunning looking car, but it's far more than just a pretty face. While its stiff body and excellent suspension handle road imperfections better than any other four seat convertible, regardless of your engine choice, it delivers strong performance and superb refinement. Throw into the mix a beautifully appointed cabin and excellent roof up or down wind isolation, and it's difficult to think of any rival that comes close to matching the A5's wide breadth of talents.
Interested in buying an Audi A5 Cabriolet?